Spruce tip jelly is a delightfully unique herbal jelly made with wild foraged spruce tips. The tips taste like lime with hints of warm resin, and it's a surprisingly good homemade jelly, perfect for sweet or savory uses.
Spruce tips, or the fresh growing tips of spruce trees, are surprisingly delicious. They have a flavor unlike anything you've ever tasted, with notes of citrus and lime, all brought together with a warm resinous overtone.
They're used in all manner of delicious recipes, from spruce tip ice cream to a warm spruce tip syrup that's good for both sweet and savory uses on meats and fish.
Spruce tip tea is a great way to enjoy them fresh, but you can also turn that same spruce tip tea into a homemade herbal jelly!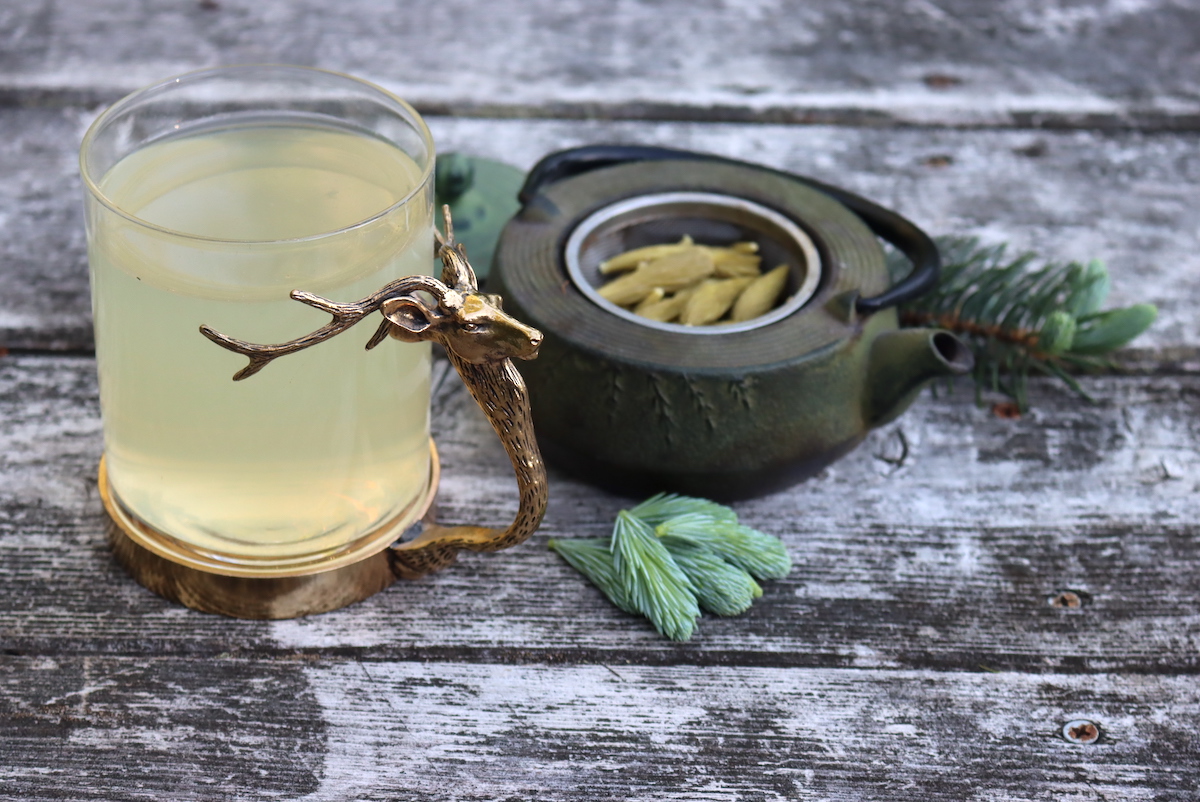 Harvesting Spruce Tips for Jelly
If you're not familiar with spruce tips, I'd suggest you read my guide to foraging spruce tips (and other conifer tips) before beginning. Most conifer tips are edible, including fir tips and pine tips (usually called pine candles). There are, however, a few notable exceptions, those being toxic yew and inedible ponderosa pine.
Pine needle tea also makes a lovely jelly, and you can use this same recipe.
Fresh spruce tips are harvested in the early spring, right as the trees are starting to bud out for the season. By taking just a few from each tree, you'll be able to enjoy the flavor of spruce tips, and the trees will keep on growing too.
Try to take spruce tips from side shoots, not the main growing shoot.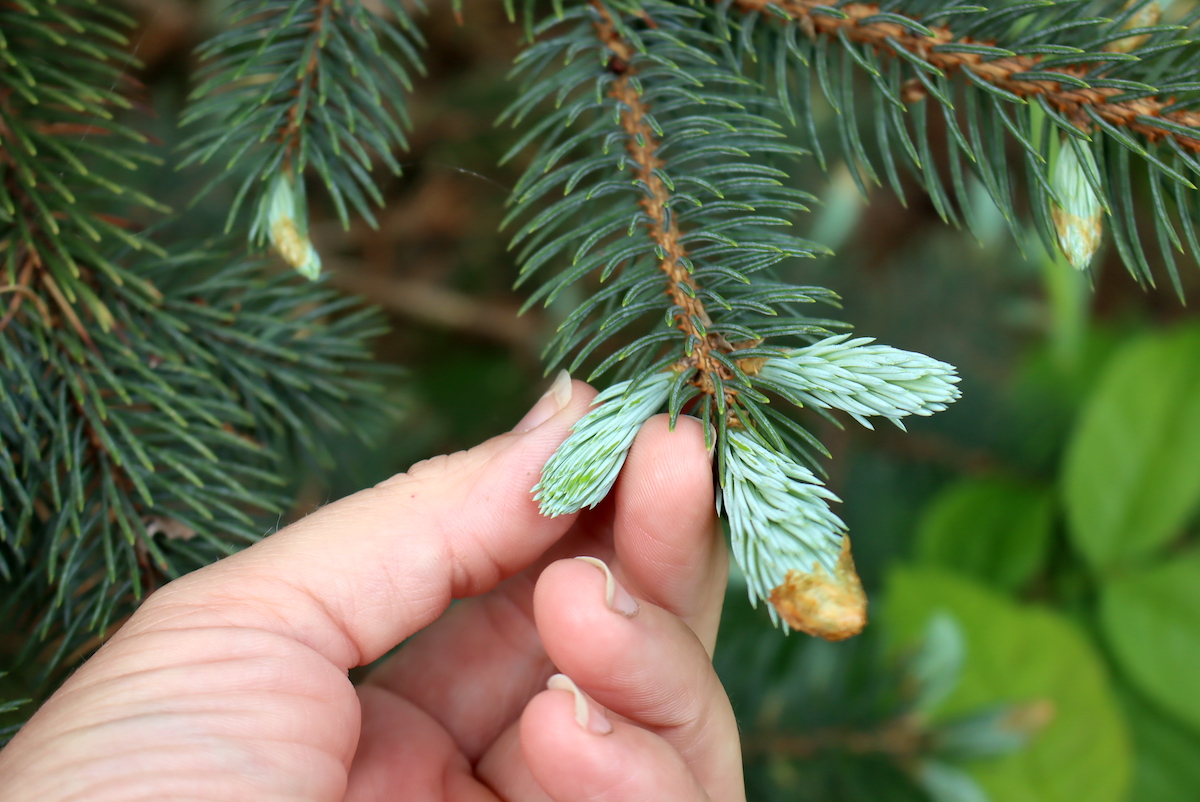 To make spruce tip jelly, you'll need roughly 2 to 4 cups of spruce tips. Or, roughly 1/2 cup to 1 cup of tips for every half-pint jelly jar.
The exact amount is up to you, but I find that 2 cups is just enough to make a full batch of 4 jars with good flavor. If you want really intense flavor, and you have plenty of spruce tips available, up the spruce tips to a full 4 cups.
But anywhere between a pint and a quart will do.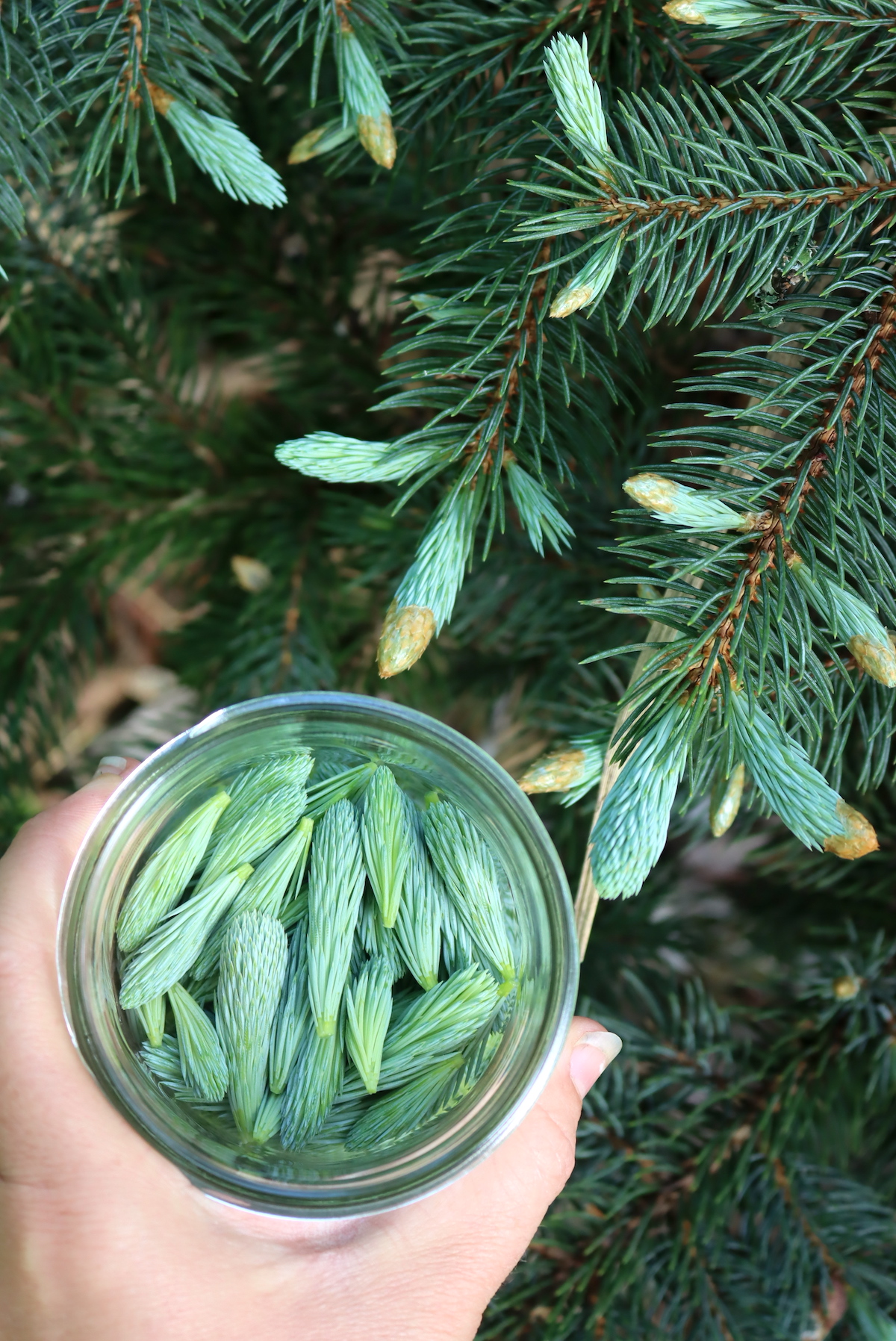 Ingredients for Spruce Tip Jelly
An excellent way to retain the bright, citrus flavor of spruce tips is to make spruce tip jelly. To make a batch of five half-pint (8-ounce) jars, you will need the following:
2 to 4 cups spruce tips
4 cups water
2 Tbsp. lime juice, bottled or fresh
1 to 4 cups sugar*
1 box (1.75 oz.) pectin (regular or low sugar)
There are many kinds of conifers and many types of spring tips you can use to make jelly or other things such as syrup. For information on spruce tips and other conifers, refer to my article Foraging for Spruce Tips where you can find identification information and ideas on how to use them.
For this recipe, I will refer to spruce tips, but if you prefer the taste of a different kind of conifer tip, such as fir tips, you can use those as a substitute for spruce tips.
Lemon juice is typically used in jelly recipes, but for this recipe, I prefer to use lime juice. It still has the acidity and pectin you need, but the lime flavor really enhances the lime-like citrus flavor that the spruce tips already have.
This recipe also uses regular pectin (like Sure-Jell), so you will need a ratio of 1:1 of liquid to sugar. We will have 4 cups of spruce tip tea, so we will use 4 cups of sugar.
Spruce tip jelly can also be made as a low-sugar recipe, using a low-sugar pectin such as Sure Jel Low Sugar. Using a pectin specifically made to work with less sugar allows you to cut the sugar almost by half. If you're using less than 4 cups sugar, go with sure jel low sugar.
After you have picked 2 to 4 cups of spruce tips, it's time to make tea!
How to Make Spruce Tip Jelly
Place the spruce tips into a clean, medium to large bowl big enough to hold 4 cups of spruce tips and 4 cups of water.
Bring 4 cups of water to a boil in a teapot or microwave, and pour the boiling water over the spruce tips. Allow the spruce tips to infuse with the water for 15 minutes.
Using a cheesecloth to catch the spruce tips, or a fine strainer, pour the infused water from the bowl through the strainer or cheesecloth into a medium saucepan. After all the liquid has strained through, discard the spruce tips.
Pre-measure 4 cups of granulated sugar and set aside for now.
If you plan on canning your jelly using a hot water bath method, ensure you have the jars, lids, and supplies ready for canning. Otherwise, have jars or freezer-safe containers prepared for your jelly.
Add two tablespoons of lime juice to the infused water, and bring this mixture to a boil over medium-high heat.
You will want to have the mixture at a full boil when you add the powdered pectin. Add the pectin slowly, stirring as you add to help it dissolve.
Any pectin lumps should dissolve as you continue to boil the mixture, or you can use a spoon to break up the lump against the edge of your saucepan.
Continue to stir as you keep this mixture with the pectin added at a full boil for one minute.
Slowly add your premeasured sugar to the boiling mixture, continually stirring as the sugar dissolves.
You must bring the mixture back to a boil (keep stirring) and keep it at a hard boil for 1-2 minutes. Do not overcook the jelly (more than 5 minutes), as that may cause your jelly not to set.
Use a canning funnel to ladle or pour the mixture into your prepared jelly jars or containers, leaving ¼ inch of space at the top of each jar.
Wipe the rim of the jars or containers with a clean cloth, and attach the lids.
If you are not going to can your jelly, you can let the jelly cool to room temperature on the counter. Store your spruce tip jelly in the refrigerator for up to 1 month, or keep it frozen for up to 6 months. Canning instructions are below.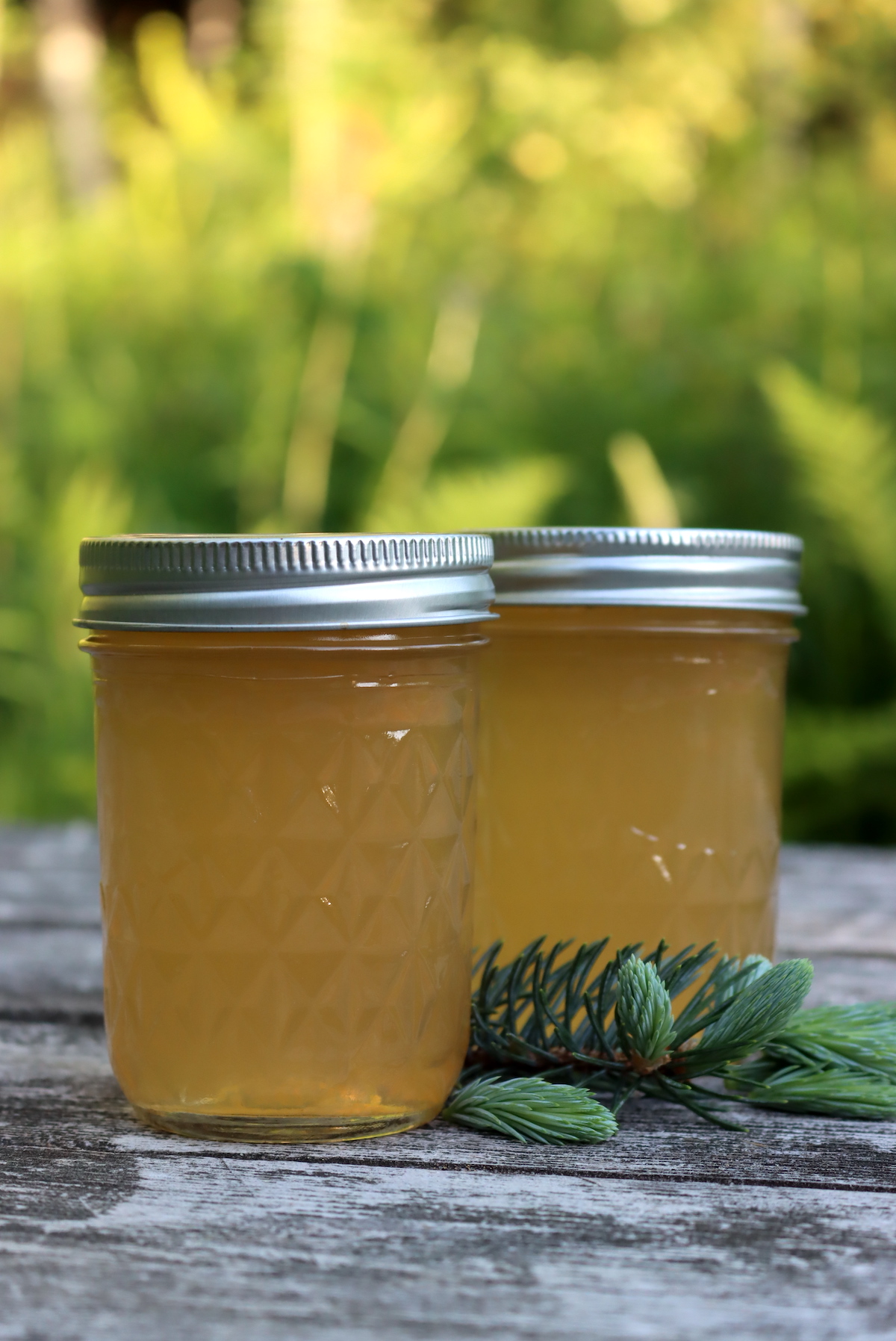 Canning Spruce Tip Jelly
If you are unfamiliar with how to preserve jams or jellies using a hot water bath canning method, please read my beginner's guide to water bath canning for detailed canning instructions, a list of supplies, and tips for successful canning.
Once you have cooked your jelly, ladle or pour the hot jelly into the prepared hot jelly jars, leaving ¼" headspace at the top.
Using a Canning funnel with headspace measurements on it is very useful, not only for ensuring you keep an accurate amount of room at the top of your jar to allow for expansion while canning, but it produces less spillage on your jars and counter.
Once your jars are filled, use a clean, wet cloth to wipe the rims of the jars before you place the lid on the jar. This helps ensure a proper seal.
Using 2 part canning lids, place the flat canning lids on the jars, then screw on the canning rings until "finger tight," but not too tight. You may need a potholder to hold onto the jar as you screw on the ring, but do not use any tools to grip or tighten the jar bands.
Using a jar lifter, set the filled jelly jars into the hot water bath canner, which should already be half full of boiling water.
Bring the water back to boiling, set the timer, and process in the water bath for 10 minutes (or 15 mintues if above 6,000 feet in elevation).
After you have boiled your jelly for the appropriate processing time, turn off the heat and leave the jelly jars in the canner for 5 minutes. Then, using a jar lifter, remove the jars from the canner and set them to cool on a towel on the counter, leaving some air space between the jars.
After 24 hours, check to be sure the jars all have sealed lids. If there is still a "bubble" in the center of the lid, leave the jelly for another 24 hours. If it is still not sealed, store the unsealed jars in the refrigerator for immediate use.
Properly canned and sealed jars will maintain quality in your pantry for 12-18 months, and should always be refrigerated after opening.
Spruce Tip Jelly Variations
The citrus flavor of spruce tips pairs nicely with dark berries such as blueberries or serviceberries. Add fresh blueberry juice to your spruce tip tea, and keeping the liquid-to-sugar ratio at 1:1, you can make a flavorful blend of jelly.
Adding oranges, limes, grapefruit, or any citrus to the spruce tip tea will make a wonderful jelly to enhance the citrus flavor already in the spruce tips.
Using Spruce Tip Jelly
Spruce tip jelly makes a fantastic glaze on meat such as pork, steak, wild goose, or duck. You can also use it as a marinade for chicken on the grill.
Stir it into a pan of vegetables or potatoes you are planning to roast in the oven for a great zesty flavor on roasted vegetables.
Spruce tips and other conifer tips are full of Vitamin C, so fill up on spruce tip jelly when you need an extra boost of vitamins.
Stir a spoonful into your favorite hot tea to enjoy the unique flavor of spruce tips any time of the year!
Or, place a dollop on a cracker and top it with cheese from your charcuterie board…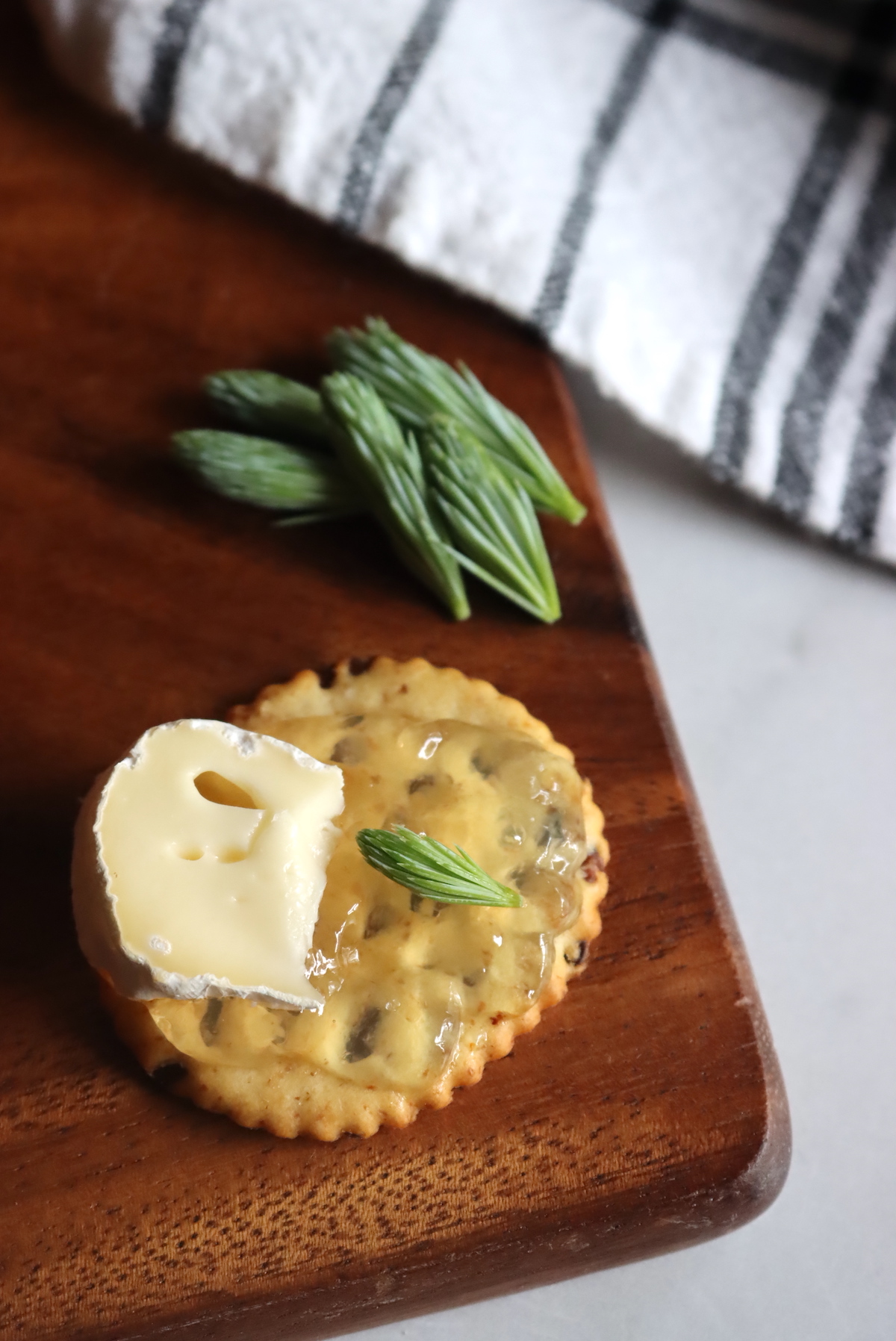 Spruce Tip Recipes
Need a few more tasty ways to enjoy spruce tips in season?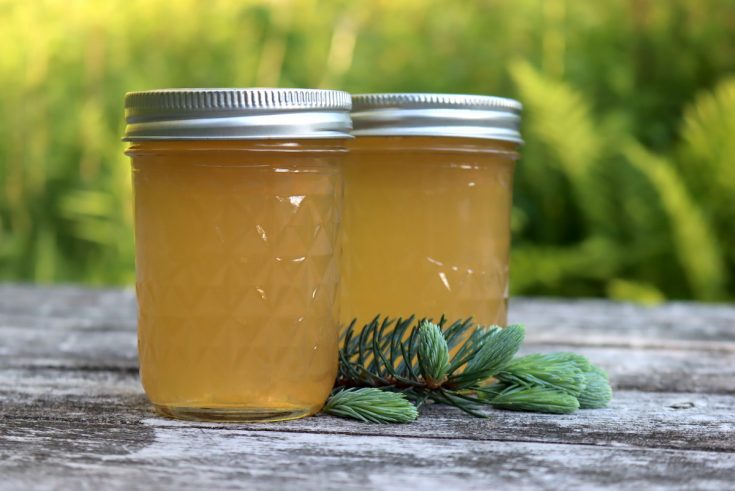 Yield:

Makes 4 half pint (8 oz) Jars
Spruce Tip Jelly
Canning Time (Optional):
10 minutes
Spruce tip jelly is a delightful way to preserve the fresh flavor of wild foraged spruce tips.
Ingredients
2 to 4 cups fresh spruce tips
4 cups water
2 Tbsp. lime juice
1 to 4 cups sugar (amount varies depending on pectin used)
1 box (1.75 oz.) pectin (Regular or Low Sugar), see notes
Instructions
In a medium-large bowl, place 2 to 4 cups of spruce tips.
Pour 4 cups of boiling water over the spruce tips, allowing the water to become infused with the flavor of the spruce tips for 15 minutes.
Pour the spruce tip-infused tea through a cheesecloth or strainer into a medium saucepan or jam pot. Discard the spruce tips.
Prepare your jars or containers for jelly, pre-measure the sugar you need, and set the sugar aside for now.
Add 2 Tablespoons of lime juice to the spruce tip tea.
Over high heat, bring the mixture to a boil.
While stirring, slowly add the pectin.
Return the mixture to a hard boil and allow it to boil for one minute.
Add the premeasured sugar to the mixture slowly, stirring continuously, allowing the sugar to dissolve.
Continuing to cook over high heat, bring the mixture back to a hard boil, stirring while boiling for 1-2 minutes.
Ladle or pour the jelly into prepared jelly jars or containers, leaving ¼" headspace at the top of the jar.
Wipe the rims of the jars or containers with a wet, clean cloth.
If you are going to can your jelly, put the canning lid on the jar and screw on the ring until finger-tight. Do not over-tighten. If you plan to refrigerate or freeze your jelly, place lids on the jars or containers and leave the jars to cool and set up for 24 hours.
If canning, process the jars in a water bath canner for 10 minutes (or 15 minutes if above 6,000 feet in elevation).
Unprocessed jelly should be stored in the refrigerator for up to 1 month, or in the freezer for 6 months. Canned jelly will maintain quality for up to 18 months in your pantry or cool, dry place. For all jelly, refrigerate once opened.
Notes
Low-sugar pectin can be used to make jelly that uses less sugar, and you can use as little as 1 cup of sugar in this recipe if you use low-sugar pectin.
There are a variety of low-sugar pectin brands you can buy. I typically use Sure Jel Low Sugar because it's reliable and easy to use, and sets nicely with a perfect texture.
For making spruce tip jelly using low-sugar pectin, use 1 to 3 cups of sugar for about 4 1/4 cups of liquid (spruce tip tea plus lime juice). 
Another option is Pomona's Universal Pectin for low-sugar recipes. You will need to follow the instructions in the box, as this pectin is a 2-part low-sugar pectin, and the steps are different than regular pectin. Follow the Pomona's recipe for mint jelly.
*Using less sugar and low-sugar pectin will result in a lower yield.
Homemade Jelly
Looking for more easy homemade jelly recipes?