Rose petal jelly captures the sweet scent of summer roses in an easy-to-make preserve that you can enjoy year-round.
Known as the Queen of Flowers and an everlasting symbol of love, roses are a bright and gorgeous addition to homemade floral jellies. Learn how to preserve the sweetly delicate flavor of roses in this floral, pink-hued rose petal jelly — also with instructions for canning.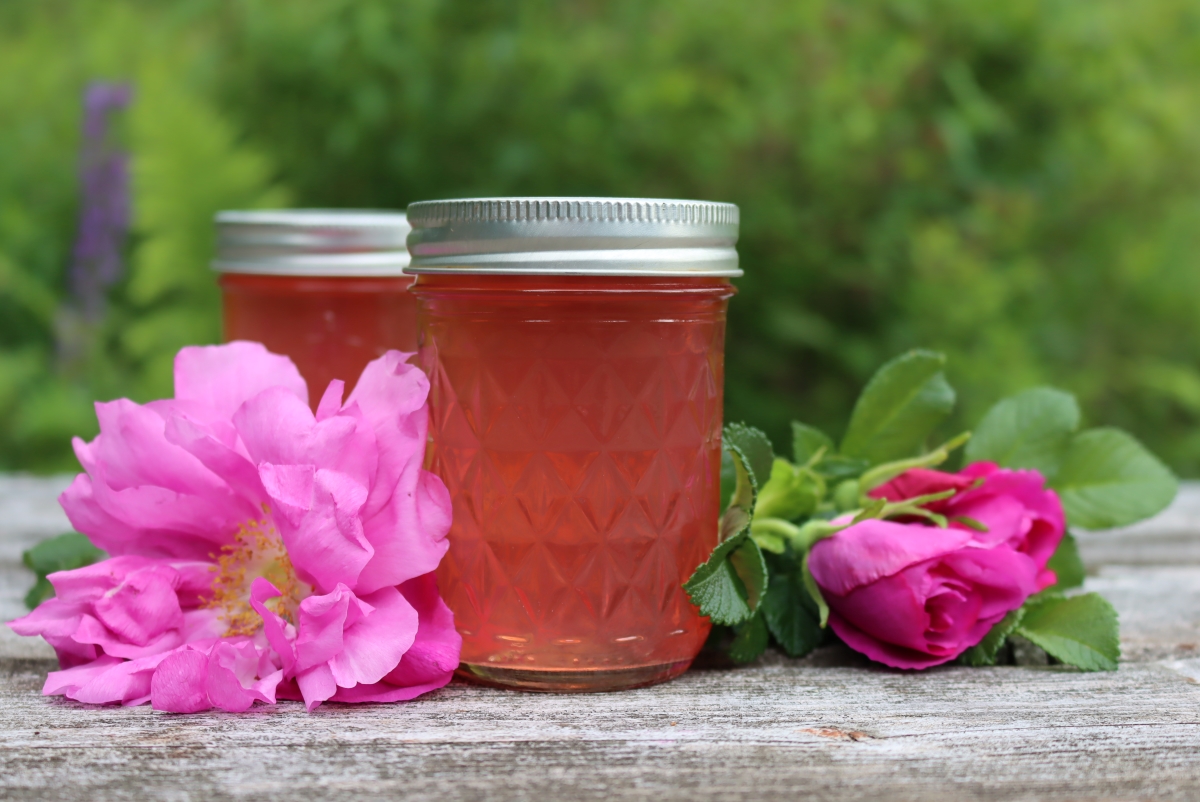 There's something about rose petal jelly that feels so special and celebratory, like a perfect early summer moment caught in time. My daughter is a particular fan of my homemade floral jellies, and rose petal jelly is no exception.
When my daughter graduated from kindergarten, I made her a batch to celebrate and gave it to her when I picked her up from school on her last day. Kindergarten "graduation" may not seem like a big deal, but we celebrate all milestones here, big and small.
To a little one, their first "graduation" present is special, and this one came imbued with extra love and the lovely flavor of summer roses.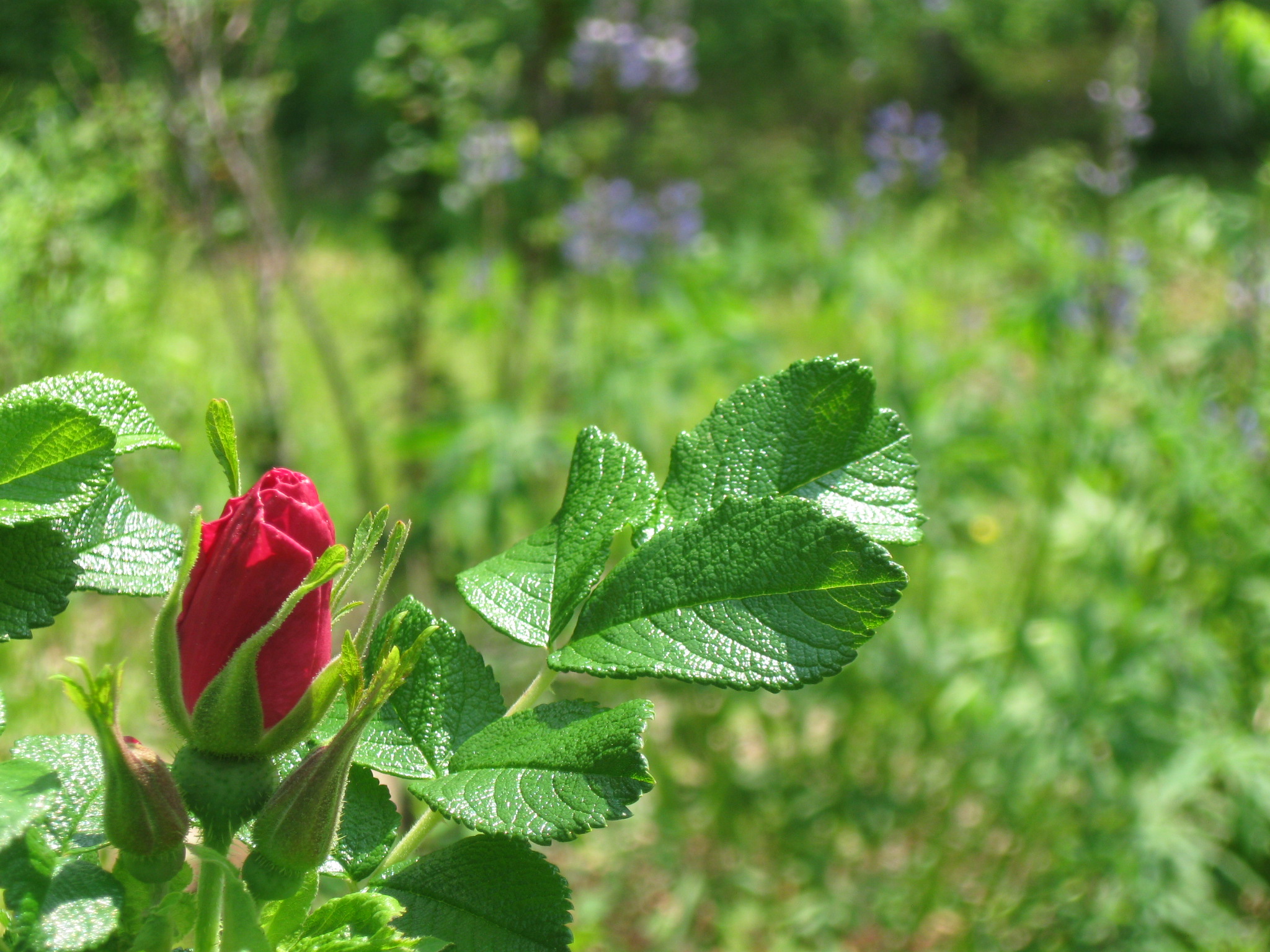 This recipe for rose petal jelly, although it sounds fancy, is actually a cinch to make once you've collected or purchased enough rose petals to fill a quart jar. Besides the blossoms, you'll discover that the rest of the ingredients are easily sourced (and if you make jelly or jam regularly, you'll probably have all of them in the pantry already).
This rose petal jelly makes a perfect treat for the summer solstice, either as a hostess gift or served with fresh goat cheese or butter.
If you're feeling extra festive and appreciative of roses, you can also try making rose petal wine (or mead) for the adults.
How to Make Rose Petal Jelly
The first step to making your own rose jelly is to source out fresh, un-sprayed petals.
If harvesting your own petals, you'll want to gather them later in the day, after the blossoms have been pollinated. The bees will have had their fill and your rose petals will still have a beautiful, floral fragrance. Plus, by letting the bees pollinate before removing the petals you'll still be left with plenty of rose hips to forage when fall rolls around.
If you don't have access to your own rose petals, organic food grade rose blossoms are available from Mountain Rose Herbs and Starwest Botanicals.
You can also check with your friends and neighbors about potential nearby rose bushes, and maybe offer an exchange of fresh flower petals for a jar of homemade rose petal jelly.
To make rose petal jelly you'll need 4 cups of fresh rose petals. Working carefully, make your way through the blossoms, removing any dirt or debris from the rose petals. I typically add the petals to a quart-size mason jar, stopping once the jar is full, but a 4-cup Pyrex measuring cup works well too.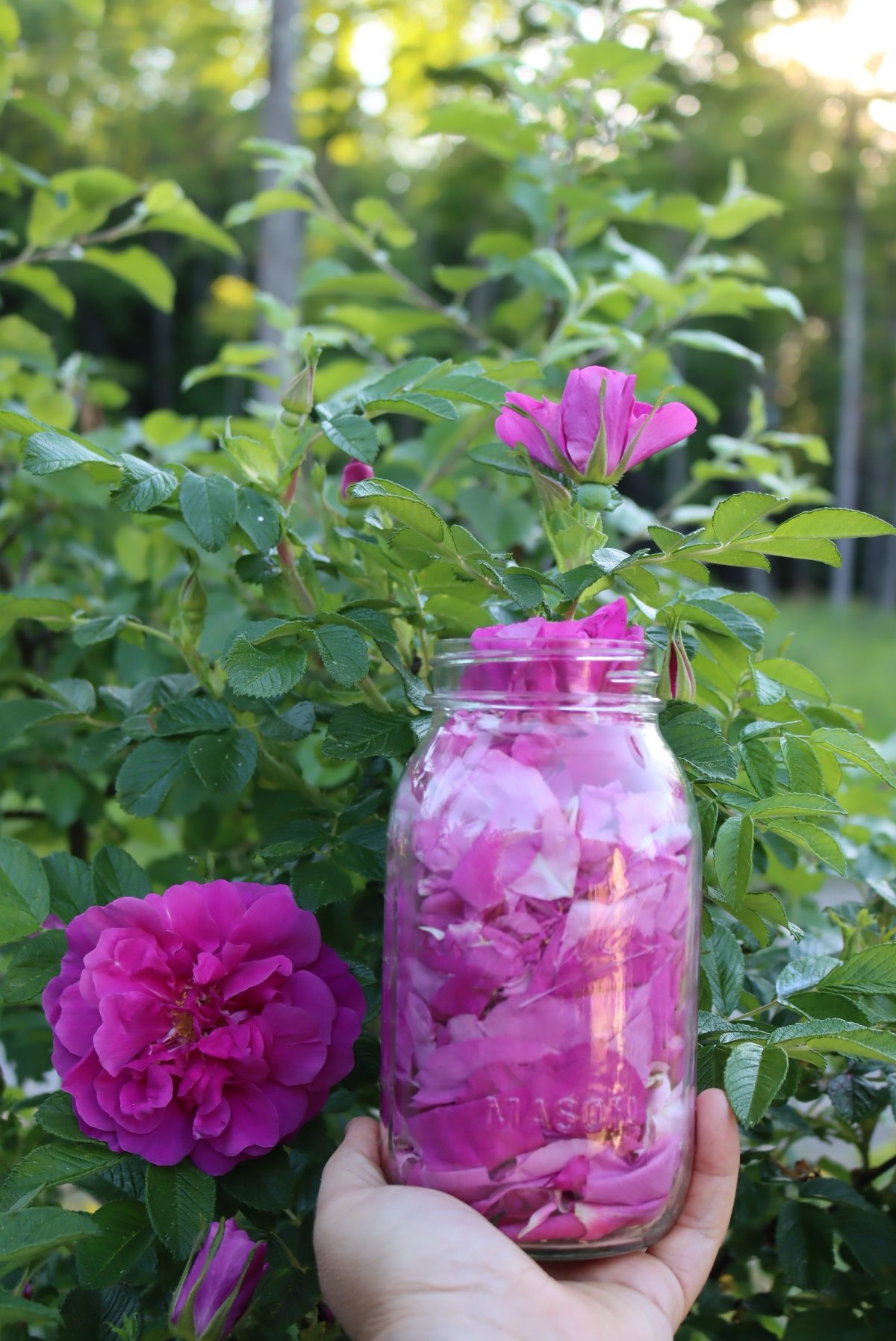 Cover the rose petals with 4 cups of boiling water and let the petals steep for 10 to 15 minutes so that the water is completely infused with their flavor. Using a fine mesh strainer, pour the infused rose petal tea into a saucepan or jam pot.
Once the rose tea is in the saucepan, you're going to add 2 tablespoons of lemon juice. You might notice that your rose infusion isn't all that colorful before you add lemon juice, and that's one reason why the lemon juice is added — it brightens up the flavor and the color, making them both really pop.
Lemon juice is also important because it balances the sugar in the recipe, helps the pectin set, and works as a preservative, so don't forget to add or be tempted to skip the lemon juice for any reason!
For this recipe, I'm going to use regular pectin (I recommend Sure Jell original pectin), which means I'll need a 1:1 ratio of liquid to sugar (or, 4 cups of rose tea to 4 cups of sugar). If you'd prefer a less-sweet rose petal jelly, you can use a low sugar pectin, which means you can use as little as a 1/2 cup of sugar and the same amount of liquid.
To achieve a yield of 5 (1/2-pint) jars as listed on the recipe, you'll need to use the full 4 cups of sugar called for as well as regular pectin.
Bring the rose petal tea and lemon juice to a boil and then add the packet of pectin.
Keep the mixture at a boil for 1 minute, making sure the pectin dissolves. If you add the pectin and the sugar at the same time the jelly won't set, so make sure the pectin is given a full minute to itself.
Next, you're going to add 4 cups of granulated sugar to the mixture. Stir it in and then give it another 1 full minute to boil and dissolve.
At this point, the jelly is done cooking and can be poured directly into 5 (1/2-pint) jars, leaving 1/4-inch headspace. You have the option of letting the jelly come to room temperature before storing it in the fridge for up to 1 month or freezing it for up to 6 months.
Another option is to can the rose petal jelly so that you can enjoy it in the depths of winter or so that you can give someone a special, summery gift on Valentine's Day.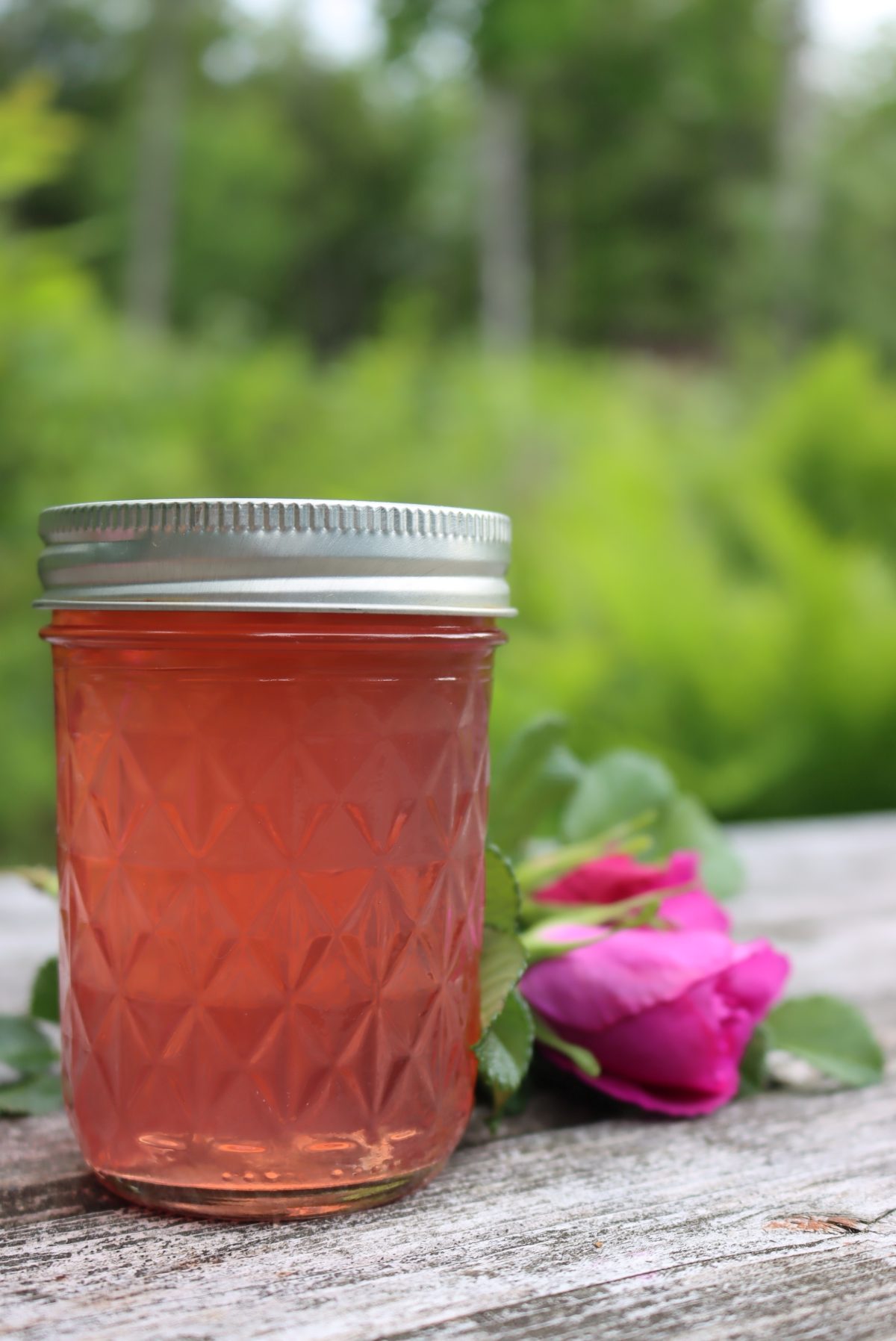 Canning Rose Petal Jelly
Canning is optional, but it's the best way to preserve this jelly right on the pantry shelf without taking up refrigerator or freezer space. It's also the best option for gift giving.
After your jars have been filled, leaving 1/4 inch headspace, cap with 2 part canning lids.
Load the jars into a water bath canner and process them for 10 minutes.
Remove the rose petal jelly from the canner and let the contents of the jars come to room temperature. Check the seals, and store any unsealed jars in the refrigerator for immediate use.
Properly canned and sealed jars will maintain quality on the pantry shelf for 12-18 months. Refrigerate after opening.
Rose Recipes
Looking for more rose recipes to use this tasty edible flower?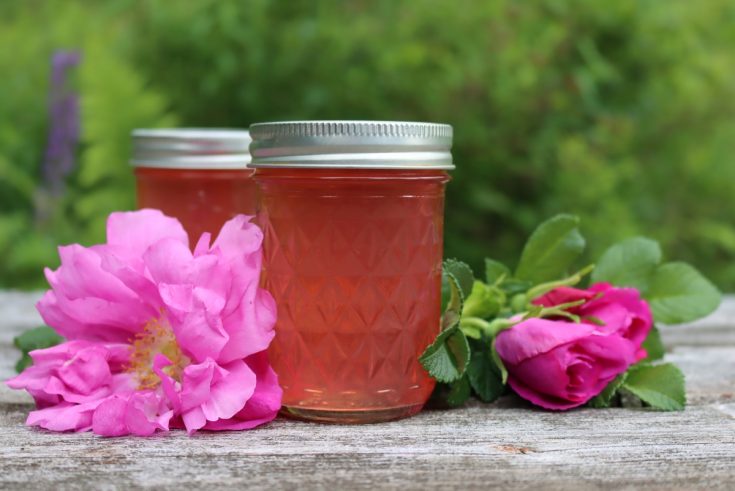 Yield:

5 half-pint jars
Rose Petal Jelly
Canning Time (Optional):
10 minutes
This easy-to-make flower jelly showcases all the beautiful floral flavor of fresh rose petals.
Ingredients
4 cups unsprayed rose petals
4 cups water
2 Tbsp. lemon juice
1 to 4 cups sugar*
Instructions
Add rose petals to a heat-proof container (either a quart jar or a large glass Pyrex measuring cup will work well).
Cover the rose petals with 4 cups of boiling water. Let the rose petals steep for 10 to 15 minutes.
Carefully strain the tea into a saucepan or jam pot using a fine mesh sieve. Add the lemon juice to the rose-infused water.
Bring the rose tea and lemon juice to a boil and stir in the powdered pectin until dissolved. Boil for 1 full minute before stirring in the sugar. The jelly will not set if the pectin and sugar are added at the same time.
Bring the mixture back up to a boil for 1 minute.
Carefully ladle the rose tea mixture into 1/2-pint jelly jars, leaving 1/4-inch headspace at the top. If you aren't canning the rose jelly, apply lids, let the jelly come to room temperature, and store in the refrigerator for up to 1 month or in the freezer for 6 months.
To can rose jelly, apply 2-part lids until fingertip tight and load into prepared hot water bath canner. Process for 10 minutes. Store rose jelly in a cool, dry place for up to 18 months.
Notes
*Lowering sugar will also lower yield, and the yield of 5 half-pints is for a full sugar recipe.
If using standard pectin (such as regular Sure Jell pectin), you must use a 1:1 ratio of liquid to sugar. That means for 4 cups of rose petal tea you'd need a minimum of 4 cups sugar to get the jelly to set. This type of jelly is sometimes referred to as"old-fashioned" jelly and it's very sweet. If you want to use less sugar, simply use low sugar pectin instead and of regular and add less sugar to the recipe. I've been using Sure Jell low sugar pectin for almost all of my jelly-making and it's always been very dependable.
If using Pomona's Universal Pectin, another popular brand and type of pectin, the instructions are different as that is a 2-part low sugar pectin. For this rose petal jelly recipe, you'll want to follow the instructions provided in the Pomona's box for mint jelly.
Finally, if using liquid pectin, the order in which the ingredients are added is different than in the methods I've talked about above (in this case, the pectin is added last, and the sugar first). Liquid pectin also requires a lot more sugar to set (7 cups sugar to 4 cups liquid) which results in a super-sweet jelly. Because of the high sugar levels needed for the pectin to set, I don't use liquid pectin very often. However, if you prefer a super-sweet rose petal jelly this would be a good option for you.
Floral Jelly Recipes
Making jelly with flowers is incredibly easy, and there are plenty of different tasty blooms you can use!
Summer Jelly Recipes
Keep your pantry fun with these fun jelly recipes!