Elderflower jelly is floral and mildly sweet, and this simple yet stunning floral jelly recipe is as beautiful as it is delicious (with optional instructions for water bath canning).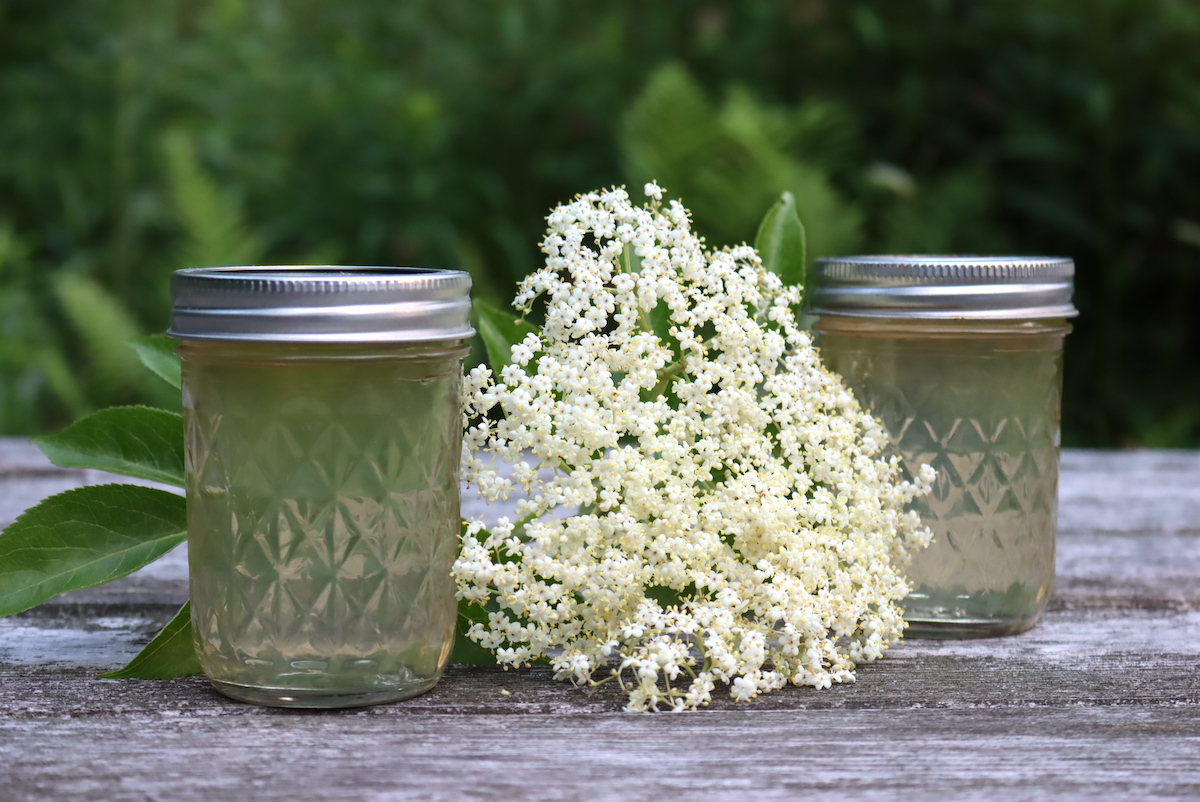 I love to make floral jellies with foraged flowers and elderflower jelly is definitely one of my favorites. We always have an overabundance of elderflowers in our yard come late May, and making jelly with them is one of the best ways that I can think of for preserving their uniquely delicate sweet and floral flavor.
We like to use elderflower jelly in all sorts of ways, but my personal favorite is a heaping dollop on hot toast or a just-out-of-the-oven muffin. It also makes a very special gift for friends and family, a perfect ray of sunshine on a gray day.
(If you really want to go elderflower crazy, you can even make elderflower muffins to use it on!)
This simple recipe for elderflower jelly can be made as a refrigerator jelly, which will keep for a few weeks, or as a freezer jelly which can be packed away for up to 6 months.
If you'd like to make it last longer and you'd prefer to store it at room temperature, I've also included instructions for preserving elderflower jelly using a water bath canner. If properly canned, it'll keep on the pantry shelf at room temperature for 12-18 months.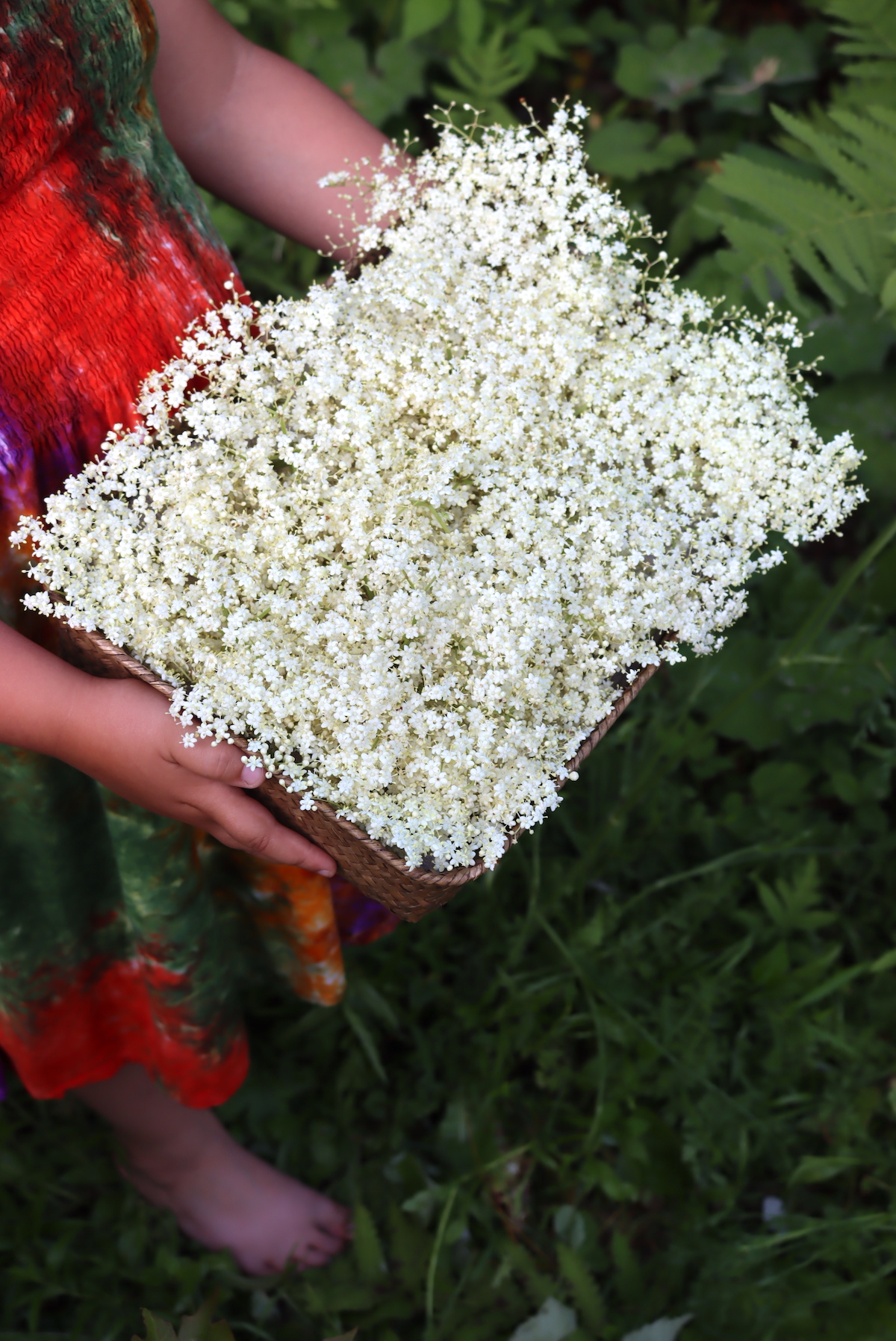 Harvesting Elderflowers
You can find elder growing across almost all of North America, where it grows in all manner of sunny to partly shady environments: suburban backyards, woodland edges, the sides of freeways, and close to rivers and creeks.
Elderflowers bloom in late spring and early summer, which means late May and early June in many parts of the country. Look for blue or black elder, which have edible flowers and berries. Avoid red elder varieties, as they are toxic and have an unmistakable bitter flavor.
A word of caution: Wild valerian blooms at the same time, and the blossoms look quite similar. It's not toxic, but it tastes really different (and has sedative properties) so you'll get more than you bargained for.
I've written a comprehensive guide to foraging elderflowers as well as foraging elderberries from the wild, so that you can confidently forage your own flowers to make elderflower jelly.
We grow elderberries in our garden, and usually have more elderflowers (and elderberries) than we know what to do with. Elderberry plants are easy to grow from cuttings, so we never lack for plants, just space to put them!
As with any foraging expedition, it's essential to harvest plant material that hasn't been sprayed.
Making Elderflower Jelly
To make elderflower jelly, you'll need roughly 4 cups of elderflower heads, making sure any green parts (both the stems and leaves) have been removed. Clean the blossoms of debris by giving them a gentle shake.
Because the recipe calls for 4 cups of flower material, I find it's easiest to stuff a quart jar with elderflowers, since the next step involves steeping the flowers in boiling water. Otherwise, any heat-safe container, such as a large Pyrex measuring cup, will work just as well.
Once I've covered the elderflowers in hot water, I let them sit for 10 to 15 minutes to create a concentrated infusion. Strain the tea into a saucepan using a fine mesh sieve (you can line it with cheesecloth for an added layer of filtration if you'd like).
At this point, I add 2 tablespoons of lemon juice to the infusion, which brightens up the flavor of the finished jelly and highlights some of the floral nuances of elderflower.
Next, I bring the mixture to a boil and stir in a box of pectin. When it comes to pectin, you have a couple of choices depending on how sweet you like your jelly. I like to use either Sure Jell or Sure Jell low sugar pectin, both of which have given me consistently good results over the course of many, many homemade jellies.
When using regular pectin for this recipe (which is what I've written in the recipe card below), it needs to be added to a 1:1 ratio of liquid to sugar. In this case, that means 4 cups of sugar to 4 cups of water. If you try to add less sugar, the jelly won't gel properly.
With low sugar pectin, you can use any amount of sugar (including the full amount). I tend to keep low sugar pectin in my pantry because of how flexible it is, and it works just as well as regular pectin. Keep in mind, that if you reduce the amount of sugar called for in the recipe, the yield will be smaller than if using the full 4 cups of sugar.
This step is important: Boil the elderflower infusion, lemon juice, and pectin for a full minute before stirring in the sugar. Otherwise, if you try to add them at the same time the jelly won't set. Not adding the ingredients in the correct order is typically the main reason jelly doesn't set, but failure to gel can also come from:
overcooking (boiling longer than 5 minutes)
too large of a batch size (in other words, don't try to double the recipe)
After the pectin has been added and the mixture has been allowed to boil for 1 minute, then you can stir in the sugar and let the ingredients come to a boil for 1 more minute.
Ladle the liquid elderflower jelly into the half-pint jars leaving 1/4-inch headspace, if you used the full 4 cups of sugar you should be able to fill 5 jars.
If you don't plan on canning the jelly, cover each jar with a lid and let the elderflower jelly come to room temperature on the counter.
Store elderflower jelly in the fridge for up to 1 month or in the freezer for up to 6 months.
Interested in canning your elderflower jelly? Keep reading and follow the simple water bath canning instructions below.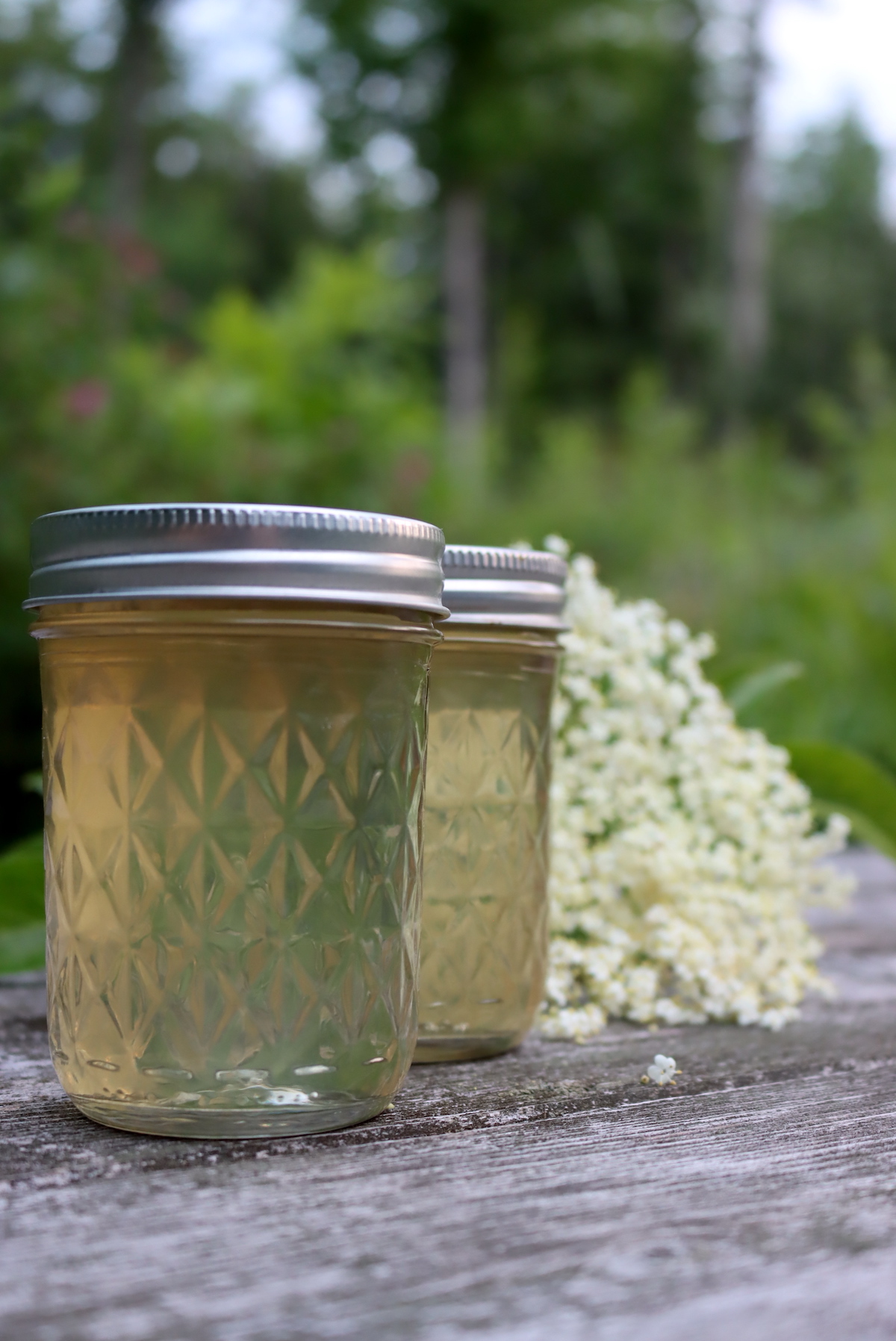 Canning Elderflower Jelly
If you want to give your homemade elderflower jelly as a gift or you'd prefer to store it at room temperature, then a brief stint in a water bath canner is the way to go.
Once you're at a point where the ingredients are all combined and dissolved, carefully ladle the still-liquid and piping hot jelly into half-pint jars (this recipe, when the full 4 cups of sugar are added, creates enough jelly for 5 jars).
Leave a 1/4-inch of headspace at the top and apply 2-part canning lids until fingertip tight. Load the jars into the prepared hot water bath canner and process for 10 minutes.
Give the jars at least 12 hours to come to room temperature, I like to set them on a clean tea towel to cool down (make sure the jars aren't touching). Check to make sure the lids are sealed and store any unsealed jars in the fridge.
Store properly canned and sealed jars of elderflower jelly in the pantry, and they should maintain quality for 12-18 months. (Refrigerate after opening.)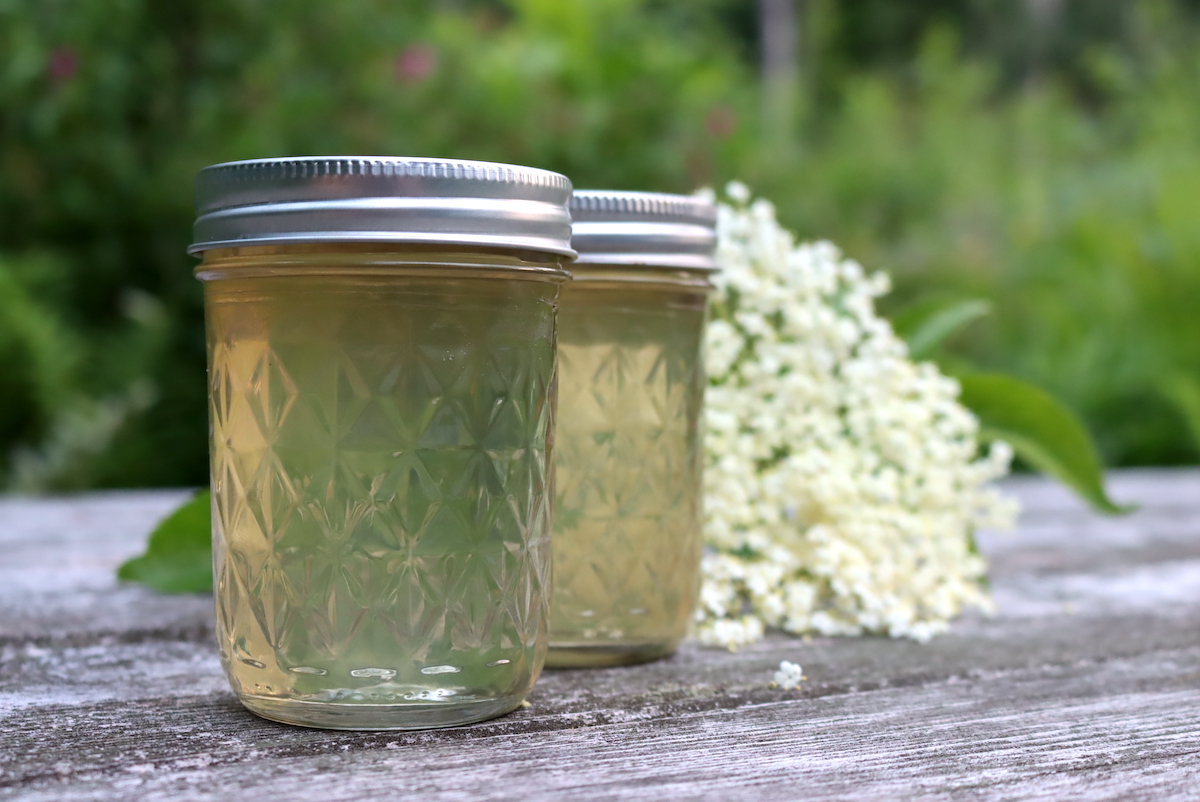 Ways to Use Elderflowers
Looking for more fun ways to use elderflowers?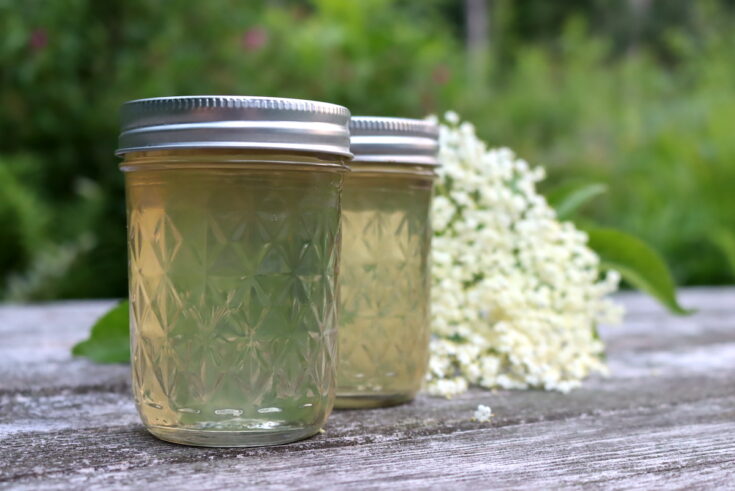 Yield:

5 half-pint jars
Elderflower Jelly
Capture the essence of elderflower blossoms in this beautiful floral jelly.
Ingredients
2 to 4 cups elderflower blossoms, de-stemmed
4 cups water
2 Tbsp. lemon juice
1 to 4 cups sugar*
1 box (1.75 oz) pectin (regular or low sugar)
Instructions
Working carefully, separate the elderflower blossoms from their stems, making sure to remove all green parts.
Pour 4 cups of boiling water over the flower blossoms in a heatproof container and let the tea infuse for about 10 minutes (I like to use a large Pyrex measuring cup with a pouring spout for this step).
Carefully strain the elderflower tea infusion into a saucepan using a fine mesh strainer.
Stir the lemon juice into the elderflower infusion and bring the mixture to a boil.
Add the pectin and stir to dissolve.
Let the mixture boil for a full minute, and then stir in the sugar. If the pectin and sugar are added at the same time the jelly won't set, so make sure these pectin and sugar are added a full minute apart.
Bring the mixture back to a boil and cook for 1 minute.
Ladle the elderflower mixture into 1/2-pint jars, leaving 1/4-inch headspace at the top.
If canning the elderflower jelly: apply 2-part lids until fingertip tight and then load the jars into a hot water bath canner; process for 10 minutes.
If you don't want to can the elderflower jelly, simply apply 2-part lids and let the jelly sit at room temperature until cool. Store in the fridge for up to a month or in the freezer for up to 6 months.
Notes
*Lowering sugar will also lower yield, and the yield of 5 half-pints is for a full sugar recipe.
If using standard pectin, you must use a 1:1 ratio of liquid to sugar. That means for 4 cups flower blossom tea you'd need a minimum of 4 cups sugar to get the jelly to set. That results in a very sweet "old-fashioned" jelly. To reduce the sugar, simply use low sugar pectin instead and then make the jelly as instructed but using less sugar. I suggest Sure Jell no sugar, which is very dependable.
If using Pomona's Universal Pectin, the instructions are different as that is a 2 part low sugar pectin. Follow the instructions provided in the Pomona's box for mint jelly.
If using liquid pectin, the order of operations is different (pectin is added last, sugar first). Liquid pectin also requires a lot more sugar to set (7 cups sugar to 4 cups liquid). I don't recommend liquid pectin because of the high sugar levels required for set, but it will work if that's your preference.
Flower Jelly Recipes
Elderflowers aren't the only edible flowers that make tasty jelly. Try any of these flower jelly recipes!
Summer Jelly Recipes
Keep your pantry fun with these fun jelly recipes!