The Presto Precise Digital Pressure Canner is an automatic electric pressure canner that's simple to use, much like an instant pot. While instant pots are unsafe for pressure canning, this digital pressure canner properly vents the chamber before canning and then maintains precise temperatures. As a result, this electric pressure canner that meets USDA guidelines for safe home pressure canning.
The presto is a nifty electric pressure cooker for canning, but is it worth the money?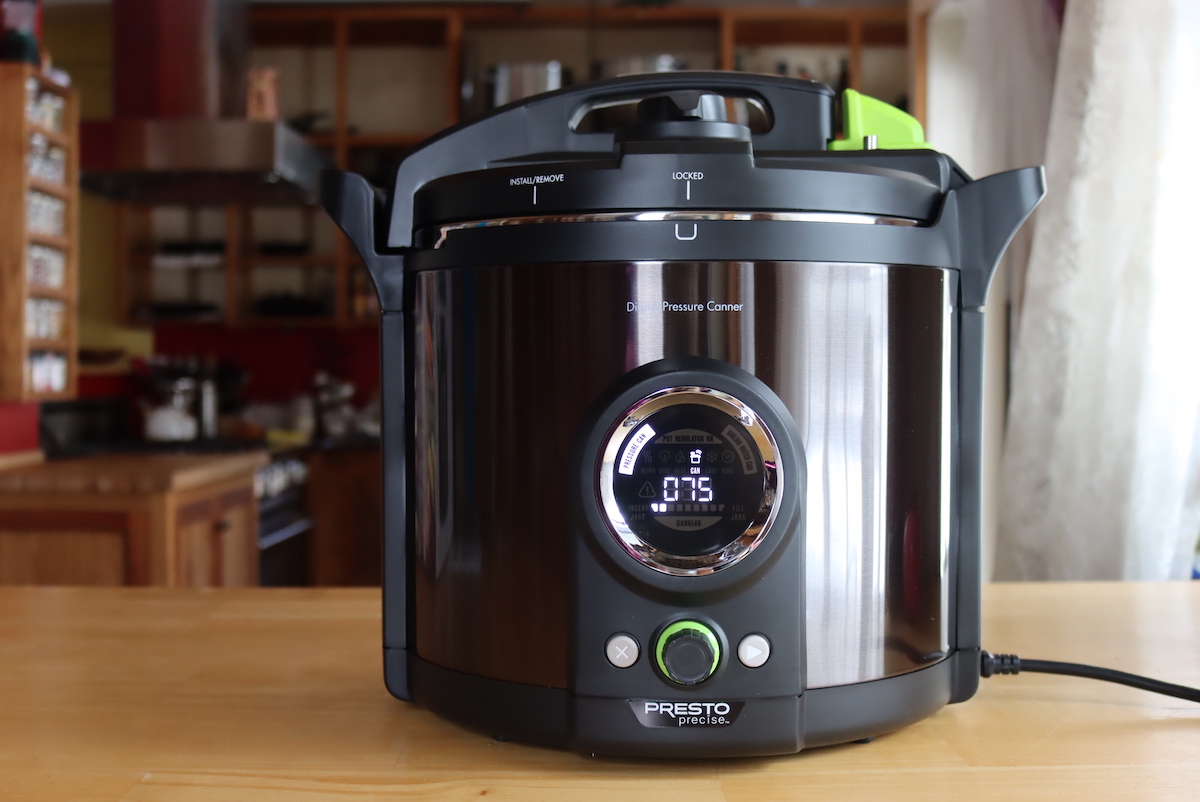 Presto recently released the first (and only) electric pressure canner (Presto Precise Digital Pressure Canner #02144), and it takes the guesswork (and fear) out of pressure canning. It's incredibly easy to operate, and it walks you through every step of the process.
Pressure canning can be intimidating, and I'll admit that I was nervous about canning my first batch in my All-American Pressure Canner more than a decade ago. Those big stove top models are tanks, but they're also noisy and can be complicated to operate (especially for beginners).
When the instant pot was released in 2010, the average home cook became comfortable with pressure cooking overnight, as this simple countertop appliance takes all the guesswork (and fear) out of pressure cooking. The problem is, instant pots are not safe for pressure canning.
Why?
First, instant pots do not maintain precise temperatures and pressures. A vague gauge of "high" and "low" pressure is not accurate enough for pressure canning, but it works just fine for regular pressure cooking. They're designed to keep food in a pressure window that can vary by 3 to 4 psi repeatedly during the canning process, and according to instant pot's own website, it often drops below the safe temperatures for pressure canning (even at high pressure).
Second, they don't vent the chamber before running, meaning that there are cooler pockets inside while it's running. That's fine for things like instant pot pinto beans, which will bubble all around while they're cooking, but it's not so good for canning where one jar might be in the unlucky cold spot.
Third, even if the instant pot could maintain consistent pressure, there's no way to adjust for altitude.
(This is true even of the Instant Pot Max, which has a "canning" setting. According to the instant pot website, that canning setting is only approved for water bath canning. I could go on and on, but I'd encourage you to read my article about canning in the instant pot, and why it's problematic.)
So if the Instant pot won't work as an electric pressure canner, what will?
Ten years after the first instant pot, Presto released its Precise Digital Pressure Canner, which neatly resolves all the issues around instant pot canning, and walks you through every step of the canning process.
Everything is automatic, and it maintains the appropriate temperature inside the chamber all on its own, without manual altitude adjustments. There are steps for warming the jars, venting the canner, and everything else you need to make pressure canning a success.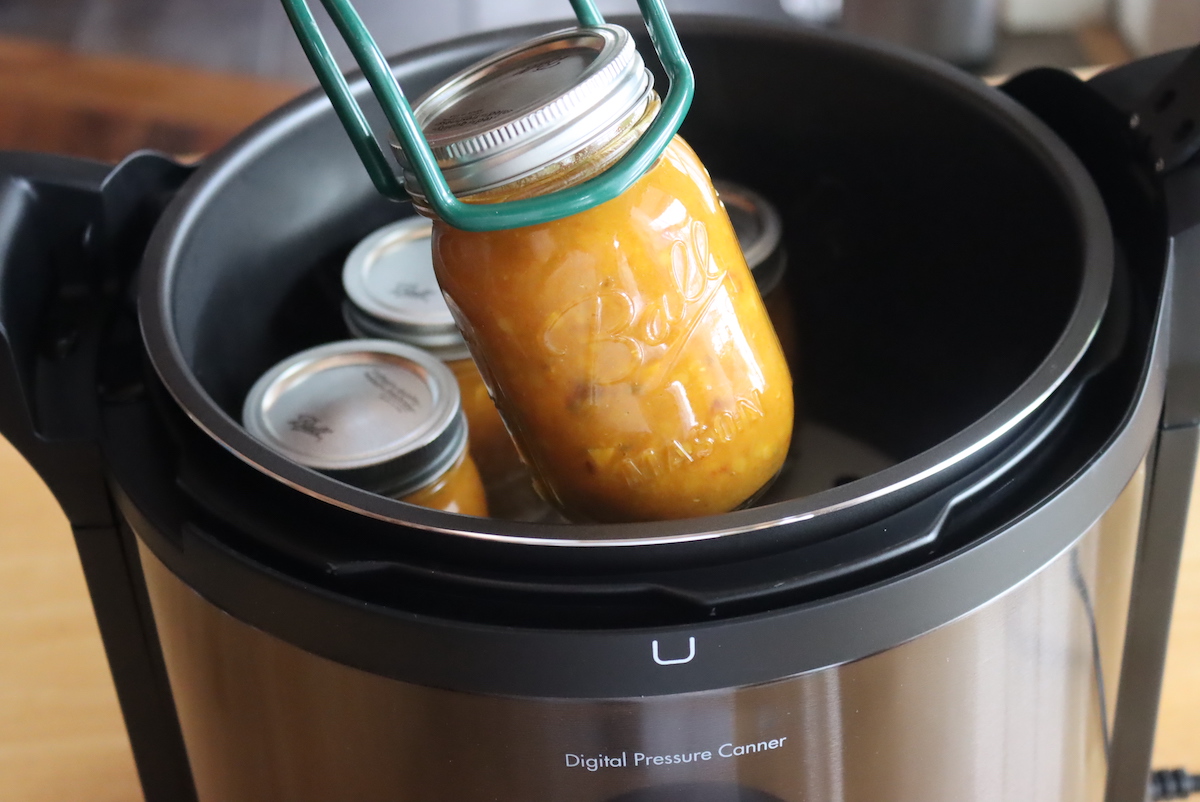 It was released in 2020, and with all the chaos in the world that year, they didn't do a great job of getting the word out. Now, years later, there aren't many people who know that electric pressure canners exist. Now that I've tested one and run it through a dozen or so batches, I'm hoping to change that.
These things are amazing, and they're going to completely revolutionize home food preservation. They take the fear and guesswork out of pressure canning, and I wish they had been available when I started canning all those years ago.
I am no longer a beginner canner, and my family processes several batches a week year-round…and this little beauty now has a place on my kitchen countertop, and I'm thinking about retiring one of my other canners.
(I am not in any way associated with Instant Pot or Presto Canning, and I bought these with my own money for this review. My opinions are my own, always.)
Pros and Cons of the Presto Precise Digital Pressure Canner
I'm going to cover exactly how this electric pressure canner works, along with everything I love (and don't love) about it, in detail. If you're in a hurry, and just looking for a quick summary of the pros and cons, here you go:
Pros
Doesn't use stovetop space
Runs automatically, so you can't forget a step
Maintains accurate pressure automatically
No altitude adjustments!
Silent running (no pressure jiggler valve)
Multiple fail-safes to prevent accidents
Well insulated, so it doesn't heat up the house while canning
Easy to use, like instant pot
Not Scary
Cons
Limited capacity (5 quarts or 8 pints)
Beeps at Each Step
Takes a Long Time to Cool Down (because it's well-insulated)
How Does a Presto Digital Pressure Canner Work?
The process for using an electric pressure canner is really straightforward, and when you open the box there will be a quick start guide sitting right on top. One side has pressure canning instructions, and the other side is water bath canning. (Yes, you can also water bath can in an electric pressure canner.)
They also include an owner's manual with more detailed maintenance guides, troubleshooting guides, and a recipe book that covers the pressure canning recipes in the USDA Guide to Home Canning, so you have those easily at hand if you don't have any other canning books.
The video below shows you exactly how to operate a Presto Electric Pressure Canner. In a nutshell, they work just like any other electric pressure cooker appliance, but it walks you through the steps required for canning. That includes pre-heating the jars and venting the chamber before canning.
They have an integrated temperature sensor that tracks the canning temperature in real-time to ensure that it always stays above 240 F (the magic number for safe pressure canning) regardless of your altitude. At higher altitudes, that will mean more pressure, but since it's tracking temperature instead of pressure, the food will always come out perfectly processed regardless of altitude.
The one thing I will say is that it's much easier to pre-warm your jars by running them in the dishwasher before canning, and that way, you don't have to worry about pouring hot water into them (and messily pouring it out). You can just warm your jars in the dishwasher, and you don't have to warm them in the canner itself.
(But, be aware that the canner will still run through the "jar warming" step, and you cannot skip that step. It's not just for the jars; it's pre-warming the canner too, so you'd have to do that either way.)
Presto Digital Pressure Canner Review
I'll put it out there, I didn't think I would love this thing.
I've been canning with an old-school battle tank of an All-American Brand Pressure Canner for many years now, and at this point, I actually have three different All-American Canner's that I've picked up over the years (including their super gigantic 40-quart model that can process enough jars to feed an army). We do a lot of pressure canning, and at best, I figured this electric pressure canner would be a cute novelty.
I was wrong! This thing is amazing, and it will be my go-to canner each week from now on.
Here's what I love (and don't love) about the presto electric pressure canner:
Walks You Through Every Step
The canner has the whole pressure canning process programmed in, and it walks you through each and every step. You can't forget to vent the chamber, it does that automatically. Everything from the pre-heat cycle to the cool-down cycle is pre-programmed, and the screen prompts you every step of the way.
While that's perfect for beginners just learning to pressure can, it's also great for experienced canners putting up leftovers on busy weeknights. I'm cleaning the kitchen and canning chili con carne from leftovers, and that canner is like my personal assistant, making sure I hit every step on time and in the right sequence.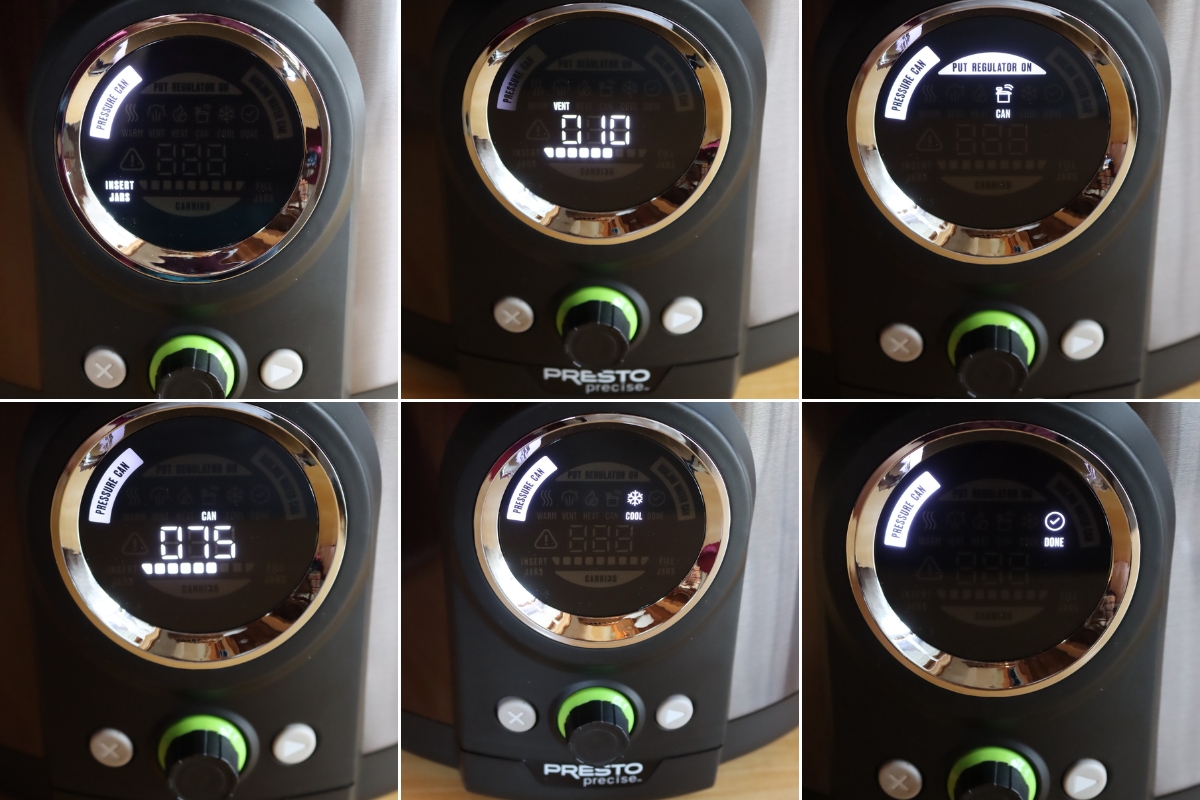 Automatic Altitude Adjustments
Since the canner is tracking temperature instead of pressure, there's no need to adjust for altitude. The only reason you adjust the pounds of pressure in pressure canning is to ensure that you always maintain 240 degrees F even at higher altitudes. The higher up you are, the less natural pressure, and the more pounds of pressure you need to hit 240 degrees.
If you just track temperature instead, as this canner does, it just applies heat when needed to keep it at the correct processing temperature.
In truth, the temperature is what matters for pressure canning, and the added pressure of altitude adjustments are just a workaround that we have to do manually. This canner does everything automatically, no matter where you live!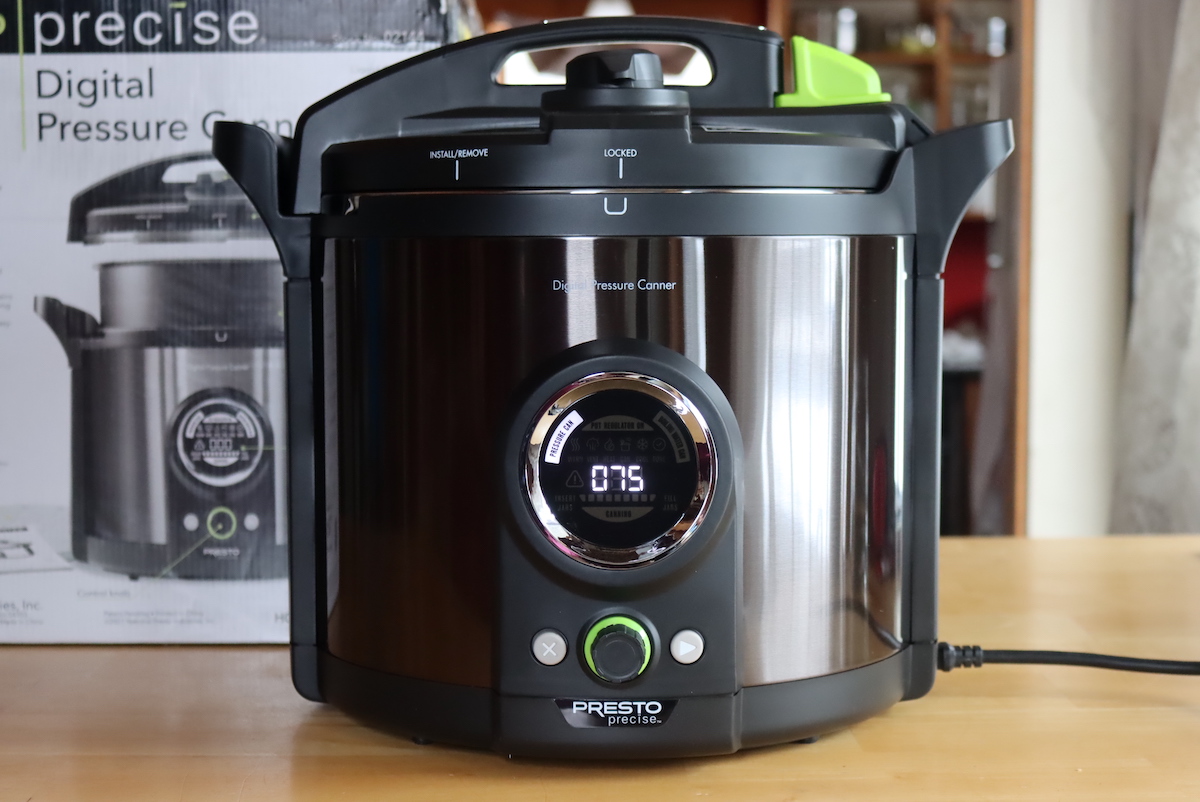 Silent Running
As an experienced canner, I love that it runs silently. That's right. It's silent as it processes the food.
Anyone who has used a pressure canner knows that they are incredibly noisy, and the canning weight is constantly jiggling to let off pressure to keep the thing regulated. Once this electric pressure canner is up to temperature, it just does it…in blissful silence.
As a mom of two young kids, that's a godsend!
You can actually can during nap time, or really anytime, without all that noise filling the whole house.
While it does "beep" at each step, that's when you're actively tending the canner, filling jars, and otherwise fussing with it anyway. Once the final "processing" beep happens, it gets the job done without another peep.
Doesn't Use Stovetop Space
I'm always short on stovetop space at canning time, as you have to keep the food and the jars hot, as well as pre-heat the pressure canner. Sometimes I'm canning while trying to get dinner on the table too, and then things really get squirrel-y.
I absolutely love that this takes pressure canning off the stovetop. My stove isn't monopolized during a long 90-minute processing time, and I can still get dinner on the table. Even if you're not cooking dinner at the same time, it can be tricky to cook the food you intend to can and heat the canner at the same time, especially with a smaller stove.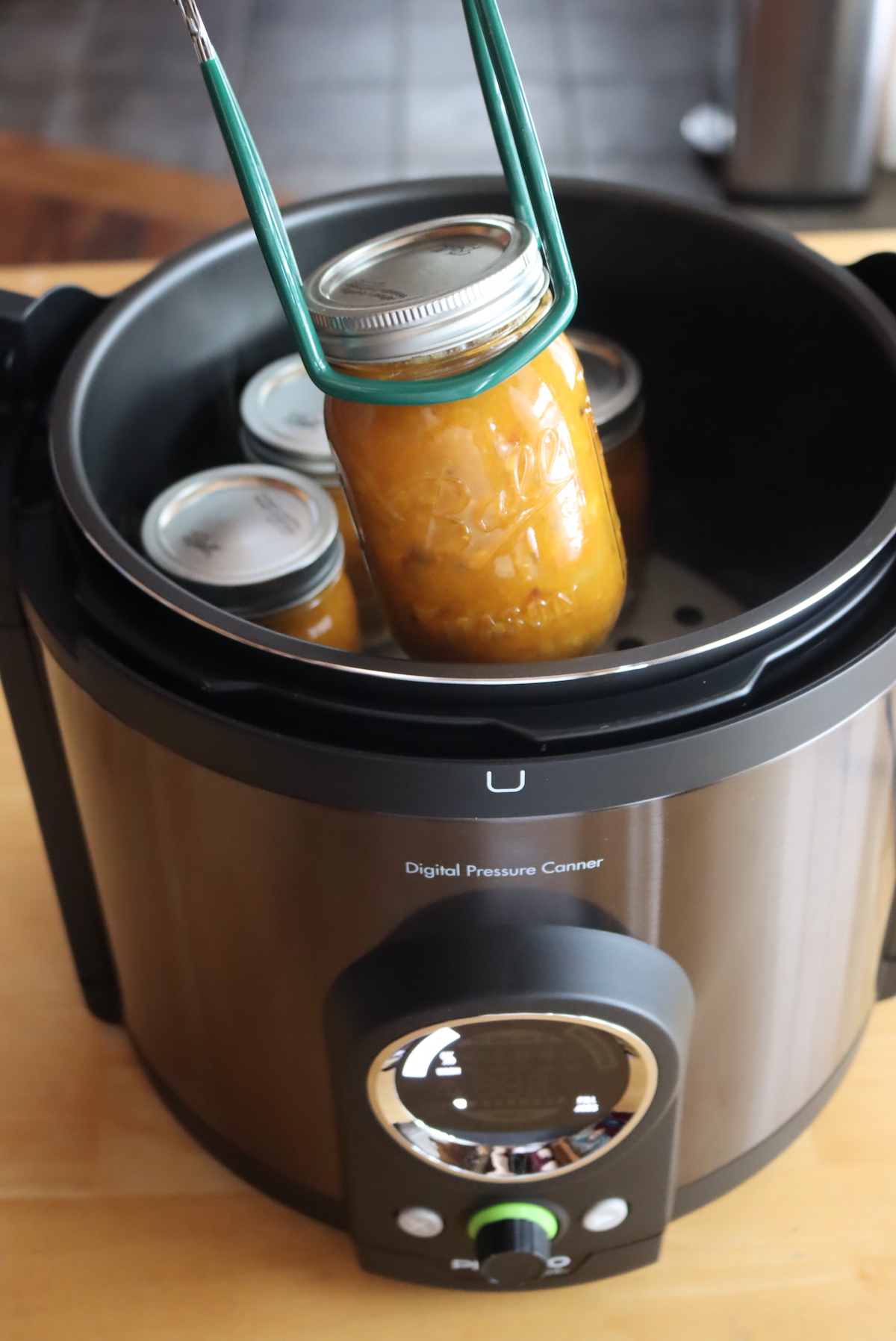 Multiple Failsafe Locks
The canner itself has multiple fail-safe interlocks that completely prevent you from opening it when it's pressurized, and it also automatically shuts off if the pressure starts to get too high (as in, a valve is blocked).
Once it starts running, you can feel confident that it's just going to get the job done.
The safety features, plus silent running operation, take all the scary parts out of pressure canning.
Well Insulated and Energy Efficient
A normal stovetop pressure canner isn't well insulated, and it sheds heat into your kitchen as it runs. Those things really heat up the kitchen when canning, and as a result, I do almost all my pressure canning in the winter.
The electric pressure canner is incredibly well-insulated and doesn't heat up your kitchen while it's running. The insulation also means it uses less energy to process food, as compared to a stovetop model.
(The downside of extra insulation is that it takes more time to cool down after processing is complete, but I'll discuss that shortly.)
Electrically Powered
The other real benefit here is that it runs on electricity. For most people, that won't matter all that much…but we have a dozen solar panels powering our homestead (with a battery bank), and I can run it right off of the surplus electricity generated in the summer months.
I know most people aren't thinking about "off-grid canning," but I've actually had quite a few people ask me for "off-grid" pressure canning options, or some way to run a pressure canner over an open fire or on an outdoor propane burner.
Both of those outdoor options don't work, as you can't precisely control the heat to keep the canner at pressure (and over pressuring is a real problem). But, if you have a solar setup as we do, your "off-grid pressure canner" can be this electric pressure canner.
For most people living on the grid, it's just a good energy-efficient option that's better insulated than the average pressure canner.
Criticism
So those are all the things I love; what don't I love?
I put up a lot of food each year, and we can every week of the year. A lot of that involves big batches, especially when I'm canning broth and stock. This canner can process 5 quarts or 8 pints at a time…which is perfect for most things…but it won't accommodate extra big batches.
Most people don't need to put up 19 quarts at a time, but if you do, you'll want to use something like the 40-quart All-American Brand Pressure Canner.
Beyond that, it does take a long time to cool down, and as a safety precaution, it won't let you open the canner during the cool-down phase. Obviously, you shouldn't open a canner when it has pressure inside, and the safety interlocks won't let you do that.
Once the pressure is gone, but it's still wicked hot inside, you can open the canner to remove the food.
With a stove top canner, that's usually around 30 to 45 minutes after you turn it off. This electric canner is so well insulated that it takes about 60 to 90 minutes to cool enough to open.
The reason for the extra cool down time is that the electric canner is much more insulated than your average pressure canner, so that's a good thing generally, as it uses less power to maintain pressure…but the downside there is you have to wait a bit longer for it to cool.
That's not a huge difference, but it will matter if you're trying to process multiple batches back to back.
All in all, those criticisms are pretty minor, and I absolutely love this electric pressure canner.
Presto Digital Pressure Canner FAQ
Hopefully, I've already covered everything you need to know about this electric pressure canner, but here are a few quick FAQs to round out the details:
Do Other Types of Electric Pressure Canners Exist?
At right around $300, the presto canner costs considerably more than a simple instant pot. Are there any other competing brands on the market?
While there are other brands of electric canners on the market, options for electric pressure canners are very limited, and the Presto Digital Pressure canner is by far the best option.
Nesco has something it calls a "Digital Pressure Cooker and Canner" and it is much less automatic, and a bit finicky to use. I bought one to review alongside the presto canner, and a dozen batches in I'm still trying to get the hang of programming it. (I'll have a review on that one out as soon as I can get it right…)
A few times already it's managed to skip the "coming up to temperature" portion of the process, and it just starts the pressure canning countdown (before it's up to pressure). There's no way out once it gets into that mode, and you'll have to re-process the batch.
I have seen plenty of people that say they use the Nesco and love it, but I'm honestly struggling. I want to love it, because it's an economical option…but at this point it's harder to use than just a standard stovetop pressure canner…and I'd recommend a regular stove top model before the Nesco.
If you are specifically looking for an electric pressure canner, the presto digital canner is what I would recommend, for beginners and experienced canners alike.
Instant pot released the Instant Pot Max, which has a "canning" setting, and initially, they said it was approved for pressure canning. Their engineers didn't realize that the canner didn't just need to hit 15 pounds of pressure, but also needed to maintain the pressure through the whole cycle.
After hitting 15 pounds pressure, it quickly drops off and then cycles between 10 and 12 pounds pressure, regularly dropping below the 240-degree F line required for safe pressure canning. This nifty graphic from instant pot actually shows the variation during the cycle.
Instant pot's own website now says that the instant pot max is not approved for pressure canning, and it should only be used for water bath canning high-acid foods like jam and pickles.
Ball canning also has an electric canner, but it's a simple water bath canner. Their model is basically just an electric kettle, just like the ones so many college students use to boil water in their dorm rooms. Instead of having a pour spout, it's just an open pot with a heating element at the bottom. Great for boiling a pot of water, and yes, it does work wonderfully for water bath canning without taking up a burner on the stove. But it's only for canning high-acid foods like jams, jellies, fruits, and pickles. You cannot pressure can using Ball Canning's Water Bath Canner.
Lastly, All American also makes an electric autoclave that looks very similar to their stovetop pressure canner, but it's not suitable for canning. The reason for this is it's designed for steam sterilization of bandages and other porous materials, and the inside is set up a bit differently than a canner. Beyond that, it runs for a maximum of 60 minutes (which isn't long enough for many things, including soups, meats, and most vegetables), and lastly, it's locked to a set pressure of 17 psi (which is much higher than you'd use for pressure canning).
I've also heard this referred to as the "All American Electric Pressure Cooker," but it's not designed for cooking either. Really, it's a professional autoclave and should only be used for sterilizing non food items.
The All-American electric autoclaves are also about $1000 to $1200, so they're not exactly economical either.
Does the Presto Electric Pressure Canner Meet USDA Guidelines?
Yes. The USDA does not specifically approve or certify specific brands of pressure canners, but the presto canner currently meets all the USDA guidelines for safe pressure canning.
According to presto, the machine vents the chamber before canning, and maintains precise temperatures throughout the canning process. The machine is so precise that you don't even have to adjust for altitude, as the electric pressure canner automatically adjusts for altitude using its temperature sensor inside the chamber.
Lastly, it has a chamber sufficient to hold at least 4 quarts (smaller chambers cool too quickly, and don't meet USDA guidelines). To operate it within USDA guidelines, be sure to follow tested pressure canning recipes and always process at least 2 quarts (or 4 pints) per batch (as very small batches under 2 quarts or under 4 pints don't have enough thermal mass to ensure even heating inside the chamber). All tested pressure canning recipes are 2 quarts or larger.
As a result, the presto electric pressure canner that meets the standards put out by the USDA for safely pressure caning low-acid foods at home (meats, beans, soups, etc.) is the Presto Digital Pressure Canner (#02144).
Be aware that presto also makes a simple digital pressure cooker for around $100, but that one is not a canner. It works just like an instant pot, and is basically just their version of the instant pot without all the canning features. If you want the canner, it's going to cost a bit more, and you should make sure you're buying presto's stock No. 02144, as listings can be confusing online.
What is the Best Electric Pressure Canner?
The best electric pressure canner is Presto Precise Digital Pressure Canner #02144, and in my mind there's no comparison.
The instant pot is not safe for canning and doesn't meet USDA guidelines (the chamber is too small and it doesn't maintain high enough temperatures). Nesco also has an option for a canner, but it's much harder to use and is prone to user error (though inexpensive).
If you are considering the Nesco as a less expensive option, I would suggest getting a stovetop canner instead as those are inexpensive and easier to use. I've had a number of errors with the Nesco, even as an experienced canner, and I don't recommend it. (Full review coming out soon.)
How Much Does the Presto Electric Canner Cost?
The MSRP for this electric pressure canner is right around $300 as of 2023. Inflation is crazy these days, so that'll likely go up, but I've seen a number of places selling them for as low as $285, and I've seen it as high as $349.
This seller has it for the least I've seen it anywhere, and that's where I ordered mine.
That's a bit more than most stovetop presto canners, which are about $150 to $175, but it's a lot less than the All-American Pressure Canner, which are $450 to $600 each.
What is the Capacity of the Presto Digital Pressure Canner?
When pressure canning, the presto electric pressure canner can hold eight regular pints (or seven wide-mouth pints) or five regular quart jars (or four wide-mouth quarts).
For half-pint jars, the canner can hold ten regular mouth half-pint jars. If you happen to have wide mouth half pint jars, which are wider, but considerably shorter, you can double stack the jars in the canner to fit 14 wide mouth half pints. The instruction manual has specific instructions on how to double stack wide-mouth half pints so that more will fit in the canner.
The table below shows the capacity for each type of jar: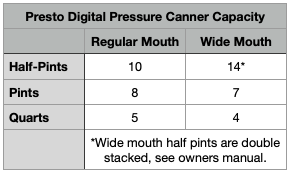 One important thing to note here is that if you're water bath canning, the capacity is actually a bit less. The internal pot is not quite deep enough to water bath can quart jars, so you can only water bath can in pints and half pints. You also can't double stack half pints for water bath canning.
If water bath canning, the capacity is eight regular mouth pints or ten regular mouth half pints.
Can You Water Bath Can in an Electric Pressure Canner?
Yes, you can also water bath can in an electric pressure canner. All you have to do is select "water bath canning" and then follow the prompts. The process is very similar, and the only real difference is that you never put the pressure regulator valve on the canner to allow it to come up to pressure.
This video walks you through the process of water bath canning in the presto digital pressure canner:
Can you Pressure Cook in the Presto Digital Pressure Canner?
That's a bit unclear, and presto never really covers that in any of their literature.
My main concern here would be that the vent works a bit differently than other electric pressure canners, and you may have issues with solids clogging the vent if you're cooking directly in the pan (rather than processing jars).
The canner will also not allow you to skip the extra steps (warming and venting), so it's probably not the best for cooking in any case.
What are the Electricity Requirements of the Presto Digital Pressure Canner?
The presto electric pressure canner runs off standard 120-volt electricity, with a normal wall plug (US style). It is 1485 watts, and that's a good bit of power for a small appliance, but it's similar to most electric waffle makers in terms of power requirements.
How Long Does it Take An Electric Pressure Canner to Run?
The total run time is going to depend on your specific recipe, but in general, the steps take the following amount of time:
Pre-Warming Jars: 15 to 20 minutes
Loading Jars: 5 to 10 minutes
Warming to Boiling: 10 to 15 minutes
Venting Steam: 10 minutes
Coming up to Pressure: 10 to 15 minutes
Processing at Pressure: Depends on the Recipe, but usually 10 to 100 minutes
Cooling: 60 to 90 minutes
In total, you're looking at anywhere between 2 hours for recipes with the shortest process times, all the way up to 4 1/2 hours for the longest recipes from start to finish. Once the jars are loaded, and the chamber vented, the rest of the steps are completely automated and hands-off.
The run time is similar to a stovetop canner, but it may take a bit longer to cool completely because it's so well-insulated. The safety features will not let you open the canner until it's cooled enough so that there's no longer pressure in the chamber.
What is the Maximum and Minimum Processing time in the Presto Digital Pressure Canner?
The canner can be pre-programmed to process at pressure for times between 10 and 180 minutes. You can adjust it in 5-minute increments, so 10, 15, 20, and so on, all the way up to 180 minutes.
The longest pressure canning time for any food is 100 minutes for seafood, so the 180-minute timer is more than sufficient. The reason for the extended time there is that you can also sterilize things, like mushroom growing media, in a pressure canner. This will allow you to use your digital pressure canner for more than just canning if that's relevant to you.
For most people, you'll only be using it at most for 90 minutes (soup in quarts) or 100 minutes (seafood soups).
Is there any maintenance for the Presto Digital Pressure Canner?
Most pressure canners require occasional replacement of the sealing gasket, and the presto electric pressure canner is no different. (As a side note, the All American Canners don't have a gasket, and they use a metal on metal seal instead. They don't require maintenance or replacement gaskets, and can run for decades without intervention. That's another reason I love those, but they do cost a pretty penny, and they're not electric, of course.)
You will need to periodically replace the gasket. Beyond that, the manufacturer only recommends basic cleaning, as you otherwise would maintain any appliance. (It's eclectic, so don't put the whole thing in the dishwasher, obviously, but the inner pot is dishwasher safe.)
Here is what the Presto Electric Pressure Canner manual recommends for maintenance:
"
When not in use, store your electric canner in a dry place

To prevent unpleasant odors from lingering, store the unit with the cover




inverted on the canner body.

Do not use metal utensils as they may scratch the nonstick surface.

Do not strike the rim of the removable pot with any utensils.

This could damage the rim, which may allow steam to escape and




prevent the canner from sealing.

The sealing ring and

gasket

for the air vent/cover lock may shrink, become hard, deformed, cracked, or torn with normal use
When this happens, replace the sealing ring and/or the air vent/cover lock

gasket.

This is a routine replacement and is not covered




under warranty.

Leakage between the cover and canner body is usually caused by deterioration of the sealing ring after prolonged use

Periodically check the vent pipe nut for looseness. If necessary, retighten with a ½ʺ wrench.

If, for any reason, the canner cannot be opened, contact the Consumer Service Department at 1-800-877-0441 for assistance.

Any maintenance required for this product, other than normal household care and cleaning, should be performed by the Presto




Factory Service Department.
"
What's the Difference Between an Electric Pressure Canner and an Electric Pressure Cooker?
Electric pressure cookers are not designed to maintain precise temperatures and pressures, and they're not accurate enough for pressure canning. They also don't allow you to vent the chamber before canning to ensure even heating.
Conversely, electric pressure canners are only designed for canning, and aren't really designed for cooking food that's not inside of jars.
Canning Guides and Reviews
Looking for more canning guides and information?