Redbud jelly is a delicious way to enjoy edible redbud flowers each spring. These trees are not only beautiful, they're delicious!
This simple recipe will make either redbud jelly or syrup, the main difference is jelly has added pectin. Skip the pectin if you just want a tasty redbud syrup for creative drinks, cocktails or topping desserts.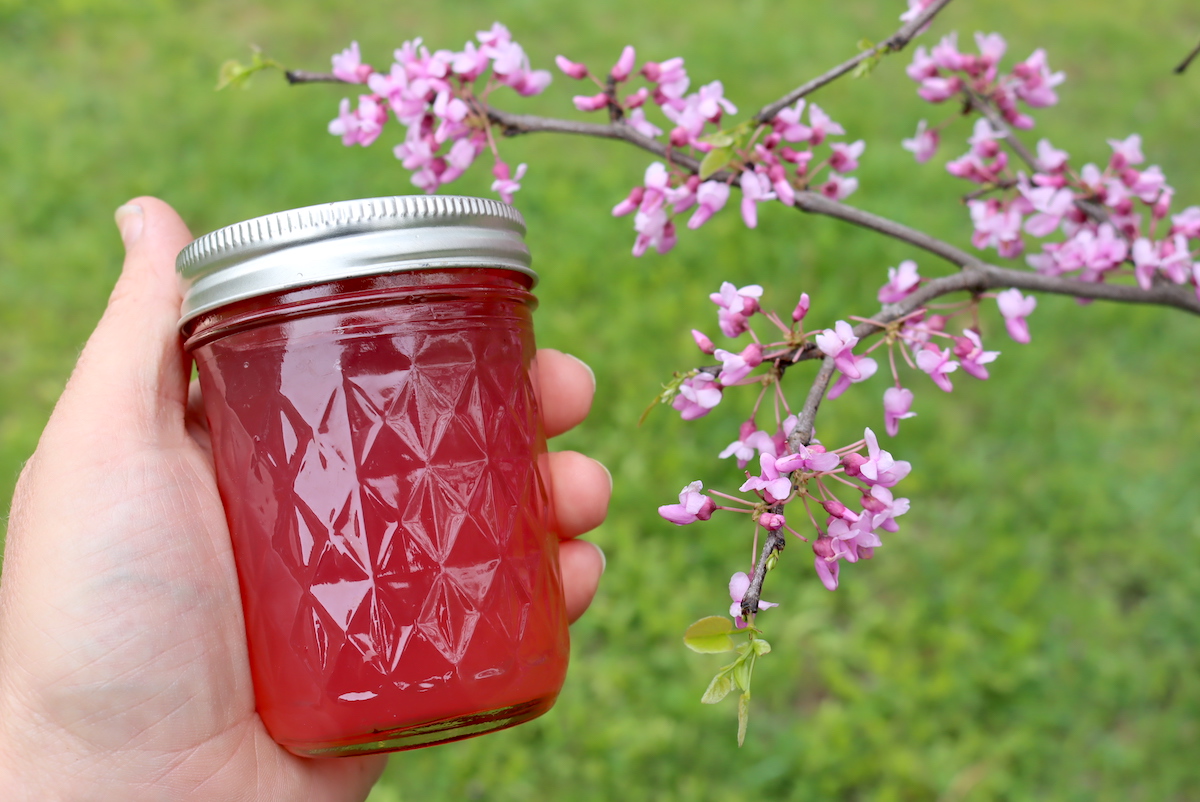 Every year we try out a new flower jelly with all the delicious edible flowers that our short Vermont summers provide. We wait all year for spring, and when the blossoms appear I can't help but want to hold on to them.
Flower jellies are a great way to enjoy the aroma (and flavor) of fresh edible flowers, even when there's a foot of snow on the ground mid winter.
This past year, we found a redbud tree in bloom, so later that day we found ourselves making redbud jelly!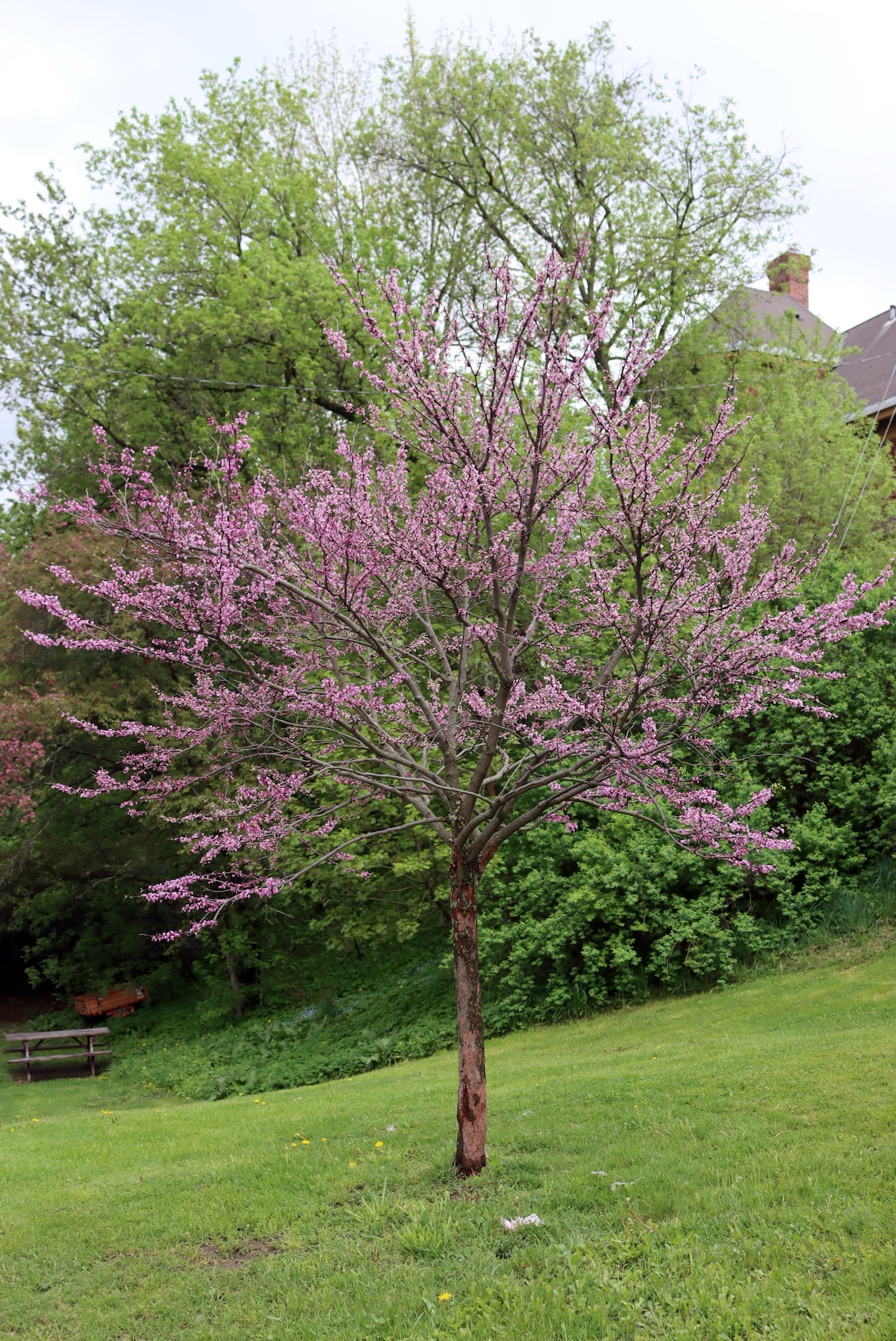 Harvesting Redbud
Redbud trees are in season around the same time as the first Dandelions. For most of the country, that's in early spring, usually sometime in March.
Here in Vermont, that's not until May, because winter always sticks around for a few extra months up here in the north country. That's ok, it just means we enjoy fresh spring flowers all that much more.
You can identify redbud trees by looking for a tree that's absolutely covered in tiny pink flowers that look somewhat like snap dragons. The bark is a bit shaggy, and will peel away easily (but don't peel that, it hurts the tree).
The flowers should be coming out of just about everywhere, even at random places along the trunk.
Generally, the flowers appear before the leaves, but if you find the tree toward the end of the flowering season, you'll also see a few early leaves beginning to develop at the tips of the branches.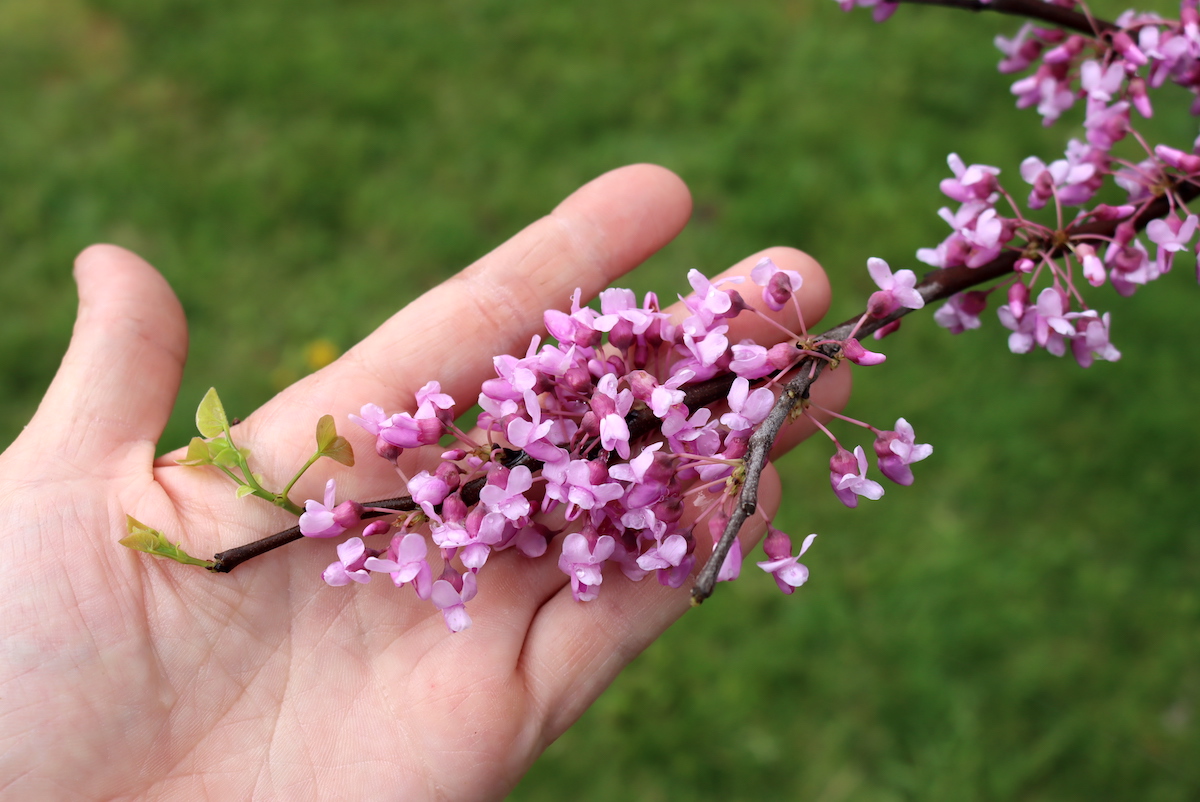 Ingredients for Redbud Jelly (or Syrup)

For making redbud jelly, to make a batch of five (8-ounce) jars, you will need the following:
To make a redbud syrup, the ingredients are the same as above, you just skip the pectin. All the steps are the same too, up until adding pectin. You just skip it and move on, and without the pectin it makes a lovely floral syrup that you can refrigerate or process in a water bath canner for later.
For the redbud jelly, you will want to use just the redbud flowers without any stems. You can have a few unopened buds in your mixture, but you will want to take the time to de-stem the flowers and any other debris or bark from your collection.
For the lemon juice, I prefer to use fresh lemons and squeeze the juice out using a lemon squeezer. A large, juicy lemon might give you two tablespoons of lemon juice, but I would have two on hand just in case.
Using prepared lemon juice from concentrate will also work.
Lemon juice is a critical ingredient in your jelly! You may think it will overpower the flavor of the redbud flower, but it will actually intensify it. More importantly, the lemon is required to work with the pectin and sugar to make the jelly set and act as a preservative.
Another decision you have is what kind of pectin to use. I will use regular pectin (like Sure-Jell) in this recipe, so you will need a ratio of 1:1 of liquid to sugar. We will have 4 cups of red bud tea, so we will use 4 cups of sugar.
If you prefer to use less sugar, there is a low-sugar pectin alternative (pink box for low sugar Sure-Jell). This will yield less jelly, but you will use the same amount of liquid and less sugar, which is an excellent alternative for diabetic jelly lovers!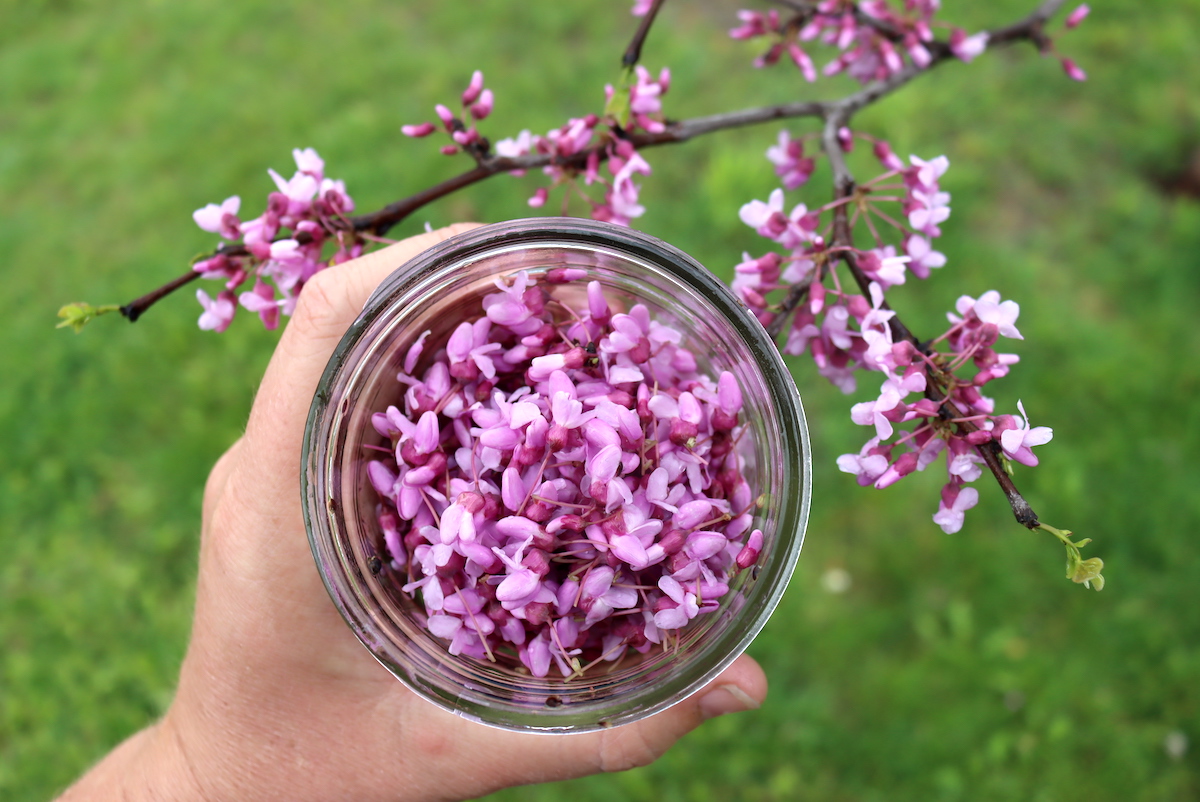 How to Make Redbud Jelly
When you have some fresh-picked redbud flowers, it is time to make the tea!
The flower petals need to steep for about 24 hours to really bring out the color and flavor of the redbud flower, so make this tea the day before you plan to make the jelly.
Place the de-stemmed redbud flowers into a clean, quart-sized mason jar. Do not pack them down in the jar because you'll want space for water to infuse with the petals to make tea.
Heat 4 cups of water to boiling in a microwave or on a stovetop, and carefully pour the boiling water into the jar over the redbud flowers. Next, add the lemon juice.
It's important to add the lemon juice with the flowers in the jar, rather than later, because the jucie is actually what reacts with the petals to help draw out their color and flavor.
Allow this mixture to steep for 24 hours. This is longer than most homemade flower jellies, but it really does improve with that extra infusion time.

Somewhere between 2 – 4 hours after you've added the boiling water, moving the tea to the refrigerator for the remainder of the 24 hours is a good idea.
You should have a beautiful pink liquid tea the next day!
Using a fine strainer, or a bowl covered with cheesecloth, pour the water from the jar through the strainer or cheesecloth. Get as much liquid out of the flowers as possible, and you can squeeze the cheesecloth to get all the great flavor into your jelly.
Bring the redbud flower-infused tea with the lemon juice already added to a boil over medium-high heat. (Don't add the sugar yet.)

Once the tea and juice are at a full boil, slowly add the powdered pectin, stirring it as you add to dissolve. Try not to create lumps of pectin in your mixture, although any pectin lumps should dissolve as you continue to boil the mixture and stir.
Bring this mixture with the pectin added to a full boil for one minute, stirring continuously.
(If you're making redbud syrup, you can skip this pectin step and just go on to the sugar step. For jelly, it's important that the pectin is added first and fully dissolved before you add the sugar, or it won't gel.)
Slowly add the sugar to the boiling tea, continuing to stir the mixture so the sugar dissolves as you add it.
Once again, bring the mixture back to a full boil, stirring continuously, and let it boil for 1-2 minutes. Do not boil the jelly too long (over 5 minutes) as that will lead to jelly that won't gel.
Ladle or pour the mixture into your prepared jelly jars, leaving ¼ inch of space at the top of each jar.
A canning funnel with a ¼" lip at the bottom makes this process easy and considerably less messy!
Wipe the jar rims, and cap them with 2-part canning lids.
If you do not plan on canning your jelly, you can let the jelly cool to room temperature on the counter. Store your redbud jelly in the refrigerator for up to 1 month, or keep it frozen for up to 6 months.
To preserve your redbud jelly even longer for year-round enjoyment, or to give as a festive Christmas gift, read on for canning instructions.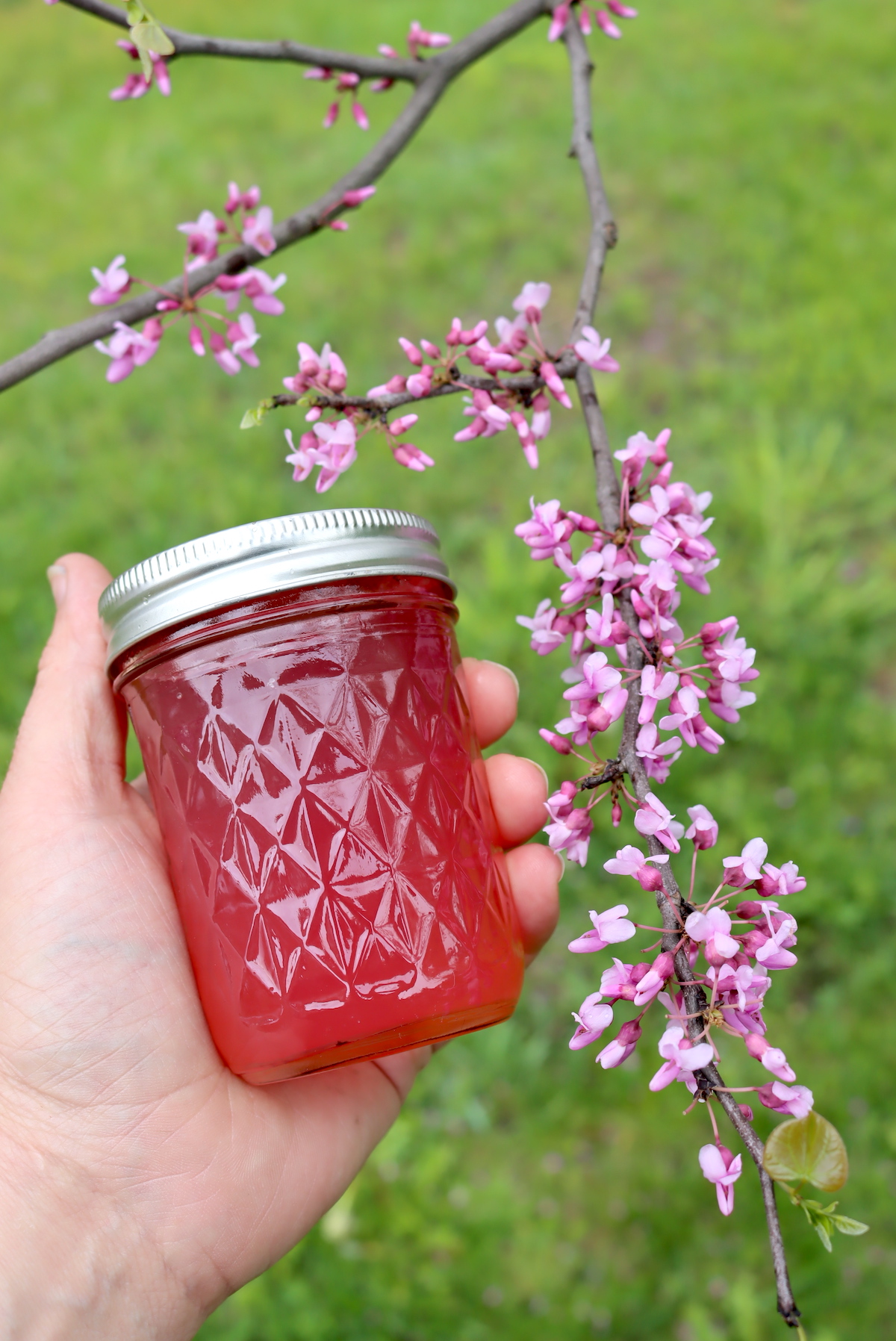 Canning Redbud Jelly
Caning jelly using a hot water bath method is very easy and is a very convenient way to be able to keep your jellies for year-round use.
If you are a beginner or novice canner, please read my beginners guide to water bath canning for detailed canning instructions, including the supplies you will need.
After boiling your jelly with the sugar added for 1-2 minutes, ladle or pour the jelly into hot jelly jars, leaving ¼" headspace at the top.
Use a clean cloth to wipe the rim before you place the lid on the jar. If the rim is not clean, the jar may not seal properly.
Place the canning lids on the jars, then screw on the canning rings until "finger tight," but not too tight.
Load the jelly jars into the prepared hot water bath canner using a jar lifter.
Bring the water back to boiling, then set the timer and process in the water bath for 10 minutes (increase the time to 15 minutes if above 6,000 feet in elevation).
When when the timer goes off, remove the jars from the canner and let them cool completely.
After 24 hours, check the seals and store any unsealed jars in the refrigerator for immediate use.
Properly canned and sealed jars will maintain quality in your pantry for 12-18 months. Refrigerate after opening.
Redbud Jelly Variations
Redbud flower jelly is very delicate and sweet on its own, but you can also mix other flowers in, such as lavender or hibiscus.
Ways to Use Redbud Jelly
With the sweet delicate taste of this jelly, with a hint of floral tones, this jelly is perfect for spreading on toast, a croissant, english muffin, or any type of bread you prefer.
The jelly is wonderful on top of a breakfast muffin or some corn bread with a meal.
Ways to Use Redbud Flowers
Looking for more ways to use redbud flowers?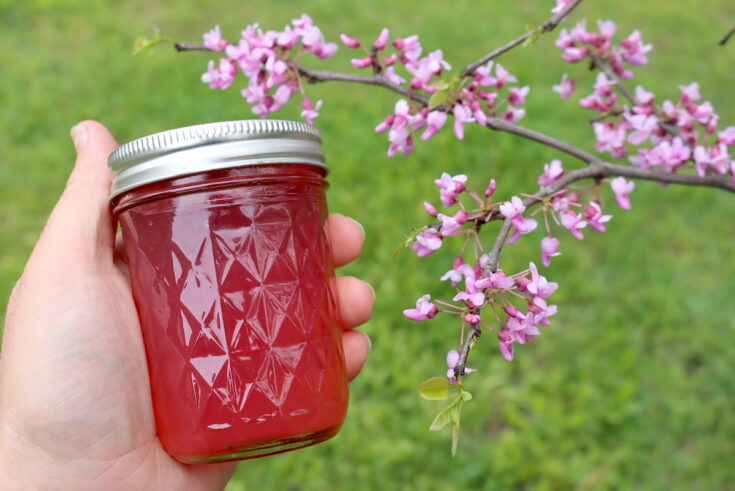 Yield:

Makes 4 to 5 half pint (8 oz) jars
Redbud Jelly (& Syrup)
Canning Time (Optional):
10 minutes
Total Time:
1 day
25 minutes
Redbud jelly is a delicious way to enjoy edible redbud flowers each spring.  These trees are not only beautiful, they're delicious! 
Ingredients
4 cups redbud flower petals
4 cups water
2 Tbsp. lemon juice
1 to 4 cups sugar (amount varies depending on pectin used, see notes)
1 box (1.75 oz.) pectin (Regular or Low Sugar, see notes)
Instructions
Place the clean, de-stemmed redbud flower blossoms into a quart-size jar.
Bring 4 cups of water to a boil using a microwave or stovetop. Carefully pour the boiling water into the jar containing the redbud flowers.
Add the lemon juice to the flower/water mixture to encorage a color change while the tea is steeping.
Allow the flowers and water to steep for 24 hours, creating a redbud tea that should be a bright pink color when fully steeped.
Pre-measure the sugar and set it aside.
Use a fine strainer to capture the flower petals, or pour the tea through cheesecloth into a saucepan or jam pot. Squeeze the cheesecloth or allow as much liquid to drain through the strainer as possible.
Turn the burner to high heat and bring the mixture to a boil.
Slowly add the pectin, stirring to dissolve the powder.
Return the mixture to a boil and allow it to boil for one minute.
Continuing to stir, slowly add the pre-measured sugar to the mixture.
Again, bring the mixture back to a rolling boil, stirring while boiling for 1-2 minutes.
Ladle or pour the jelly into prepared jelly jars, leaving ¼" headspace, and wipe the rims of the jars with a clean cloth.
Affix the 2-part canning lid, and either proceed with the canning process or leave the jars to cool and set up for 24 hours.
Store canned jelly in a cool, dry place for up to 18 months. Uncanned jelly can be stored in the refrigerator for up to 1 month or in the freezer for 6 months. For all jelly, refrigerate once opened.
Notes
Redbud Syrup
To make redbud syrup, follow the same instructions but skip adding pectin. The syrup can be stored in the refrigerator, or canned in a water bath canner following the same instructions. Don't skip the lemon juice, it's required for both color and preservation.
Sugar Amounts
When using standard pectin (such as regular Sure Jell pectin), you must use a 1:1 ratio of liquid to sugar. That means for 4 cups of redbud tea you will need to use 4 cups of sugar to get the jelly to set. This type of jelly is sometimes referred to as"old-fashioned" jelly and it's quite sweet. 
If you want to use less sugar, use low-sugar pectin instead of regular and add less sugar to the recipe (as little as 1-½ cups). I've been using Sure Jell low-sugar pectin (in the pink box) for almost all of my jelly-making and it's always been very dependable.
If using Pomona's Universal Pectin, another popular brand and type of pectin, the instructions are different as that is a 2-part low-sugar pectin. For this redbud jelly recipe, you'll want to follow the instructions provided in the Pomona's box for mint jelly.
*Lowering sugar will also lower yield, and the yield of 5 half-pints is for a full sugar recipe.
Finally, if using liquid pectin, the order in which the ingredients are added is different than in the methods I've talked about above (in this case, the pectin is added last, and the sugar first). Liquid pectin takes quite a bit of sugar to set (7 cups sugar to 4 cups liquid), which results in a super-sweet jelly. Because of the high sugar levels needed for the pectin to set, I don't use liquid pectin very often. 
Edible Flower Recipe Guides
Redbuds aren't the only tasty blossoms to forage!
Flower Jelly Recipes
Once you've made redbud jelly, try your hand at these other edible flower jellies!