Black locust flower jelly is a surprisingly delicious way to use edible black locust flowers when they're in season each year. These short-lived blooms are incredibly fragrant, and they make a delightful jelly that tastes surprisingly like fresh strawberries!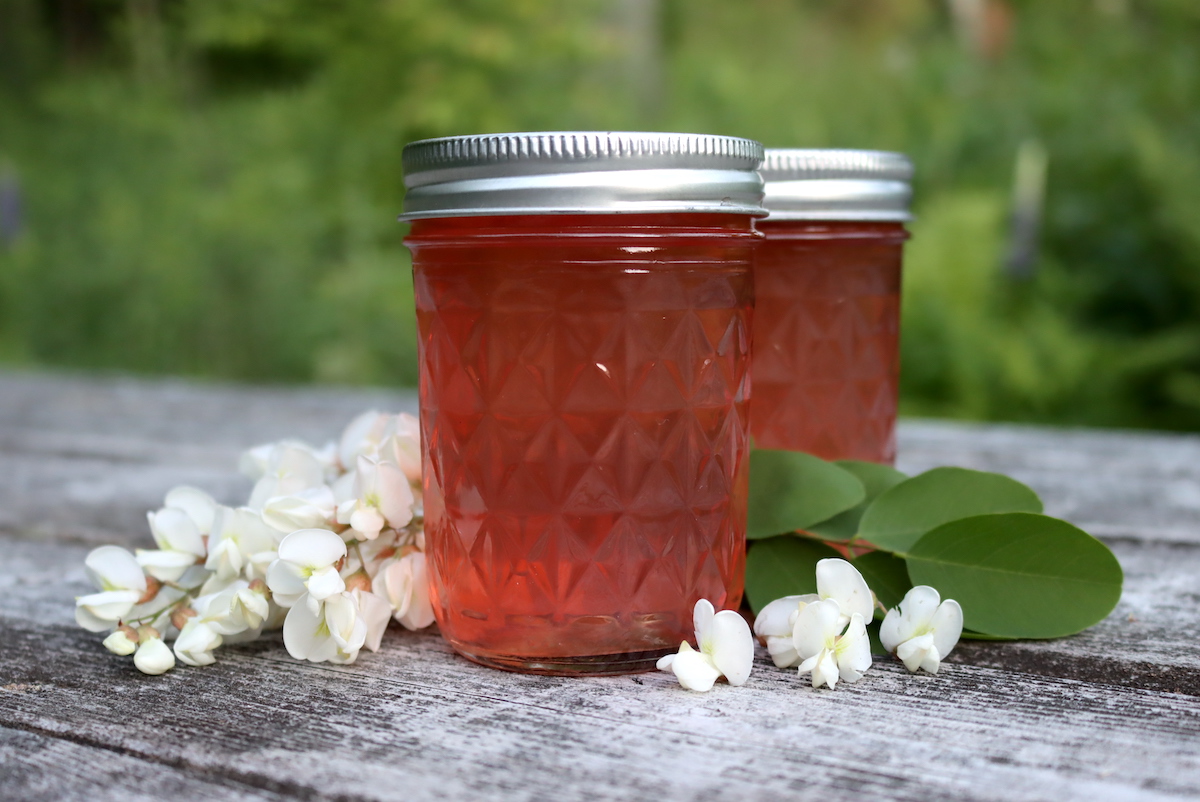 We have quite a few black locust trees on our land, and they're absolutely stunning in bloom. The bees completely cover these trees for a short 1 to 2 weeks each spring when they bloom prolifically, and the entire yard is filled with their sweet perfume. I know that black locust flowers are edible, and they'll find their way into salads whenever possible.
Still, I'm always looking for new ways to use black locust flowers, and this homemade black locust flower jelly is a real winner.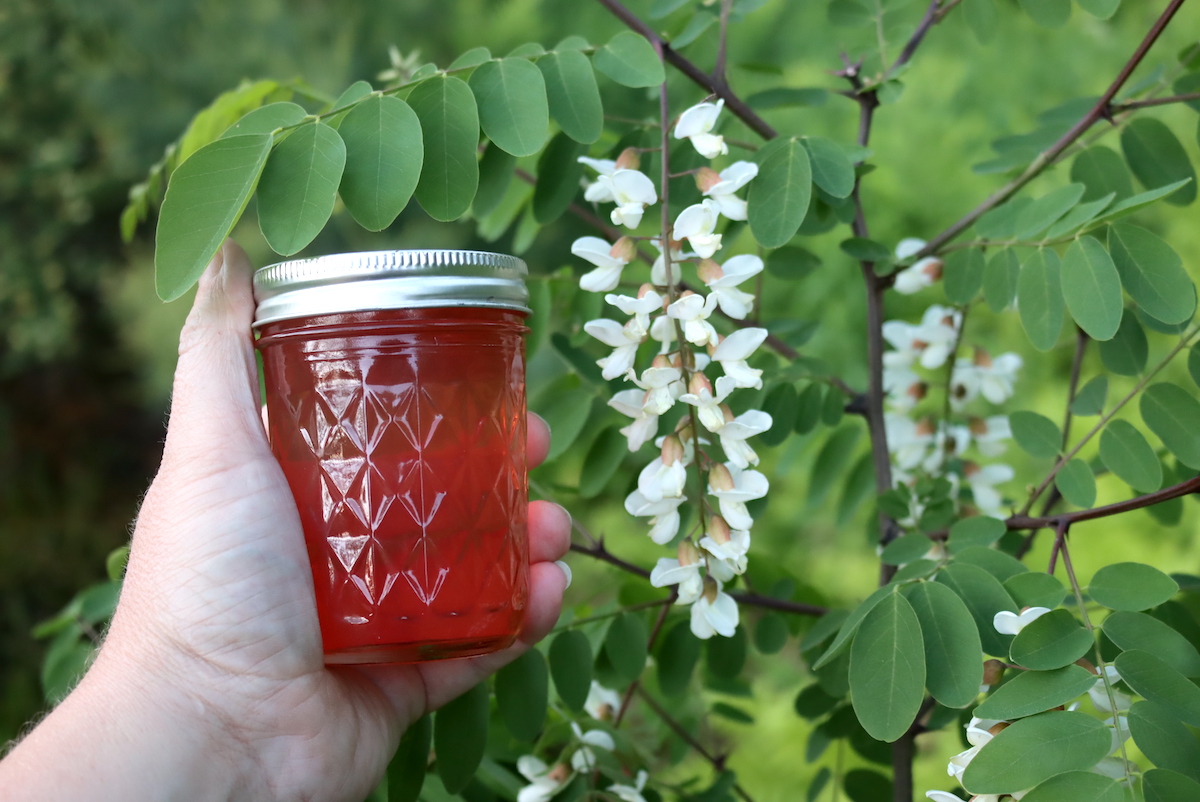 Black locust trees are relatively easy to identify, especially when in bloom. They put out long groups of trailing flowers that look a bit like snapdragon flowers or the flowers of garden pea plants. The trees actually fix nitrogen, much like garden legumes like peas and beans.
Eaten fresh, they even taste a bit like fresh snap peas, but that flavor doesn't come through in the finished jelly.
The leaves are also long strings of leaflets, with paired leaves on each side of a central stem. Watch out for the thorns, they can be quite sharp and come out of the bark and branches.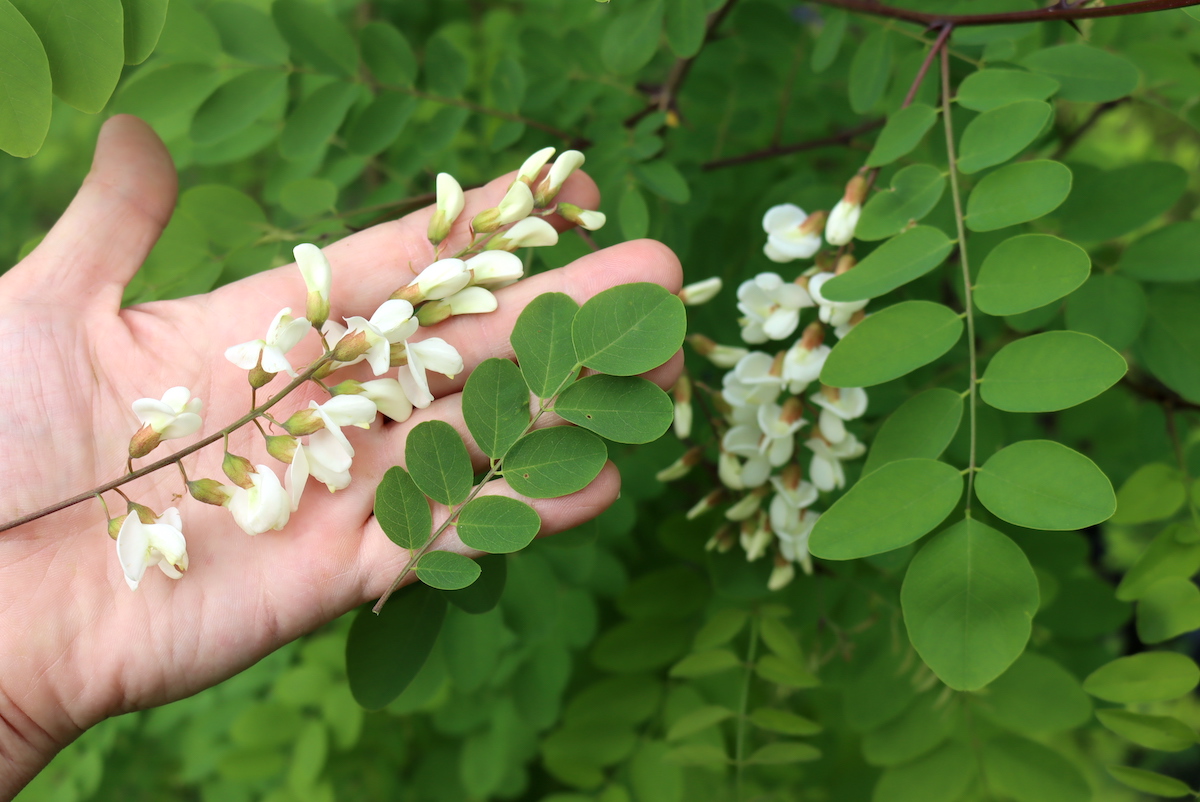 Harvesting Black Locust Flowers
It's easiest to harvest black locust flowers by pulling whole clusters right off the tree. Again, watch those thorns.
They're the worst on shorter trees and tend to be absent in the most mature trees. That said, you'll only be able to reach the flowers on younger or smaller trees, so that means there will definitely be thorns.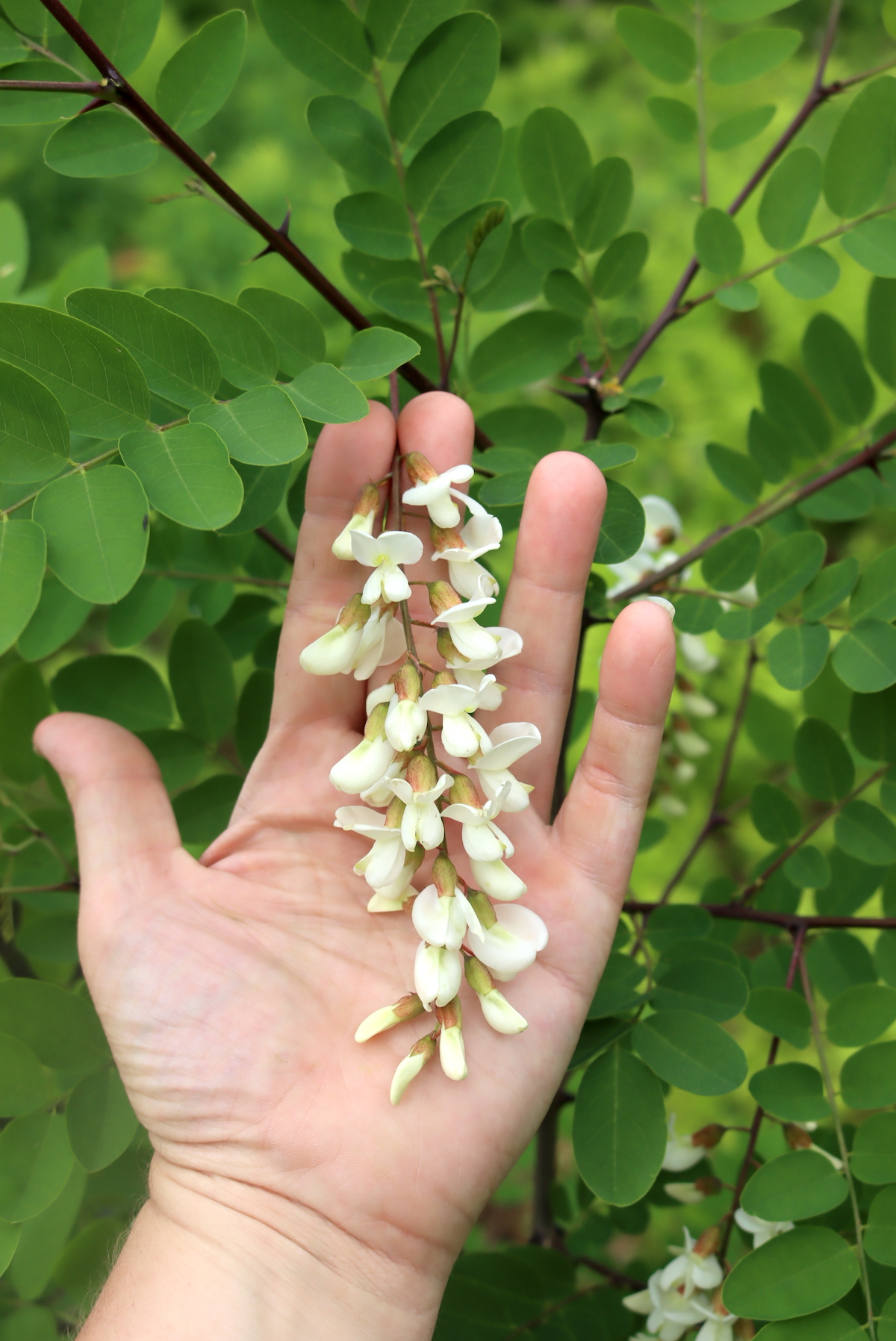 Since the flowers are so prolific, it's easy to harvest a whole basket full in just a few minutes (while still leaving 90% of them for the bees).
Once you're home, you'll want to remove the individual flowers from the stems to make jelly.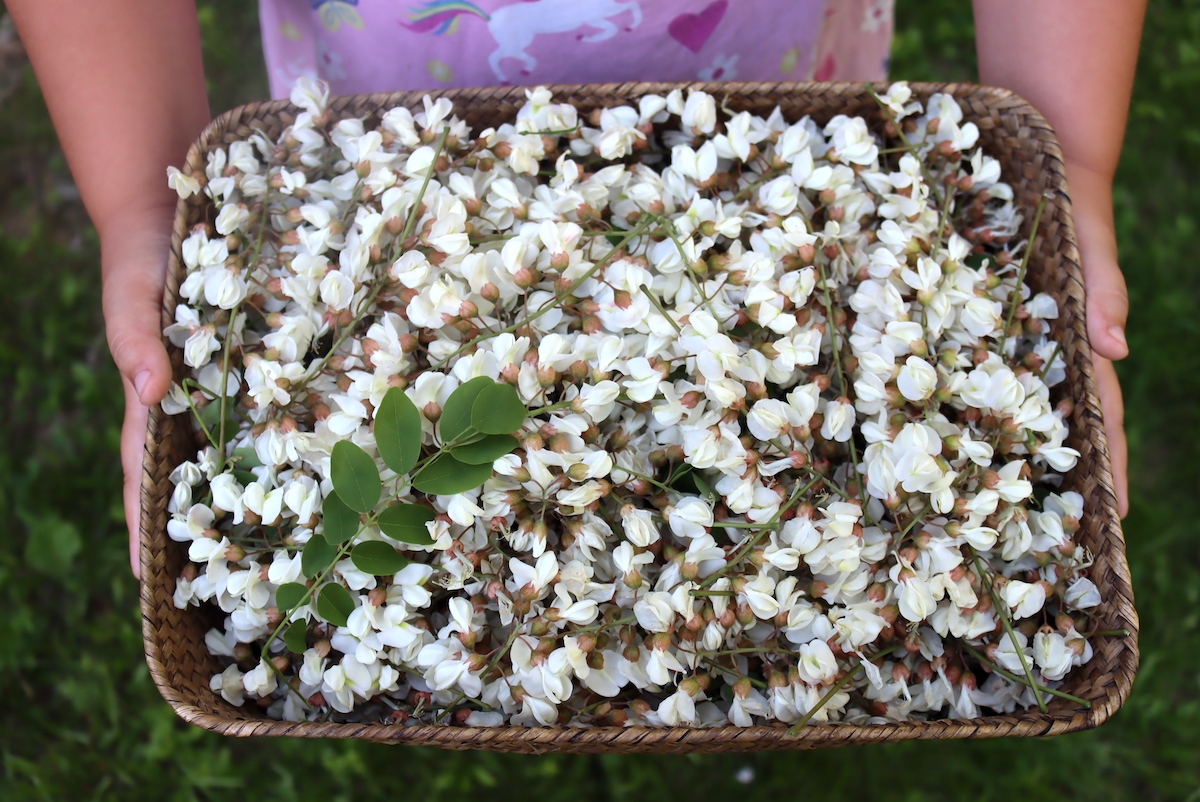 Making Black Locust Jelly
Making black locust flower jelly isn't all that different from making any other fragrant flower jelly. It starts with about 4 cups of black locust flowers stripped from their stems. You can leave the green sepals on, they don't impact the flavor, just remove any stem, leaf or woody bits you may have collected.
Bring a quart (4 cups) of water to a boil and pour it over the black locust flowers. Allow this to infuse for about 15 minutes, then strain.
At this point, the tea will taste mildly vegetal and a bit herbal, but it's nothing like the flavor of the finished jelly. You'll also look at it and notice that it's mostly clear, nothing like the color of the finished jelly.
Add in a splash of lemon juice and the color will come alive, more or less exactly like what happens when making violet flower jelly.
The color will suddenly become a bright pink, and the flavor of fresh strawberries appears as if from nowhere. It's actually just antioxidants in the flowers themselves that change color and flavor in the presence of acidity, so while it seems like magic, it's actually just science.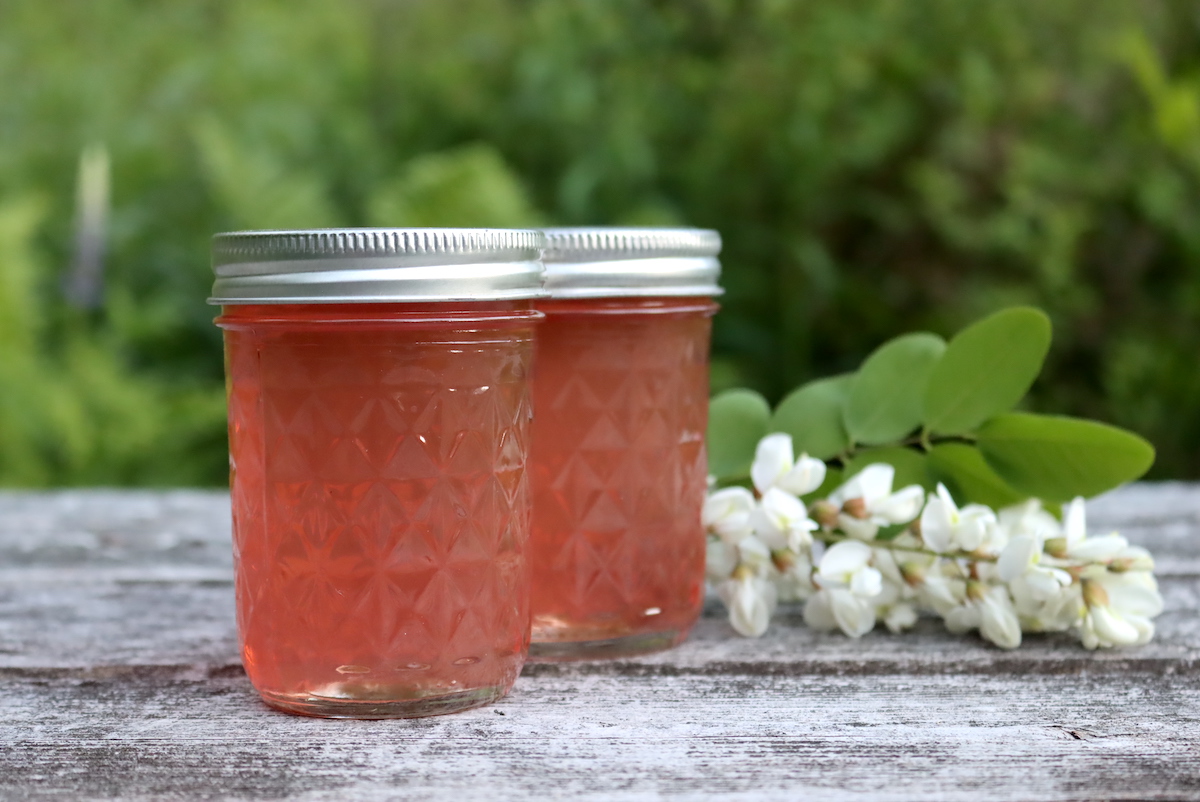 To make the jelly, add the strained black locust tea (and lemon juice) to a saucepan. Pour in a packet of low sugar pectin (like sure jel low sugar) and stir to dissolve the pectin. (Don't add the sugar yet.)
Bring the mixture to a boil and stir continuously for 1 minute, then add the sugar.
Return the mixture to a boil, still stirring continuously to dissolve the sugar. Boil for 1 minute, then remove from the heat.
Pour the finished jelly into jars leaving 1/4 inch headspace.
Canning Black Locust Jelly
It's perfectly fine to make flower jellies as quick refrigerator or freezer jellies, and then just use them up quickly. Personally, I like to can them so I can store them on the pantry shelf and enjoy them in the winter months.
To can floral jellies, prepare and preheat a water bath canner before you begin making the jelly.
Make the jelly as you otherwise would, and then pour into canning jars leaving 1/4 inch headspace. Cap with 2-part canning lids to finger tight, and then process in a water bath canner for 10 minutes. (Use 15 minutes if over 6,000 feet in elevation.)
Remove the jars to cool on a towel on the counter, and check the seals after 24 hours. Store any unsealed jars in the refrigerator for immediate use. Properly canned and sealed jars will keep on the pantry shelf for 12-18 months, refrigerate after opening.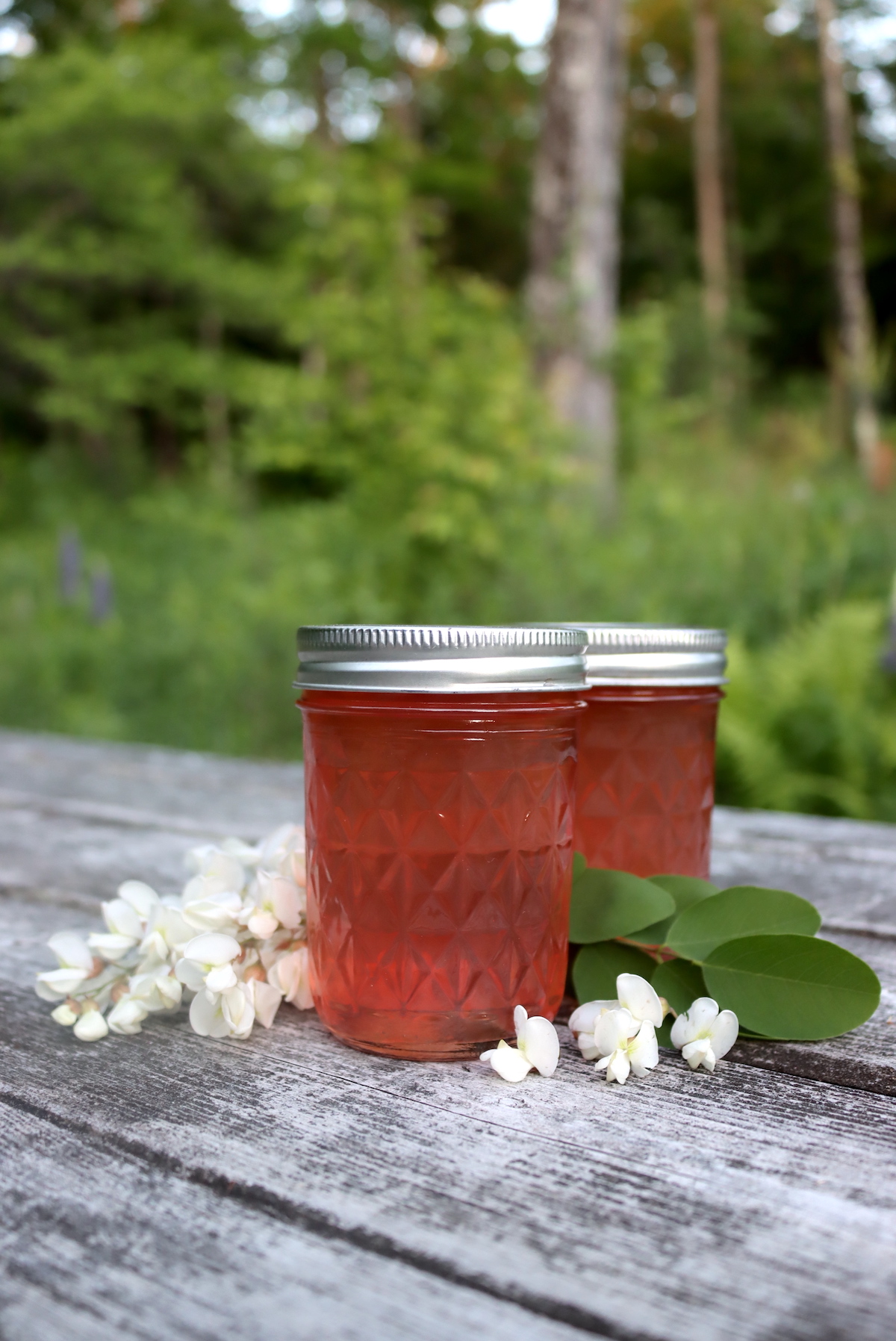 Black Locust Recipes
Looking for more ways to use locust flowers?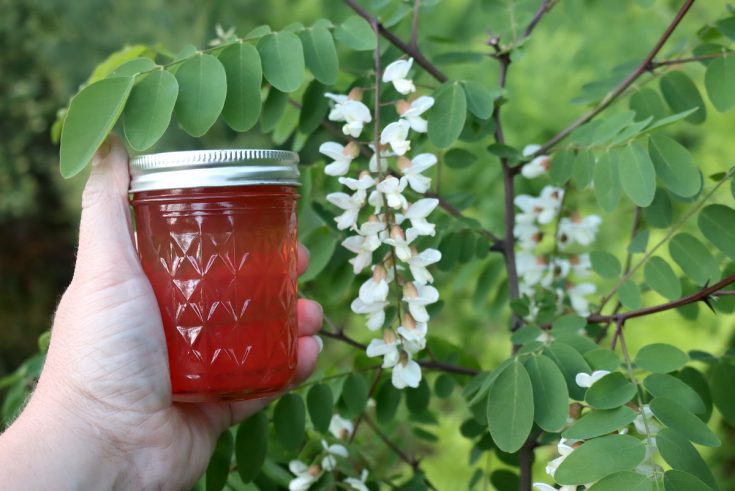 Yield:

Makes 4 half pint (8 oz) jars
Black Locust Flower Jelly
Canning Time (Optional):
10 minutes
Black locust flower jelly captures the fragrance of spring locust blooms, and tastes surprisingly like strawberries too!
Ingredients
4 cups black locust flowers, removed from stems
4 cups water
2 tbsp lemon juice
1 to 4 cups sugar *see note
1 box (1.75 oz) pectin (Regular or Low Sugar)
Instructions
Separate 4 cups of black locust flowers from their stems, removing any stray leaves that may have been included in the mix, but leaving the flower sepals (green base)
Pour 4 cups boiling water over the top of the black locust flowers and then wait 15 minutes before straining. It'll be clear or slightly green/yellow-ish at this point, but don't worry, the color will pop when you add the lemon juice.
Pour the strained tea in to a saucepan and add the lemon juice. The lemon juice adjusts the color and flavor of the flowers, making them taste amazing, but also adding acidity to help preserve the jelly.
Bring the mixture to a boil and add the powdered pectin, stirring to dissolve. Allow the mixture to boil for 1 minute before adding sugar.
(Note: Do not add the sugar quite yet, allow the pectin to boil 1 minute first.)
Add the sugar, stirring to dissolve (See notes on quantity). Bring the mixture back to a full boil for 1 minute before ladling it into jelly jars leaving 1/4 inch headspace.
If canning, process in a water bath canner for 10 minutes (or 15 minutes above 6,000 feet in elevation). Otherwise, allow the jars to cool completely on the counter before storing in the refrigerator (for up to a month) or the freezer for up to 6 months.
Notes
Sugar Amounts - If using standard pectin, you must use a 1:1 ratio of liquid to sugar. That means for 4 cups of flower blossom tea you'd need a minimum of 4 cups of sugar to get the jelly to set. That results in a very sweet "old-fashioned" jelly. To reduce the sugar, simply use low sugar pectin instead and then make the jelly as instructed but using less sugar. I suggest Sure Jell no sugar, which is very dependable.
If using Pomona's Universal Pectin, the instructions are different as that is a 2-part low sugar pectin. Follow the instructions provided in Pomona's box for mint jelly.
If using liquid pectin, the order of operations is different (pectin is added last, sugar first). Liquid pectin also requires a lot more sugar to set (7 cups sugar to 4 cups liquid). I don't recommend liquid pectin because of the high sugar levels required for set, but it will work if that's your preference.
Flower Jellies
Looking for other tasty flower jellies to make this season?