Calendula jelly is a warm and sunny floral preserve that's absolutely delicious on your morning toast, or on a cracker beside a charcuterie platter. Calendula also happens to be a natural immune-boosting herb, so it's a sweet way to take your medicine too!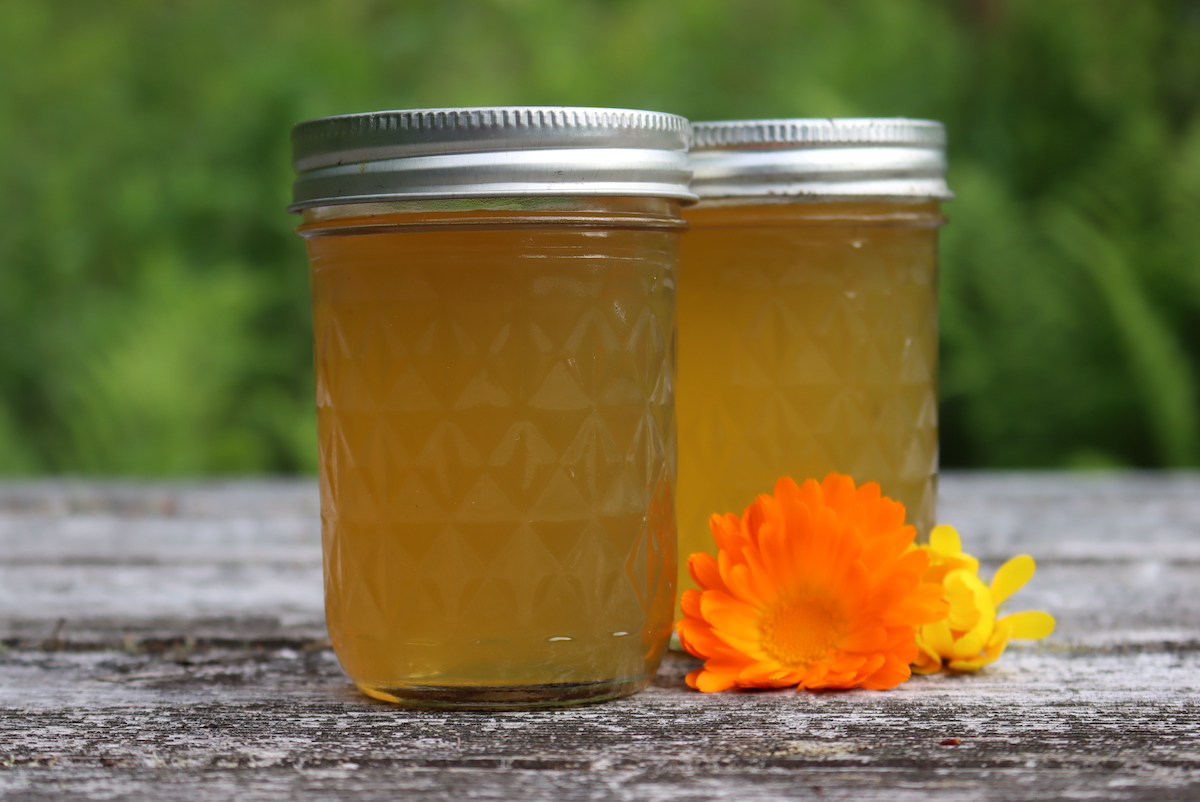 I grow calendula in my garden every single year because I can't imagine a summer without its beautiful sunny blossoms. Even if it weren't absolutely beautiful, I'd still grow it for its many medicinal properties.
Calendula goes into calendula oil and homemade salves, which we use to treat burns and minor skin irritation. It's truly lovely as a topical remedy, but it's also useful internally.
It happens to be one of the few immune-boosting herbs, and it has a place next to echinacea and elderberry in your herbal medicine cabinet. While you can make a simple calendula tea, I absolutely love the idea of an immune-boosting floral jelly on my morning toast.
It all starts right out in the garden, with a few handfuls of fresh calendula blossoms.
This particular recipe can be made with any type of calendula, or any type of flavorful marigold for that matter, provided they're edible flowers. I've made it with the heavily perfumed scented marigolds we grow as well.
If you're hoping to use it for its herbal medicinal benefits, I'd suggest using a variety of calendula known for their medicinal properties.
We generally grow Resina Calendula, which is the variety that has the highest concentration of medicinal resins. Other calendula or marigold varieties will work to make a tasty jelly, they just won't have the same concentration of medicinal benefits.
What does calendula jelly taste like?
Ok, now the million-dollar question…what does calendula jelly taste like?
It has a warm floral flavor, that's kind of like the honey flavor you get when you make dandelion jelly. It's a bit spicy too, and more complex.
Calendula has medicinal resin in the flowers, and that resin gives it spicy notes. It's very mild, but you get an ever-so-subtle hint of pine.
The overwhelming flavor is floral though, and that of honey. So it's really more or less like eating a sweetened calendula blossom…floral, honey-ish, and a hint of spicy resin.
Overall, the sensation is really warming and uplifting, and when mixed with the bright yellow-orange color of the jelly it's really lovely on toast in the dark days of winter.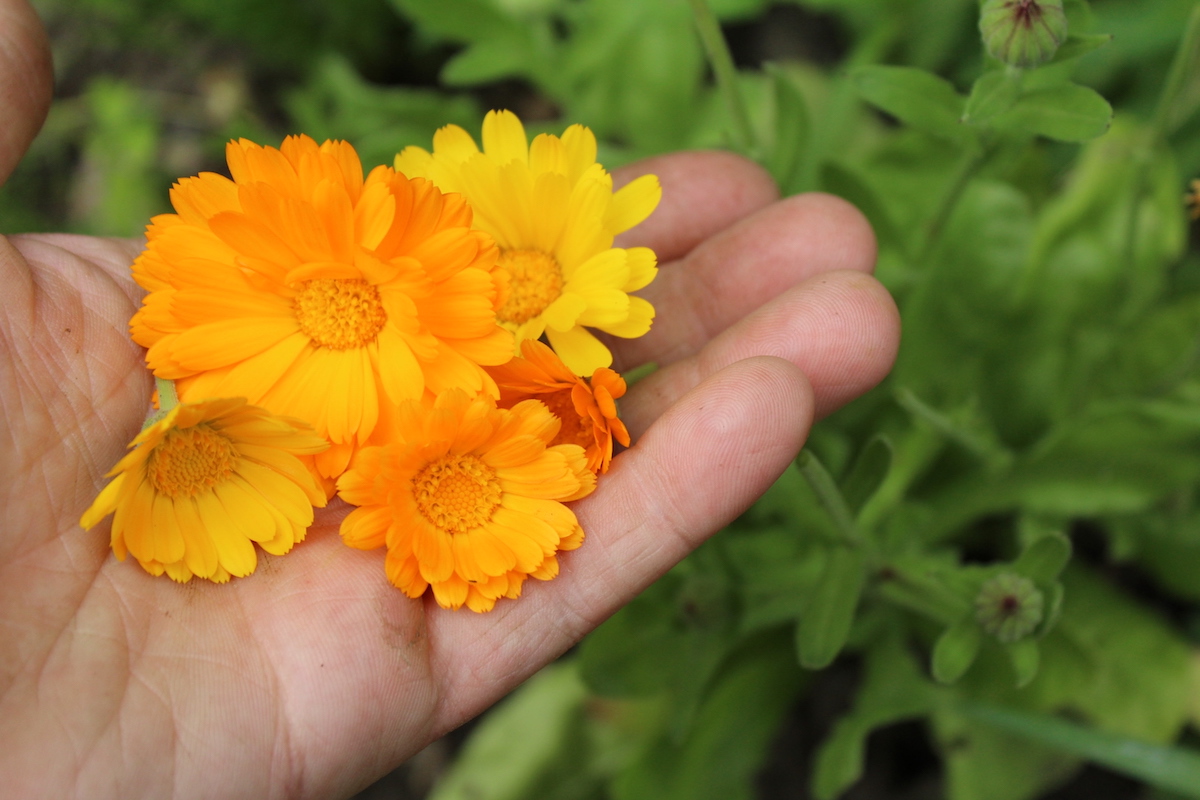 How to Make Calendula Jelly
Making jelly from marigolds of any species, calendula or otherwise, isn't all that different from making any type of floral jelly.
You'll need 2 to 4 cups of fresh blossoms. I like to pick them directly into a quart jar because it's just the right size for the next step, which is steeping in 4 cups of boiling water.
Steep the calendula blossoms for about 15 to 20 minutes, and then strain.
Pour the calendula tea into a jelly pot and add 2 tablespoons of lemon juice. (The lemon juice balances the sweetness from the sugar, and also makes the jelly safe for canning. I'd recommend it even if you're not canning your jelly.) Next, bring the tea to a boil.
Add in one box of powdered pectin. (I use sure jel generally, but any standard 1.75 oz box of pectin will work.)
Stir in the pectin until it's completely dissolved and boil for 1 full minute.
Next, add the sugar. Standard pectin requires a 1:1 ratio of sugar to liquid to gel. Since we're working with 4 cups of calendula tea, you'll need 4 cups of sugar.
If you use a "low sugar" pectin, such as Sure Jel low sugar, then you can use as little sugar as you'd like. For a very low sugar jelly, you can use as little as 1/2 to 1 cup sugar to 4 cups calendula tea.
After you've added the sugar, stir to completely dissolve and return the mixture to a hard boil on the stove for 1 minute.
After 1 minute, remove the mixture from the heat and ladle it into prepared jars.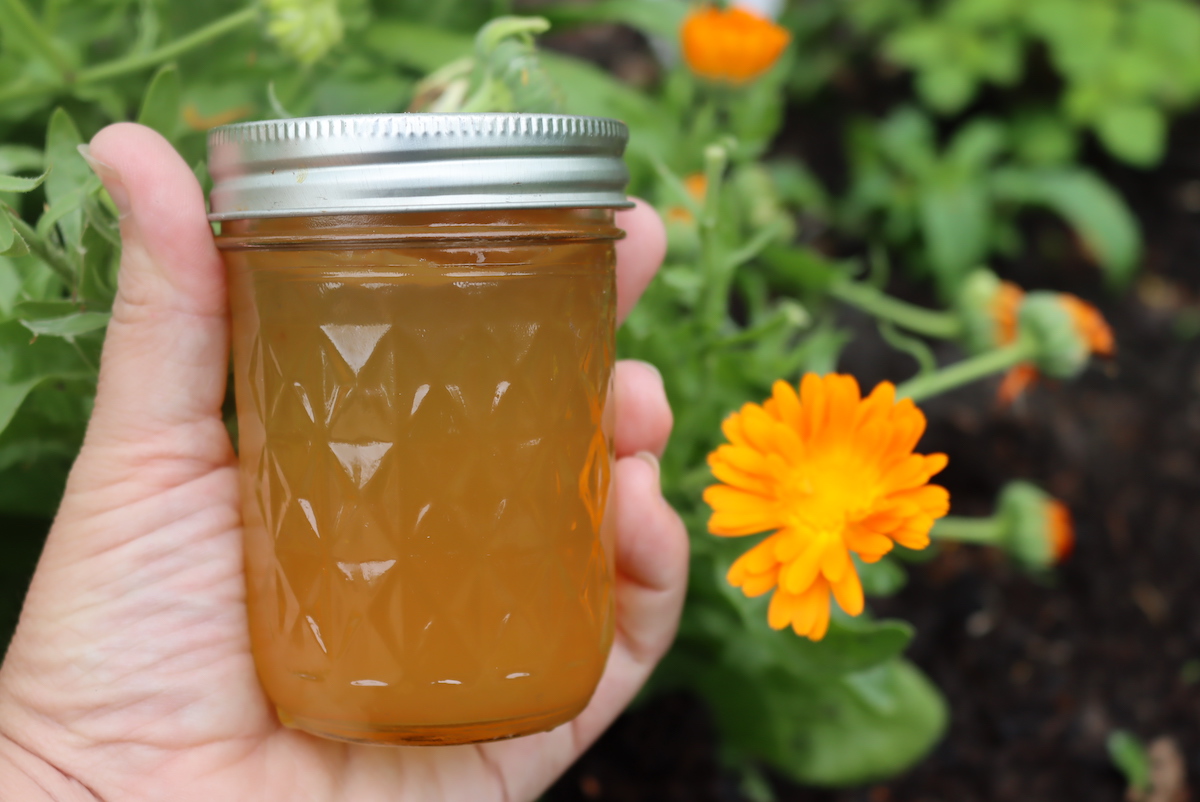 Canning Calendula Jelly
Canning this floral jelly is optional, and you can simply store it in the refrigerator, where it'll last several weeks. Freezing is also an option, provided you're using freezer-safe jars.
Personally, I like the simplicity of water bath canning because it allows me to store the jelly right on the pantry shelf year-round. I can have the sunny flavor of calendula jelly any time of year, and it's not taking up refrigerator or freezer space in the meantime.
To can this jelly, be sure you've used lemon juice, which lowers the pH of the mixture enough for canning.
Prepare a water bath canner, canning jars, and lids before you start making the jelly. Make the jelly as otherwise, but then ladle into prepared canning jars leaving 1/4 inch headspace.
Seal the jars with 2 part canning lids and then process for 10 minutes in a water bath canner (15 minutes if above 6,000 feet in elevation).
Once the canning time is complete, remove the jars to cool on a towel on the counter. Properly canned and sealed jars will maintain quality on the pantry shelf for 12-18 months. Refrigerate after opening.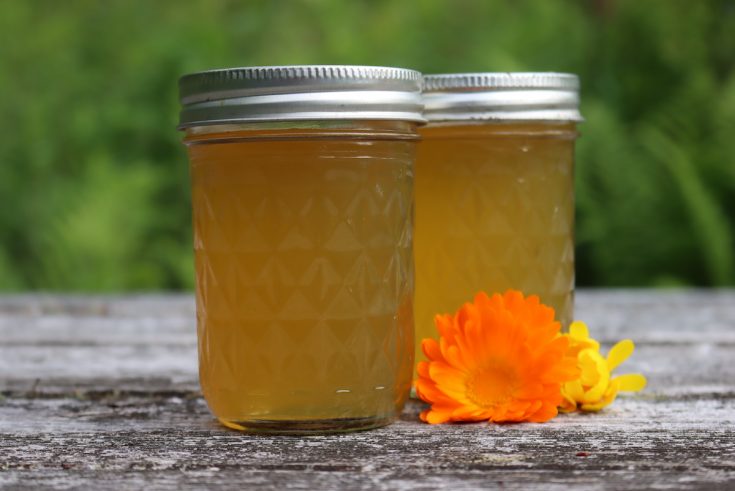 Yield:

Makes 4 to 5 (8 oz) Jars
Calendula Flower Jelly (& Marigold Jelly)
Canning Time (Optional):
10 minutes
Calendula jelly is a delicate floral jelly with a warm sunny flavor that's perfect for your morning toast.
Ingredients
2 to 4 cups calendula blossoms
4 cups water
2 Tbsp lemon juice
1 box (1.75 oz) pectin
4 cups sugar
Instructions
Pour 4 cups boiling water over the top of the flower blossoms and allow the tea to infuse for about 15 to 20 minutes.
Strain the floral tea into a saucepan or jam pot. Add the lemon juice.
Bring the mixture to a boil and add the powdered pectin, stirring to dissolve. Allow the mixture to boil
for 1 minute before adding sugar. (Note: Do not add the sugar at the same time as the pectin, or before the pectin, or the jell will not set.)
Add the sugar, stirring to dissolve.
(See notes on quantity). Bring the mixture back to a full boil for 1 minute before ladling into jelly jars, leaving 1/4 inch headspace.
If canning, process in a water bath canner for 10 minutes (15 minutes if above 6,000 feet in elevation). Otherwise, allow the jars to cool completely on the counter before storing in the refrigerator (for up to a month) or the freezer for up to 6 months.
Notes
Sugar Amounts (and Low Sugar Options)
If using standard pectin, you must use a 1:1 ratio of liquid to sugar. That means for 4 cups flower blossom tea, you'd need a minimum of 4 cups sugar to get the jelly to set. That results in a very sweet "old-fashioned" jelly. To reduce the sugar, simply use low-sugar pectin instead and then make the jelly as instructed but using less sugar. I suggest sure jel low sugar, which is very dependable.
Lowering sugar will also lower yield, and the yield of 5 half-pints is for a full sugar recipe. Expect 3-4 jars with a lower sugar recipe.
If using Pomona's Universal Pectin, the instructions are different as that is a 2 part low sugar pectin. Follow the instructions provided in the Pomona's box for mint jelly.
If using liquid pectin, the order of operations is different (pectin is added last, sugar first). Liquid pectin also requires a lot more sugar to set (7 cups sugar to 4 cups liquid). I don't recommend liquid pectin because of the high sugar levels required for set, but it will work if that's your preference.
Flower Jelly Recipes
Stock your pantry with these tasty floral jellies!
Herbal Jellies
Flowers aren't the only plants in the garden that make wonderful jellies!
Mint Jelly (coming soon)
Tulsi Jelly (coming soon)
Lemon Balm Jelly (coming soon)