Green tomato canning recipes are an old fashioned treat, and the perfect way to preserve a bumper crop of late season unripe green tomatoes when an early frost prevents them from ripening.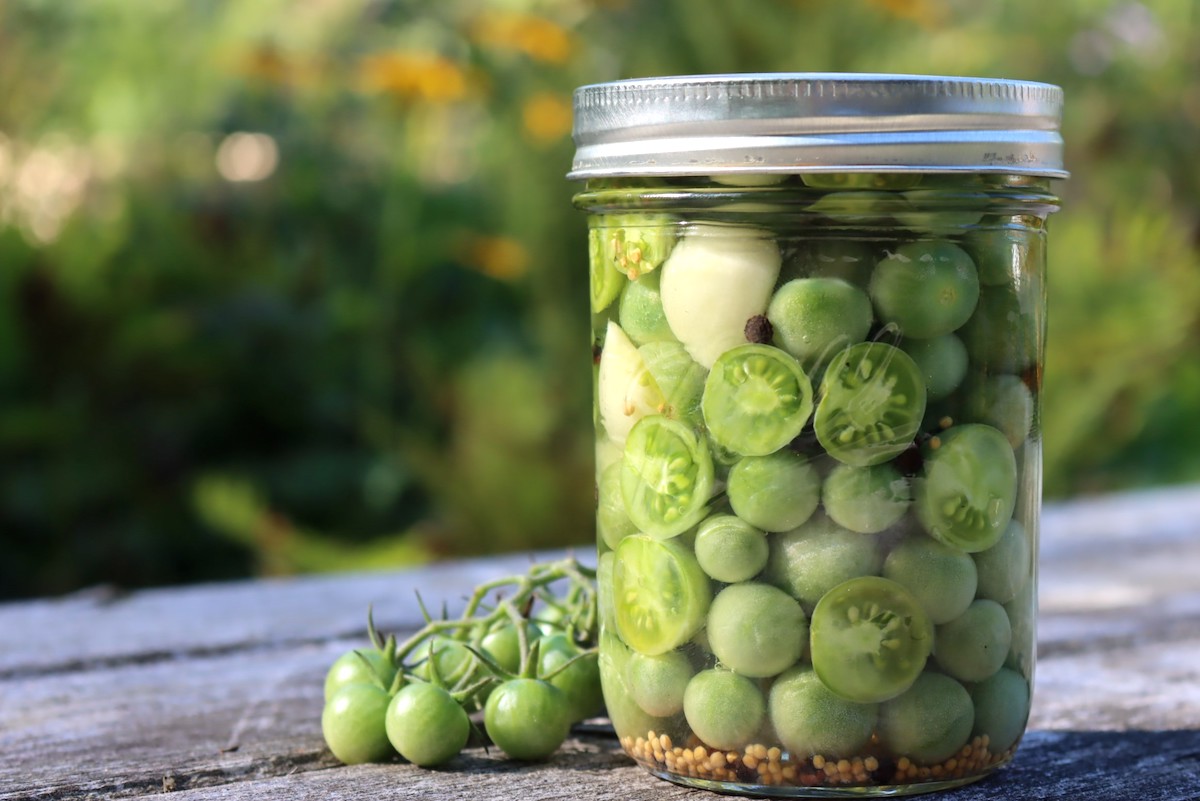 Waste not, want not…the motto of homesteaders and pioneers back in the day, when every little bit of the harvest was necessary for survival.
If a frost came early, then they'd be out there harvesting the last of the seasons unripe green tomatoes before they were ruined. Sure, many of them will in fact ripen to red tomatoes for use in the kitchen, but if you have a serious garden, many will also spoil long before they ripen.
Of course, you can just cook green tomatoes in all manner of green tomato recipes…like fried green tomatoes. The thing is, you can only eat so many fresh, and at some point you're going to have to resort to preservation…or consign them to the compost heap.
Green tomato canning recipes allowed them to put up those tasty and nutritious morsels in sauces, salsas, pickles and yes, even green tomato jam and pie filling.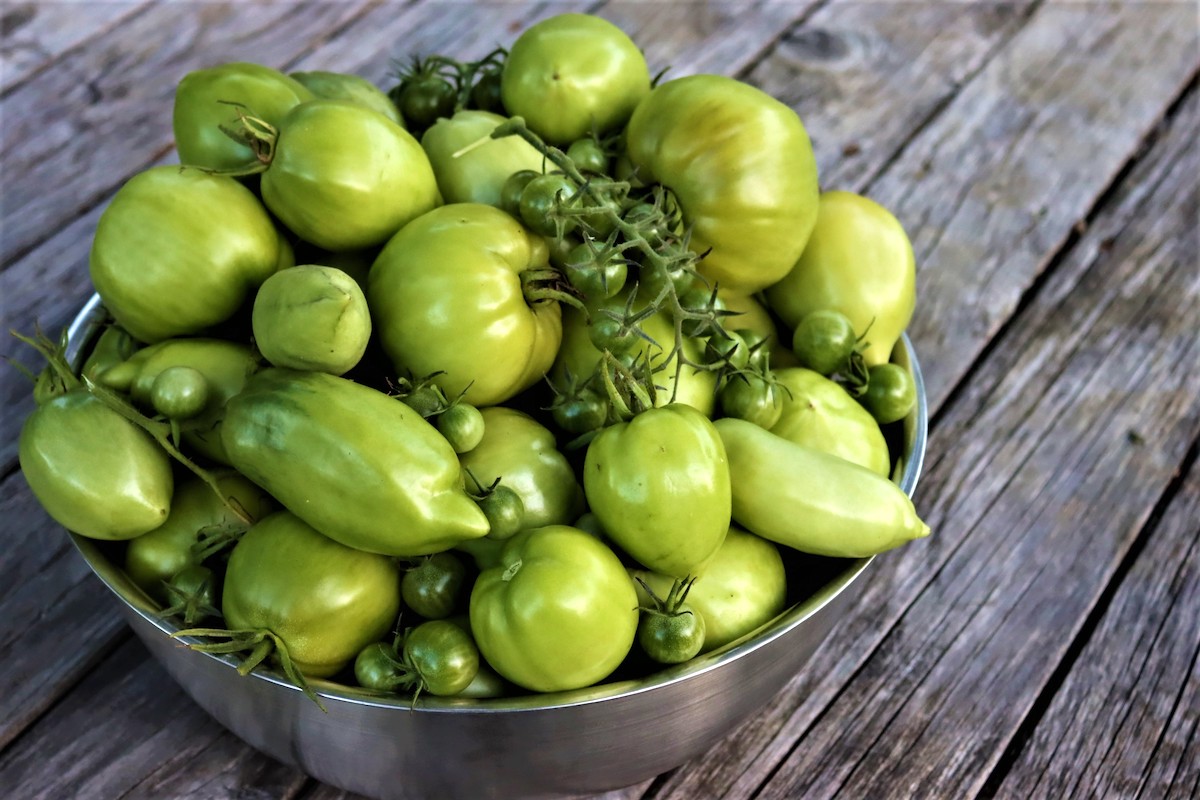 Green Tomato Canning Recipes
While red tomatoes seem "acidic" to our palates, they're often not quite acidic enough for canning without added lemon juice. As tomatoes ripen, they sweeten up and become less acidic, especially modern varieties.
Green tomatoes, on the other hand, are still quite acidic and perfectly fine for canning without added vinegar or lemon juice. That means that they can be put up in a water bath canner, even as simple sliced green tomatoes.
Still, be sure you use a tested and approved recipe, as when you add in other low acid ingredients (like onions and peppers for salsa), then things get tricky and you'll either need to pressure can the recipe or make sure it has enough lemon juice or vinegar to be safe for water bath canning.
Be aware that tomatoes harvested green and ripened on the counter do not develop the right acidity for canning, according to the Wisconsin State Extension. If tomatoes are harvested green, they should be used quickly in green tomato canning recipes rather than ripened for your standard red tomato canning recipes (like sauces).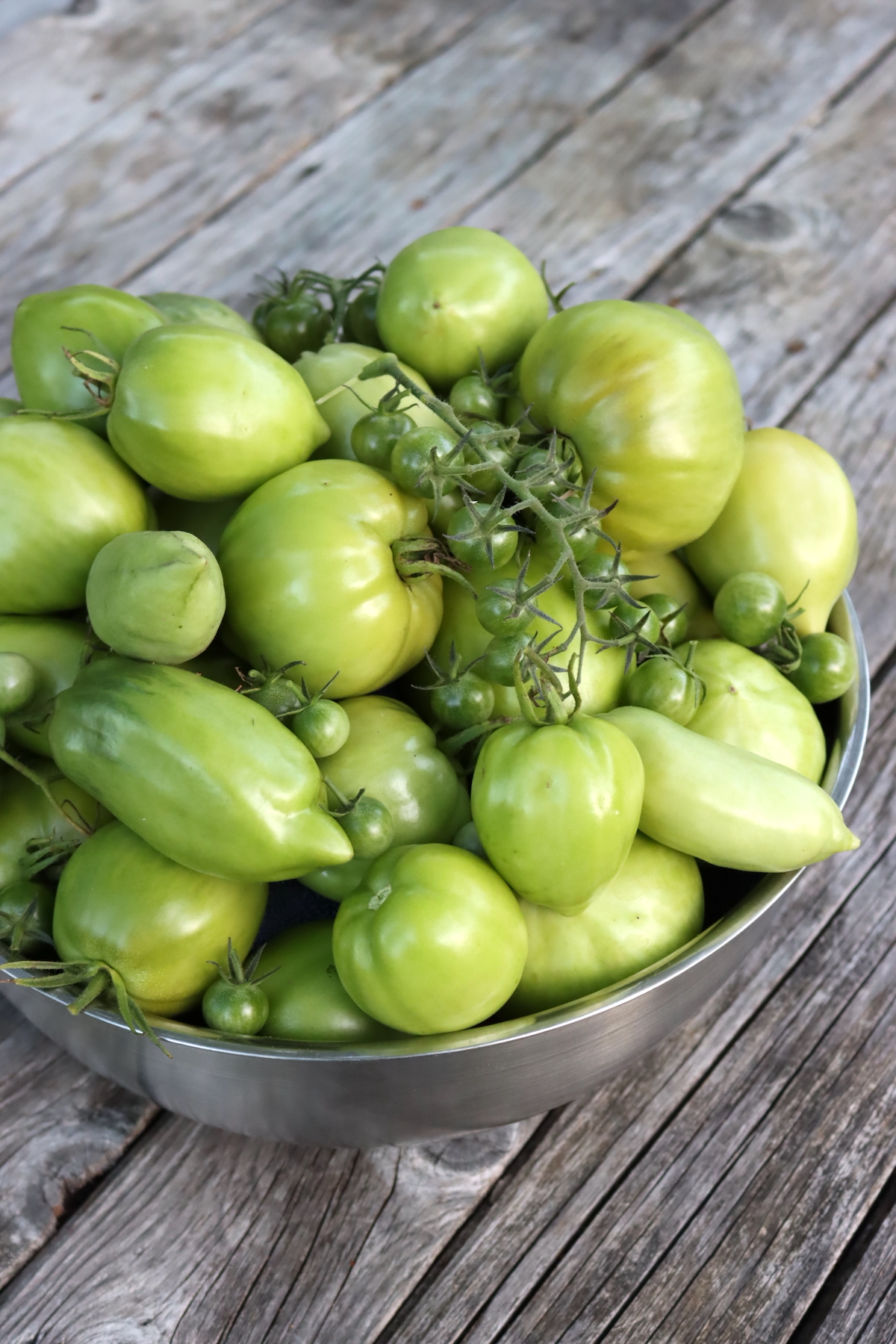 Canning Green Tomatoes
Since unripe green tomatoes are naturally more acidic than regular tomatoes, they can be canned as slices, dices or whole tomatoes in plain water.
They're also firmer than regular tomatoes, since they're unripe, so they hold up better in green tomato canning recipes.
Ann at a Farm Girl in the Making puts them up as sliced green tomatoes for making fried green tomatoes later.
Pickled Green Tomatoes
You can pickle almost anything, and green tomatoes are no exception.
They work wonderfully as regular pickles in place of cucumbers in any cucumber pickling recipe, but there are also a number of specific green tomato pickle recipes.
Beyond just plain green tomato pickles, they can also be added to pickle mixes for an end of the garden season picadilli.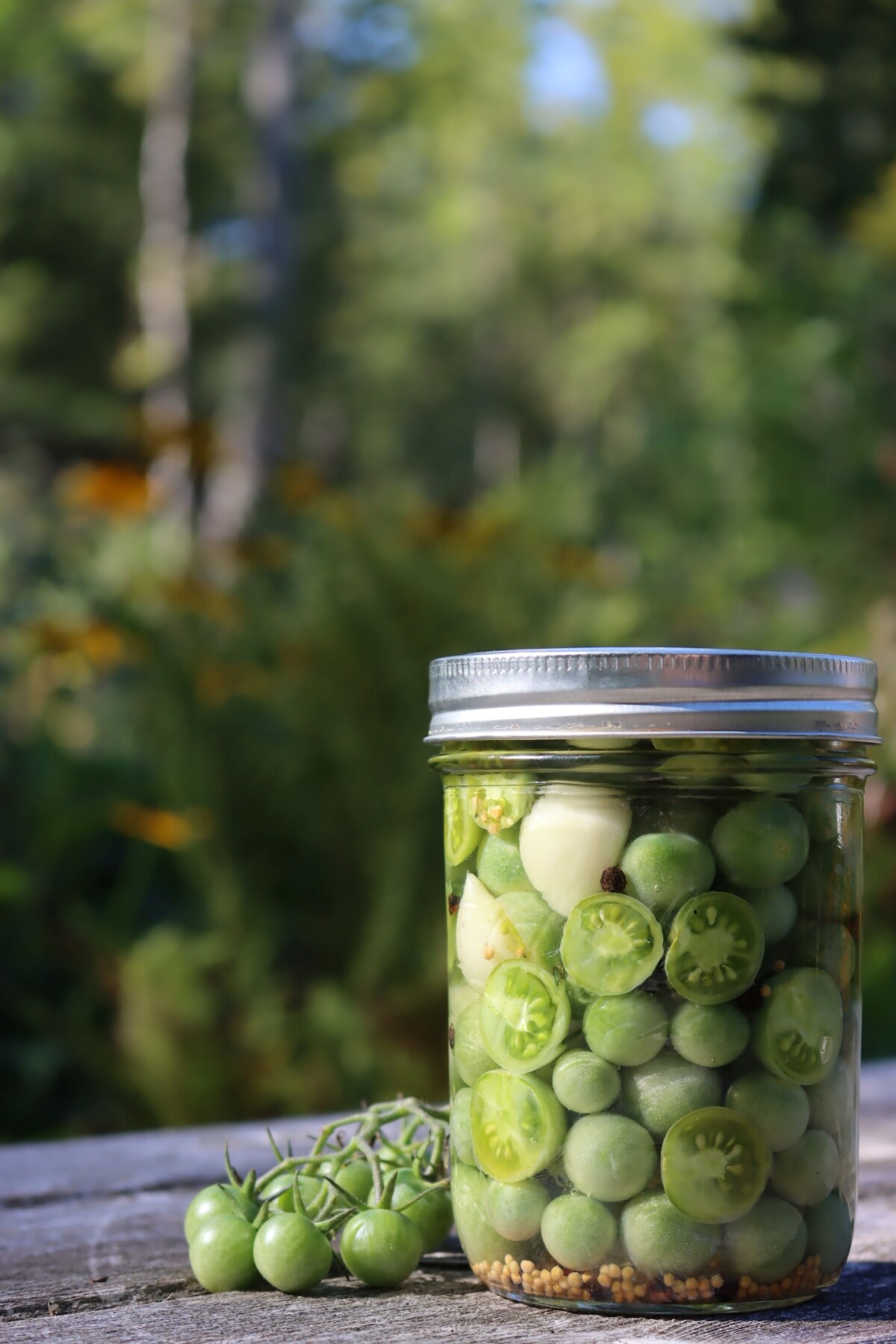 Green Tomato Relish
Plain green tomato pickles are tasty, but honesly, people don't tend to eat nearly as many pickles these days as they did back in the pioneer era when they were needed to liven up an otherwise bland diet.
It might be a lot easier to get relish onto your table than a straight pickle.
Green tomato relish isn't all that different than pickled green tomatoes, the main change is the texture since a relish tends to be spoonable rather than in large pickled chunks. Generally, the recipes are quite similar in terms of ingredients.
Green Tomato Chutney
A chutney is very much like a relish, but it tends to be heavily seasoned with Indian spices for even more intrigue.
While relish is often just used on burgers and hot dogs, chutneys find a place at the table with all manner of savory dishes.
Canning Green Tomato Salsa
While red tomato salsa gets the most use these days, green tomato salsa is better in my opinion.
Since the tomatoes are firmer, they stand up to processing a lot better and result in a finished salsa with a better texture.
Salsa Verde has it's own unique flavor, and it's darn delicious.
Canning Green Tomato Condiments and Sauces
We make a lot of enchiladas with greens sauce at my house, but most often, we're using tomatillo sauce and tomatillo salsa. Next up on my list of things to try is green tomato enchilada sauce, as it sounds like the perfect way to preserve green tomatoes in big batches.
Green tomato ketchup is also delicious, and very distinct from regular red tomato ketchup.
Green Tomato Jam & Marmalade
The last green tomato canning recipes to cover are the sweet ones, and they truly are an old fashioned treat.
I had the privilege of judging a local rural pie baking contest, and one of the very best entries was a green tomato pie made by a 7 year old girl. Green tomatoes do surprisingly well in sweet recipes, so well in fact that the national center for food preservation actually went so far as to test a specific green tomato pie filling recipe for canning.
Regular red tomato jam is surprisingly delicious, and green tomato jam is darn tasty too. Tomatoes are fruits after all!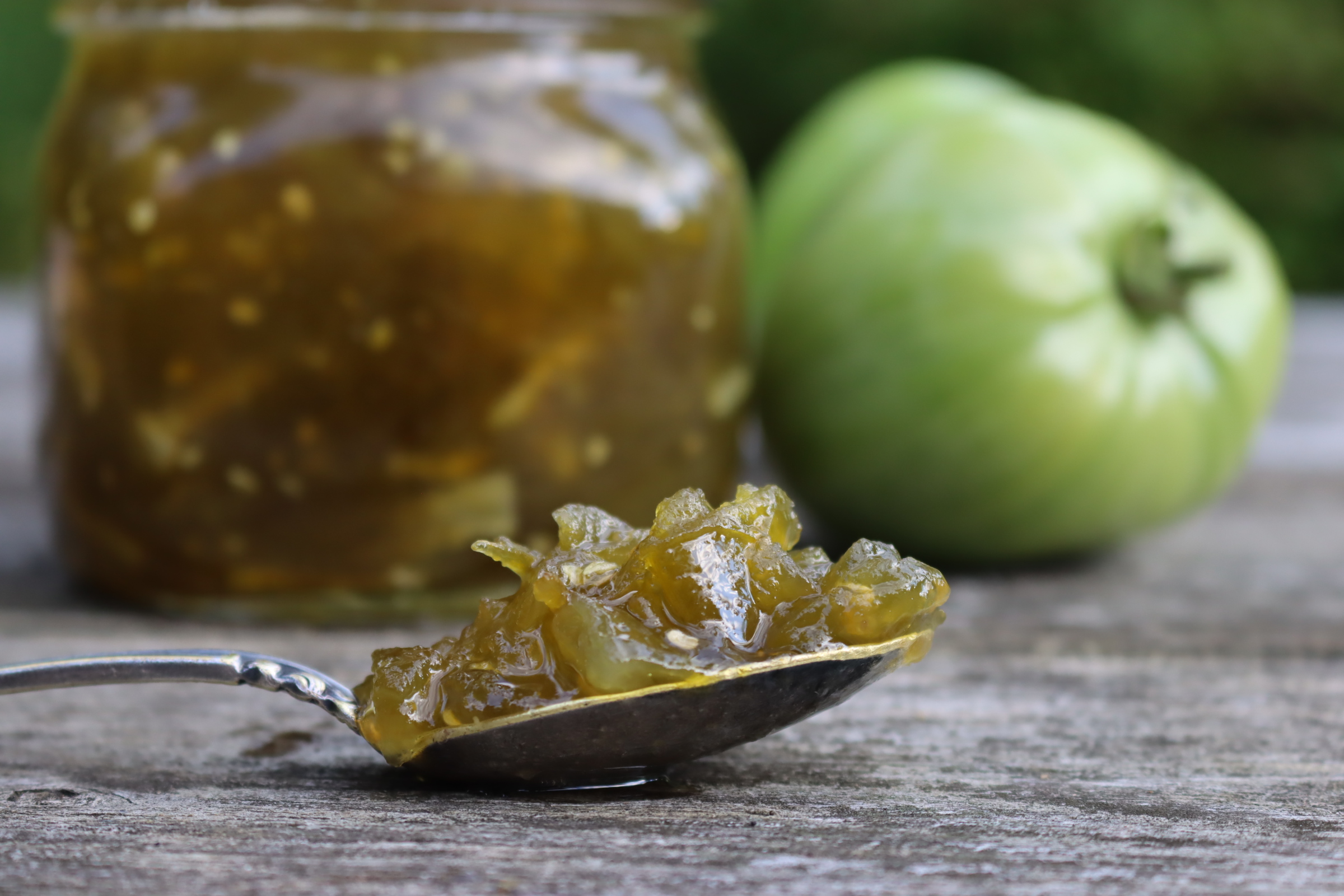 Canning Recipe Ideas
Looking for more canning recipe ideas?