Beef canning recipes are the perfect way to preserve beef right on the pantry shelf. No need to fill the whole freezer with a side of beef when you can preserve it in a jar instead!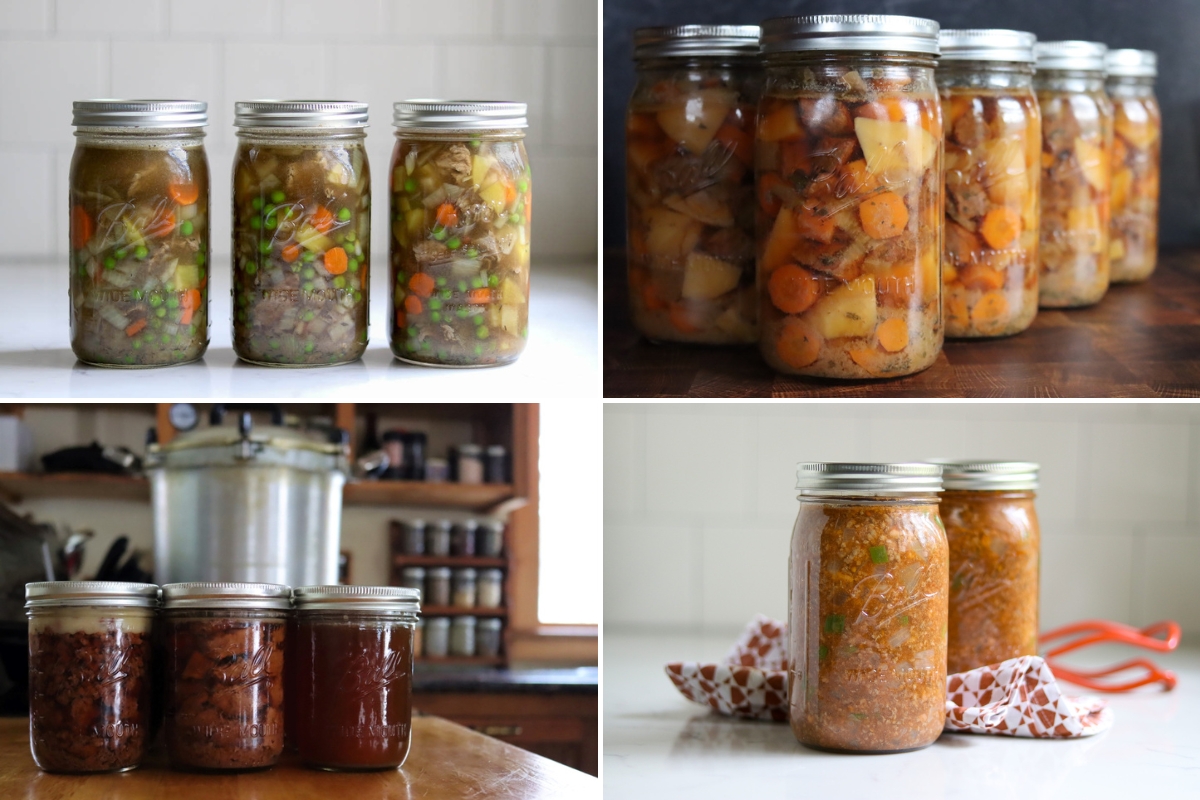 Raising a beef cow (or simply buying a side of beef from a local farmer) is a big commitment, at least in terms of freezer space.
Even if you're not going as far as half a beef, It is much more economical to buy beef in bulk…and a 20 lb package of ground beef will take up a lot of freezer space.
Beef canning recipes come to the rescue, and they're the perfect way to preserve beef right on your pantry shelf. Even better, most are just heat and eat meal in a jar recipes that allow you to quickly put a meal on the table on a busy weeknight.
All of those economical, tough cuts of beef that you'd put in the crock pot or pressure cooker come out tender and delicious when pressure canned, and there's nothing that beats tender beef short rib right out of the pressure canner.
Is Beef Safe for Canning?
Beef is safe for canning, provided you use a pressure canner and follow safe, tested canning recipes. If you're not familiar with pressure canning, I'd encourage you to read my beginner's guide to pressure canning before you get started.
Believe it or not, it's possible to safely pressure can just about any part of the cow, and some parts can be put up bone in (short ribs, oxtail, etc). There are even tested recipes for canning beef tongue.
Pressure canning takes foods to higher temperatures than water bath canning, and most foods are processed at around 240 degrees F. It takes different pressures to achieve that temperature, based on your elevation, so be sure to read through the altitude adjustments and set the pressure accordingly.
Be sure to follow the recipe, using the correct headspace, processing time, and altitude adjustments.
(Water bath canners are only for acidic foods like jams and pickles. Despite what you read on Facebook, you cannot process meat or other low-acid foods in a water bath canner. Doing so has a risk of botulism, and botulism is nothing to mess around with. Pressure canning is hot enough to kill botulism spores, but water bath canning isn't.)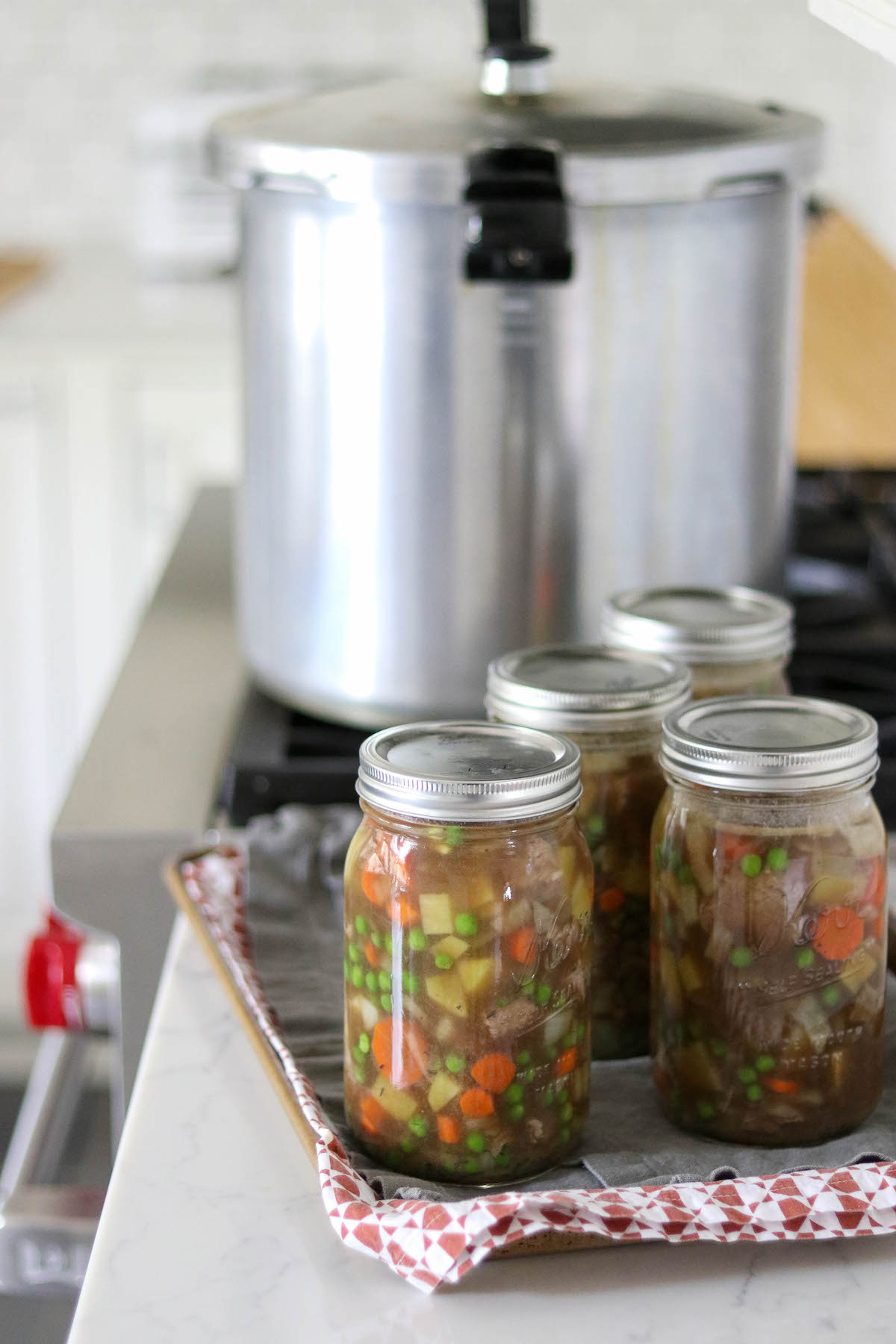 Canning Beef Times and Pressure
With pressure canning, the canning time doesn't change with elevation, but the canning pressure does. Always refer to your own tested recipe to be sure, but in most cases, beef canning recipes are processed for:
75 minutes for pint jars

90 minutes for quart jars
That's true for most types of meat (except seafood, which is processed longer).
Foods without solids, like beef broth, or soup recipes with a lot of liquid included, are sometimes processed for less time, depending on the recipe. That's because it takes less time for heat to penetrate to the center of the jar when there's a lot of liquid in the recipe.
Those few soup and broth recipes are the exceptions, and the vast majority of beef canning recipes will use 75 minutes for pints and 90 minutes for quarts.
Altitude adjustments for beef canning recipes are as follows:
For dial gauge pressure canners:
0 to 2,000 feet in elevation – 11 lbs pressure
2,001 to 4,000 feet in elevation – 12 lbs pressure
4,001 to 6,000 feet in elevation – 13 lbs pressure
6,001 to 8,000 feet in elevation – 14 lbs pressure
For weighted gauge pressure canners:
0 to 1,000 feet in elevation – 10 lbs pressure
Above 1,000 feet – 15 lbs pressure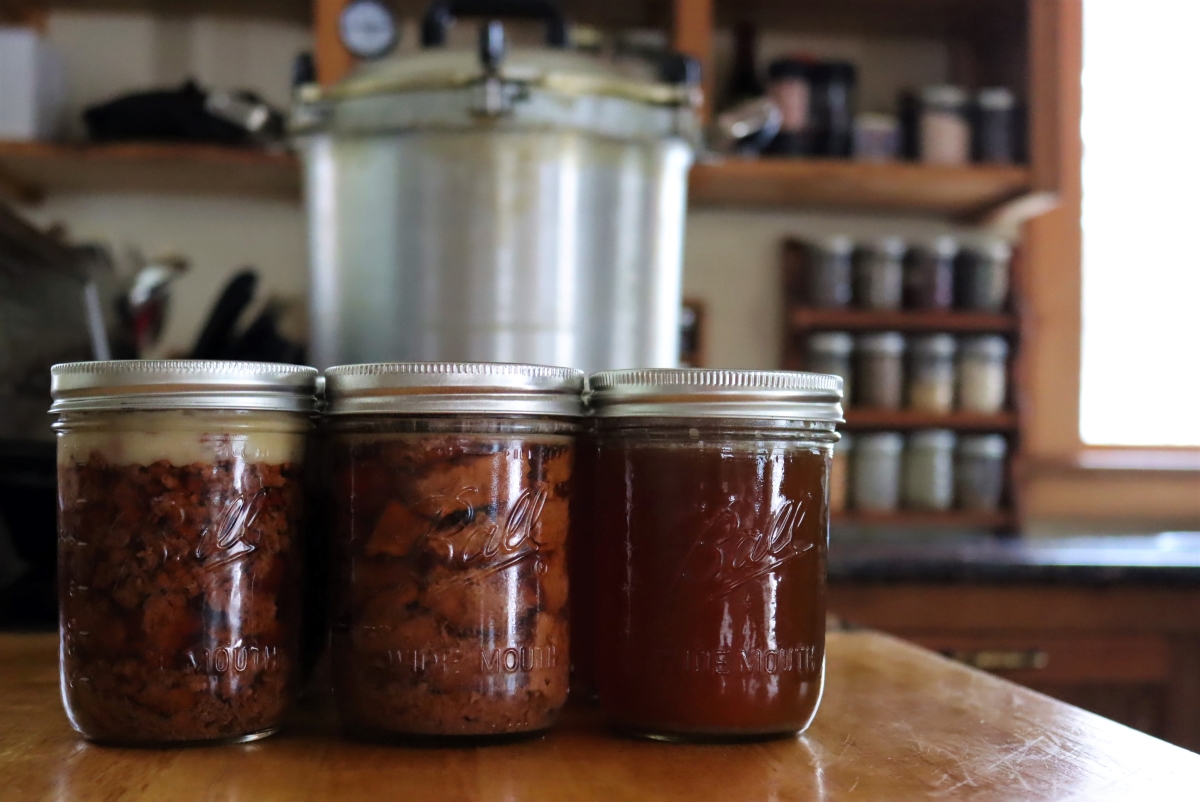 Beef Canning Recipes
Beef, whether it's pot roasts, stewing beef, or ground beef, works very well in canning recipes. Plain canned beef is incredibly versatile in canning recipes, and it can be used in just about any recipe that calls for cooked beef.
You can also prepare a full meal in a jar beef canning recipes that include vegetables and seasonings. Anything from soups and stews, to pot pie fillings, chili, and taco meat.
There's really no way to go wrong with beef.
Canning Beef (Plain)
Canning beef works with any cut on the cow, but stewing beef and slow cooker-type roasts work the best. Anything you'd otherwise cook "low and slow" is ideal for pressure canning.
While you can pressure can high-quality steaks safely, it's definitely not the best use of high-quality meat that's meant to be cooked hot and fast. If you have limited freezer space, use it for steaks like ribeye and porterhouse.
That said, there are only a few high-quality steaks on any given cow, and that's why they're so expensive. Most of the animal is made up of stewing and braising cuts, so canning is a great option for most parts of the animal.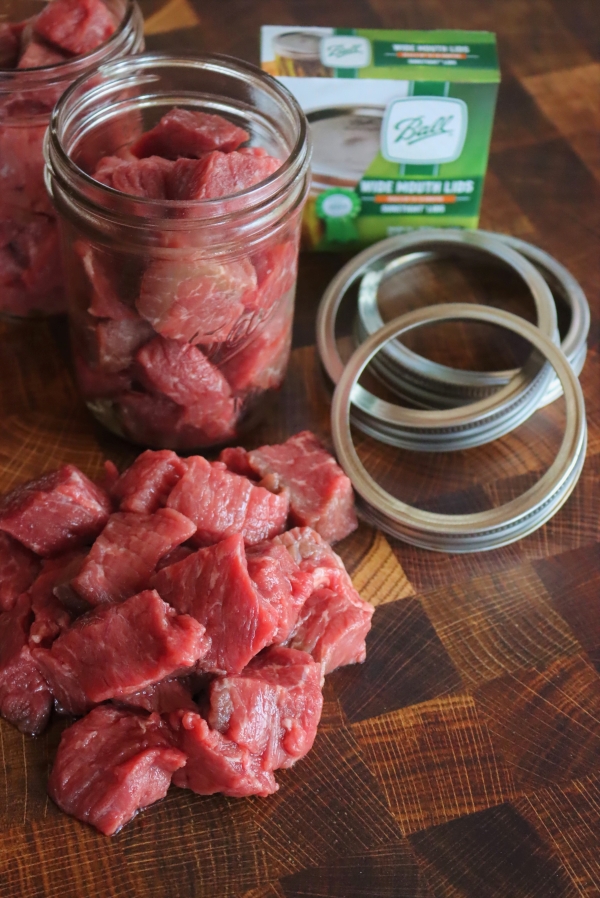 Canning Ground Beef (& Hamburger)
Stewing beef chunks work well in the pressure canner, but so does ground beef. You can actually can pre-formed hamburger patties just fine, and then cook them up on the grill or stove with ease.
That said, canning ground beef crumbles, either seasoned or unseasoned, is a far more common and versatile way to process ground beef.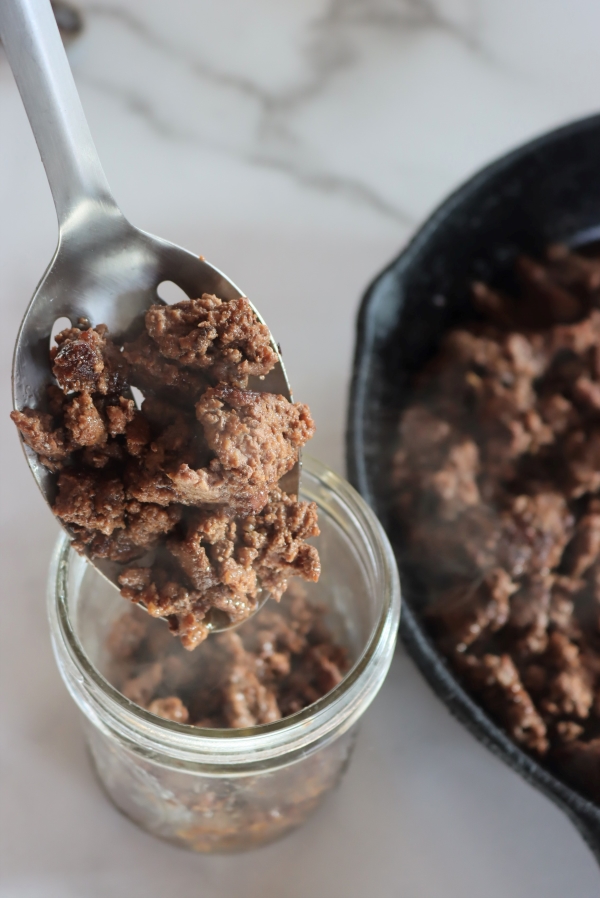 Beef Stew & Soup Canning Recipes
Classic beef stew is a real hero right from your pantry shelf, and that's one of the most popular beef canning recipes anywhere.
At this point, there are actually very few beef soup and stew recipes on the internet, but I've included all that I can find.
Beef Chili Canning Recipes
While there aren't all that many beef soup recipes that have been tested for canning, there are plenty of chili canning recipes.
Some use ground beef, while others use stewing cuts. Some have beans, and others have no beans. There are really a lot of options out there.
Remember, you can always change (add, substitute, or omit) the dry seasonings in any pressure canning recipe. That means you can spice any homemade chili to suit your tastes (provided you're using dried spices from your pantry shelf).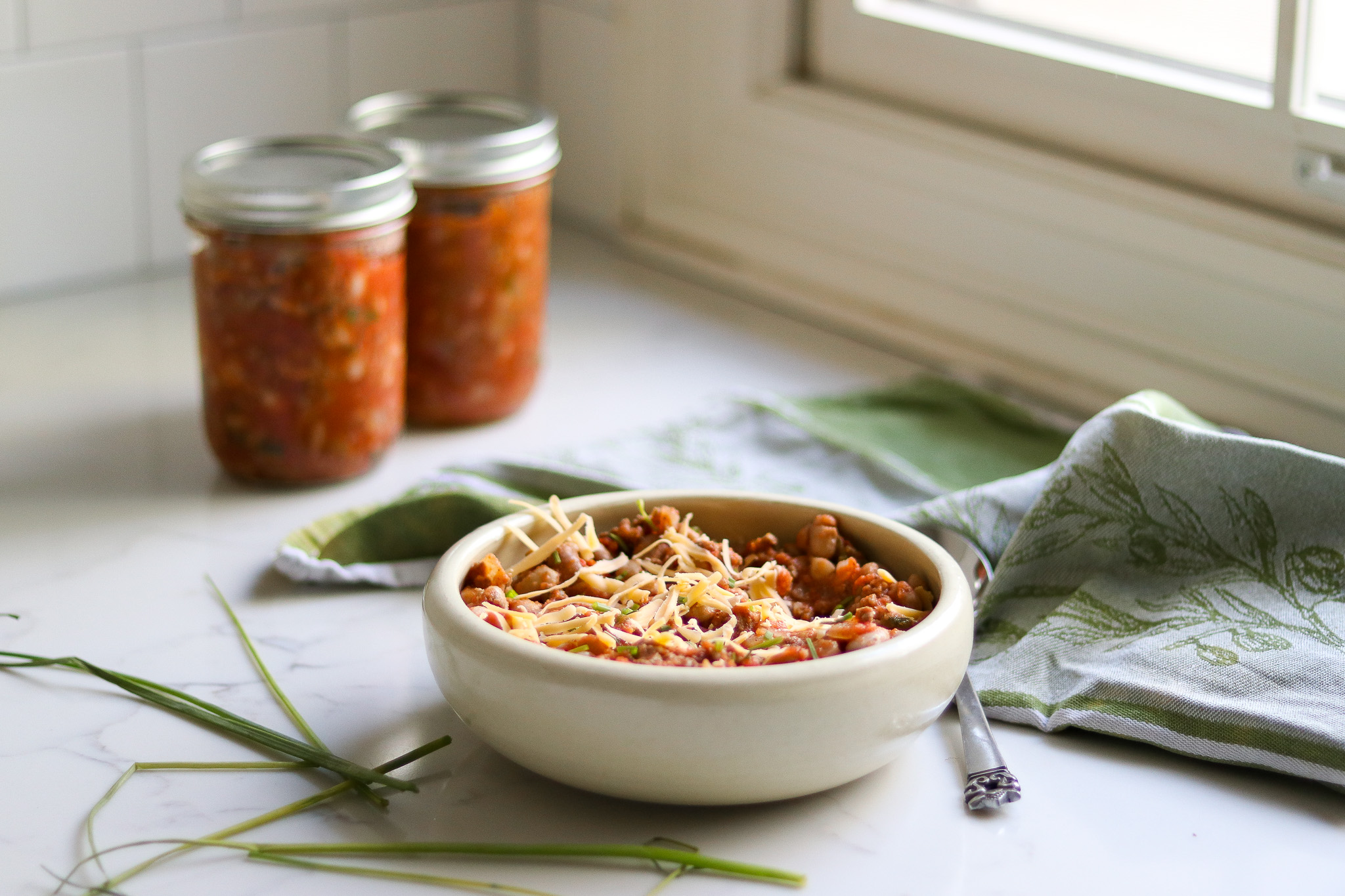 Beef Meal in a Jar Canning Recipes
Arguably, anytime you're canning beef, you're actually canning a meal in a jar. Even plain beef can be a meal if you're in a rush; all you need is a fork. Chili, likewise, is a meal in a jar.
So, to be fair, these beef meal-in-a-jar recipes are just meals that don't fit neatly into another category. Things that are not quite stew, like beef in wine sauce, or pot roasts. Or traditional recipes like beef goulash and stroganoff.
You get the idea.
Beef Pot Pie Filling Canning Recipes
Pot pies (and mincemeat pies) are delicious meat pies that just need a savory crust to get to the table.
If you're not a fan of making homemade pie crusts, you can opt for frozen. You can also just top it with biscuit dough before baking (either homemade dough or out of a tube in a pinch).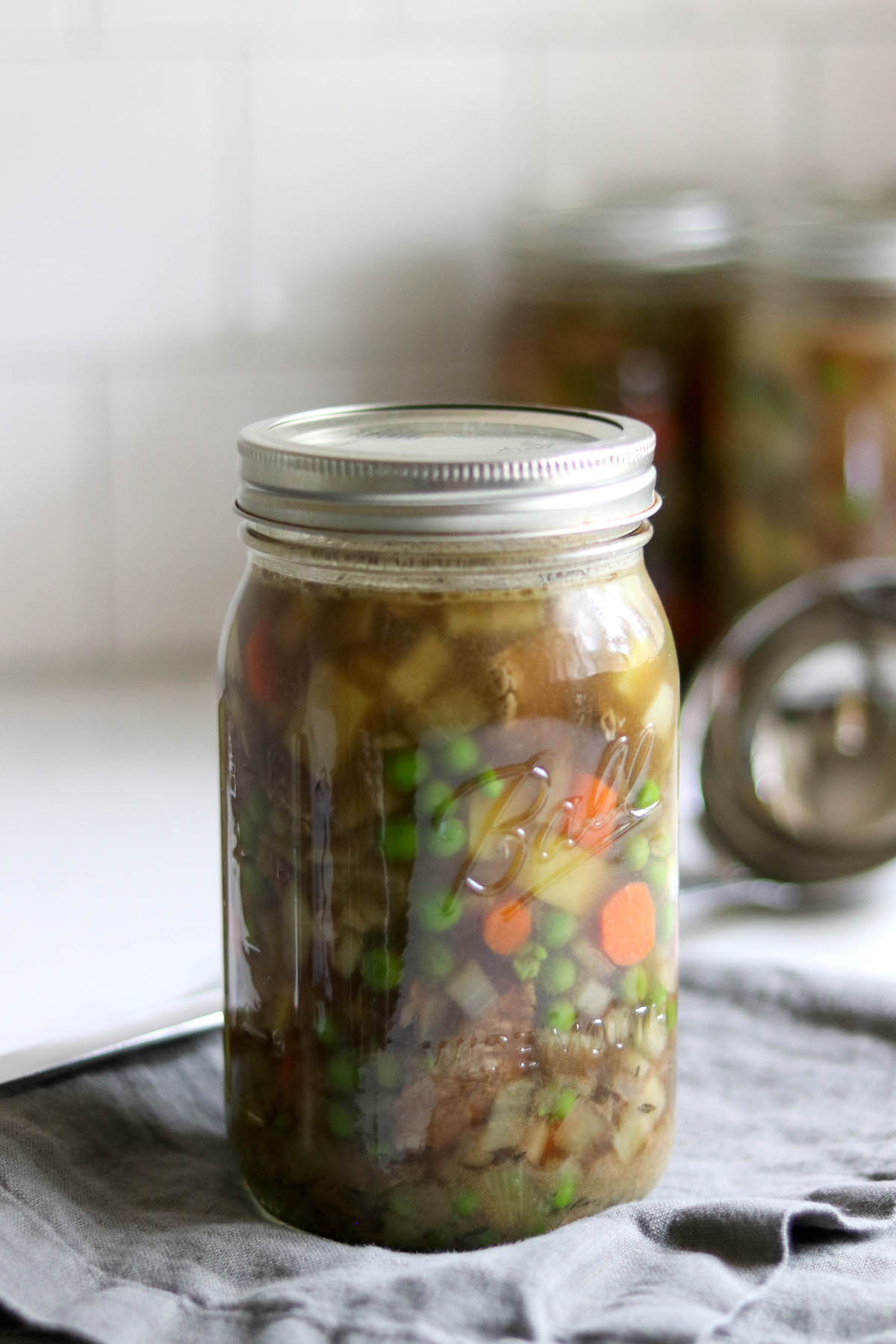 Beef Pasta Sauce Canning (& Meatballs)
Beef pasta canning recipes have everything but the pasta in the jar.
Pasta is one of those things that's not approved for canning, largely because the noodles just fall apart into a sticky, starchy mess and turn the whole jar into jello. It's hard to ensure good heat penetration that way.
But dry pasta is shelf stable and cooks quickly with just a bit of boiling water. Add a little meat sauce, and you have a protein-rich meal in a hurry.
Beef Taco Filling
Seasoned meat, whether it's ground beef or pulled beef, is a quick and easy filling for last-minute tacos or burritos. Add whatever other taco or burrito fillings you have on hand, and it's a full meal right there.
Be sure to drain the jar well before heating, then cook on high to drive off more moisture and brown the meat. I find the chipotle beef taco meat makes a spectacular burrito with just a bit of cheese; nothing else is needed.
Beef Broth Canning Recipes
As a base for dozens of recipes, beef broth can really bring a meal together. No need to take up freezer space with a dozen containers of homemade broth when it's one of the easiest things to pressure can at home.
Unlike most beef canning recipes, beef broth is only processed for 20 minutes for pints and 25 minutes for quarts. Putting up a batch with a few leftover beef bones is easy.
Meat Canning Recipes
Working with other types of meat? Check out these other meat canning recipes!
Canning Recipe Lists
Looking for more canning ideas?