Quince jam is a fragrant preserve that taste like sweet pears and rosewater, and it's perfect for your morning toast.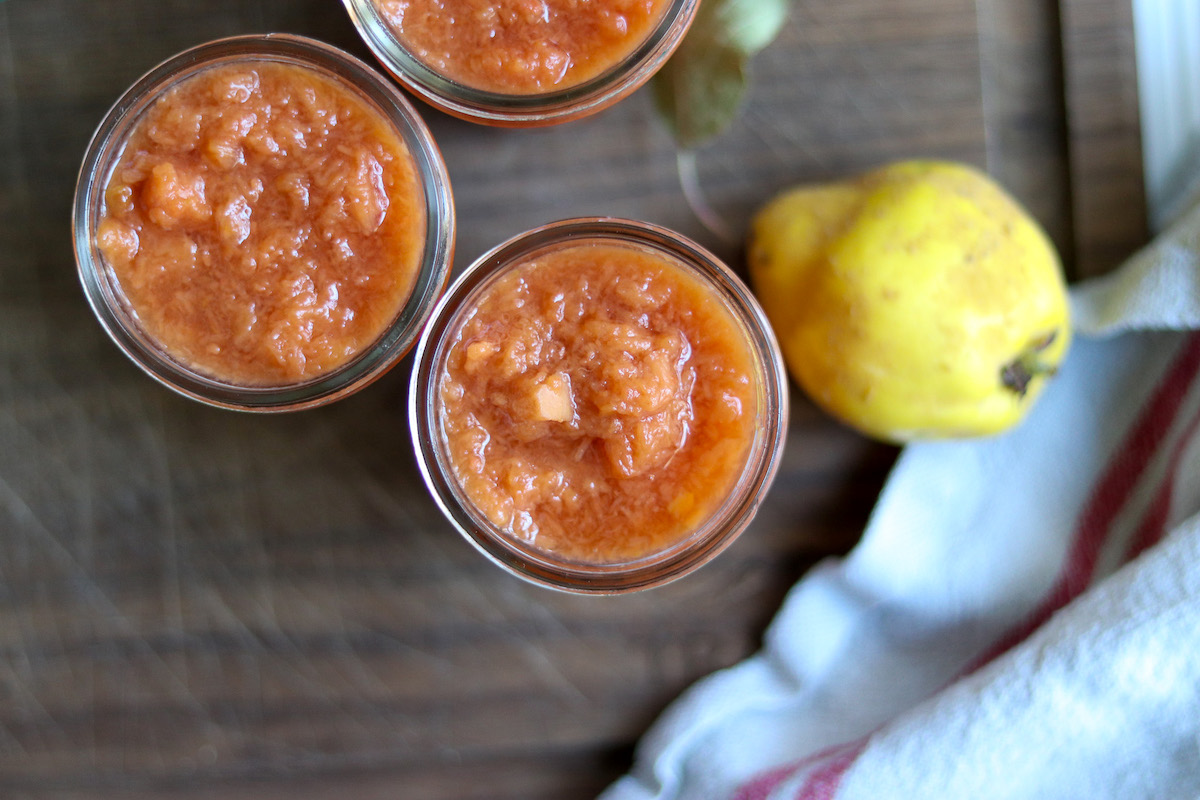 Quince are one of my husband's very favorite fruits, and now that we have a quince tree growing here on our homestead, I'm always on the lookout for new quince recipes. We've made classic membrillo (quince paste), of course, as well as quince jelly…but I'm always looking for a full bodied preserve that captures the wonderful fragrant essence of quince.
When cooked properly, quince transforms from a hard yellow fruit into a luscious rose-scented preserve that is a stunning shade of bright pink/red.
Quince jam has quickly become one of our favorites, and I try to put it up every year if I can.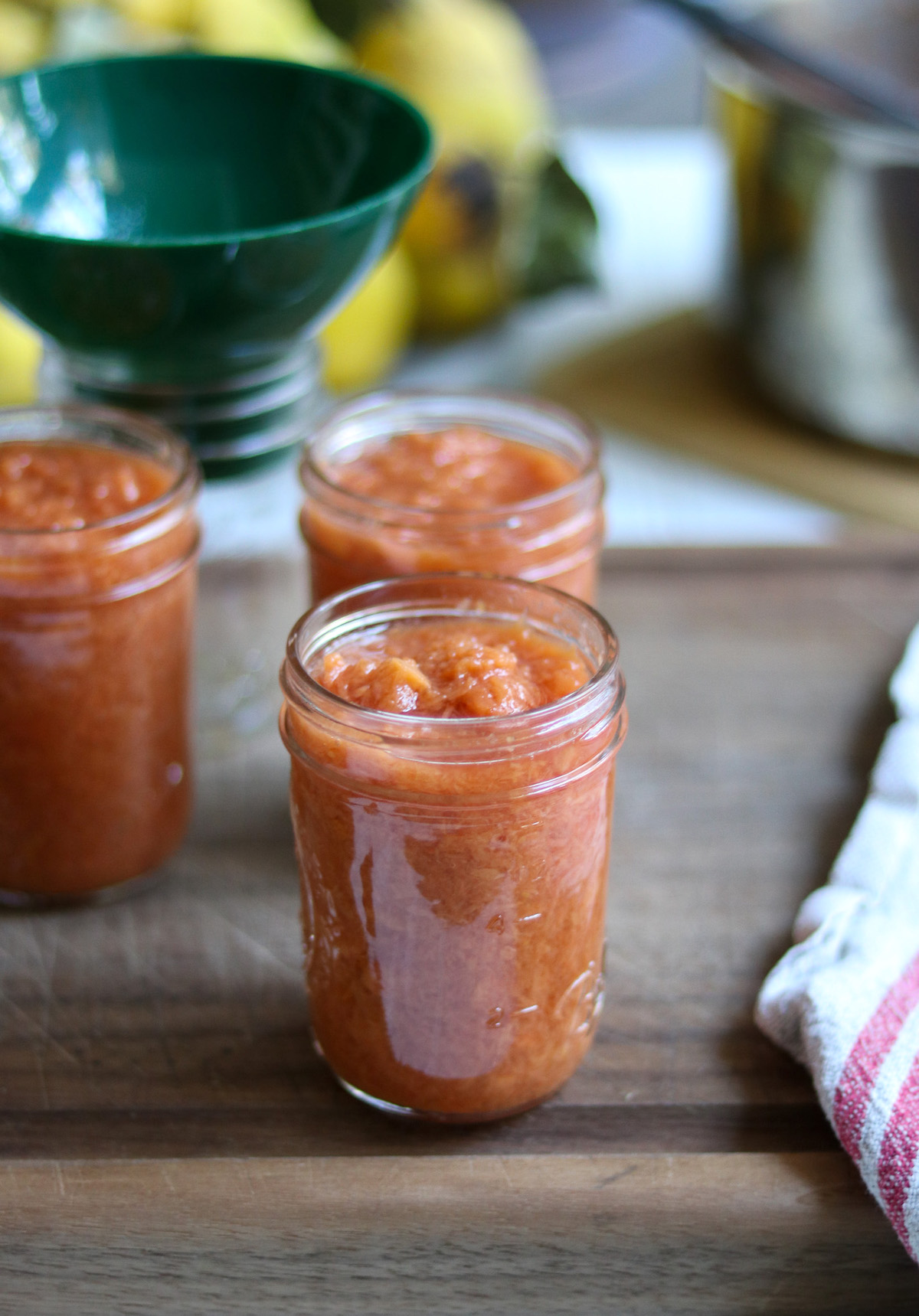 Quince Jam Vrs. Quince Preserves
So a quick note here…quince preserves are often just chunks of quince canned in syrup. Those are used in the Middle East as a treat or condiment.
Here, I'm going for something a bit smoother. If you want something more like quince preserves, take a look at my recipe for canning quince, and just chop the quince into cubes instead of large slices.
When cooked long enough, quince will disintegrate and make a lovely jam. If you leave the peels on though, you should use an immersion blender to help the process along.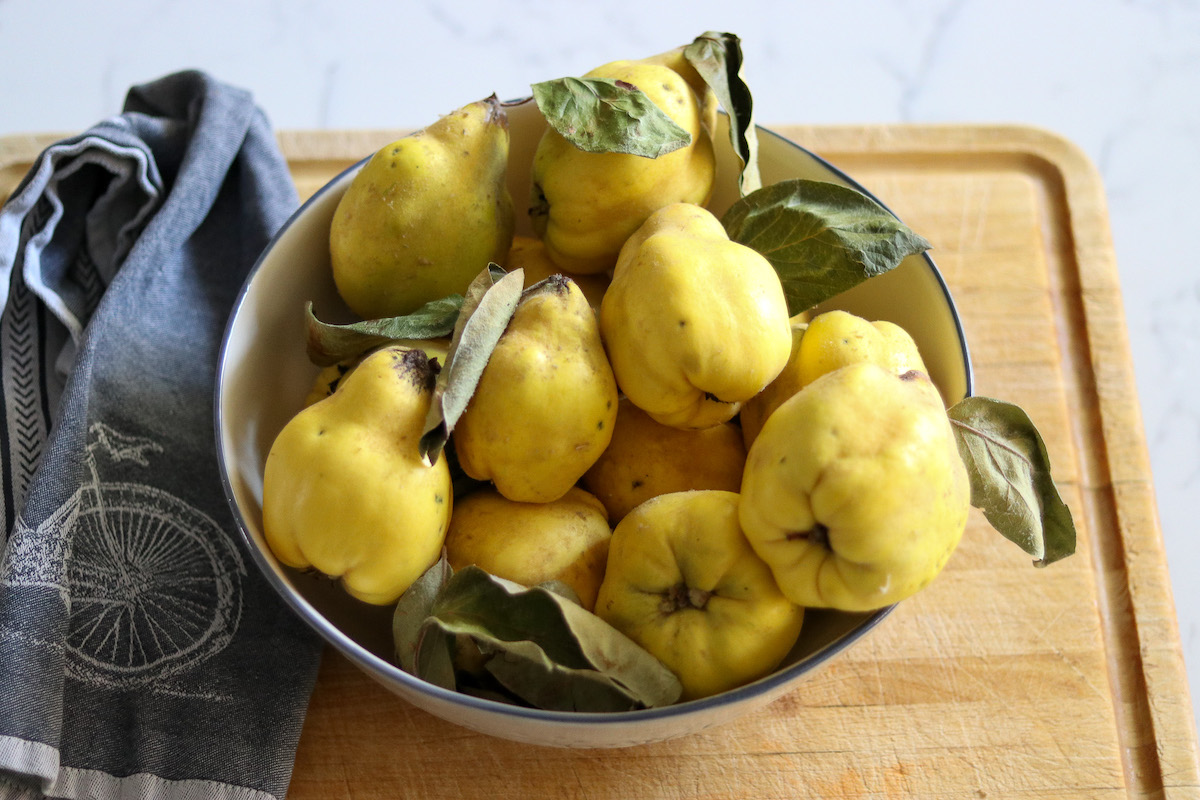 Ingredients for Quince Jam
This recipe should yield a batch of 5 half-pint jars (8 oz each).
First off, you'll need quite a bit of quince – about 7 cups peeled and chopped. Pick quince that are firm yet fragrant. Ripe quince should be golden yellow and have a strongly sweet and floral smell.
7 cups cored, and chopped quince (peeling optional)
2 to 3 cups sugar
¼ cup lemon juice
Water
There's no need for added pectin in this recipe – quinces are naturally rich in pectin which makes them perfect for jams, jellies, and preserves.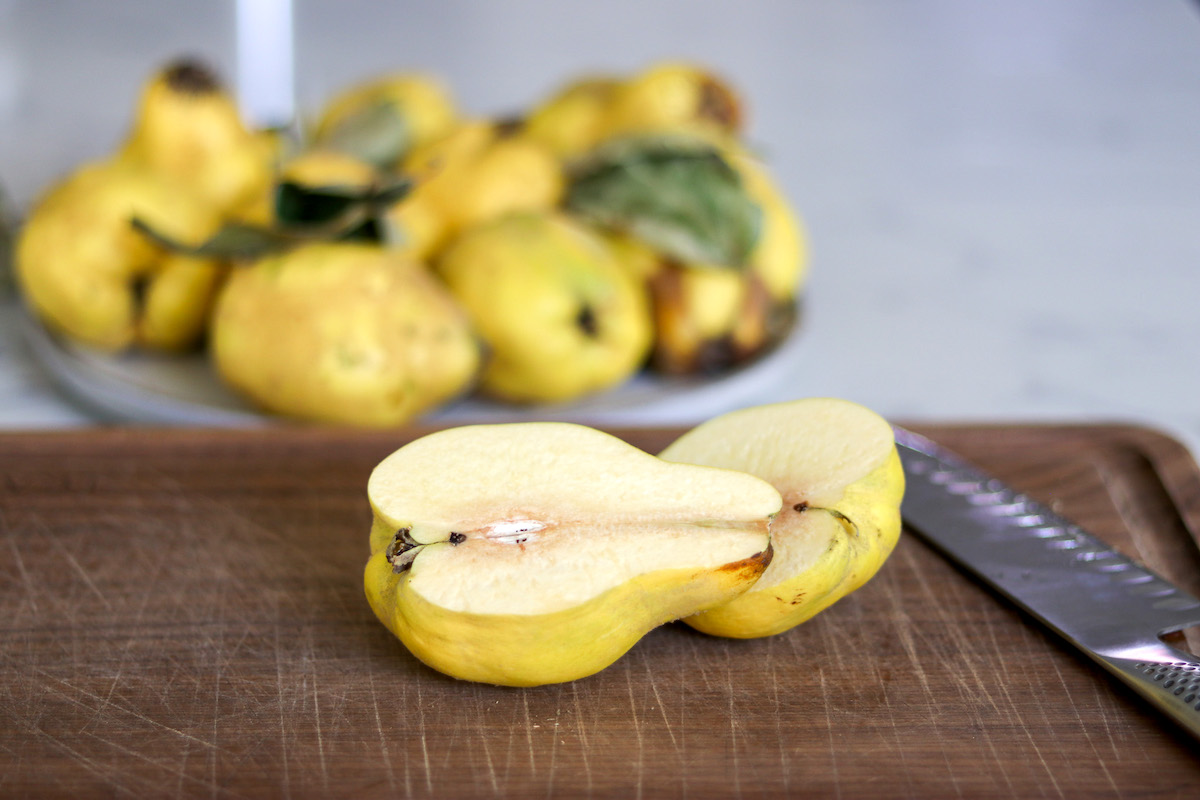 How to Make Quince Jam
Remember: If canning, be sure to prepare a water bath canner before you begin cooking the jam.
Begin by washing your quince. With care, use a sharp knife to cut, peel, and core the quince the same way you would an apple. Quince is one of the hardest fruits, so be quite careful cutting the cores and remember – patience is key. The quince should be cut into small pieces (about 1/2 to 1 inch, if possible).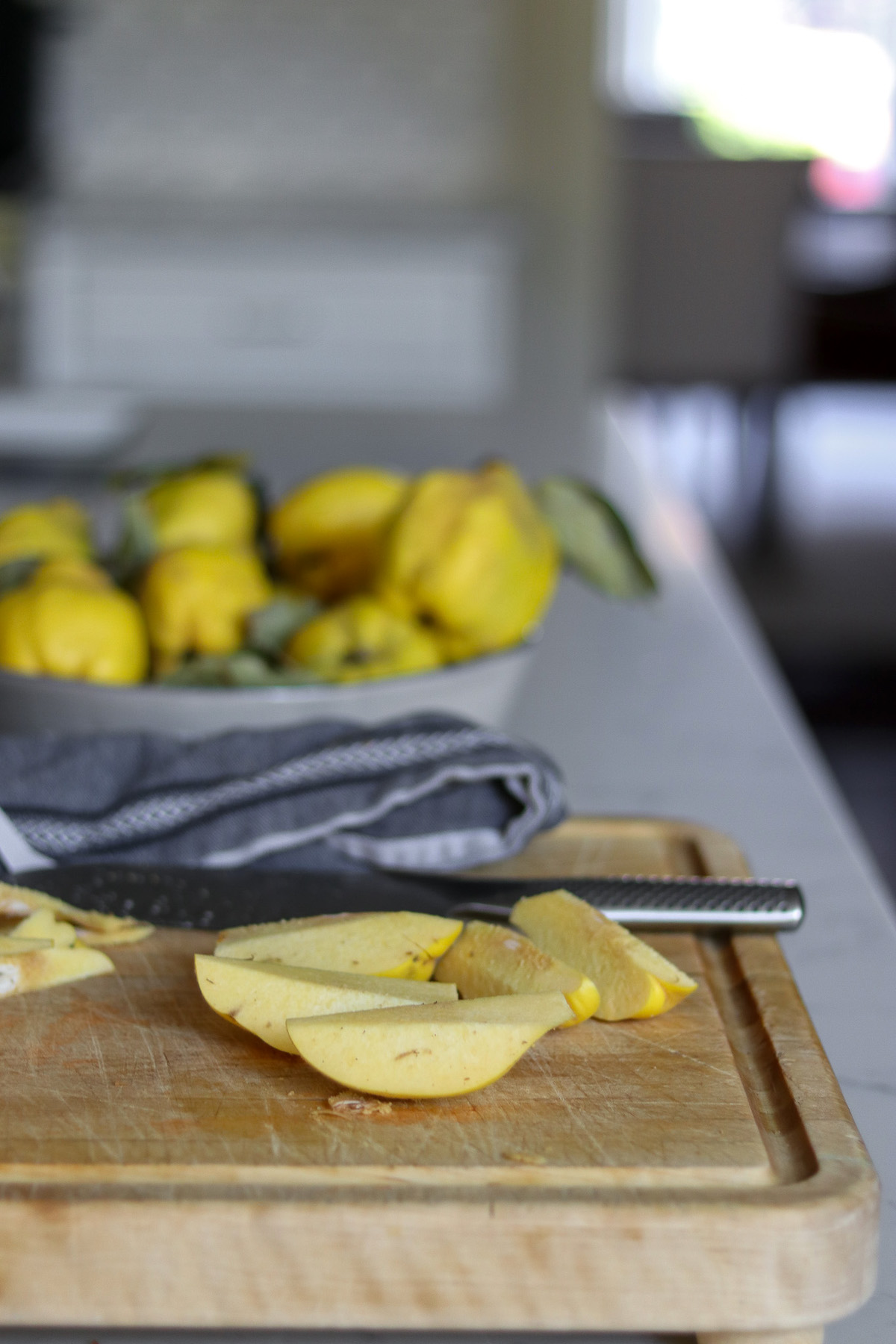 Peeling is optional, and quince peels contain much of their fragrant flavor. If you peel them, you can simply mash the preserve without an immersion blender to chop the peels into tiny pieces. If you don't peel them, you will need to blend the jam or know that you'll have good-sized pieces of quince peel in the mix. Either way is fine, it's a matter of personal preference.
I've made it both ways, and both are delicious. This particular batch is photographed with peels on.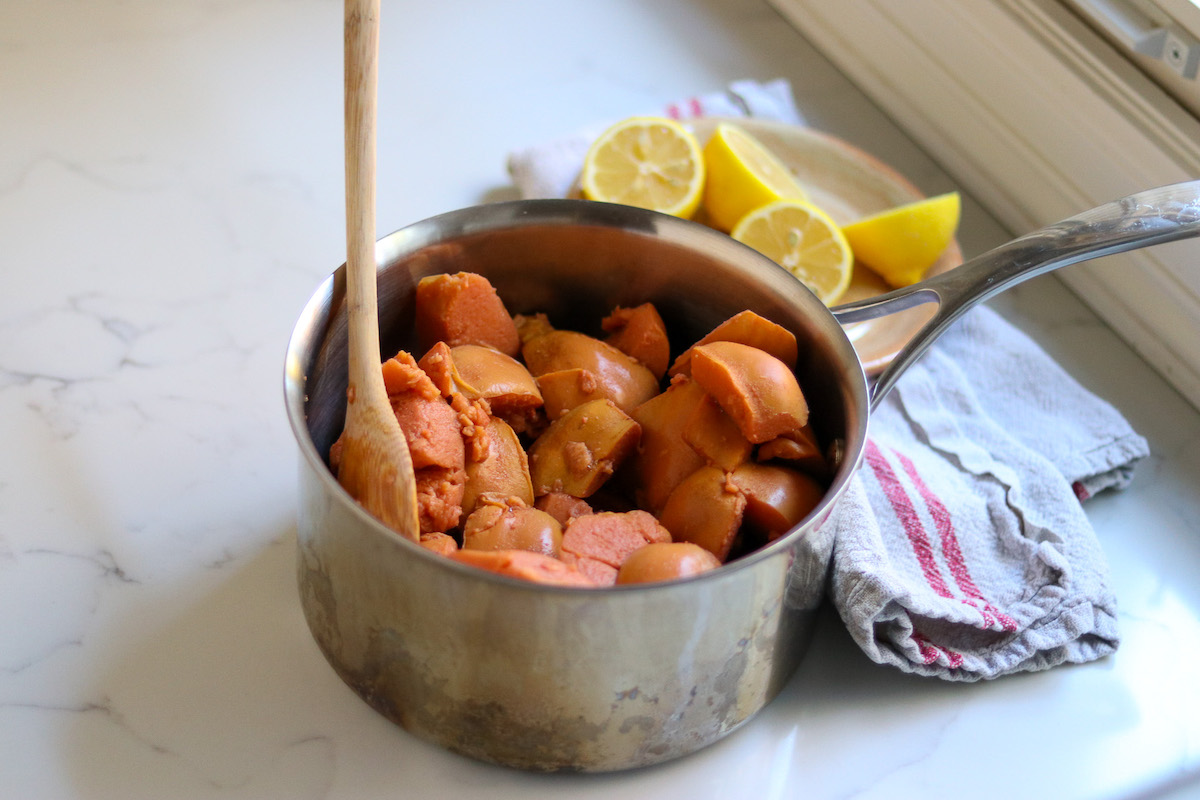 Once you've diced or cut the quince into small chunks, place in a saucepan and cover with water. Simmer and stir until they fall apart. As quinces are so hard, this step will take longer than other jams (about 30 to 45 minutes).
Be sure the pan does not run dry because of this extended cook time – add more water if needed. Once cooked, the quince will turn from white to pink and begin to fall apart.
Now that your quince has achieved a soft texture and rosy hue, you can begin the process of turning it into jam. Add in your lemon juice and sugar and stir. These will react with the pectin in the quince and begin the gelling process. You can add between 2 to 3 cups of sugar based on your taste.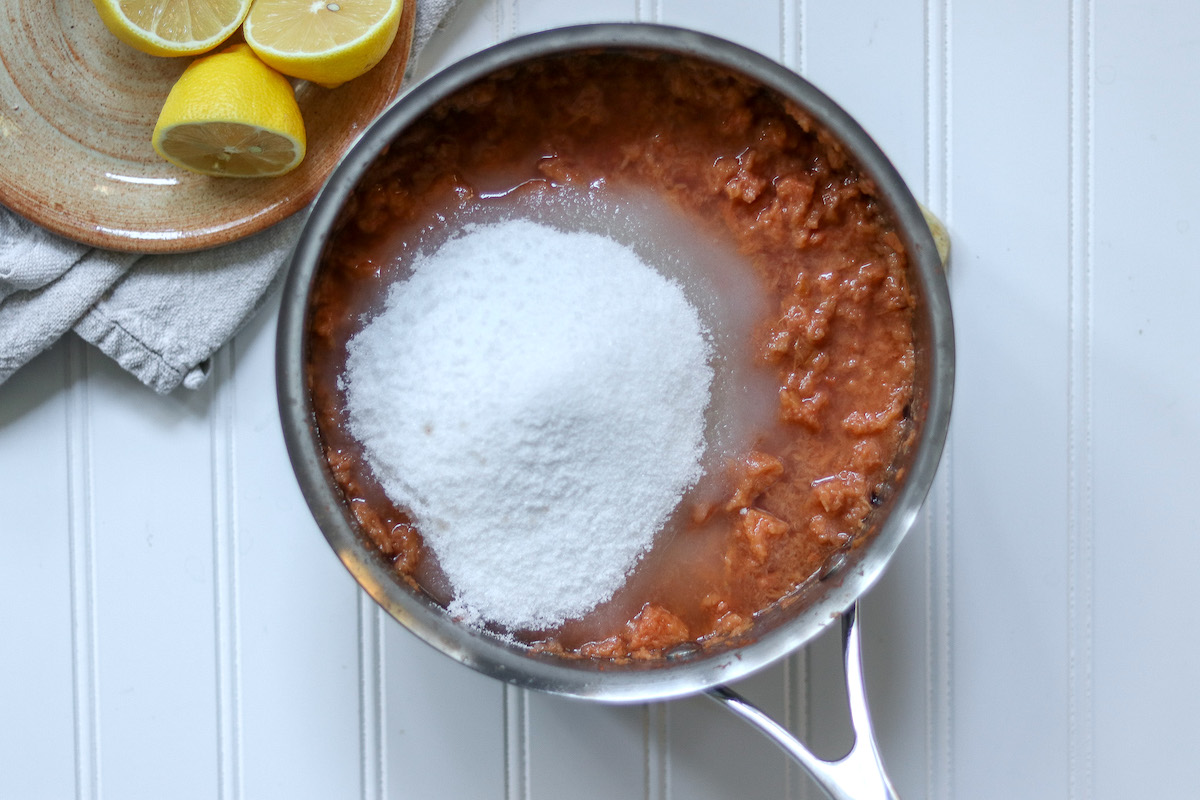 Adding lemon juice will bring out the flavor of the fruit. Additionally, you may wish to add complementary spices and seasonings at this point such as cinnamon, allspice, or cardamom.
Stir the mixture to encourage the quince to fall apart as you continue to cook it. An immersion blender helps here if you've left the peels on.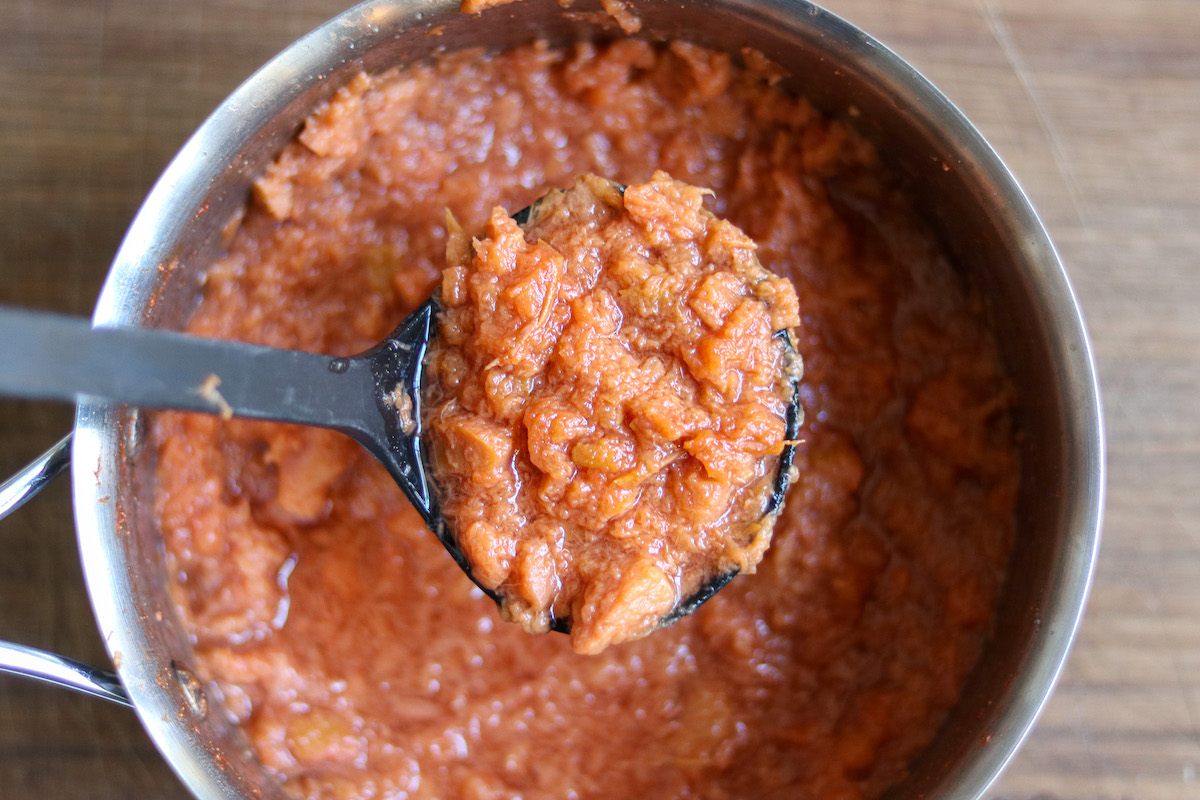 Quince Jam Variations
You can make this quince jam your own by adding more or less sugar, and by adding complementary spices.
Low Sugar Variation
Quince jam will turn out with a balanced sweet-yet-tart flavor. You can use 3 cups of sugar for a sweeter variety or 2 cups of sugar for a more tart jam. Adjust to your personal taste.
Other Variations
Looking to make something a little bolder than your standard quince jam? Consider adding honey or warming spices for other quince jam variations. Persian quince jam is a popular variety made with cardamom and rosewater.
Some additional recipes recommend adding nutmeg allspice, ginger, vanilla, or cinnamon for an enhanced flavor. Simply, pick one or two of your favorite spices and add along with the sugar and lemon juice after your quince has softened. If using cardamom, remove pods before jarring.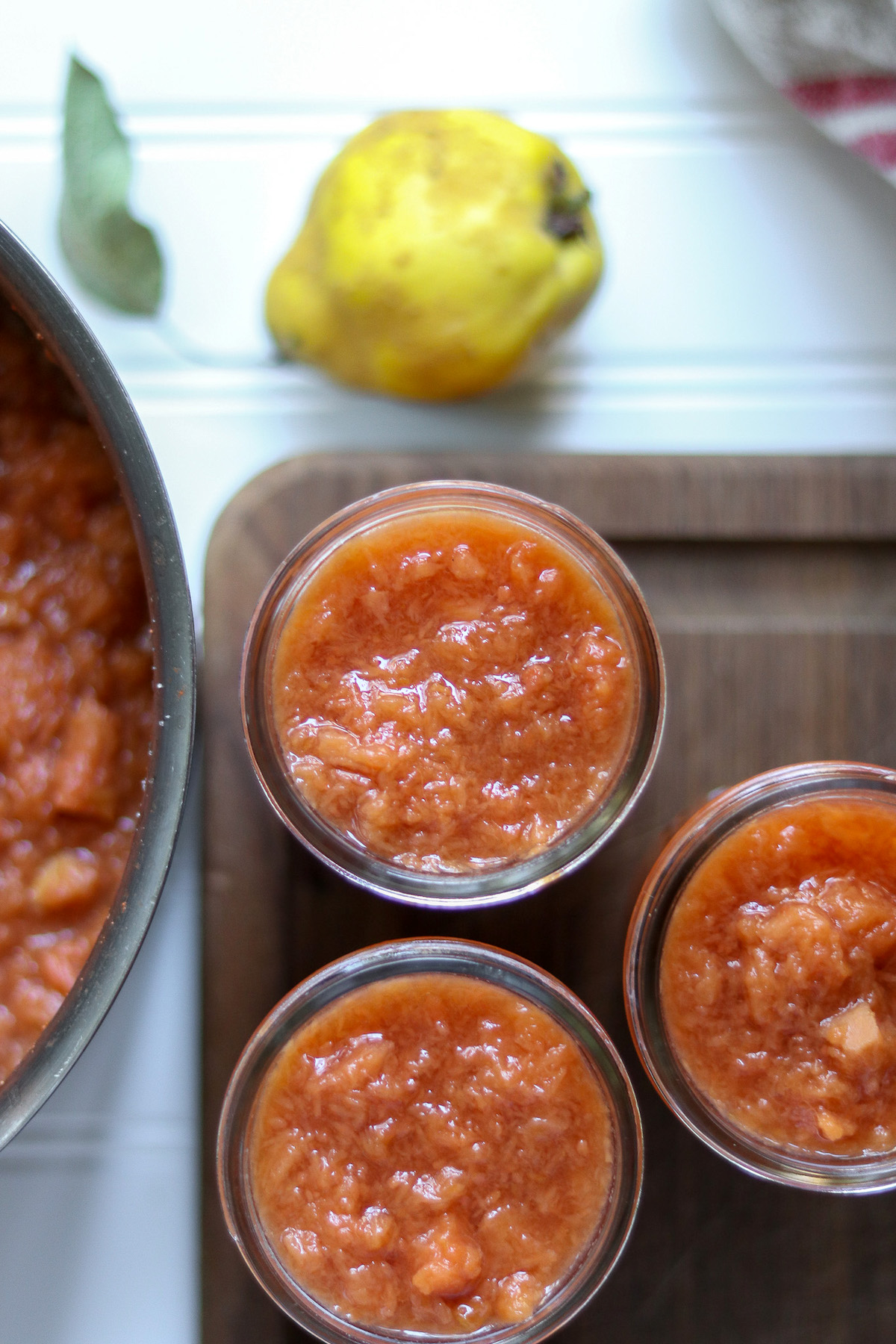 Canning Quince Jam
This quince jam can be made as a refrigerator or freezer jam, lasting for several weeks refrigerated and up to 6 months in the freezer (just be sure to use freezer-safe jars and leave extra headspace for the jam to expand).
If gifting your jam, you'll likely want to opt for canning instead. Canned jams will keep for 18+ months in a dark and cool pantry.
For canning, be sure to prepare a water bath canner before cooking your jam. Once the jam has thickened, ladle into prepared canning jars leaving ¼ inch headspace. Clean any residue off the rims with a clean damp cloth – this ensures the lids will seal properly – and cap with two-part canning lids.
Next, process in a water bath canner for 10 minutes (or 15 minutes if above 6,000 feet elevation).
Remove jars and allow to cool atop a towel. Check the seals after 12 to 24 hours.
Jars of quince jam that are correctly canned and sealed will keep for 18 months in the pantry. After this point, the jam, although still safe, will be past peak quality.
Unsealed jars should be stored in the refrigerator (once cooled to room temperature) to be used within the next few weeks.
As always, canned jams should be refrigerated after opening.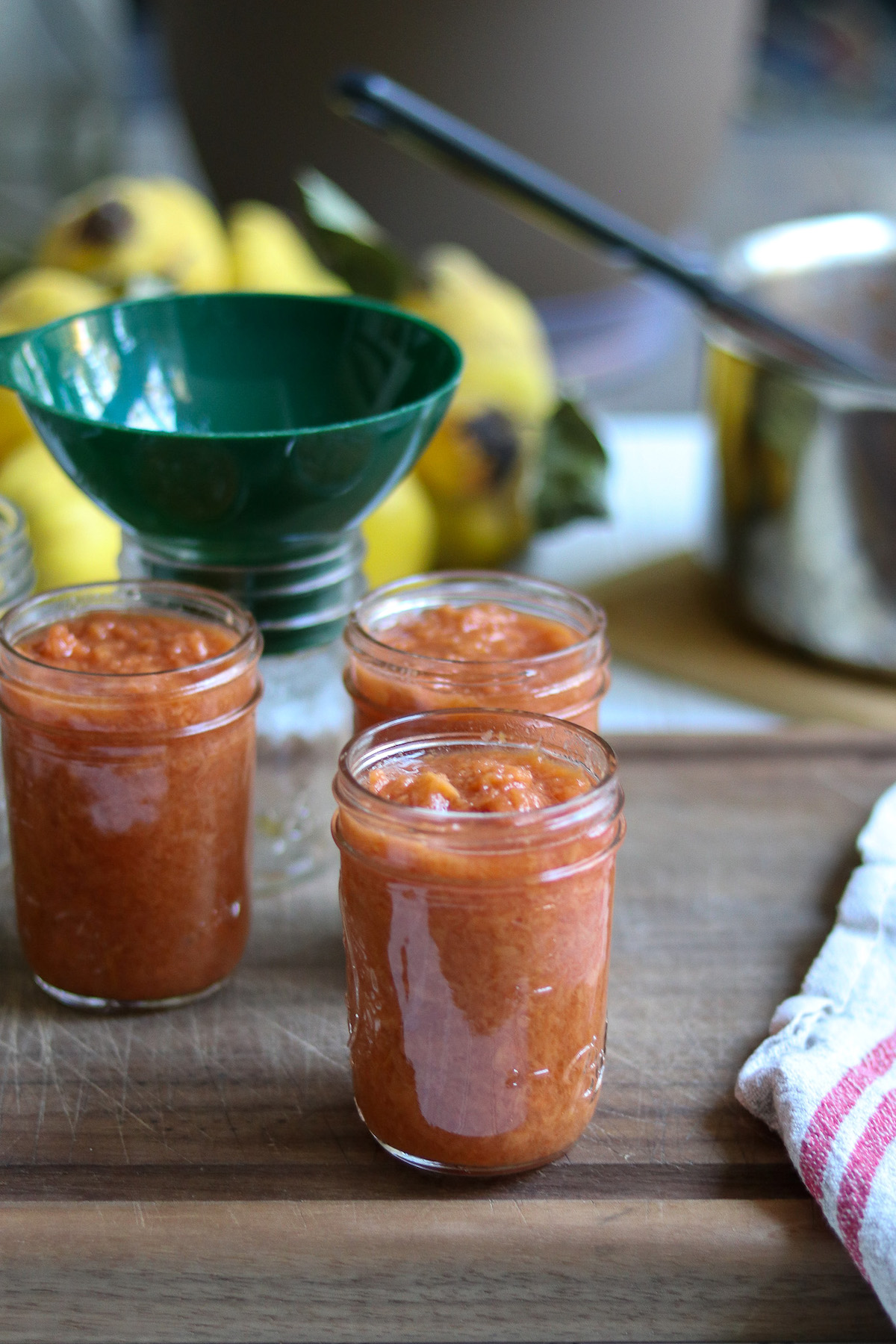 Ways to Use Quince Jam
Quince jam is a fragrant addition to everything from elaborate charcuterie boards to homely croissants and scones. This sweet-yet-tart condiment pairs with both sweet and savory dishes.
Add quince jam to yogurt with a sprinkle of fruit or granola for an unusual parfait. Surprise your quests by combining with creamy cheeses, salty meats, and crostini for a decadent charcuterie spread, pairing with brie, manchego, or camembert cheese as well as savory spreads like chicken paté.
Even run-of-the-mill sandwiches can be spiced up with a little quince jam. Give a turkey sandwich a complex bite with a small spread of quince jam.
Feeling especially precocious in the kitchen? Try quince jam thumbprint cookies or quince and fig pinwheels.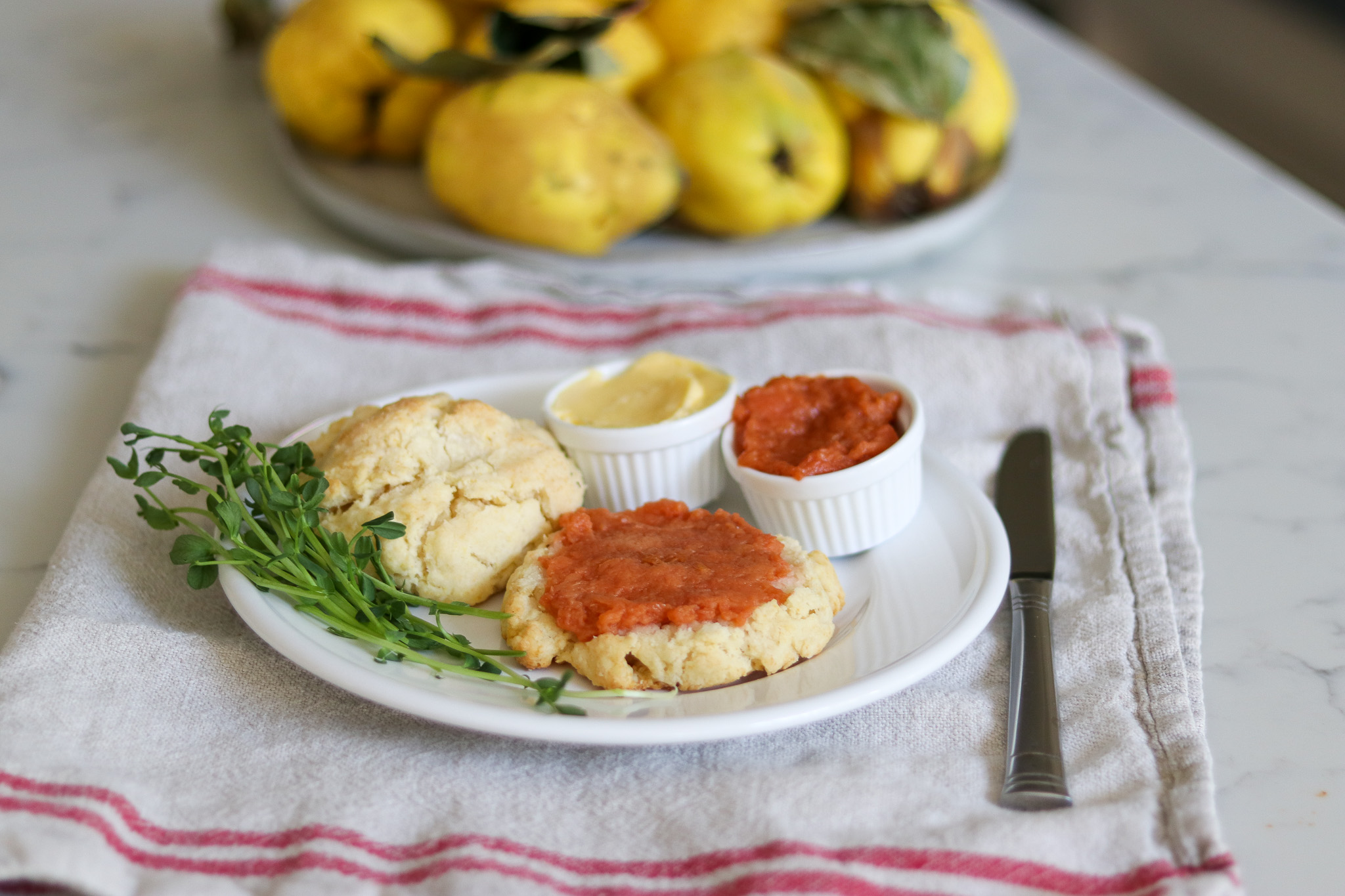 Quince Recipes
Looking for more quince recipes?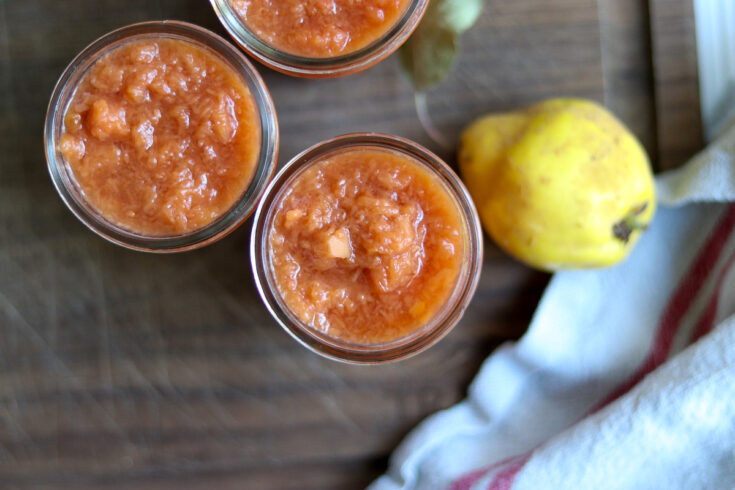 Yield:

Makes about 5 half pint jars
Quince Jam
Additional Time:
10 minutes
Quince jam is a luscious way to use quince in season.
Ingredients
7 cups peeled, cored, and chopped quince
2 to 3 cups sugar
¼ cup lemon juice
Water
Instructions
Carefully core and chop your quince (peeling is optional). Simmer for about 30 to 45 minutes until the quince changes from white to a rosy color. If needed, add more water to prevent the pan running dry. Strain (and you can reserve any extra cooking liquid for making quince jelly)
Stir the quince to assist them in breaking up, or use an immersion blender to break it all into tiny pieces. Add the lemon juice and sugar. Standard recipes will call for 3 cups sugar but you can use 2 cups for a low-sugar version.
Continue cooking the quince for a few minutes more until the jam has thickened and begins to gel.
Ladle into prepared canning jars leaving ¼ head space. Allow to cool to room temperature and store in the refrigerator for immediate use or process in a water bath canner for 10 minutes (or 15 minutes above 6,000 feet in elevation).
Autumn Canning Recipes
Keep your canner running this fall with these seasonal canning recipes:
Old Fashioned Jam Recipes
Love making jams the old-fashioned way, with no added pectin? Just sugar, fruit, and a little bit of love in each jar…