Apricot jam is the perfect way to preserve this short-season summer fruit!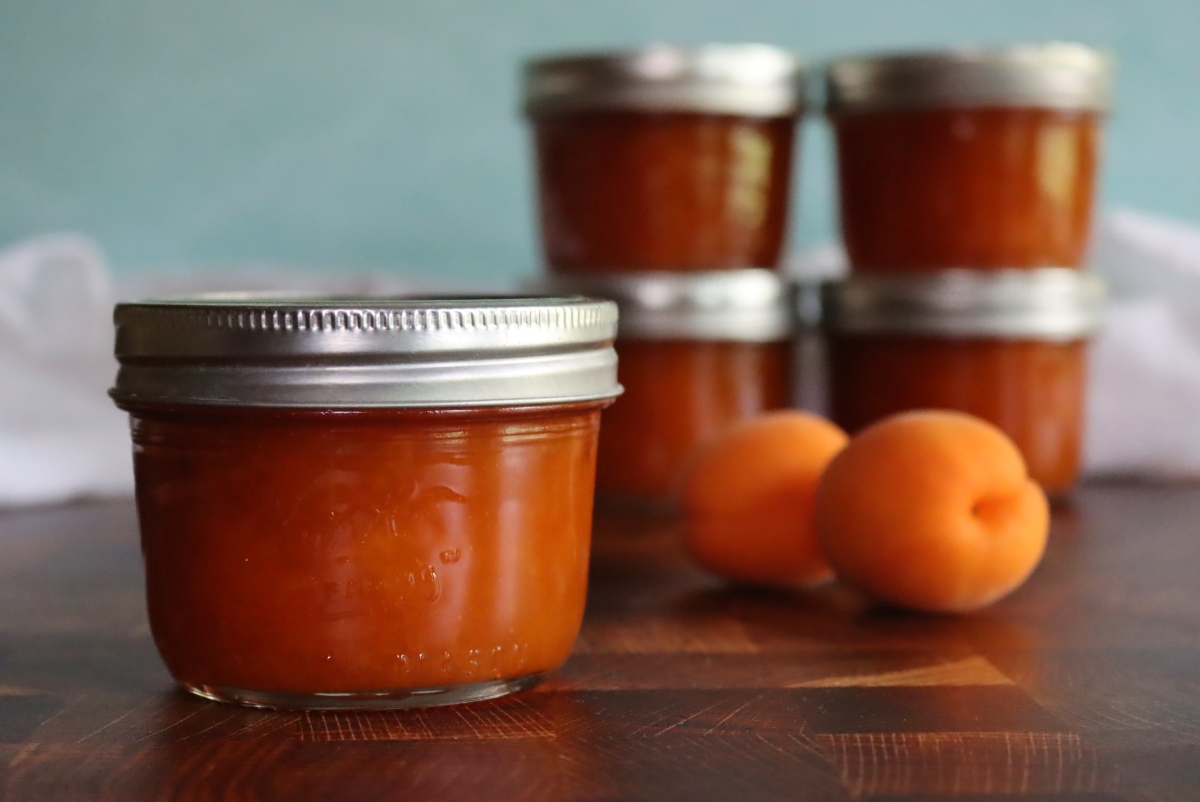 Anyone with an apricot tree in their backyard knows that apricots don't mess around. They "go big or go home" and they'll either produce by the truckload…or just take the year off. Rarely do they produce a modest, reasonable crop that you can just comfortably snack on in the summer sunshine.
With them, it's all or nothing, and more often than not you're buried with fruit. They're hard-working trees, and they rarely take a year off.
My mom happens to have an apricot tree in her backyard in California, and she called me for suggestions while she was chopping apricots for the freezer.
She'd already filled more than half of her chest freezer with bags of pitted apricots, and she had no idea what else to do with them. She didn't know what she'd do with a freezer full of frozen apricots either but at least once frozen, they weren't rotting on the ground. It's a way to kick the can down the road in time a bit, but it doesn't exactly solve the problem.
The thing is…she absolutely loves Apricot jam. She'd eat it every day if she could…
"Mom, if you're buried in apricots, why don't you make apricot jam?" I say.
"I've never made jam," she says. "You'll have to teach me."
So there you have it. I run a jam recipe website for a living, and my mom's never once made jam. How did I let this happen?
Well, I didn't have buckets of apricots, Vermont's not exactly the apricot capital of the world you know…but I went out and got plenty so I could experiment until I found just the right recipe for apricot jam.
I made perhaps a dozen different batches and tried just about every method under the sun…until I landed on the perfect apricot jam recipe.
This one's for my mom, but it's for all of you too. No need to let all that hard work in recipe testing go to waste. Everyone should be able to make the absolute best apricot jam, and it's incredibly easy, believe it or not.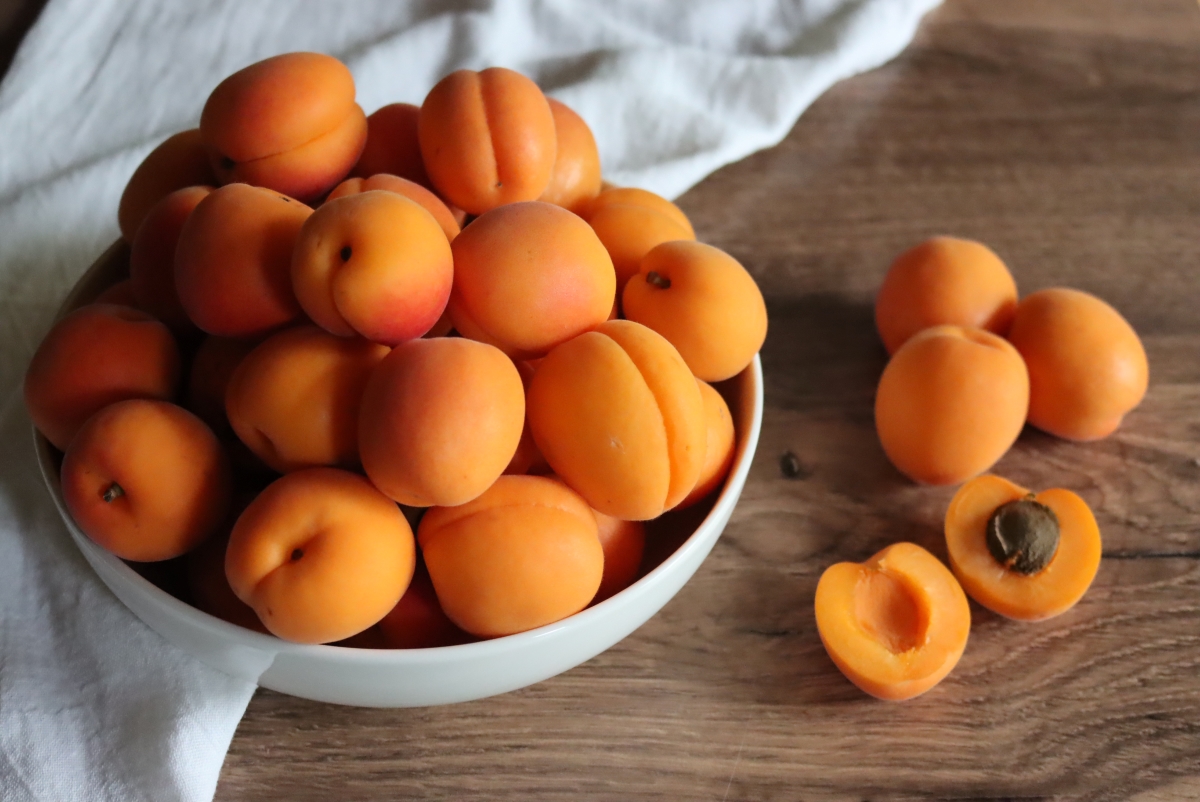 How to Make Apricot Jam
There are a lot of ways to make apricot jam at home. You can choose between:
With or without pectin
Full Sugar or Low sugar (or anywhere in between)
Peeled Apricots or unpeeled
Chunky style or silky smooth
I'd recommend trying simple apricot jam without pectin as it really comes together beautifully if you're patient. The rich fruit flavors are intensified during cooking, and there's really nothing that compares to an old-fashioned apricot jam made the traditional way without pectin.
That said, if you're in a rush, adding pectin means you can skip the extended cook time and have the jam into jars within minutes. I've provided those instructions as well, for a variety of pectins (standard and low sugar varieties).
Having tested all the options, I'm going to start with the absolute winner in terms of flavor and simplicity…
Apricot Jam without Pectin
I have about a dozen different books in my canning library, and every single one has an apricot jam recipe. Almost all of them suggest making old-fashioned apricot jam without added pectin.
The general consensus is that it's 2 parts fruit to 1 part sugar by weight.
Some recipes note that you can safely cut that in half for a low sugar apricot jam, using 4 parts fruit to 1 part sugar by weight, and still have the jam come together without pectin. (It will yield less, and take much longer to cook though.)
Every recipe also adds 1 to 2 tablespoons of lemon juice per pound of fruit, both to balance out the sweetness of the sugar, and to add pectin to help the jam come together.
(If you're using fresh lemons with seeds, you can try this citrus seed pectin technique to extract a bit of extra pectin from the seeds which will both increase the yield and shorten the cooking time of your apricot jam.)
The Best Apricot Jam Recipe
The best way to make apricot jam also happens to be the simplest in terms of both ingredients and process.
Start with a ratio of:
3 cups apricots, coarsely chopped (about 1 lb)
1 cup sugar (1/2 lb)
1 Tbsp lemon juice
A "batch" of jam as I make it starts with 12 cups apricots, 4 cups sugar, and 1/4 cup lemon juice. It makes 5 half-pint jars. (Don't start with more than 12 cups chopped apricots, or roughly 4 pounds fruit, as at higher amounts the jam doesn't cook evenly and has trouble setting.)
The flavor in the finished jam is that traditional sweet jam flavor, but it still retains the incredible fruit flavor and aroma because you're slow cooking the fruit down to make this jam.
This, believe it or not, is considered a "low sugar" recipe because it uses a 3:1 ratio of fruit to sugar by volume or a 2:1 by weight. Many modern recipes on the internet start with close to a 1:1 ratio, either by weight or volume…even though apricots are incredibly sweet to start with.
I tried those…and though the yield is higher, it has so much sugar you can't taste the fruit anymore. Trust me, a 3:1 ratio is plenty sweet.
If you want a recipe that's actually low sugar, you can reduce the sugar further down as low as 1/2 cup sugar to 3 cups chopped fruit (or 1/4 lb sugar to 1 lb fruit) and still get the jam to gel properly. Below that, you'll need to add a low sugar pectin because the jam just won't set. I'll take you through that option as well.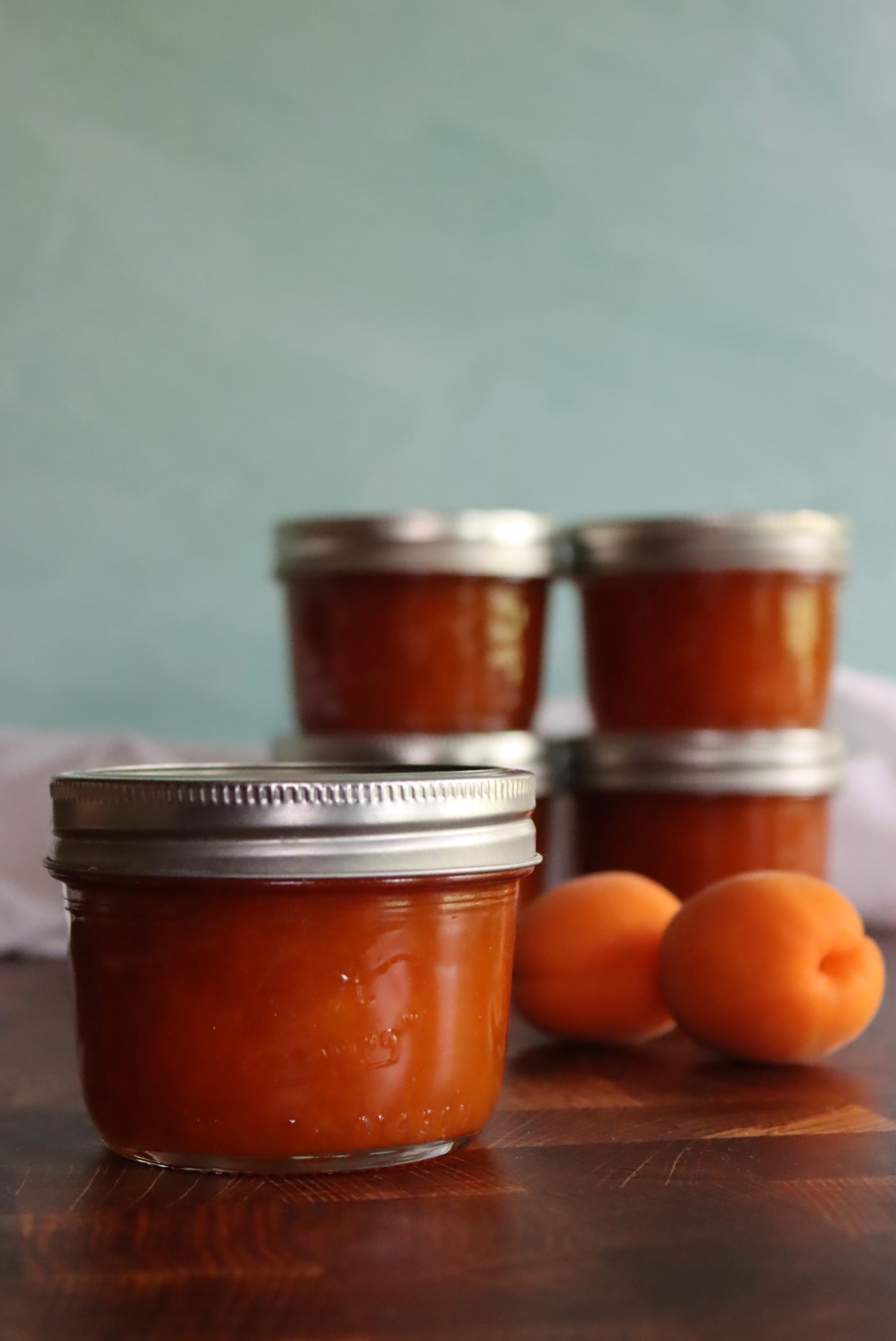 Should I Peel Apricots To Make Jam?
As to whether or not you need to peel the apricots, the consensus is DONT. I know, it seems strange…aren't there going to be big hunks of fuzzy peels in there?
Not really. Apricot peels are really delicate, and they more or less fall apart in the finished jam. What small pieces do remain, add a bit of texture and the jam would be lacking without that. They also add most of the pectin to the recipe, and the jam won't set properly if you use peeled apricots.
Peaches aren't quite the same as apricots, and their peels are much firmer. Theirs don't fall apart during cooking, and are really unappealing in a finished jam. They also have a lot more moisture and a lot less pectin, so you'll need to use a very different technique to make peach jam (namely pectin).
Apricot jam, on the other hand, is best without pectin, slow-cooked, and with the peels intact.
How Long Does it Take to Make Apricot Jam?
Though the recipe for apricot jam is simple, the question on everyone's mind (including my mom's) is, "how long do you have to cook apricot jam before it sets?" And also probably, "How do I know when it's done?"
The apricots, sugar, and lemon juice will need to cook for around 30 to 45 minutes until they reach gel stage. The time varies because there's a lot of variation in apricots, and some have a lot more moisture than others. I made two batches back to back with apricots from 2 different sources…both on the same burner at the same setting.
One batch finished in just 30 minutes, the next took about 45. That's the extreme ends of the range though, and most apricot should come to gel stage somewhere in that window if you're cooking the jam over medium-high heat and stirring frequently to prevent scorching.
How do you know when it's done?
Experienced jam makers know there's a subtle change in the glossiness of the jam, and the bubbles change too. That's really hard to describe and even harder to see if you haven't made hundreds of batches of jam.
There are two foolproof methods that are super easy though.
First, the instant-read thermometer method.
The "gel stage" of most jams is right around 220 degrees F at sea level. That decreases by 1 degree for every 500 feet above sea level. I'm at right around 1,000 feet in elevation, which means my jam finishes at 218 F.
As it starts to thicken, use an instant-read thermometer to keep an eye on the temperature and take it off the heat when it reaches gel stage. (Remember to keep stirring and scraping the bottom though, this jam has a tendency to scorch.)
Once cool, it'll have a nice spreadable, loose set and incredible flavor.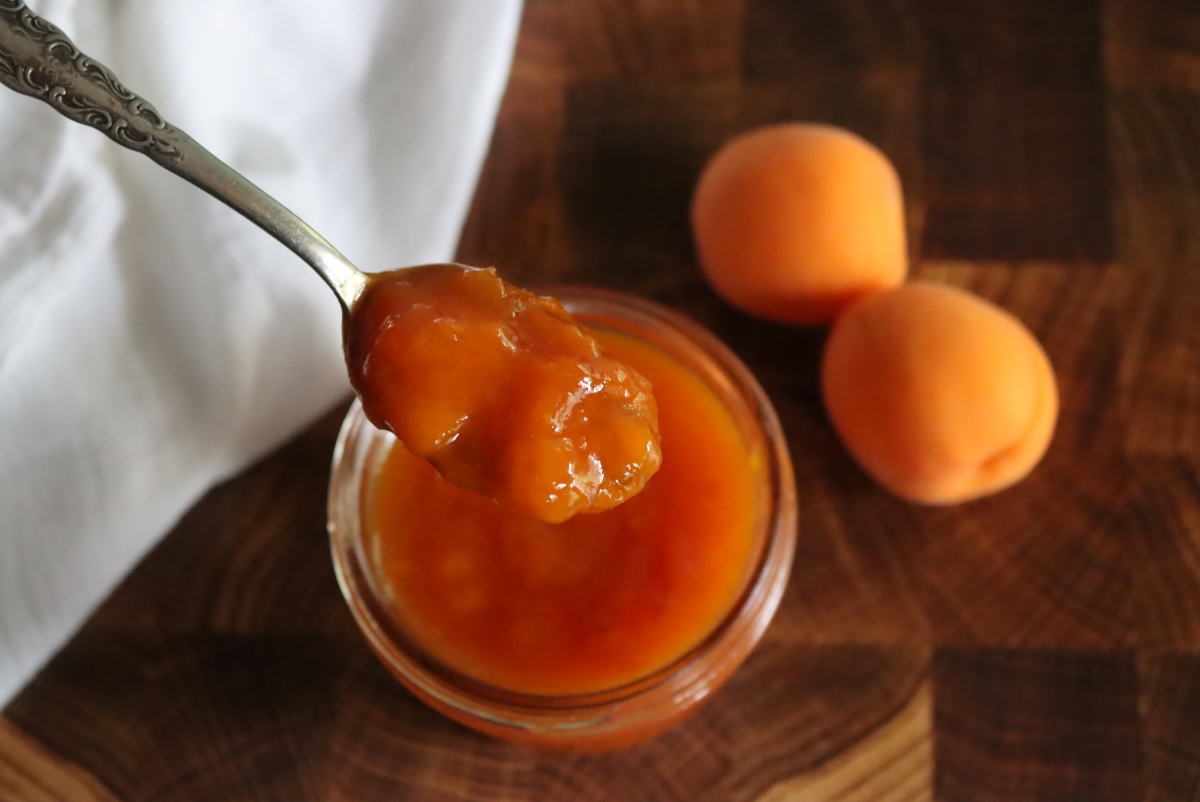 The second method is the frozen plate method.
Before you start making the jam, put a few small plates in the freezer to get it really cold. As the jam starts to get close to to finishing, you can take a plate out of the freezer to test the jam.
Spoon a small amount of jam onto the frozen plate, and that'll cause the jam to flash cool. If it's at "gel stage" it'll actually gel on the plate and you should be able to get it to wrinkle back when you push it with a spoon.
(If it's not ready, it'll just roll around on the plate like a compote…because that's what it still is.)
If it wrinkles back and leaves an open space (like parting the red seas) when you press it, then it's gelled and ready to go into jars.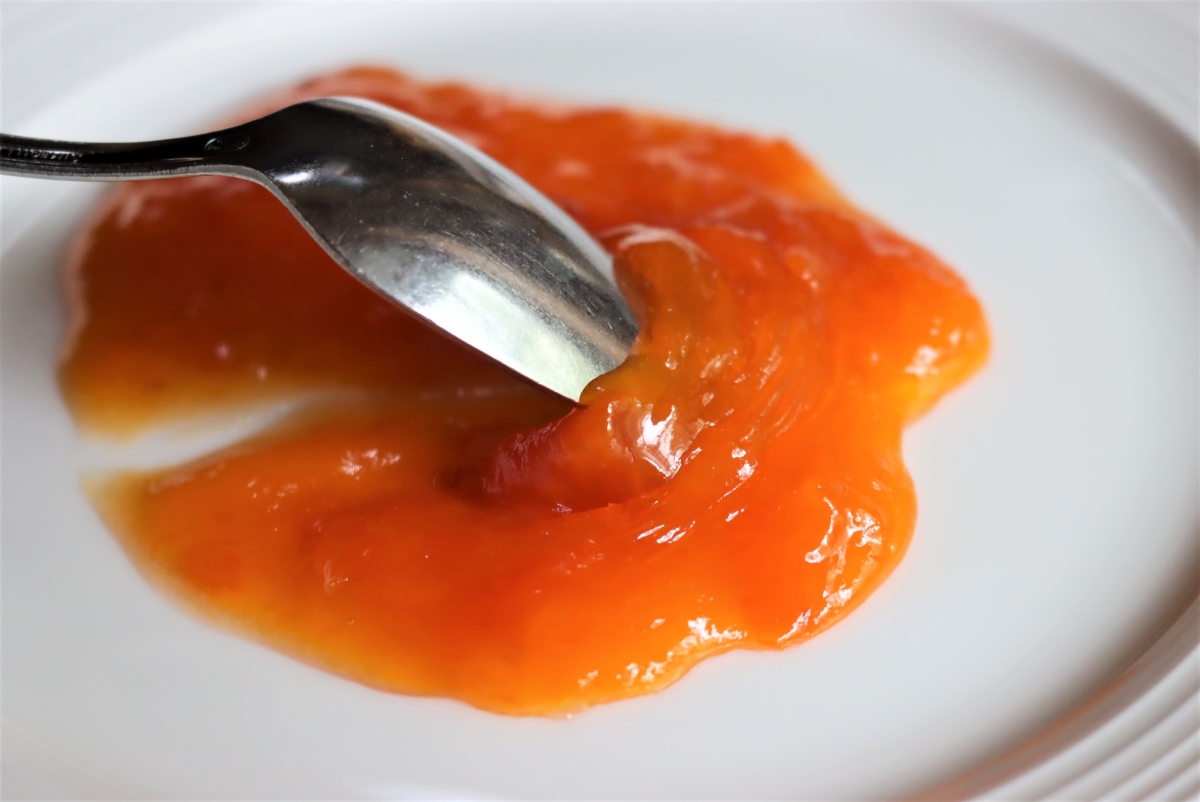 Apricot Jam Variations
Beyond traditional apricot jam, there are plenty of other variations to keep things interesting.
Naturally Sweet Food in Jars has a recipe for honey roasted apricot jam that starts by halving and pitting 2 pounds apricots, then covering them with 2/3 cup honey and the scrapings of a vanilla bean. They're then roasted at 300 degrees F for 15 to 20 minutes until soft and slightly browned.
Once roasted, the apricots are placed in a jam pot and then mashed with a potato masher while they come to a hard boil on the stove. As soon as they boil, they're ladled into canning jars. (The roasting removes moisture, and thus dramatically reduces cook time on the stove.)
Food in jars suggests making apricot jam with either rosemary or red pepper flakes added. Apricots go really well with warm herbal flavors like rosemary, and both peaches and apricots are often made into sweet/spicy pepper jams.
Canning Apricot Jam
It's perfectly fine to make this apricot jam recipe as a refrigerator or freezer jam. It'll keep for several weeks in the refrigerator or up to 6 months in the freezer.
Personally, my preference is water bath canning because it allows me to store the finished jam right on the pantry shelf until I need it. I'll maintain flavor and quality for at least 18 months, and you don't have to refrigerate it until you open the jar.
If canning, you cannot skip the lemon juice in this recipe. It is in there for flavor, of course, but it's also in there for preservation. Sometimes apricots aren't quite acidic enough for canning, and they need that extra bit of lemon to make sure their pH drops low enough.
If you're not familiar with canning, I'd suggest reading my beginner's guide to water bath canning before beginning.
To can apricot jam, prepare a water bath canner, jars, lids, and rings before beginning. Once the jam reaches gel stage, ladle the jam into prepared jars leaving 1/4 inch headspace. Process in a water bath canner for 10 minutes.
Once the processing time has finished, turn off the heat and allow the jars to cool slightly in the canner for 5 minutes before using a jar lifter to remove the jars to finish cooling on a towel on the counter. After 24 hours, check seals and store any unsealed jars in the refrigerator for immediate use. Sealed jars will keep on the pantry shelf until opened.
(If above 6,000 feet in elevation, increase the processing time to 15 minutes.)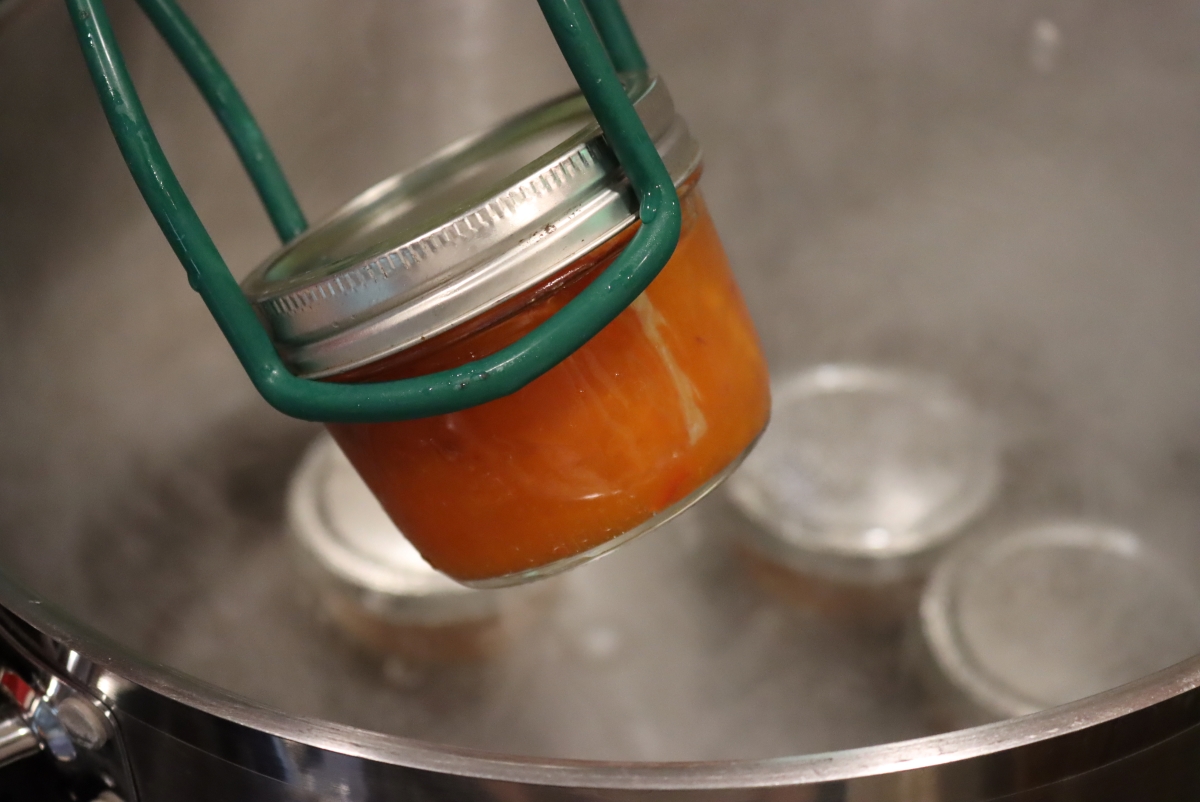 At this point, I've covered what I think is the best way to make apricot jam. It's a traditional time-tested recipe with just three ingredients…
But I know many of you absolutely cannot stand the thought of cooking jam for 30 to 45 minutes. Some of you also just prefer the dependability of store-bought pectin. I get it.
The recipe card below has what I think makes the absolute best apricot jam. If you'd like to learn about the shortcut methods with pectin, I'll walk you through those shortcut methods too.
(Be aware that when you use pectin, you're not cooking down the fruit and concentrating the flavor, so it'll have a higher yield…but less flavor. Some types of pectin also have minimum sugar requirements, which are pretty high, so you may have to use a lot more sugar than you'd like in order to get it to gel. I don't recommend those, and I'd strongly suggest using the method outlined in the recipe card below.)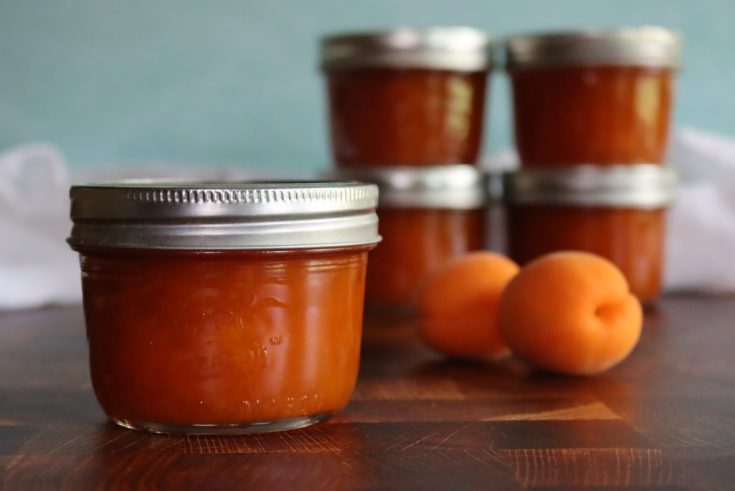 Yield:

Makes 5 half pint (8 oz) jars
Apricot Jam
Canning Time (Optional):
10 minutes
Apricot jam is the perfect way to preserve apricots, and it comes together with just 3 simple ingredients.
Ingredients
12 cups apricots, pitted and coarsely chopped (about 4 lbs prepared, from 4 1/4 to 4 1/2 lbs whole)
3 cup sugar (1 1/2 lb)
1/4 cup lemon juice, bottled
Instructions
If canning, prepare a canning pot, jars and lids before beginning.
Prepare the apricots by removing their pits and coarsely chopping them.
Place the apricots, lemon juice, and sugar in a large jam pot with a heavy bottom.
Bring the mixture to a boil over medium-high heat, stirring frequently.
Cook at a hard boil for 30 to 45 minutes, until the mixture thickens and reaches gel stage. Stir frequently to prevent scratching, and begin stirring continuously as the jam gets close to finishing. (Test for set on a plate that's been placed in the freezer, see picture above. Or, test for the gel stage with an instant-read thermometer. The gel stage is 220 degrees F at sea level, and drops by 1 degree for every 500 feet above sea level. ie. At 1,000 feet elevation, the jam will finish at 218 F.)
Once the apricot jam reaches gel stage, remove from heat and ladle into prepared jars, leaving 1/4 inch headspace.
If canning, cap with 2 part canning lids to finger tight and process in a water bath canner for 10 minutes (15 minutes above 6,000 feet in elevation). Remove the jars to cool on a towel on the counter and check seals after 24 hours. Store any unsealed jars in the refrigerator for immediate use. Properly canned and sealed jars will keep on the pantry shelf for 12-18 months.
Notes
Apricots are borderline when it comes to safe acidity for canning, and lemon juice is absolutely required if canning this recipe. Use bottled lemon juice for consistent acitty. If not canning, the lemon juice is still recommended for flavor and to help the jam set, as lemon juice has a lot of natural pectins. If not canning, you can use fresh lemon juice.
Apricot Jam with Pectin
When it comes to pectin, there are actually a number of different options and each one requires a slightly different recipe.
Regular Powdered Pectin
"Regular" powdered pectin such as Sure Jel or Mrs. Wages pectin are what you'll most commonly find in the store. They require a lot of sugar to gel properly. A basic recipe is as follows:
5 cups apricots, chopped
6 cups sugar
1/4 cup lemon juice
The order of operations is important when working with powdered pectin, and you absolutely have to cook the fruit first with the lemon juice, until it begins to fall apart. Then you add the powdered pectin, stir it in and boil for 1 minute.
Lastly, you add the sugar, stir it in, and boil for 1 minute more.
Then remove from heat and ladle the jam into jars.
It takes A LOT less time, but I think flavor (and texture) suffers as a result. Also, there's about triple the amount of sugar.
Low Sugar Powdered Pectin
If you use a low sugar powdered pectin (such as sure jel low sugar), the jam will gel even without added sugar, and I think this is the best "quick jam" option because you don't have to add astronomical amounts of sugar to get the job done. The cooking instructions and order of operations are the same, just reduce the sugar to as little as you like.
Pomona's Pectin
If using Pomona's universal pectin to make a low-sugar apricot jam recipe, the instructions are slightly different. The book Preserving with Pomona's Pectin suggests using:
2 1/2 lbs apricots (or 4 cups mashed apricots)
1/4 cup lemon juice
4 tsp calcium water
1 1/2 cup sugar
3 tsp Pomona's pectin powder
Mix the mashed apricots, lemon juice, and calcium water in a pot and bring to a boil. In a separate bowl, mix the sugar and pectin, then add to the boiling fruit mixture. Return to a boil for 1 minute before ladling into jars.
Honestly, this recipe uses a good bit of sugar, and the point of Pomona's pectin is to allow you to dramatically reduce the sugar in a recipe. Feel free to cut the sugar further, down to as low as 1/4 to 1/2 cup for 4 cups mashed apricots for a very tart jam (or just make a full sugar batch as shown above).
Apricot Jam with Liquid Pectin
I never recommend using liquid pectin (like CERTO) because it requires just so much sugar that it's impractical. It also contains sodium benzoate, which seems silly to have in your jam if you're going through the effort of making something at home.
The only benefit to liquid pectin is that the pectin is added at the end, after the sugar. That means liquid pectin can be used to save a batch of jam that failed for other reasons…and just refuses to set.
To use liquid pectin, you'll need:
3 cups fruit
6 cups sugar
2 Tbsp lemon juice
Cook the fruit, lemon juice, and sugar together until the fruit starts to fall apart, then add the liquid pectin, stir it in, cook for 1 more minute and remove from heat.
Apricot Recipes
Looking for more ways to preserve apricots?
Stone Fruit Preserves
Looking for more jams made with fresh summer stone fruits?
Canning Stone Fruits
If you all set for jam, you can always just bottle up whole stone fruits for winter baking with these canning recipes: