Pear butter is a delicious alternative to apple butter, and it couldn't be easier to make and preserve!
Pear butter is the slightly more sophisticated cousin of apple butter. It's familiar, it's easy to make, but it also has that certain "wow" factor, making it just as at home served with gingerbread and whipped as it is slathered generously on a piece of bread.
If you've ever found yourself with a surplus of pears, usually sometime in the fall, and you've felt at a loss for how to use them, making pear butter is a simple way to concentrate all that autumnal flavor into a handful of 1/2-pint or pint-size jars.
There are nearly infinite variations when making pear butter, and you can truly make it your own by choosing unique seasonings or opting for a different sweetener (honey, maple, etc). Since pears are naturally sweet, flavorful, and acidic, the only thing that's absolutely necessary is high-quality fresh pears. The rest of the ingredients are up to you, and I'll take you through a number of absolutely delicious pear butter variations.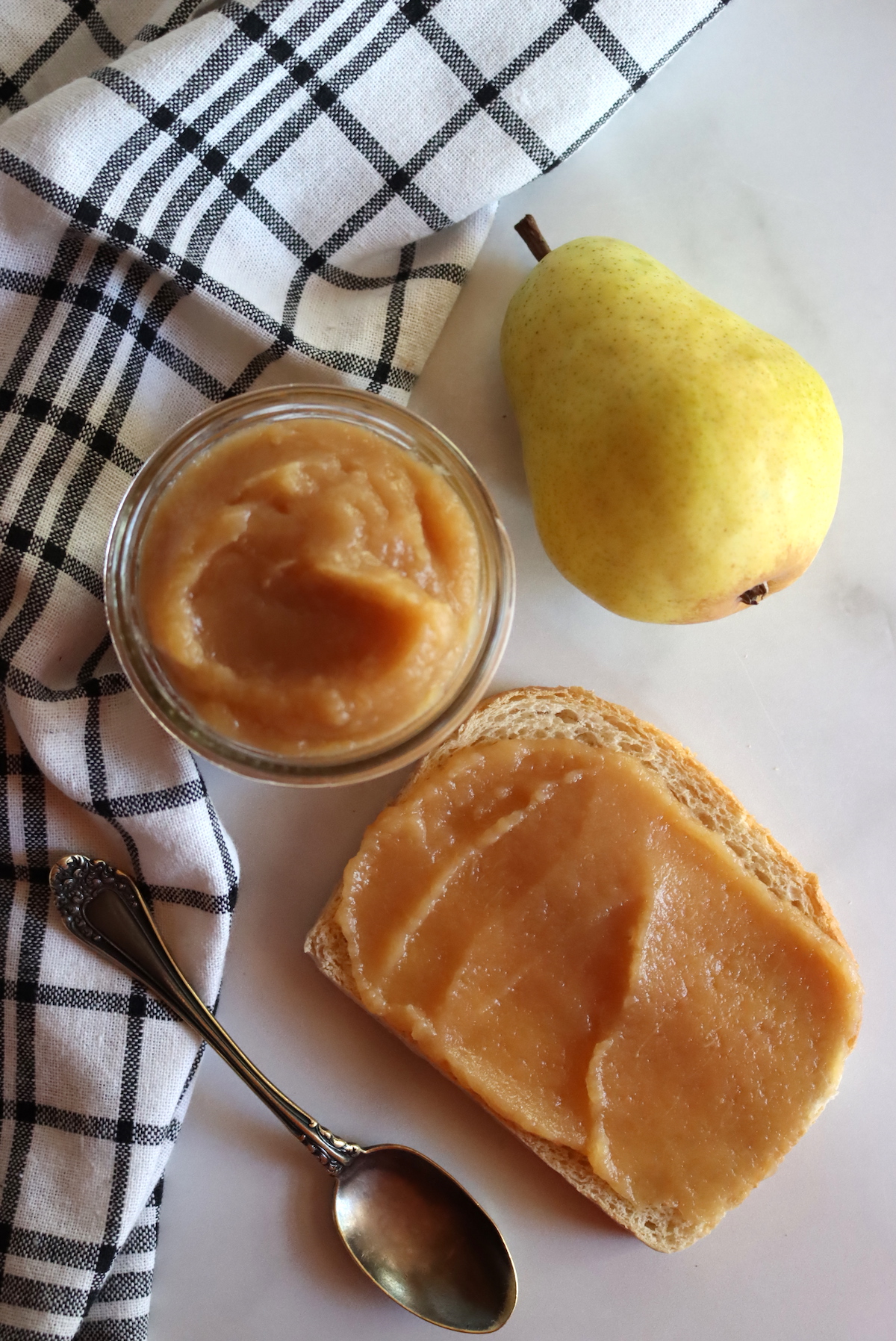 Ingredients for Pear Butter
Like apple butter, pear butter can be made with nothing more than fresh pears. Pears are generally sweeter than apples, so adding sugar is optional. For some reason, most pear butter recipes add an absurd amount of sugar, often as much sugar as fruit puree. I'm talking a 1:1 ratio, so that it's like making an old-fashioned full sugar jam. You can do that if it suits your taste, but it's not necessary.
The only type of pear I would suggest avoiding is the Asian pear, and this is simply because it's so low acid it's unsuitable for canning. When canning Asian pears, you need to add a good bit of lemon juice, and there are no tested recipes for jams or fruit butter using those. They aren't the most flavorful pears anyway, at least when cooked, so they'd be low on my list of choices even if they were great for canning.
To balance all that extra sugar, recipes also often include citrus juice. Lemon juice to add tart acidity, and orange juice or zest to give the pear butter more of a warm fall flavor and accentuate the sweetness even more, as well as seasonings such as vanilla and cinnamon. Be aware that the lemon juice (or other citrus juice) is just to add a pleasant tart flavor to bring out the flavor of the pears, and it's not required for canning safety.
Pear butter is fine for canning without lemon juice, and even the sugar is optional. You could cook down just pears alone and that'd be fine, if it suits your taste.
There's a lot of room for experimentation when it comes to making pear butter, and the only thing you really need to make it work is pears. That said, I generally include the following ingredients when making pear butter:
Pears
Sugar, honey, or maple syrup to taste (small amounts)
Lemon Juice to add brightness, which brings out the flavor of the pears
Warm spices like cinnamon, cloves, and nutmeg (optional, to taste)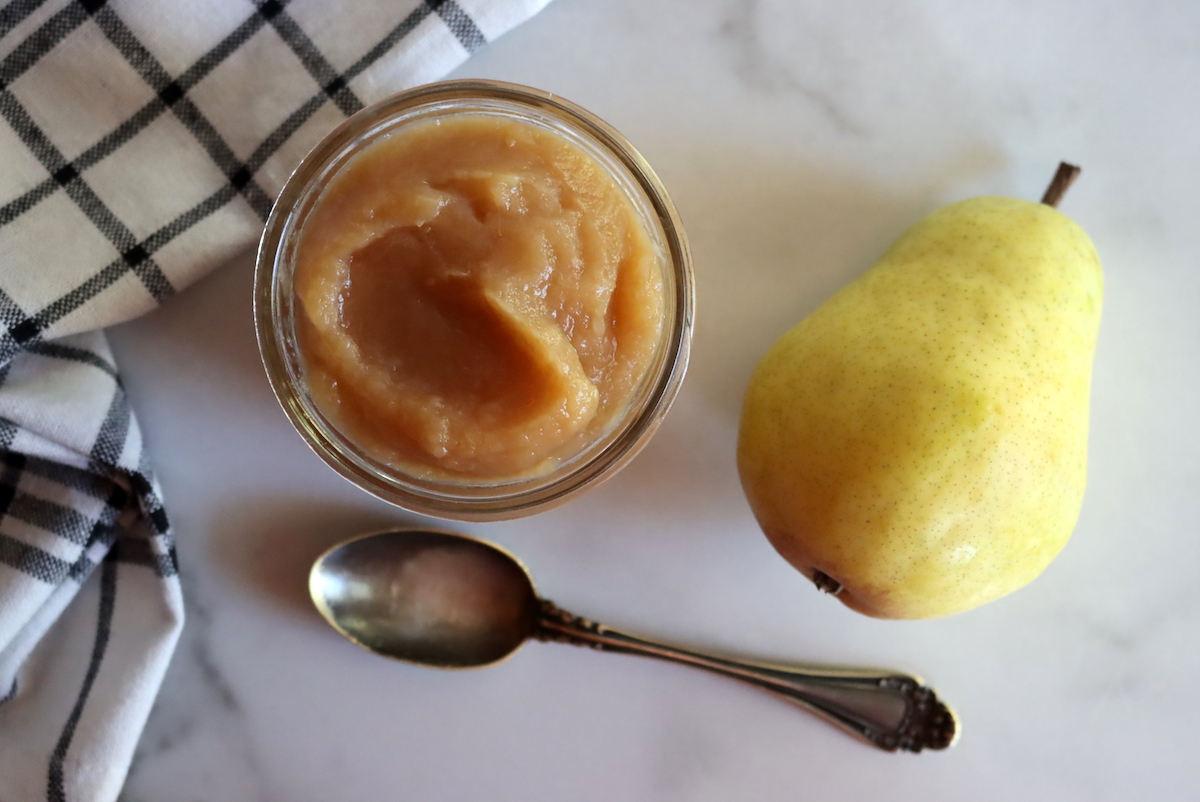 How to Make Pear Butter
To get started with a basic pear butter recipe, you'll need 6 pounds of pears, which comes out to about 18 to 24 medium-sized pears. The number on the scale doesn't have to read exactly 6 pounds (or whatever the recipe calls for, I'll be listing some pear butter variations which call for 3 to 4 pounds of fruit). Keep in mind that you'll be cooking them down, so you'll want to start with quite a bit.
It takes about 1 pound of fresh pears to make 1 cup of pear butter (or an 8 oz half-pint canning jar). If you start with about 6 pounds, you'll get a reasonable-sized batch of either 6 half-pints or 3 pints. Less is fine too, but be aware with really small quantities it's difficult to keep the pears from scorching as you cook them down.
Wash the pears, peel, and quarter them — you can cut them smaller if you'd like or leave them in quarters. If you plan on using a food mill or chinois sieve, you don't need to core the pears. If, on the other hand, you're using a blender, stick blender, or food processor, you'll need to core the fruit.
For the next step, you'll want to add the fruit and lemon juice or other liquid to a Dutch oven or large heavy-bottomed saucepan. Bring the fruit and liquid to a boil, reduce the heat, cover, and simmer until the pears are soft and translucent. This usually takes between 20 and 25 minutes. Pears take longer to cook down than apples, both because they have more juice and also because they have flesh that holds together more tenaciously. But since we're making pear butter, a longer cooking time is expected regardless of the fruit being cooked.
When the pears have softened, transfer the cooked pears to a food mill, sieve, blender, or food processor (or blend with a stick blender). When making apple butter, you can often skip this step as the apples will fall apart on their own during cooking. Even the firmest storage apples will eventually yield to a smooth butter, but pears are different. They really hold their shape, and you will need to blend them if you hope to get a smooth pear butter in the end.
Put the pear sauce/purée back into its original cooking vessel, and add the liquid, sweetener, and seasoning of your choosing. (There are quite a few options listed below).
Then keep cooking the pear sauce until it reaches "trace." This is when you can drag a spatula through the spot and the spot doesn't fill back in. Once the pear butter has reached this stage, it's ready to be canned. Or, of course, you can let it come to room temperature and refrigerate for 3 weeks. Canning pear butter is optional, but it'll keep on the pantry shelf that way, which saves fridge space.
Pear Butter Variations
Pear butter is an amazing canvas for all kinds of flavor variations, whether you're using d'Anjou, Bosc, Comice, or Barlett pears.
When it comes to liquids other than water, fruit juices (think pear, apple, orange, or cranberry) and cold-pressed ciders add tons of body and sweetness to the finished butter. Another option is fruity red wine, which is added after the pears have been puréed, almost like poached pears in fruit butter-form.
Sweeteners are also up to interpretation! In place of white or brown sugar, you can try using honey, maple syrup, or agave nectar. Different sweeteners have varying degrees of sweetness, so test before adding the full amount of sugar called for in the recipe.
Seasonings are another place to get creative when making pear butter. I'm a big fan of citrus zest, warm spices like cinnamon, star anise, or ginger, and vanilla (for best results, add vanilla towards the end of cooking to avoid cooking the flavor away).
I feel particularly inspired by some of the pear butter variations found in my collection of canning books:
Maple Bourbon Pear Butter ~

The All-New Ball Book Of Canning And Preserving

has a warming variation on regular pear butter that's been enhanced with maple and bourbon. I imagine this would be especially welcome on pancakes after cross country skiing or snow-shoeing. This recipe uses 1/2-cup of maple syrup, 1/2-cup of bourbon, and 4 pounds of pears and the method is very similar to the base recipe except that the ingredients are all combined in a Dutch oven at the beginning of the cooking process. The slow and low cooking time results in a richly-flavored Maple-Bourbon Pear Butter — perfect for the aforementioned pancakes or with grilled pork.
Classic Pear Butter with citrus zest and warm spices ~ Another pear butter variation, also from The All New Ball Book Of Canning And Preserving, is this sophisticated take has a slightly longer ingredients list. Don't be deterred, the method is still very similar to the original recipe. To make this pear butter, add 3 1/2 pounds of d'Anjou pears, 2 tablespoons orange zest, 1/2 cup fresh orange juice, 1/3 cup water, 1 1/2 tablespoons lemon zest, 3 tablespoons fresh lemon juice to a Dutch oven or heavy-bottomed saucepan and cook over low heat until the pears are soft. Process the fruit, as usual, using the method of your choice before cooking the pear mixture plus 2 cups of sugar and 3/4 teaspoon of grated nutmeg down until it holds its shape on spoon. Before ladling the pear butter into the jars, a single whole star anise is placed at the bottom of the jar.
Vanilla Pear Butter ~ Jam Session by Joyce Goldstein features a lovely recipe for vanilla- and lemon-flavored pear butter, which calls for 3 pounds of Comice or Bartlett pears, the grated zest and juice of 2 lemons, and 3/4 cup of water to be cooked until soft and translucent, about 20 to 25 minutes. At this point, the fruit and other ingredients are run through a food mill, sieve, or blended and then added back to the saucepan or Dutch oven. 2 cups of white sugar (or vanilla sugar) is added as well as 2 teaspoons of vanilla extract. The butter is then cooked until it can hold its shape when mounded on a spoon. For food preservation purposes, Goldstein also adds 1/4 teaspoon citric acid to each jar before she ladles in the fruit butter and processes the pear butter in a hot water canner.
Canning Pear Butter
To can this recipe for pear butter in a hot water canner, you'll need approximately 6 (1/2-pint) jars or 3 (1-pint) jars (if you're following a different canning recipe, use the suggested number of jars). Working carefully, ladle the pear butter into the jars, leaving 1/2-inch headspace — I highly recommend using
this funnel,
which also measures headspace. Use a damp, clean cloth to wipe around the rims of the jars and apply two-piece lids until fingertip tight.
Load the jars into the canner and process for 10 minutes, if you live at an altitude higher than 6,000 feet, process the jars for 15 minutes. When the timer goes off, remove the lid and turn off the heat — let the jars sit in the hot water canner for 5 minutes before carefully removing them from the canner with a
jar lifter
. Place the jars on a clean surface and let the contents come to room temperature, this usually takes about 12 hours.
Finally, check the seal of each jar and move any jars with unsealed lids to the fridge (use within 3 weeks). Remove the rings from the sealed jars (store them somewhere convenient, as they can be used again and again). Keep the pear butter in a cool, dry place away from direct light and enjoy it within 18 months.
Want to learn more about water bath canning? Check out my comprehensive guide for preserving food using a
water bath canner
.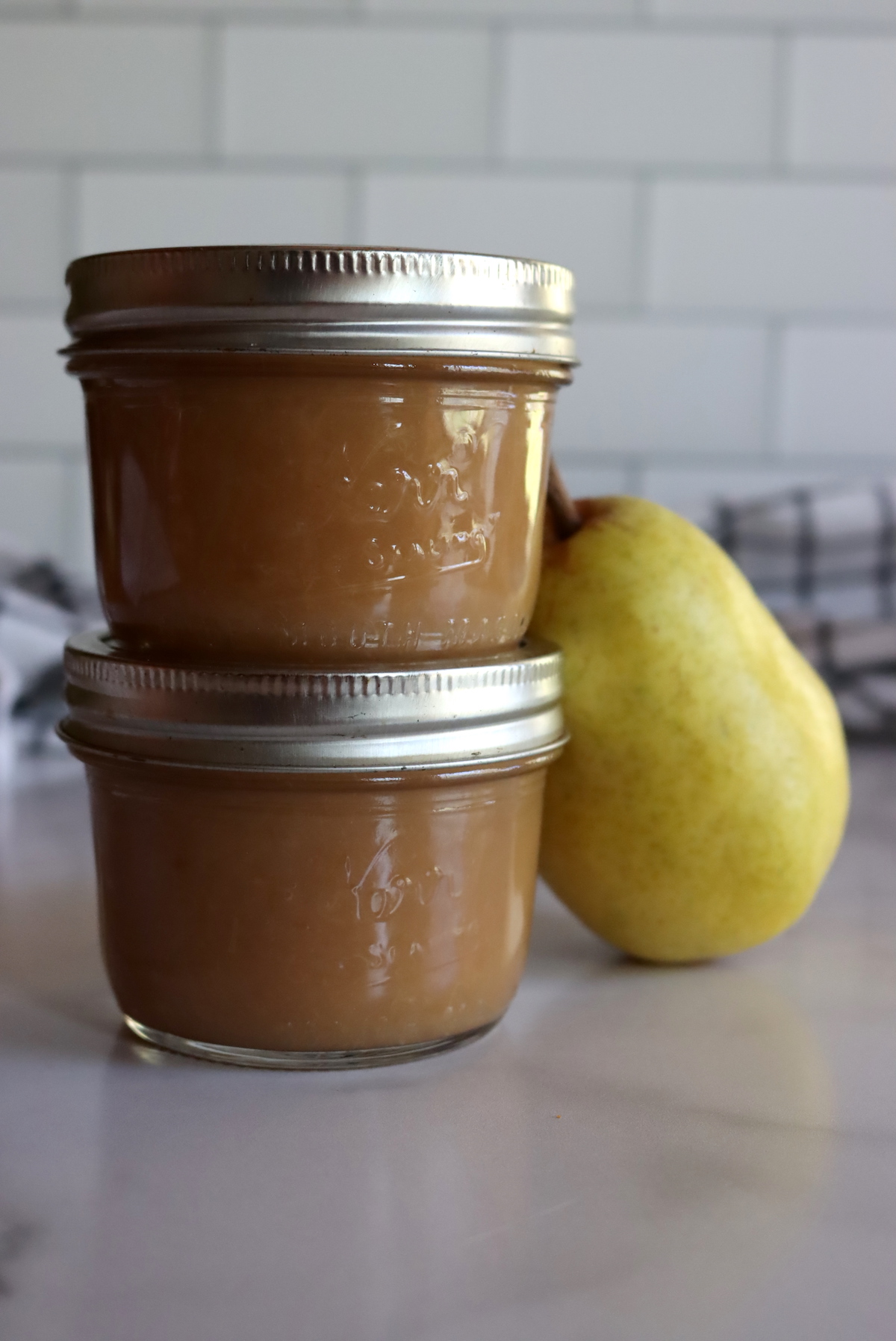 Ways to Use Pear Butter
Besides straight-from-the-jar, here are some of my favorite ways to use pear butter:
Spread on bread, crumpets, or English muffins
Used as a filling between layers of cake
Served with warm gingerbread and whipped cream
Alongside pork or duck
In jam or thumbprint cookies
Stirred into butternut squash or carrot soup
Preserving Pears
Looking for more ways to preserve pears?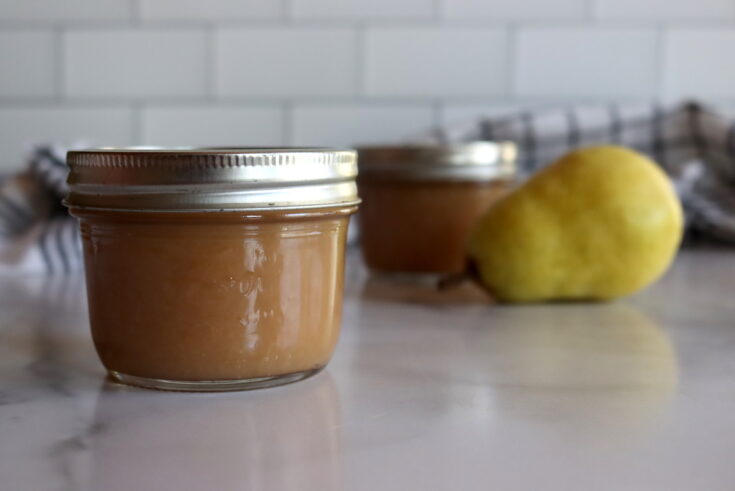 Yield:

6 (1/2-pint jars) or 3 (1-pint jars)
Pear Butter
This easy and delicious pear butter recipe is adapted from the Ball Canning Back to Basics cookbook.
Ingredients
6 lbs. pears*, washed and peeled
1/4 cup lemon juice
3/4 cup liquid of your choice**
1-2 cups sweetener of your choice***
Seasoning to taste****
Instructions
Prepare the pears by quartering and coring the fruit (if using a food mill or sieve, you can skip the coring step).
Simmer the pears and lemon juice in a large, heavy-bottomed pot or a Dutch oven (covered) over low heat until the fruit is very soft.
Working in batches, run the cooked pears through a food mill, sieve, or blender until uniformly smooth.
Pour the fruit purée back into the pot or Dutch oven. Add the liquid, sweetener, and seasonings of your choice to the fruit.
Keep cooking the pears over medium-low to medium heat, stirring more and more frequently, until a spatula can trace along the bottom or the pear butter holds its shape when mounded into a teaspoon.
Remove the pear butter from the heat.
Ladle the hot pear butter into prepared 1/2-pint or 1-pint canning jars leaving 1/2-inch headspace between the butter and the underside of the lids. Wipe the jar rims with clean tea towel and apply two-piece lids. Load jars into prepared hot water canner.
Process the jars for 10 minutes for altitudes lower than 6,000 feet or for 15 minutes if you live at an altitude greater than 6,000 feet.\
When the timer goes off, turn off the canner and let the jars sit in the hot water for 5 minutes before removing carefully with a jar lifter.
Let the contents of the jars come to room temperature before checking the seal of each lid. Remove rings from sealed jars, storing any unsealed jars in the fridge to be consumed in the next 2 weeks.
Store sealed jars in a cool, dry location away from direct light for up to 18 months.
Notes
*6 pounds of pears is equal to roughly 18-24 medium-sized pears. They'll cook down quite a bit when making pear butter, so you'll need to start with quite a few to have a meaningful yield.
**Apple cider or juice, cranberry juice, red wine, or water are my favorites.
***Choose one sweetener: brown sugar, white sugar, honey, maple syrup, or agave nectar.
****Possible seasonings include vanilla, citrus zest, bourbon, or spices (allspice, cinnamon, ginger).
Fall Canning Recipes
Putting up more than just pears this season?
Fall Food Preservation
There's more to preserving than home canning….