Fruit butters are a delicious homemade preserve that's simple to make and easy to in literally dozens of ways. While apple butter is the best known, you can make fruit butter with almost any fruit.
Fruit butter is not quite jam, not quite jelly, not quite sauce…and all delicious.
While they don't contain any actual "butter," they're a buttery smooth concentrated fruit spread that captures the essence of summer produce right on your pantry shelf.
The practice of making fruit butters goes back to the middle ages, where fruit was slow-cooked to concentrate both its flavor and sugar. The resulting fruit butter would keep for months if properly sealed and stored (even before canning).
Most fruit butters can be made with little more than fruit puree and patience, but they're often even better with added sugar, spices, and spirits.
I'll walk you through the process of making fruit butters at home, starting with just about any fruit under the sun.
What is Fruit Butter?
In the same family as jams and jellies, fruit butter is a type of fruit spread that has been thickened without the use of pectin.
Depending on the fruit and recipe you've chosen, additional ingredients might include a sweetener of some kind, lemon juice (or another kind of acid), as well as warm spices like cinnamon and nutmeg.
Fruit butters are cooked at a low temperature for a long time, using the stove or a slow cooker (although there are other equally-effective methods as well. The longer the cooking time, the more intensely flavored the finished butter will be.
Be patient with fruit as it cooks, the results are worth it!
Preparing fruit for fruit butter
Preparing fruit for fruit butter is a fairly easy process, especially if you're using a food strainer, food mill, or chinois sleeve.
In this case, the only prep you'll need to do is wash the fruit in cold water, cut it into manageable pieces (I usually quarter the fruit), and remove any pits (seeds are fine). Simmer the fruit until tender and then process through your food mill/strainer/sieve and it'll remove the peels and seeds.
If you plan on using a blender, stick blender, or food processor you'll have to take the extra step of peeling and seeding the fruit beforehand.
For stone fruit and other thin-skinned fruit, I like to use the boiling water method for peeling fruit as I've outlined when discussing canning peaches and making peach jam.
The short version is that I dip each peach into boiling water for about a minute before plunging them into an ice-water bath. This flash cooks the outside, and you can slip the peach skin off with your fingers.
If you're working with apples or pears, peel the fruit by hand with a sharp paring knife.
Berries should be carefully washed in cool water and air-dried on a clean kitchen towel. Seedy berries, like raspberries, should be pressed through a fine-mesh sieve after they've been cooked.
Again, note that fruit only needs to be peeled and seeded if using a blender or other piece of automated kitchen equipment, otherwise it can be cooked as-is. The food mill/strainer/sieve will do all the work, leaving you with a smooth seedless fruit puree ready to cook down into fruit butter.
Your full range of options for making fruit butter include:
Blender, stick blender, or food processor: these tools will produce the smoothest, silkiest fruit butter, the major drawback being that the fruit will need to be peeled and seeded before it can be cooked.
Food mill: another manual option, a food mill (also called a potato ricer) is the slowest method but produces a well-worth-it, super-fine result. Like the strainer, the fruit only needs to be pre-cooked before it can be passed through the mill.
Chinois sieve: also a manual method, this versatile sieve is shaped like an oblong cone; the cooked fruit is pushed through it using a wooden pestle.
Food strainer: either an electronic strainer like this Kitchenaid attachment or a manual hand crank. Using these pieces of equipment requires pre-cooking and then straining the fruit afterward, no peeling or seeding is required.
How to Make Fruit Butter
There are a couple of different methods for making fruit butter, I stick to the stovetop or my slow cooker.
Choosing between the two methods, I'd have to say I prefer using a slow cooker because it cooks the fruit butter very gradually over a long period of time, caramelizing the natural sugars in the fruit as it reduces.
Making Fruit Butter on the Stove
Begin by preparing the fruit according to type and the equipment you plan on using (see the guidelines above). Add the prepared fruit to a large saucepan along with the lemon juice or other acid (if using). There is a lot of variation among fruit butter recipes about when to add the non-fruit ingredients, this is just the order I prefer.
Cook the fruit over low to medium-low until very soft, occasionally mashing with a large spoon or potato masher to break the fruit down as it cooks (this step can take upwards of 45 minutes). When the fruit has become very soft, run it through a food strainer, mill, chinois or blend with a blender, stick blender, or food processor until smooth.
Pour the puréed fruit back into the saucepan you used to cook the fruit. This is where you can add the sweetener, seasonings, and other liquid.
Cook the puréed fruit over low heat for about an hour, stirring more and more frequently to prevent scorching. When you can drag a spatula along the bottom of the saucepan and the butter stays spread, that's when you know the fruit butter is done.
Through my own experimentation, I've learned that batches of fruit butter can vary, even when the same type of fruit is being used. Keep an eye on the fruit as it cooks and test it often, you might find it takes more or less time than the one-hour guideline to reach the finished stage.
Remove the saucepan from the heat and stir in the lemon juice. Carefully transfer the hot fruit butter to half-pint or pint jars, leaving 1/4-inch headspace at the top of the jar.
Making Slow Cooker Fruit Butter
The slow cooker method is definitely my preferred method, the temperature gets so low and consistent the entire process becomes a lot less involved. I can put fruit in the slow cooker first thing in the morning and have ready-to-be-canned fruit butter by the evening.
The instructions are simple: prepare the fruit as described above, adding it to a slow cooker along with a cup of water (this amount will vary by recipe, always use the amount called for), the sugar, and the spices (or add it later, if preferred).
Cook the fruit on high heat for 2 to 3 hours or until very soft, giving them a quick stir every hour or so. Remove the fruit and process using your choice of equipment before adding back to the slow cooker.
Cook the puréed fruit for another 8 hours on high, stirring occasionally, and then cook for another 3 to 5 hours with the lid removed (you can keep the lid partially on to prevent splatters).
During the last stage of cooking, you'll need to stir more frequently, every 20 minutes or so, and with more frequency as the butter gets closer to being finished.
Other methods
Looking for other options when making fruit butter? You can always use an Instant Pot (particularly if you're making fruit butter in the summer) or a roasting pan and a low oven (a good method if counter-space is an issue).
When is Fruit Butter Done?
There are a couple of different ways to test for fruit butter doneness.
The simplest way, in my opinion, is to run a spoon along the bottom of the saucepan while it's still on the stovetop, the butter will stay parted (like the sea) when it has finished cooking.
Another method for testing doneness involves removing a spoonful of butter from the saucepan and seeing if it still stays mounded in the spoon after a minute or two.
And for even more choice, some people conduct the test by dolloping some of the hot fruit butter on a cold plate; if liquid doesn't separate from the rim of the butter it's done.
Other Ingredients for Fruit Butter
Strictly speaking, fruit butter can be made using only fruit, but (unless you're using high acid fruit, such as apples) it won't be suitable for canning. With the addition of a few extra ingredients, you'll be able to preserve most fruit butters for long-term storage.
Sugar
Despite having such a sweet taste, fruit butter is typically made with less sugar than both jams or jellies. From the list of sweeteners below, I'd say that white sugar and brown sugar are the most common in terms of recipes I've used in the past, but I've also included a few additional choices in case you're curious about other means of sweetening the butter.
Examples of fruit butter sweeteners include white sugar, brown sugar, maple sugar, agave syrup, honey*, and fruit juice or fruit concentrate.
There are formulations you can use to determine the quantity of sugar needed in fruit butter. For example, I've seen recommendations that suggest anywhere from 1/2-cup to 1 cup of sugar per 2 cups of fruit purée.
Acidity
There are two reasons to add an acidic ingredient to fruit butter.
The first reason has to do with taste, an acid will help "brighten" the flavor of the butter by working with the natural sweetness of the fruit.
The second reason is for preservation for canning purposes. Because some types of fruit aren't acidic enough to be canned, adding lemon juice, lime juice, orange juice, apple cider vinegar, or citric acid helps balance out the pH of the fruit butter for canning.
Seasonings
Fruit butters tend to be seasoned with warm spices which complement the sweetness of the fruit, think cinnamon, nutmeg, and allspice. In the same vein, vanilla, bourbon, and even balsamic vinegar are often added to enhance the warm flavors of the fruit butter.
If you're interested in floral flavors like lavender, rose, or elderflower, you can incorporate these ingredients into fruit butters by infusing hot water with dried flowers.
Add the strained liquid to the fruit at the beginning of the first cooking process (and be conservative about the amount you're adding, floral ingredients go from pleasant to overwhelming in the blink of an eye). Always make sure edible flowers haven't been sprayed with chemicals before using.
Preserving Fruit Butters
Generally speaking, fruit butters are well-suited for canning without having to worry about added acidity (although you can still add it for the sake of taste, if you'd like). The fruit being used needs to be acidic enough for canning (a pH of 4.6 or lower), so it's important to double-check this before beginning a canning recipe.
Some fruit varies by variety or even stage of maturity. For example, while regular peaches are fine for canning on their own, but white peaches are less acidic and can't be made into white peach butter without added acidity.
The following fruits are not acidic enough for canning on their own as fruit butters without added acidity:
White peaches (yellow peaches are fine)
Asian pears (other varieties are fine)
Persimmons
Mangos
Cantaloupe, watermelon, and other melons (these aren't ideal for making into fruit butter, anyway)
There's nothing stopping you from making fruit butter with these fruits, you'll just need to make sure you follow a tested recipe that includes enough added acidity if you hope to can them. Or, the option is also there to make them as refrigerator fruit butters, they'll keep for 3 to 4 weeks this way).
There's a small group of fruit butters that aren't safe for canning at all, it doesn't matter how much acidity is added.
For example, the pumpkin butter we all know and love throughout the autumn months, is exceptionally popular. It's absolutely delicious, but there are no pumpkin butter recipes approved for home canning.
Pumpkin and other types of squash are very low acid, and when you combine that with the thick texture of fruit butter it just can't be made safe for home canning regardless of how much acidity is added.
The following butters must be made as refrigerator or freezer preserves and are not approved for canning:
Banana butter
Papaya butter
Pumpkin butter
Canning Fruit Butters
Provided you're using fruit that's approved for canning, and you've added enough acidity for those "borderline" fruits that aren't quite acidic enough on their own, canning fruit butters is quite simple.
Because fruit butter tends to have a smaller yield, I like to space out the recipe over half-pint jars, but feel free to use regular pint jars or even quart jars.
Carefully pour or ladle the still-hot into the prepared jars, leaving 1/4-inch headspace at the top (this is where I particularly love using my canning funnel). Seal the jars with two-piece canning lids until fingertip tight and load into a hot water canner.
Process the jars for 10 minutes if you're using half-pint or pints, 15 minutes for quarts. If you're working at an altitude higher than 6,000 feet, process the fruit butter in the canner for 15 minutes, or 20 minutes if using quarts.
When the timer goes off, let the jars sit in the canner for 5 minutes before removing with a jar lifter.
Place the jars on a clean towel, leaving at least 1-inch of space between the hot jars. Allow the fruit butter to come to room temperature, which takes anywhere from 12 to 24 hours depending on the size of the jar, and check the seal of each jar.
Remove the rings from the sealed jars and store in a cool, dry place away from direct light. Unsealed jars should be stored in the refrigerator and enjoyed within a couple of weeks.
Types of Homemade Fruit Butter
Fruit butter can be made from almost any kind of fruit, including types you wouldn't expect, such as melon or pineapple.
As mentioned above, the one thing you need to consider when making fruit butter is whether or not it's acidic enough (or can be made acidic enough) for canning purposes. With the exception of banana butter and pumpkin butter, the recipes listed below are well-suited for canning.
Apple Butter
Apple butter is probably the most well-known and readily available fruit butter, at least in North American cuisine. It's usually found right next to the jams and jellies at the supermarket, or by the pint at farmers markets in late autumn.
Depending on how sweet or tart you like your apple butter, I'd recommend using any of the following apples (or a combination): Fuji, Granny Smith, Honeycrisp, Golden Delicious, or McIntosh.
You'll notice there's a lot of variation among apple butter recipes in terms of how much sugar is added; some recipes call for no sugar while others recommend up to a cup of brown or white sugar. This will require a bit of experimentation, tasting as you go, to figure out how much (if any) sugar is needed.
I like to make apple butter using my slow cooker because it makes the process so hands-off, but I've had equal success using the stovetop method (which requires some extra stirring, although how much extra stirring will depend on how much the apples are cooked down).
Banana Butter
Banana butter is truly decadent and sweet, the sugar caramelizes during the cooking process which gives the finished butter a heavenly flavor. Unlike other fruit butters, banana butter comes together quickly; the fruit is puréed and cooked for a brief 5 minutes before it's transferred to small jars.
This Banana Butter Recipe includes bourbon and vanilla bean paste, and I can tell you from first-hand experience it makes a banana butter that is completely at home on a PB&J or spread generously over a stack of pancakes, waffles, or (my favorite) a Dutch Baby pancake.
Other ways to use banana butter include swirling it into homemade banana bread, making it the base of a banana milkshake, or incorporating it into this recipe for banana ice cream sandwiches.
Keep in mind the fact that bananas are a low acid fruit, so banana butter is NOT approved for canning.
Instead, after ladling the finished banana butter into small jars, store the butter in the fridge for up to 2 weeks. To freeze banana butter, spoon it into an ice cube tray, transferring the frozen banana cubes to a resealable bag in the freezer once solid.
Blueberry Butter
This recipe for blueberry butter is a good way to use up leftover blueberry pulp if you make your own blueberry syrup. A low and slow cooking time as well as the addition of lemon juice and zest, brings out the natural sweetness of the blueberries.
Blueberry butter is right at home on pancakes or waffles of any sort, but I'd have to recommend those made from cornmeal over any other kind.
Others ways to use blueberry butter? Try adding a spoonful or two to quickbread batter, top an ice cream sundae, or stir it into Greek yogurt with granola (basically, it goes with a long list of baked goods and desserts, the sky's the limit!).
Blueberry butter is also a treat when it's served with savory foods such as duck breast or pork. You can also pair it with fresh unripened cheeses (chèvre and ricotta are particularly good), or with a buttery ripened cheese (especially double-cream brie).
Cherry Butter
When cherry season hits Vermont I take advantage of the harvest and try to find as many ways to preserve them as possible, an effort that typically includes canning cherry pie filling and sour cherry jam — not to mention the vast number of pitted cherries we keep stored in the freezer.
If you're looking for even more ways to use up a hefty yield of cherries, homemade cherry butter is both delicious and surprisingly versatile in its applications.
With its beautiful ruby hue, cherry butter is wonderful spread on wholegrain bread with butter or sitting on a charcuterie plate or served beside grilled venison.
One of my favorite uses for cherry butter? As a filling for homemade Pop Tart-like pastries or crescent rolls. You won't believe how amazing breakfast pastries taste once they've been stuffed full of (real) concentrated cherry flavor.
Cranberry Butter
There are two ways to make cranberry butter. The first, and seemingly most popular method, is to make cranberry apple butter using apples and roughly the equivalent in volume of cranberries. The second type of butter, which is much more tart, uses cranberries only.
I find that cranberry apple butter is better for eating on its own, or serving with a big scoop of vanilla ice cream while preferably still warm.
Pure cranberry butter, on the other hand, is quite intense and you'll probably find that a little goes a long way. I like adding a spoonful to oatmeal or spreading it thinly on the interior of a grilled cheese or turkey sandwich with thick slices of gouda or Jarlsberg cheese.
Guava Butter
Living on the East coast, I don't generally have the opportunity to come into large amounts of fresh guava, but I did find them for sale in bulk once…and I bought a bunch to make homemade guava butter.
You'll definitely want to use a chinois strainer or food mill if you plan on making guava butter, the fruit is full of inedible seeds and are virtually impossible to separate by hand. I used my KitchenAid food strainer attachment.
If you've never tried fresh guava, you're in for a treat. It tastes like strawberry and pear. It's good with all the usual accompaniments — bread, scones, biscuits, etc. — and I would also imagine that it would be especially amazing if it was used to fill a vanilla layer cake.
Peach Butter (and Apricot Butter)
Fruit butters made from stone fruit, such as peach butter, apricot butter, or nectarine butter, are like summer in a jar — there's nothing better than spreading it thickly on a piece of toast in the middle of winter, I'm instantly transported to a beautiful late-August day despite the current temperature.
Freestone peaches and nectarines are easiest to work with, but if you have the time and wherewithal I think that clingstone fruit are worth the effort in terms of flavor.
Stone fruit butter is lovely when it's spread on a hot-from-the-oven muffin or a stack of waffles and its savory uses are just as tasty. Fruit butter makes an incredible base for a glaze — think ham or duck — and I've also used it in salad dressings for bitter greens.
Pear Butter
Pear butter is the sophisticated cousin to apple butter, a very similar flavor but with a bit more nuance if made correctly. Asian pears are a no-go if you want to can your finished butter, but I find these to be the least flavorful option when it comes to pears, anyway.
Pears can be slightly gritty in texture, so I always make sure I purée my pear butter as smoothly as possible.
Pear butter is a natural topping for a bowl of creamy yogurt with granola and it makes a great addition to a nut butter sandwich.
Because the sweetness isn't as intense as apple butter, pear butter can be swirled into quickbreads or coffee cakes without tipping the dessert into the way-too-sweet category.
Plum Butter
Plum butter may not be as familiar to those of us living in the US, but if you live in central Europe, particularly Germany, you're probably fortunate to enjoy Pflaumenmus (plum jam in German) regularly!
Plum butter is usually made with Italian plums, which make their appearance known at farmers markets in late-August and throughout September (I'm not exaggerating, when Italian plums are in season they're everywhere!).
In Germany, Pflaumenmus is used much like jam or jelly, and it's also used to fill desserts or in cakes. Plum butter adds big flavor to marinades and homemade barbecue sauce, especially if it's brushed on ribs or grilled steak before and after cooking.
Pumpkin Butter
Despite its popularity in the autumn, pumpkin butter can't be made with the intention of canning the finished recipe. That shouldn't stop you from trying a fridge-safe version though, since most recipes last anywhere from a week or two (which gives you plenty to time to go through it).
The best way to use pumpkin butter (other than directly from the jar with a spoon)? Frothing it up with coffee and milk to make your own cozy pumpkin spice latte!
Strawberry Butter
Strawberry butter is heavenly, nothing but pure concentrated berry flavor (like a strawberry fruit leather, but spreadable!) and it's the perfect way to use up extra strawberries in early summer.
This recipe for strawberry honey butter takes the strawberry sweetness even further by adding honey and vanilla, and trust me when I say that you'll never want to top your ice cream with anything else after making this strawberry butter.
Prepping strawberries for making fruit butter requires minimal effort. The berries only need to washed and hulled (try using a metal straw if you don't have a strawberry huller) before they're blended in a food processor and cooked over low heat.
Ways to Use Fruit Butter
Depends to some extent on the type of fruit butter, but most fruit butters perform the same in recipes. For example, they can be used in place of oil in some recipes as they add that same moist crumb as vegetable oil (in a similar way that applesauce would be substituted).
Try these other ways to use fruit butter:
As a base for fruit leathers
Spread on toast, pancakes, or waffles
Added to thumbprint cookies
In a marinade or BBQ sauce
In a nut butter, turkey, or roast beef sandwich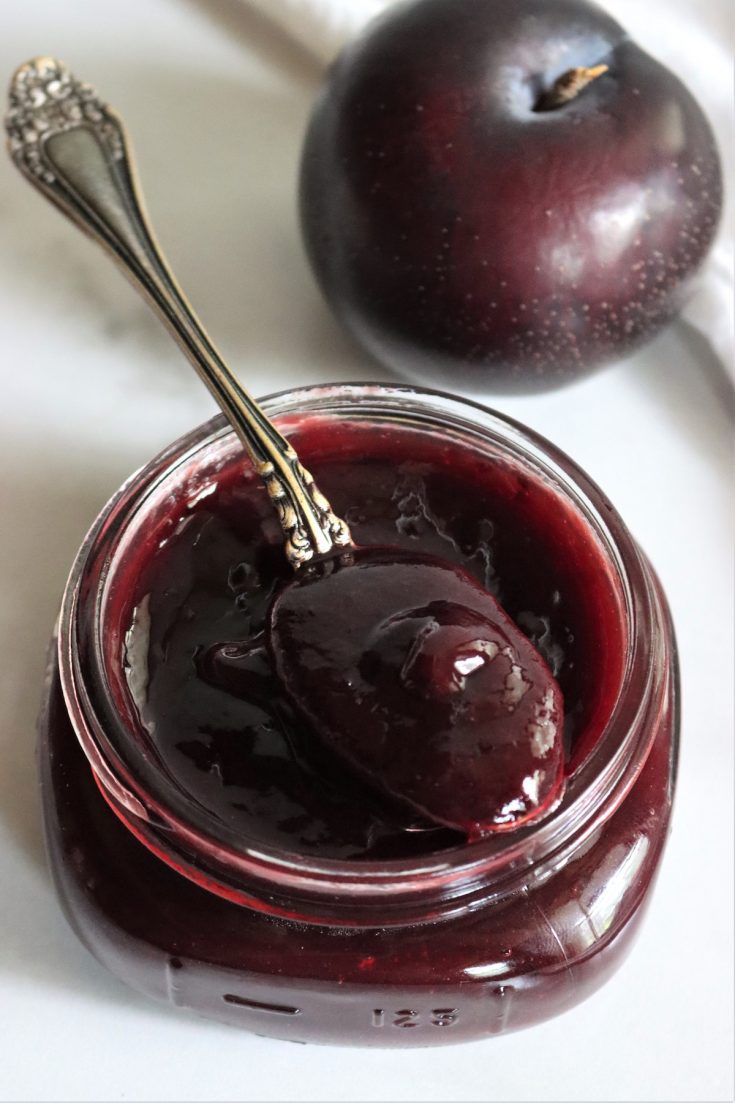 Yield:

6 pints
Fruit Butter
Canning Time (Optional):
15 minutes
A basic template for making and canning fruit butter with almost any kind of fruit!
Ingredients
6 lbs. fruit (prepared according to fruit type and kitchen equipment being used)
1/4 cup lemon juice
3/4 cup liquid*
1-2 cups sweetener**
Seasoning*** (to taste)
Instructions
Bring the prepared fruit and lemon juice to a low simmer in a large, covered saucepan. Cook until the fruit is very soft. Remove from the heat.
Run the cooked fruit through a sieve or food mill or blend with a blender/stick blender/food processor until smooth.
Return the puréed fruit to the saucepan, adding the liquid, sweetener, and seasoning of your choice.
Cook the fruit butter over medium-low heat until it stays spread apart with a spatula (anywhere from 30 minutes onward).
Decant the fruit butter into jars, leaving 1/4-inch headspace. Wipe the jars down and seal with two-piece canning lids until fingertip tight.
Process the jars in a water canner for 10 minutes.**** When the timer goes off, turn the canner off and let the jars sit in the very hot water for 5 minutes before carefully removing with a jar lifter.
Move the jars to a clean towel and let the fruit butter come to room temperature. Check the seal of each jar and remove the rings, unsealed jars should be moved to the fridge.
Store sealed jars of fruit butter in a cool, dry place for up to 18 months.
Notes
*Choose from: apple cider, apple juice, cranberry juice, orange juice, pineapple juice, or water
**Choose from: white sugar, brown sugar, honey, maple syrup, agave nectar
***Choose from: ground allspice, ground cinnamon, ground ginger, star anise, vanilla extract, balsamic vinegar, or citrus zest.
****Canning times: For half-pints and pints at elevations lower than 6,000 feet, process for 10 minutes (for quarts process for 15 minutes). For higher elevations (greater than 6,000 feet), process half-pints and pints for 15 minutes, quarts should be processed for 20 minutes.
If using a slow cooker: Cook the fruit and lemon juice in the slow cooker over high heat for 2-3 hours, stirring every hour. Run the cooked fruit through a food mill or sieve, or blend with a blender or food processor until smooth. Return the puréed fruit to the slow cooker and cook on high for 4-5 hours, before partially removing the lid and cooking for another 2-3 hours until finished. Stir often as the fruit thickens to prevent scorching. When the fruit butter is done, decant to prepared jars and process in a water bath canner.
Ways to Preserve Fruit
Looking for more ways to preserve fruit?
Fruit Canning Recipes
Putting up more than fruit butter this season?