Applesauce is one of the easiest ways to preserve apples at home and a perfect place to start for the beginning canner. Apples are naturally high acid food, so they are canned in a water bath canner. Just about anything goes when you're canning applesauce at home.
Want chunky applesauce? No problem!
Leave the peels on? Yup, that works too.
Sugar-free or maple-sweetened? Do it!
It's hard to go wrong making homemade applesauce. Season and sweeten it however you like. How it tastes on the stovetop right before canning is exactly how it will taste coming out of the jar months later, so feel free to experiment.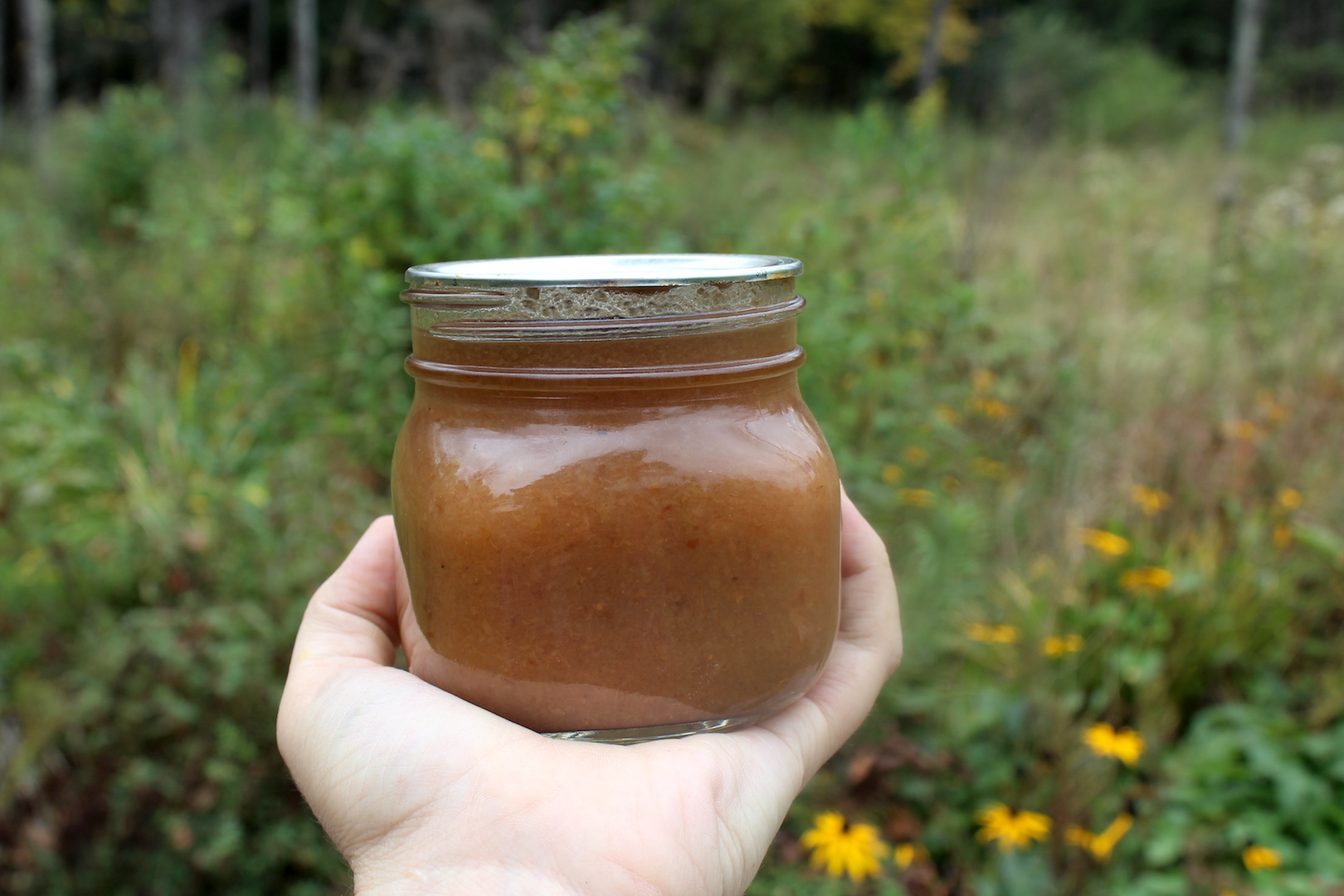 How to Make Applesauce
The first step to canning applesauce is actually making applesauce. Start by peeling and coring enough apples to fill a large stock pot. If you have a Kitchenaid food strainer attachment, hand crank food mill or chinois sieve, you can skip this step (and save a lot of time). Add a few cups of water and bring the pot to a boil. Cover, and cook until the apples disintegrate, stirring occasionally.
If you don't have a food mill, process the apples with an immersion blender. For a chunkier sauce, you can just stir vigorously with a wooden spoon or stick to a few quick mashes with a potato masher.
That's it.
At this point, taste your sauce. Most modern apple varieties are sweet enough without any added sugar. Wild apples and antique varieties may require a bit of added sugar to balance out tartness or acidity. At this point, feel free to add any seasonings you like. I'm personally fond of ginger and molasses, but a few dashes of cinnamon are wonderful too.
Related: How to Make Applesauce with a Food Mill

Canning Instructions for Applesauce
Method: Water Bath Canning
Jars: Pint or Quart
Headspace: 1/2 inch
Process Time: 15 min for Pints, 20 min for Quarts
Apples are high in acid and sugar, so they can be safely processed in a water bath canner without adding any special ingredients. No need to add sugar, unless you want to. Acidifiers like citric acid or lemon juice are optional too. They may add extra flavor or zing to your sauce, but they're not required for safe canning.
Fill canning jars, leaving 1/2 inch headspace. Be sure to remove any air bubbles, especially if you have a chunkier sauce. It's common to can applesauce in pints, but quarts work well too.
Canning applesauce in half-gallon jars was practiced historically, but it's not currently endorsed by the USDA. The jar is too large to ensure adequate heating all the way through, and air bubbles can be a serious problem with so much sauce in a jar. The only foods currently approved for half-gallon jars are juices from high acid fruits, such as apple juice or grape juice.
Apply canning lids and process in a water bath canner, 15 minutes for pints and 20 minutes for quarts.