Caramelized onion jam is a delicious savory homemade jam that's perfect on a sandwich, burger or charcuterie plate. Made properly, this recipe is approved for water bath canning, but you can also make it in a small batch as a quick refrigerator preserve.
Caramelized onions add amazing flavor to just about anything savory, and when you make caramelized onion jam, you're bottling up all that flavor in a jar for use anytime right off your pantry shelf. This recipe can be made as a quick refrigerator preserve, or you can process it in a water bath canner year round use.
While most people are familiar with sweet jams, like classic strawberry jam or even old fashioned grape jam, savory jams have largely fallen by the wayside and it's a shame!
There was a time when these savory preserves were used to add flavor and excitement to everyday meals, adding a rich dollop of savory to an otherwise boring plate.
This beautiful preserve really fancies up a charcuterie board, but that's just the beginning!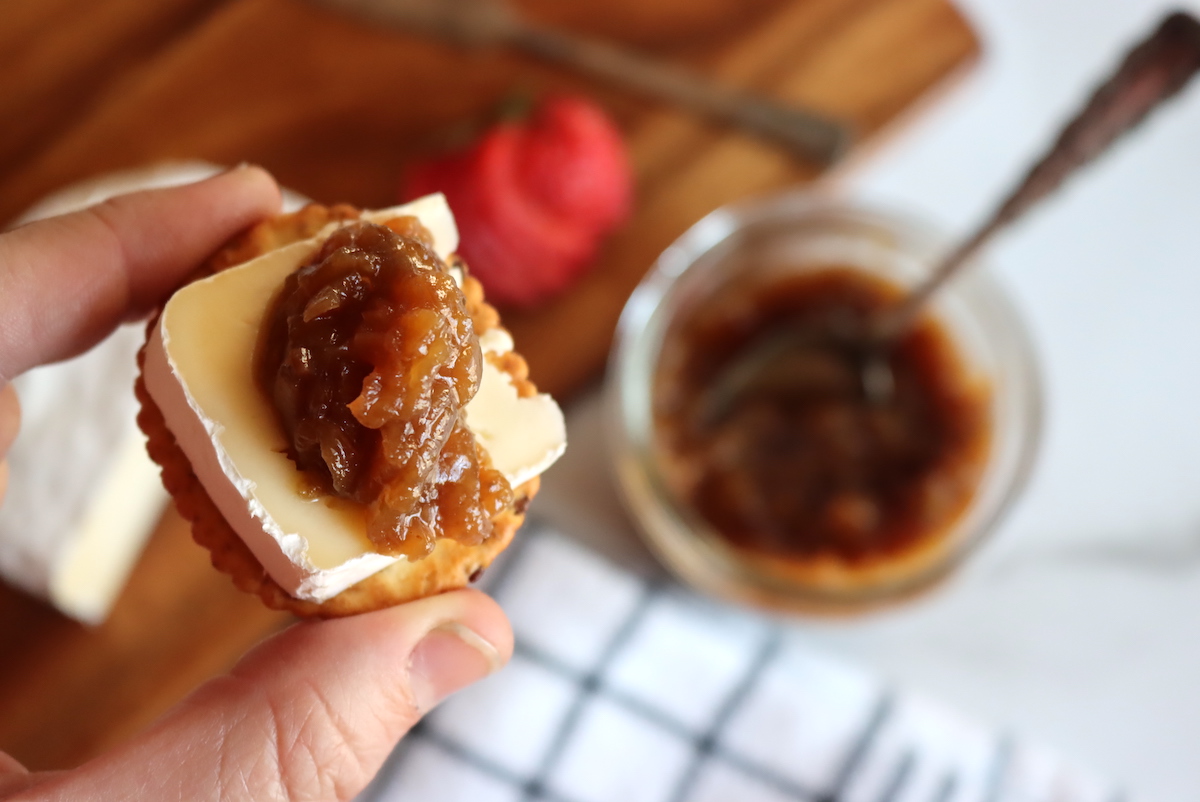 You can use a homemade savory onion jam on sandwiches, and it'll take a quick grilled cheese from everyday to extraordinary.
I'm particularly fond of caramelized onion jam on homemade burgers, and it elevates an otherwise boring family meal into something right out of the brew pub.
Some people might call this an onion relish, or an onion preserve, and it really doesn't matter. Call it what you want, it's a savory jam in my book, but it's delicious no matter what you call it.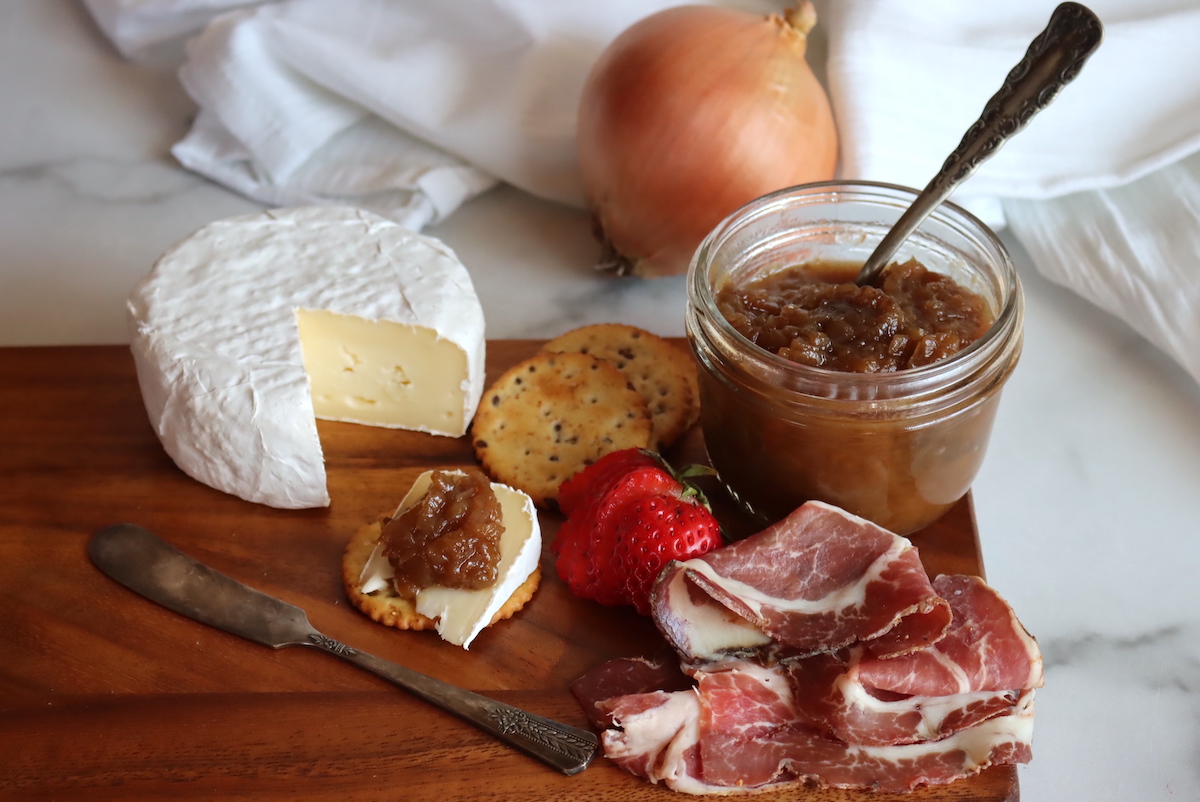 Ingredients for Caramelized Onion Jam
This is a tested recipe adapted from Naturally Sweet Food in Jars by Marisa McClellan. The whole book is devoted to making home canned goods without using refined cane sugar, and she comes up with many creative ways to approach the problem. From adding fruit juices, to alternative sweeteners like honey.
In this particular recipe, she uses maple sugar, and it's absolutely essential. This jam wouldn't be nearly as good without it, and it's not a substitute for sugar, it's what makes the recipe. If you must, you can use brown sugar instead.
If you have maple syrup, you can follow these instructions, which explain How to Make Maple Sugar, or you can simply buy maple sugar online. It's incredibly simple to make, and all you do is cook maple syrup until it crystallizes. The crystallization is pretty key for this recipe, since it drives off the water from the syrup before it goes into the jam (which keeps things from getting soupy).
The original recipe suggests red onions, but I've made this with any type of onion with great success. I actually find it's the best with the really intense yellow onions, the ones that absolutely destroy your eyes as your chopping them. The more they make your cry, the more sulphur compounds are present, and that will intensify the flavor of your finished jam.
Red onions and sweet onions will also work, but the jam will be a bit less flavorful.
To make 4 half-pint jars of caramelized red onion jam, you will need the following:
I Tbsp cooking oil, neutral, such as sunflower or grape seed
3 pounds onions, sliced
1 cup maple sugar (note this is different from granulated sugar)
2 Tbsp bottled lemon juice
1½ cups cider vinegar
2 teaspoons kosher salt
For the onions, 3 pounds as purchased works out to roughly 6-8 medium onions, or 10 cups halved and then finely sliced. That's quite a few onions to slice, and wetting your arms and hands as you work will help save your eyes. The fumes from the onions are attracted to the water in your eyes, which is why they make you cry. Wetting your hands and arms give the fumes a closer target, and allows you to slice the onions without tears.
One way or another, you'll have lots of leftover onion peels after this recipe, and I save those for making homemade broth and stock. They are chocked full of vitamins and flavor, and they add a beautiful color to homemade vegetable stock or chicken broth or stock.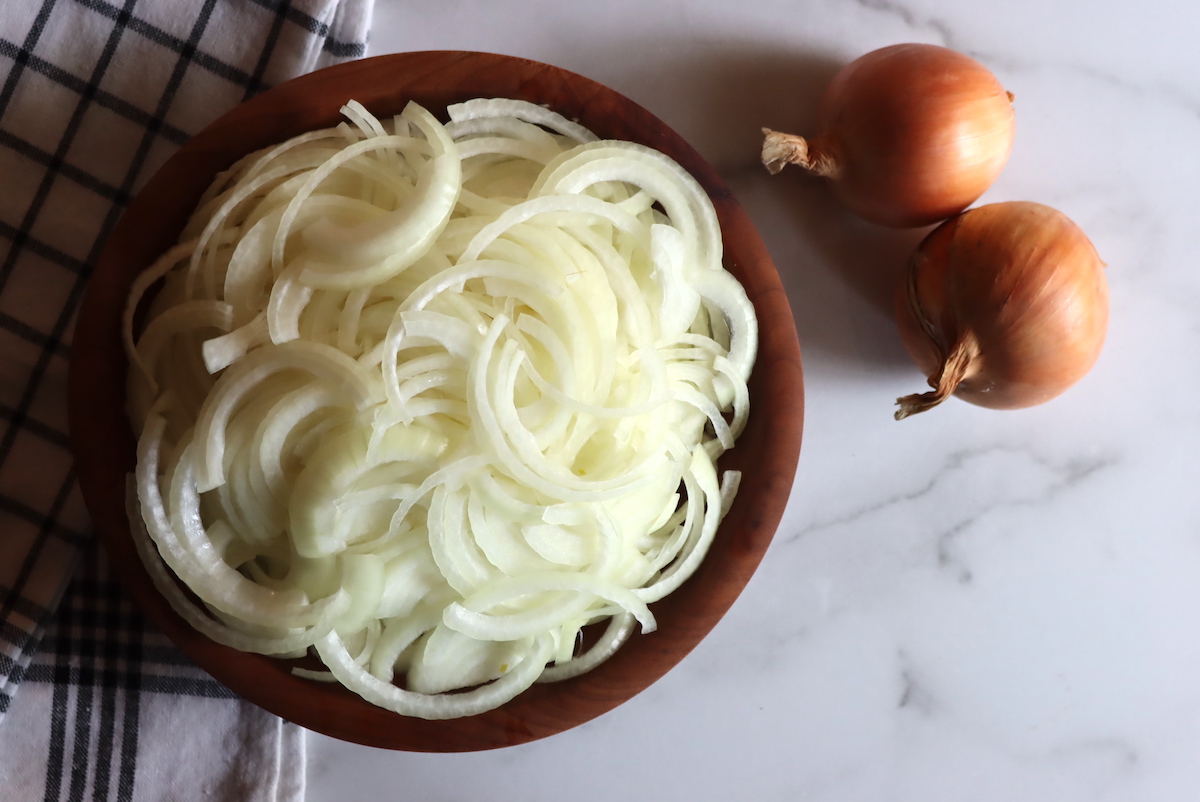 You may substitute coarse sea salt or pickling salt for the kosher salt if that is what you have on hand.
Caramelized onion jam provides a unique, versatile flavor to so many things that you may want to make several batches. Obtaining the distinct flavor of onion without it being spicy is precisely what this jam accomplishes, and it provides a nice touch of sweetness.
Unlike fruit jams, this onion jam recipe uses vinegar and lemon juice for preservation and doesn't use any pectin.
One ingredient that you do not typically see in canning recipes is maple sugar. You can purchase maple sugar, but making your own maple sugar is very easy and significantly cheaper than prepared maple sugar.
How to Make Caramelized Onion Jam
If you are a beginner or are unsure of hot water bath canning, refer to my Beginner's Guide to Water Bath Canning before proceeding. You can also skip the canning process and just make this as a refrigerator or freezer preserve, that's fine too.
Measure the oil into a large, heavy-bottomed pan or Dutch oven, and heat it over medium-high heat until it is less thick and shimmers. Add the sliced onions to the hot oil and stir to coat the onions with the hot oil.
Lower the heat to very low and cook the onions for 45 to 50 minutes, stirring often. Do not attempt to hurry this process by turning up the heat, as you want to avoid charring or browning the onions. You want the onions to reduce down and develop sugar, or caramelize.
Prepare your hot water bath canner with enough water to cover the jars by 1-2″, get your jars and 2-part canning lids ready, and other tools you may need, such as your jar lifter.
After cooking, the onions should be reduced to about ½ of the original amount.
Add the maple sugar to the pot with the onions and stir well to dissolve the sugar.
Cook the onion and sugar mixture over medium-high heat, stirring constantly, for 3 to 4 minutes. You may begin to notice the smell of the hot sugar as it cooks.
Carefully add the vinegar and lemon juice to the onion/sugar mixture, knowing it will "spit" and bubble initially. You also want to ensure you do not keep your face over the cooking mixture to avoid directly breathing in the vapors from the cooking vinegar.
Stir to mix in the vinegar and lemon juice, and then reduce the heat to medium, and add the salt.
Let the onion mixture cook on medium heat for 10 to 12 minutes. The vinegar will reduce to a sticky syrup as the onions completely soften into the liquid. You should have a thick onion syrup once it is done cooking.
Remove the pot from the stove. Working quickly, use a canning funnel to pour or ladle the jam into the hot, sterilized jars, leaving ½" headspace at the top.
Using a clean, damp cloth, wipe the rims of the jars to ensure a good seal, then apply the canning lids and rings. The rings should only be tightened to "finger-tight."
If making a refrigerator preserve, just let it cool on the counter before storing in the refrigerator. If canning, instructions are below.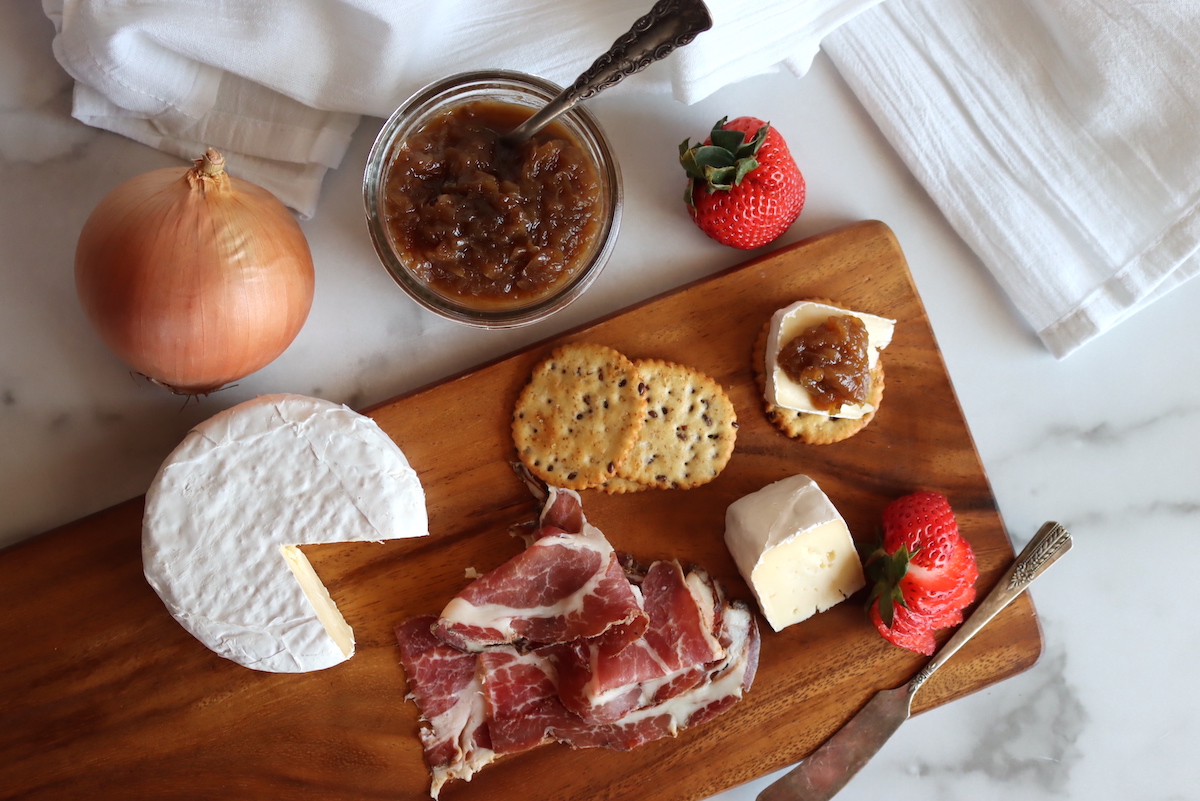 Canning Caramelized Onion Jam
Ladle or pour the cooked onion jam into hot, prepared jars using a canning funnel, leaving ½" headspace at the top. Wipe the rims of the jars clean and attach 2-part canning lids.
Place the filled jars into the prepared canner with boiling water using a jar lifter, and process the jars for 10 minutes. Ensure the jars are completely covered with water during the entire processing time.
After the processing time is complete, turn off the heat and remove the cover from your canner. Leave the jars in the water for 5 minutes, then use a jar lifter to remove them from the canner and set them to cool on a towel on the counter. Do not tip the jars or wipe excess water off the lids. Let the jars sit undisturbed for at least 12 hours.
Check the jars after 12-24 hours to see if the lids have sealed. There should be a depression in the center of the lid. If the lids still have a "bubble" in the center of the lid, continue to let it set, or store it in the refrigerator for immediate use.
Store sealed jars in a pantry or cool, dark place for up to 18 months. Once you have opened a jar, refrigerate it and use it within two weeks.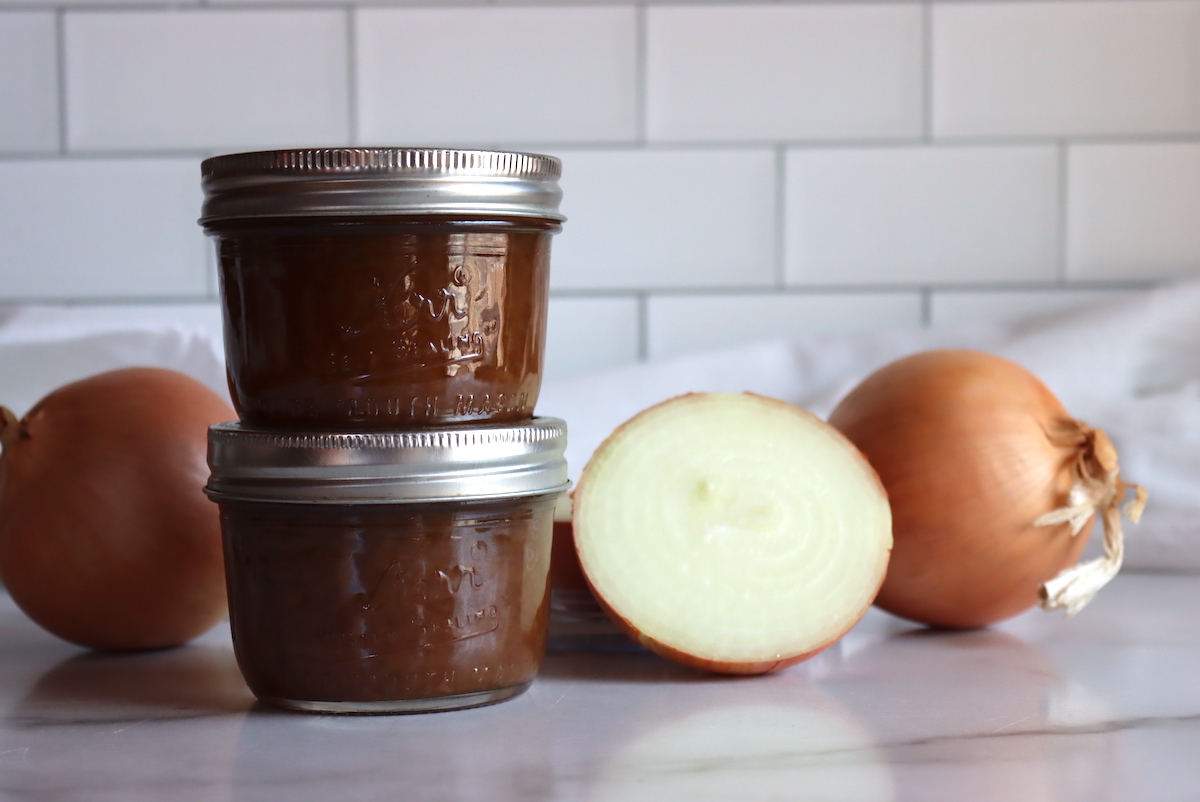 Onion Jam Variations
A wide variety of spices and herbs can be added to your onion jam to give it a slightly different flavor. Some popular additions include rosemary, thyme, summer savory, ground black pepper, or bay leaves.
This recipe can also be made using sweet onions instead of red onions for an even sweeter taste without as much zing.
Substituting balsamic vinegar for cider vinegar will create a very distinct flavor for your jam.
While the maple sugar blends wonderfully with the red onions in this recipe, brown sugar or regular granulated sugar can give you different flavor results.
If you enjoy olive oil, using a good quality, extra virgin olive oil instead of the neutral oil in this recipe will add subtle olive oil tones to your jam.
Ways to Use Onion Jam
My absolute favorite ways to use caramelized onion jam is to add it to homemade burgers, charcuterie boards, as a fancy topping for grilled sausages and even as a topping for homemade mac and cheese. Really anywhere you'd use caramelized onions, you can use caramelized onion jam instead.
You simply cannot go wrong by adding caramelized onion jam to roasted red potatoes or grilled zucchini. Try it on your favorite vegetable!
Caramelized Red Onion Jam is perfect on any meat and can bring a new flavor to baked, broiled, or grilled meats.
Add caramelized red onion jam to a chicken breast sandwich, or top your burger with a large dollop of jam for a great condiment.
Caramelized red onions are a fantastic pizza topping and make a tasty addition to a turkey wrap. Take your grilled bratwurst and pile on heaping amounts of this delicious jam!
Make delicious appetizers by topping sliced baguettes with soft cheese and caramelized onion jam, or serve it as a relish with your next big holiday meal.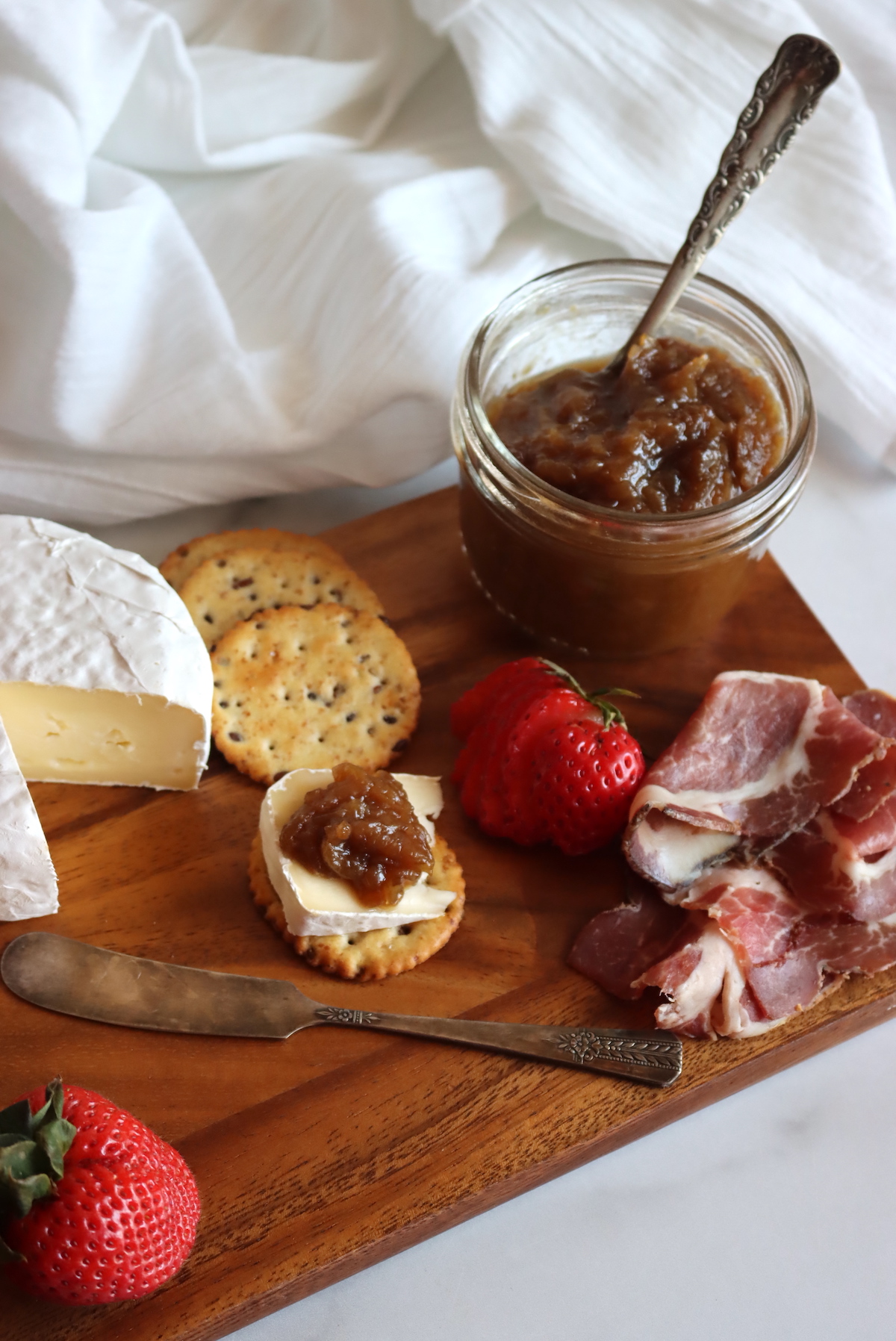 Ways to Preserve Onions
Looking for more ways to preserve onions?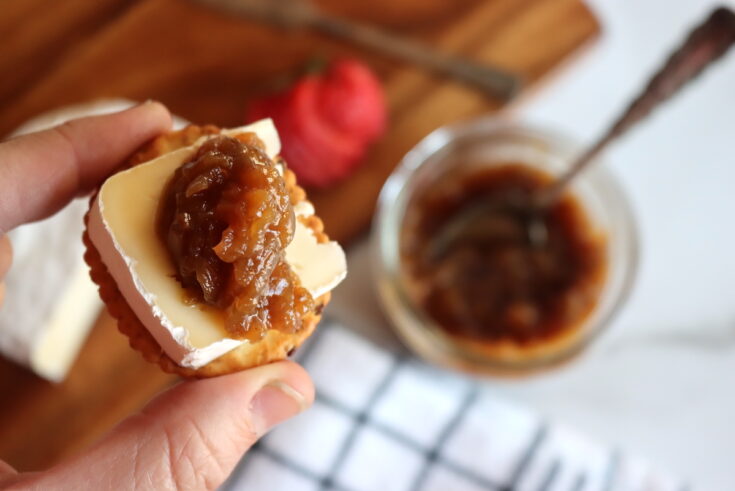 Yield:

4 half-pint (8-ounce) jelly jars
Caramelized Onion Jam
Cook Time:
1 hour
15 minutes
Additional Time:
10 minutes
Total Time:
1 hour
45 minutes
Caramelized onion jam is a unique savory jam that's delicious no matter where you use it.
Ingredients
1 Tablespoon cooking oil, neutral, such as sunflower or grape seed
3 pounds red onions, sliced
1 cup maple sugar (note this is different from granulated sugar)
2 Tablespoons bottled lemon juice
1½ cups cider vinegar
2 teaspoons kosher salt
Instructions
If canning, prepare a water bath canner, jars and lids before beginning. If not canning, no worries, just let it cool on the counter in jars before storing in the refrigerator.
Heat oil in a heavy-bottomed pan or Dutch oven over medium-high heat, then add the sliced onions and stir to coat.
Reduce the heat to medium and cook the onions for 45-50 minutes, stirring often.
Prepare jars and a hot water bath.
Add maple sugar to the cooked onions and stir to dissolve the sugar.
Increase the heat to medium-high and cook the onions and sugar for 3-4 minutes, stirring constantly.
Carefully stir in the vinegar and lemon juice, being cautious of splattering and vinegar vapor.
Reduce the heat to medium and add salt to the mixture.
Cook the onion mixture until the vinegar has reduced to a sticky syrup, about 10-12 minutes.
Pour or ladle the hot jam into prepared hot jars, leaving ½ " headspace at the top of the jars.
Wipe the rims of the jars with a clean cloth, and apply the 2-part canning lids.
Preserve the homemade onion jam using a hot water bath canning method for 10 minutes, adjusting time if necessary for altitude.
After processing, turn off the heat and leave jars in the canner, uncovered, for 5 minutes. Remove the jars from the canner and let them cool for 12-24 hours, then check that the jars have sealed. Refrigerate any unsealed jars.
Sealed red onion jam will retain peak quality for up to 18 months stored in a cool, dry place or pantry. Refrigerate the jam once opened.
Savory Jam Recipes
Homemade jam doesn't have to mean sugary spreads for your toast. There are quite a few delicious savory jam recipes out there that will add spice to dinner, sandwiches, or snacks.