Saskatoon jelly is made from saskatoon berries, also known as servieberries, juneberries or shadbush. It's a rich flavorul homemade jelly that comes together easily with just a few ingredients.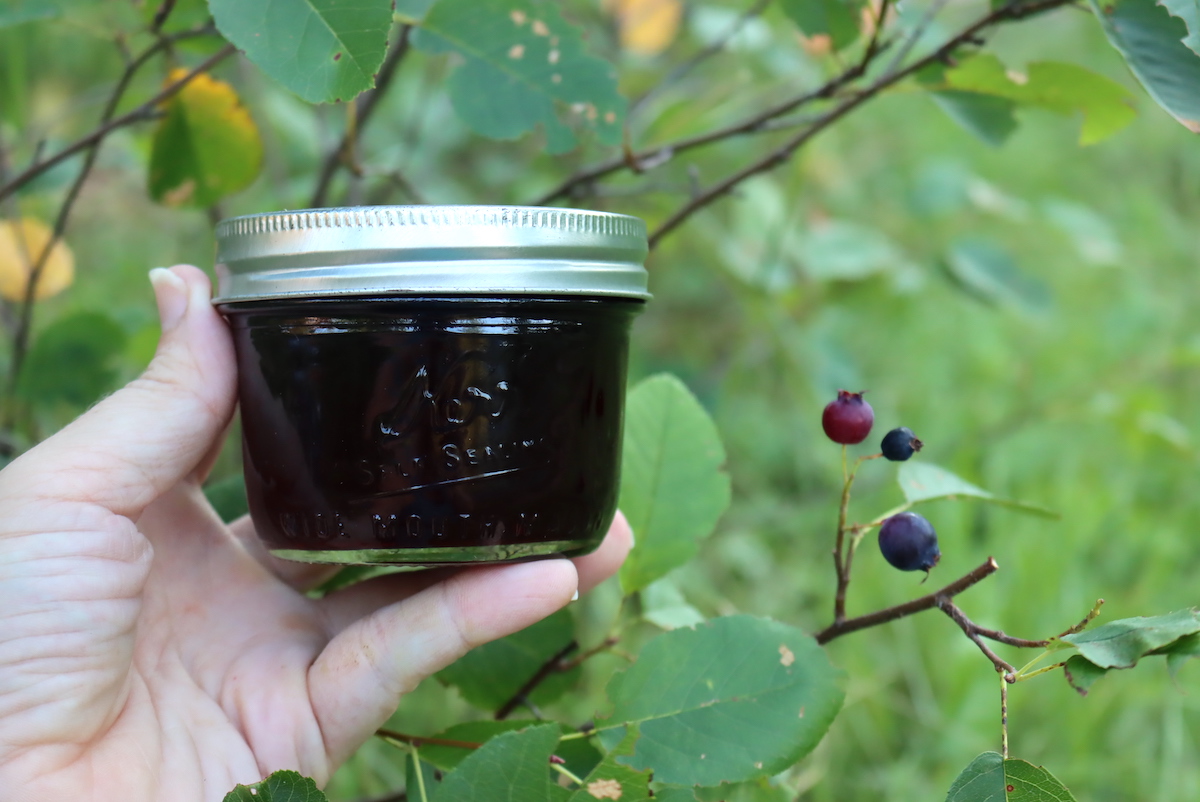 Saskatoons are absolutely delicious, with a flavor like blueberries, but much more intense, with hints of almond and lemon zest. While blueberry jelly can be a bit plain, serviceberry jelly is anything but.
They say that "a beloved child has many names" and saskatoons go by at least a dozen different names. They're also known as shadbush, serviceberries, juneberries, chuckleberries and sugar plums, to name a few.
We make serviceberry jam each year, and that's delicious too, but the fruits can be a bit dry and they have seeds not everyone appreciates. The seeds are small, but they're bigger and more noticeable than blueberry seeds.
Given that, sometimes a seedless saskatoon jelly is the better option.
You still get all the rich flavor, but none of the seeds or skins.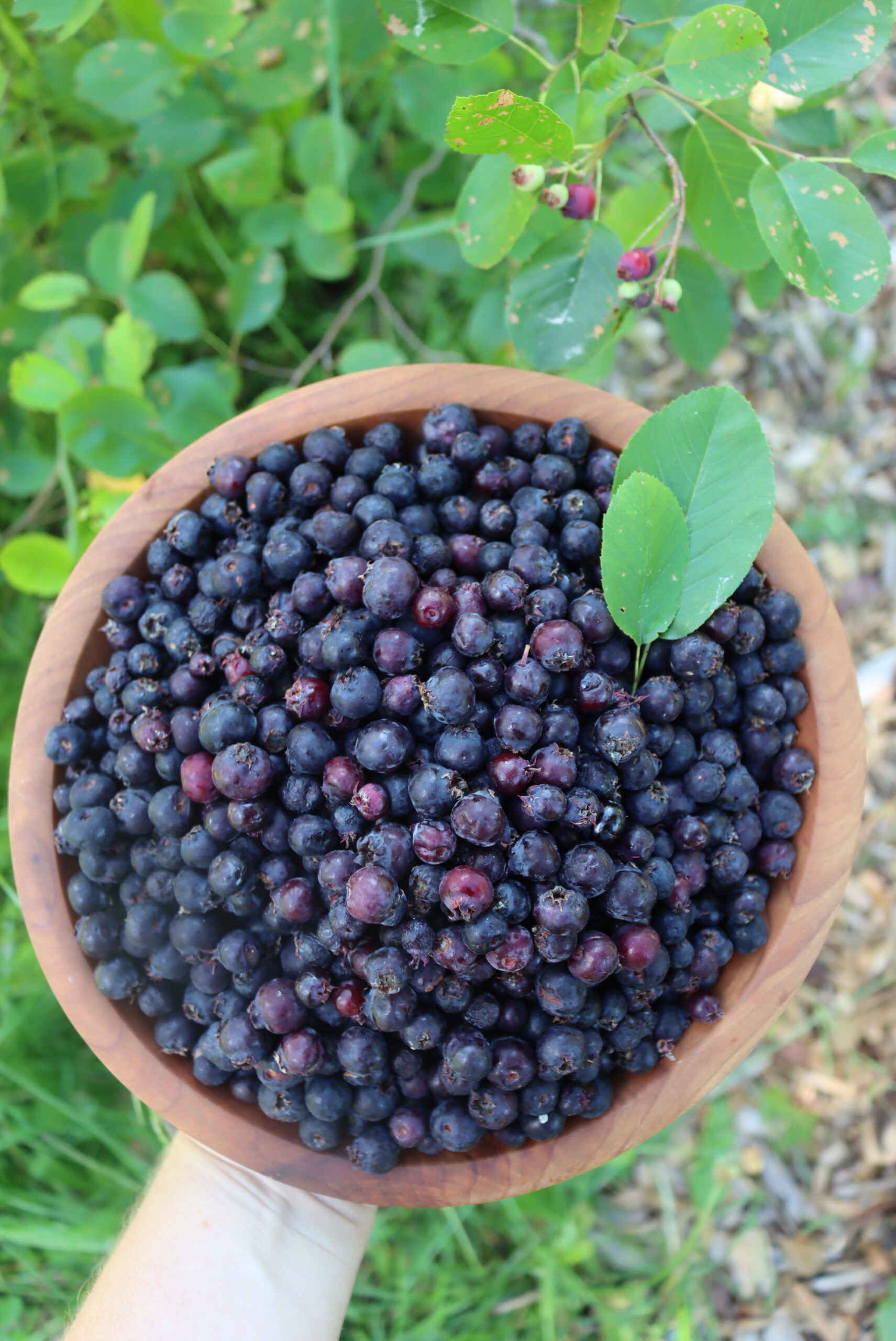 What are Saskataoons?
Saskatoons (amelanchier species) are rich flavorful berries grow wild all over the US and Canada, but they're also grown in backyards and landscape plantings.
Some people describe them as blueberries that grow on trees, which is a pretty good description. There are dozens of amelanchier species, and some grow on short bushes while others grow on 20+ foot tall trees.
All of the species bare edible fruit, and some are incredibly prolific.
Many people grow them in their backyards, and they're common in landscape plantings around stores and strip malls because they have beautiful flowers in the early spring.
You can sometimes find them at the farmer's markets, and they're either wild foraged or grown under nets (because they're a favorite of the birds).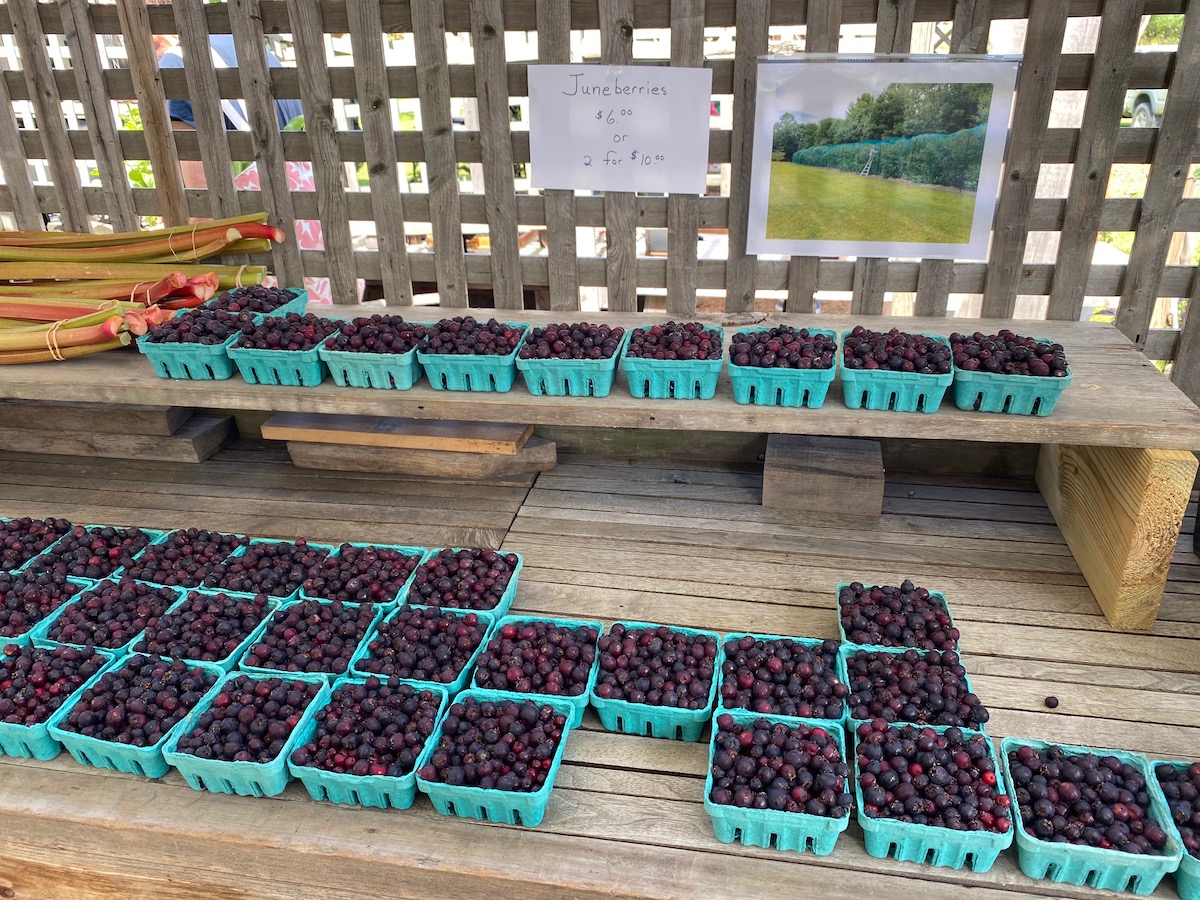 If you hope to harvest serviceberries in the wild to make this jelly, I'd suggest reading my guide to foraging serviceberries (or saskatoons).
For the most part, saskatoons are easy to identify but there are a few look a-likes that do not have edible fruit.
Ingredients for Saskatoon Jelly
For making serviceberry jelly, to make a batch of five (8-ounce) jars, you will need the following:
8 cups serviceberries or saskatoons
4 cups water
2 Tbsp. lemon juice (one or two lemons)
4 cups sugar*
1 box (1.75 oz.) regular pectin (see Notes for low-sugar pectin)
Saskatoons are delicious and sweet, but are not the juiciest fruit for making jelly, so we add quite a bit of water to the berries and mash them well to get the flavor infused into the water.
Lemon juice can be freshly squeezed, or you can use bottled lemon juice from concentrate. Both work just as well, but I like to use freshly squeezed lemons because I have more control over the quality.
One large lemon should produce two tablespoons of lemon juice, but I usually have two on hand, just in case.
The lemon juice is optional, or you may use less than two tablespoons if you prefer, but it is highly recommended for serviceberry jelly because it helps to bring out the full flavor of the berries to give it that extra pop.
This recipe calls for regular pectin (like Sure-Jell), which uses a 1:1 ratio of liquid to sugar.
You can also use a low-sugar pectin alternative, such as Sure Jel Low Sugar (see Notes). You use the same amount of liquid but less sugar, and this is an excellent option for those who don't like their jelly quite as sweet.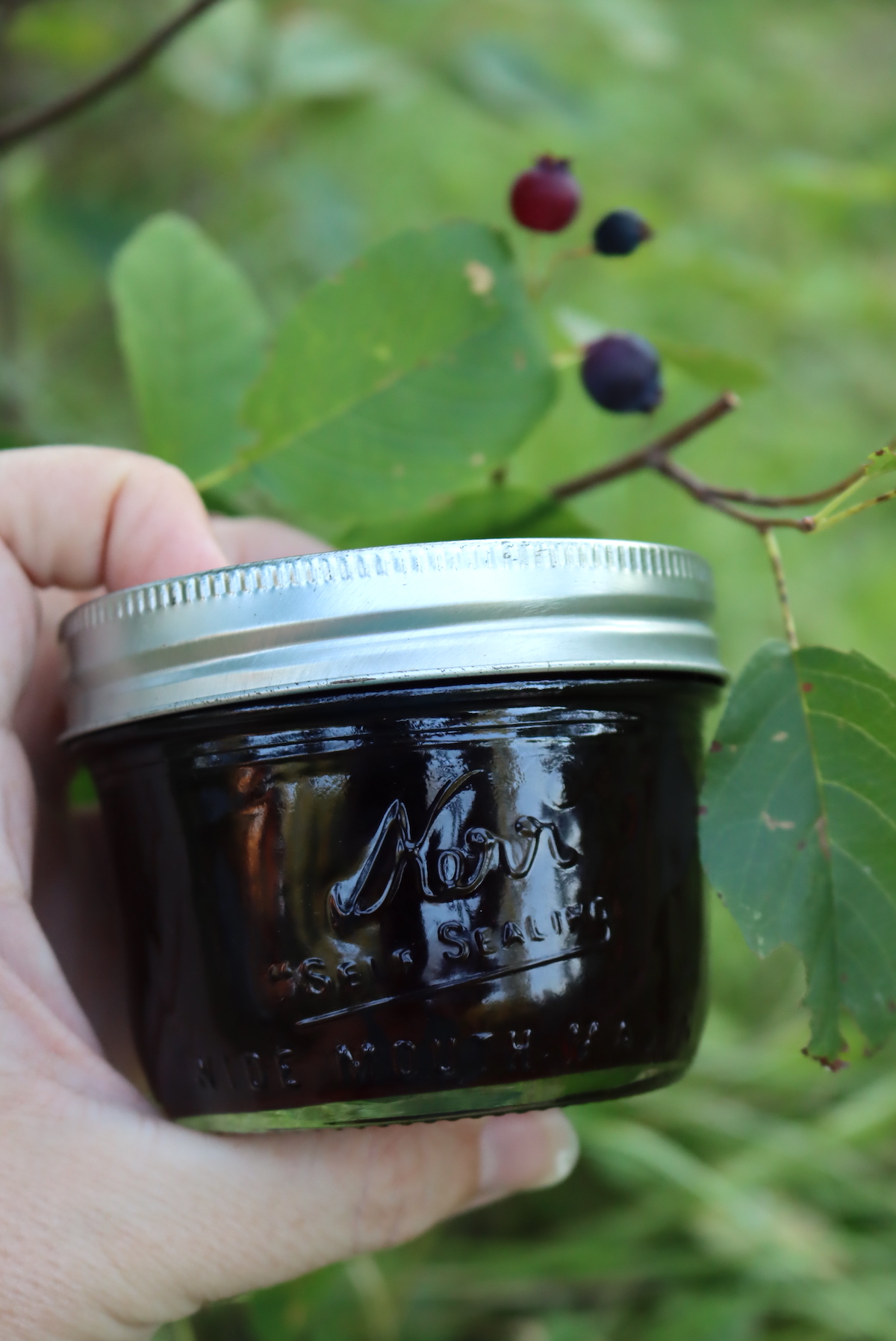 How to Make Saskatoon Berry Jelly
Carefully pick through your picked saskatoons, removing stems, debris, or any berries that are either under ripe (not quite up to color and are too firm) or overripe (too squishy, shriveling, or moldy.
Put 8 cups of saskatoons in a large jam pot and add 4 cups of water.
Cook the berries over medium-high heat, stirring occasionally.
Once the berries have started cooking, use a masher or a big, sturdy spoon to mash the berries up as much as possible. The flavor of the serviceberries will cook into the water and produce a thick, rich juice for your jelly.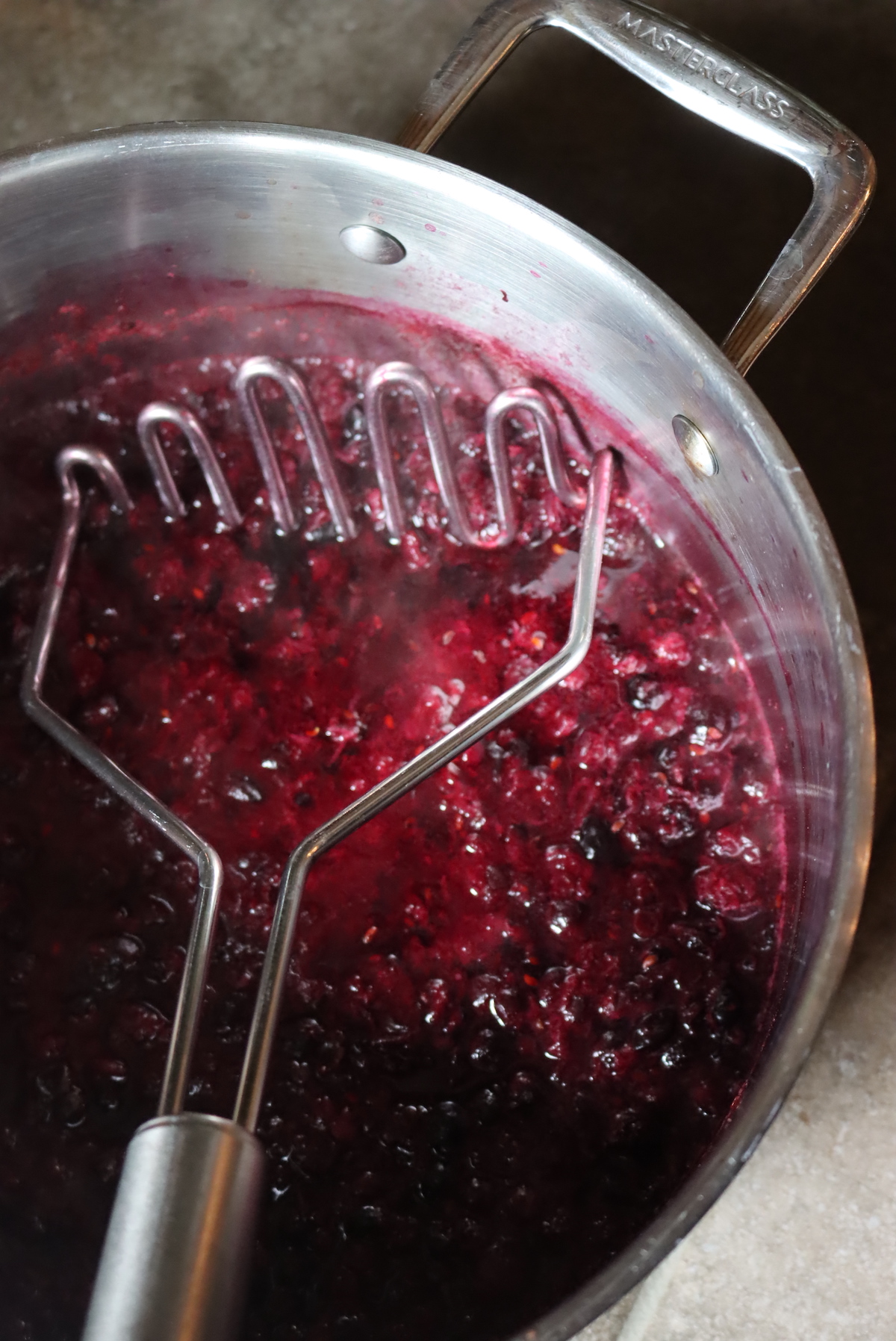 When the berries are completely mashed, turn the heat up to high and stir continuously until the mixture reaches a full boil. Then, continue to boil hard for 2-3 minutes.
Remove the berry mixture from the heat.
Carefully pour the mixture into a jelly bag and let the juice drip through the bag. This process may take a while since the mixture is quite thick due to the mashing of all the berries, so it takes longer for the liquid to work itself out of the mash.
After the juice has seeped through the bag to where it no longer is dripping, squeeze the bag to get more of the liquid out. You want to get 4 cups of berry juice if possible.
If you do not have a jelly bag, use several layers of cheesecloth inside a strainer instead. Again, let the juice run through, which will take a while, and then squeeze the cheesecloth with the berry mixture inside to extract even more liquid.
If you do not use several layers of cheesecloth, you may get some pulp from your mashed berries into your juice. That will not harm the flavor, but your finished jelly will be cloudy and possibly not quite as firm, and it will be like a jelly-jam mixture.
Once you have extracted 4 cups of liquid from your berry mixture, you can prepare to make jelly.
(If canning, prepare a water bath canner, jars and lids at this point.)
Pre-measure 4 cups of sugar (or less if using low-sugar pectin) and set aside.
If you are a little short of 4 cups of serviceberry juice, you can add bottled juice such as apple, grape, or cranberry juice to get up to the correct measurement.
Pour the 4 cups of juice into a medium saucepan or jam pot.
Add two tablespoons of freshly squeezed lemon juice or bottled lemon juice.
Cook the juice, stirring occasionally, over medium-high heat until the mixture comes to a boil.
While the juices are at a full boil, slowly add the powdered pectin, stirring as you add, dissolving the pectin. If you get any pectin lumps in your juice, they should dissolve as you continue to boil the mixture and stir.
Boil this mixture with the pectin added at a full boil for one minute, stirring continuously.
Adding the pre-measured sugar slowly, continue to stir the mixture so the sugar dissolves as you add it. (Be aware that the pectin needs to boil in the liquid BEFORE the sugar is added. If the sugar is added before the pectin, it will not gel.)
Once again, bring the mixture back to a full boil, stirring continuously, and let it boil for 1-2 minutes. Do not boil the jelly too long (over 5 minutes) as that will lead to jelly that won't gel.
Carefully ladle or pour the mixture into your prepared hot jelly jars, leaving ¼ inch of space at the top of each jar.
Using a canning funnel with a ¼" lip at the bottom helps you get an accurate amount of headspace at the top and prevents spilling your hot jelly on the counter!
Wipe the rim of the jars with a clean cloth, and cap them with 2-part canning lids.
If you do not plan on canning your jelly, you can let the jelly cool to room temperature on the counter. Store your serviceberry jelly in the refrigerator for up to 1 month, or keep it frozen for up to 6 months.
Canning jelly is relatively easy using the hot water bath method. Properly sealed and canned jelly does not have to be refrigerated until opened and will maintain quality for up to 18 months stored in your pantry.
See below for canning instructions.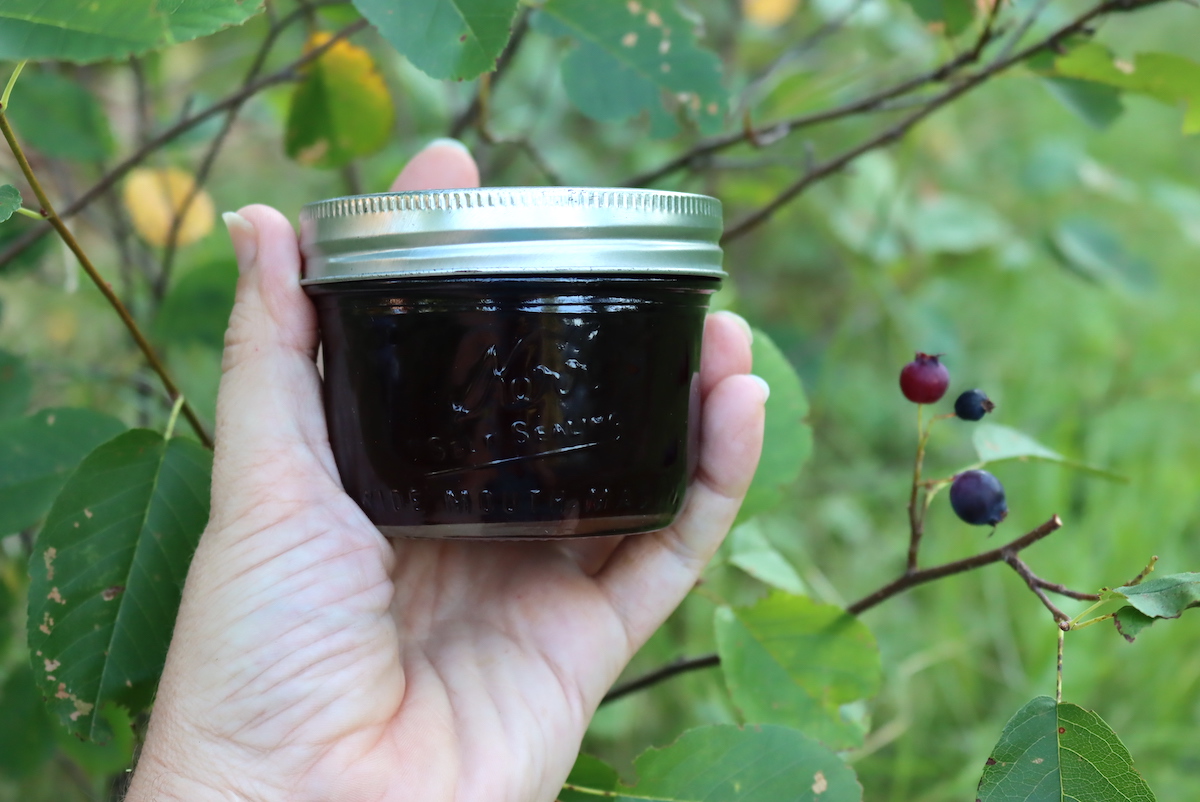 Serviceberry Jelly Variations
Serviceberries are delicious and sweet, and they make an excellent, flavorful jelly.
For some variations, try adding some grapes or cranberries to your serviceberries as you cook them.
Tart cherries also combine wonderfully to make serviceberry cherry jelly.
For something a little more mild, make your jelly using only 3 cups of serviceberry juice and one cup of apple juice or white grape juice.
Canning Saskatoon Jelly
You can keep the fantastic flavor of freshly made jelly year-round by enjoying it during the winter for a refreshing burst of summer flavor.
If you are a beginner or novice canner, please read my Beginners guide to water bath canning for detailed canning instructions, including the supplies you will need.
Once your jelly is ready, ladle or pour the jelly into hot jelly jars, leaving ¼" headspace at the top.
Wipe jar rips, apply new lids and then screw on the canning rings until "finger tight."
Using a jar lifter, place the jelly jars into the prepared hot water bath canner.
Return the water to boiling, then process in the water bath for 10 minutes (or 15 minutes if above 6,000 feet in elevation).
When the processing time is complete, use a jar lifter to remove the jars from the canner and set them to cool on a towel on the counter, leaving them undisturbed for 24 hours.
After 24 hours, check the jars and lids to ensure they are all sealed. If you have jars that did not seal, store those jars of jelly in the refrigerator and use them within one month.
Enjoy your serviceberry jelly from your pantry or cellar year-round! Properly canned and sealed jars will maintain quality for 18 months and can still be used after that as long as the jar has remained sealed. Refrigerate after opening.
Ways to Use Saskatoon Berry Jelly
Try using Saskatoon jelly instead of grape jelly on your next peanut butter and jelly sandwich!
Serviceberry jelly is great on scones, croissants, toast, English muffins or your favorite bread.
Don't forget to make a few jars to give away as gifts! You can't find shadbush jelly for sale in a store, and your friends and family might not know what they're missing!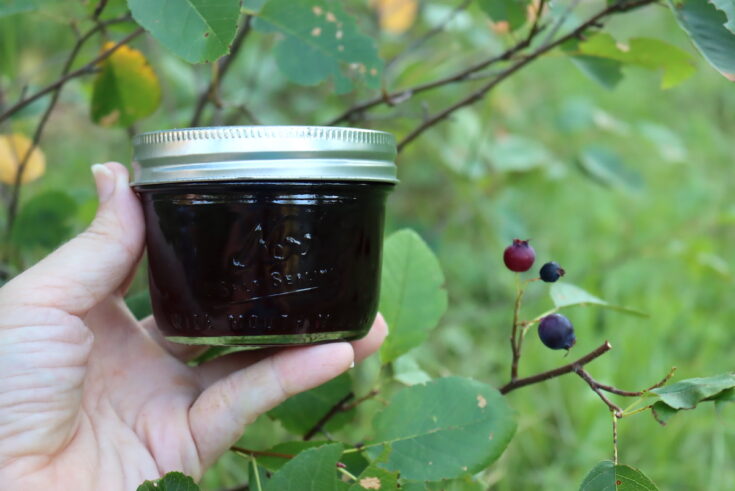 Yield:

Makes about 5 half pint (8 oz ) jars
Saskatoon Jelly
Prep Time:
2 hours
10 minutes
Canning Time (optional):
10 minutes
Total Time:
2 hours
30 minutes
Saskatoon jelly is a rich flavorful jelly that tastes like blueberries with a hint of almonds and citrus zest.
Ingredients
8 cups saskatoon berries
4 cups water
2 Tbsp. lemon juice
4 cups sugar*
1 box (1.75 oz.) regular pectin (see Notes for low-sugar recipe)
Instructions
Using a large saucepan or jam pot, pour 4 cups of water over 8 cups of cleaned, de-stemmed serviceberries.
Heat the berries with water on medium-high, mashing the berries with a large, durable spoon or masher as they cook.
Bring the mashed berry mixture to a boil, keeping it at a full, hard boil for 2-3 minutes.
Using a jelly bag, pour the serviceberry mixture into the bag, allowing the juice to drain through. Once dripping has slowed, squeeze the jelly bag, allowing as much liquid to drain as possible. Use several layers of cheesecloth and a strainer if you do not have a jelly bag.
Pre-measure the sugar and set it aside.
Add 2 Tablespoons of lemon juice to the serviceberry juice. (Lemon juice is optional, and not required for preservation, but it does improve flavor.)
Pour the juice into a medium saucepan or jam pot.
Turn the burner to high heat and bring the juice to a boil.
Slowly add the pectin, stirring to dissolve.
Bring the mixture back to a full boil, and allow it to boil for one minute.
Slowly add the pre-measured sugar to the mixture, stirring continuously, dissolving the sugar.
Again, bring the mixture back to a rolling boil, stirring while boiling for 1-2 minutes.
Ladle or pour the jelly into prepared jelly jars, leaving ¼" headspace, and wipe the rims of the jars with a clean cloth.
Apply the 2-part canning lid, and either proceed with the canning process using the hot water bath method or leave the jars to cool and set up for 24 hours.
Store canned jelly in a cool, dry place for up to 18 months. Uncanned jelly can be stored in the refrigerator for up to 1 month or in the freezer for six months. For all jelly, refrigerate once opened.
Notes
Low Sugar Saskatoon Jelly
It is easy to make jelly using less sugar than the traditional or "old-fashioned" recipes.  The conventional method using regular pectin calls for a 1 to 1 ratio of juice to sugar, meaning if you have 4 cups of juice, you use 4 cups of sugar.
Low-sugar recipes can be made easily using low-sugar pectin instead of regular pectin.  Sure Jel Low Sugar comes in a pink box and specifically says it is for low or no-sugar recipes.  There are recipe guidelines in the box, but you can typically reduce the sugar by half or even a little more.
For serviceberry jelly, using 4 cups of juice, you can make good jelly using as little as 1/2 cup of sugar with Sure Jel Low Sugar.  This will also work with sugar alternatives that are approve for canning.
Another brand of pectin you may opt to use is Pamona's Universal Pectin.  You will need to follow the instructions in the box, as this pectin is a 2-part low-sugar pectin, and the steps are different than for regular pectin. Use their recipe and process for blueberry jelly.
*Lowering sugar will also lower yield.  The yield of 5 half-pints is for a full sugar (regular pectin) recipe.
Homemade Jelly
Looking for more easy homemade jelly recipes?