Canning pie filling means you have easy desserts just waiting to happen, right on your pantry shelf. Just open the jar, fill the pie shell (or cobbler pan), and bake. Home-canned pie fillings are a great way to preserve fruit and do meal prep at the same time!
Homemade pie is a regular part of our meal plan, and we usually make a pie or two a week. Sometimes they're savory dinner pies, like chicken pot pie or lamb pie…and sometimes, they're classic sweet pies.
(Occasionally, we'll make pies that straddle the line too, and sausage and apple pie with a cheddar crust is utterly delicious.)
At this point, I can make a pie crust with my eyes closed, but I often fall short when it comes to fillings. January is bleak here in Vermont, and that's when we tend to eat the most pie.
Canning pie filling in season means we can eat homemade pie any month of the year. Since the pie filling is already prepared in the jar, all I have to do is dump it into a pie shell, and it's ready to bake.
That saves a lot of time on busy weeknights, especially now that I have two young kids at home.
I've put together a list of all the safe, tested pie-filling recipes for home canning that I can find…just in case you're as pie crazy as we are.
Many include thickeners like Clear Jel, but some are naturally thickened with high pectin fruit.
Others, like savory pot pie fillings, skip the thickening and just pressure can ingredients. The thickening happens right before you dump the jar into the shell.
Ingredients for Canning Pie Filling
Generally, the ingredients for canning pie filling include:
Prepared Fruit
Sugar
Water or Juice
Bottled Lemon Juice
There are some exceptions, where pectin rich fruits like apples are used to thicken the filling instead of clear gel. And of course, meat based pot pie fillings are completely different. But in general, the vast majority of pie filling canning recipes have those simple ingredients.
Can You Change Pie Filling Canning Recipes?
The USDA offers some options for changing clear jel based pie filling recipes. Here are some options:
Decrease the amount of clear jel for a less thickened filling (but you cannot increase the clear jel)
Increase or Decrease the amount of sugar, or use another type of sweetener (sugar is for flavor in these recipes, not preservation)
Increase the amount of lemon juice (but not decrease it)
Add dried spices like cinnamon, nutmeg and mint, or flavoring extracts like vanilla or almond extract (but not fresh spices, like fresh mint or basil)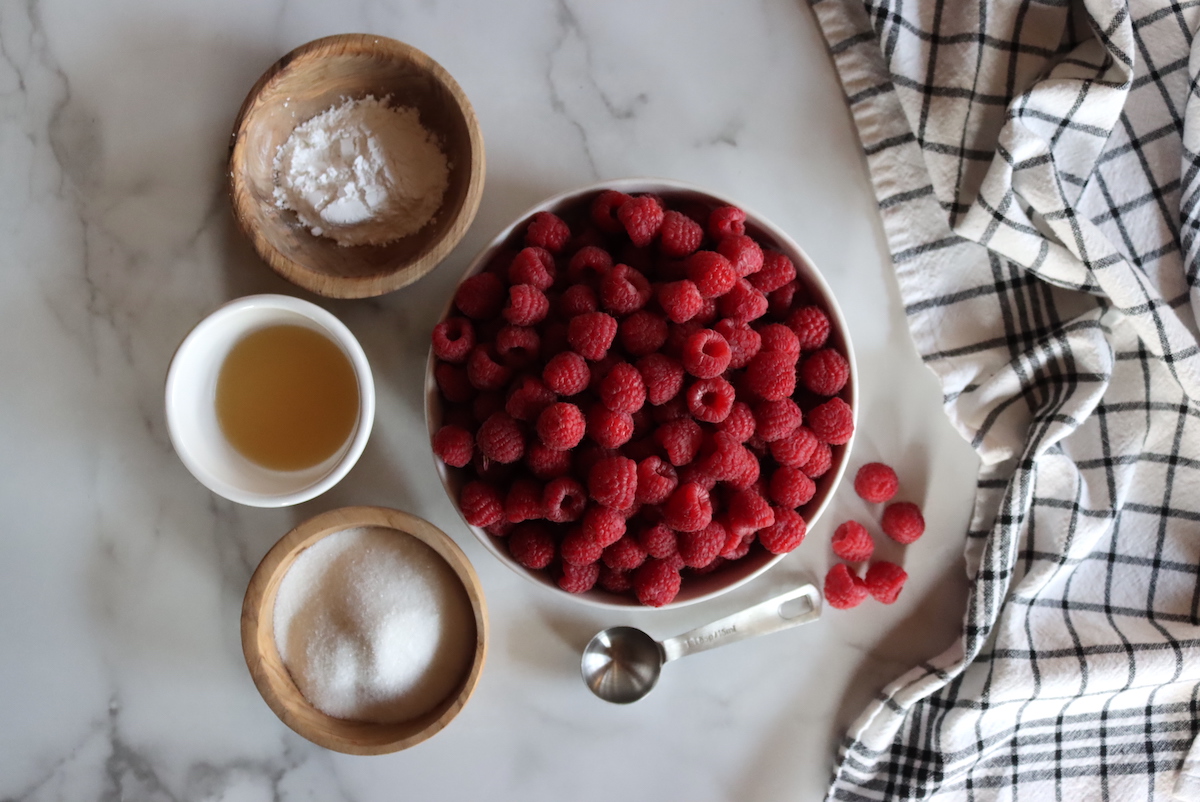 Can You Can Pie Filling Without Clearjel?
Yes, you can put up pie fillings without Clear Jel, but you'll need to thicken them before they go into the pie shell (or you'll make a pie that's soupy).
In that case, you just can the plain fruit in syrup and then thicken the liquid with a bit of flour or cornstarch when you pour it out of the jar into the pie crust.
Recipes like canning apple slices or canning blackberries would be more appropriate in those cases, as they're just canned fruit in syrup that you use in a pie rather than a pre made pie filling.
Can you Substitute Clear Jel?
There is no canning approved substituted for Clear Jel. It is the only thickener than has been tested for canning, and others (like flour or plain cornstarch) may not allow heat to penetrate to the center of the jar during canning, creating a safety issue.
The other reason you use cook type clear jel for canning is that it's designed to thicken multiple times. It'll thin out as it's cooked, and then thicken back up when it cools after the pie is baked. Other thickeners only work once, and they be ruined by the heat in the canning process.
If you don't want to use clear jel, opt for a recipe that's thickened with high pectin fruit like apples, or just can plain fruit rather than a prepared pie filling.
Basic Process for Canning Pie Filling
The basic process for making a clear jel based pie filling is a bit different than a plain jam or jelly, and the order of operations is really important.
The Clear Jel must be dissolved in cold water or it will clump and ruin your pie filling (ask me how I know).
Fruit in these recipes are always pre-blanched to warm them through to the center (for safe canning) and to drive off air in their tissues so they distribute evenly through the jar (rather than float).
Home canned pie fillings come together quickly so make sure you have a water bath canner ready to go before you start. If you're not familiar with canning, I'd suggest reading my beginner's guide to water bath canning before getting started.
Start by washing the fruit, and if using frozen fruit, thaw it in a colander over a bowl and reserve the juice. Slice the fruit if appropriate, or leave whole for fruits like blackberries.
Bring a few quarts of water to a boil on the stove and blanch the fruit for 30 seconds to 1 minute, or up to 5 minutes for sliced apples, until it heated through. Refer to your recipe for exact times. Work in batches, and be gentle with the fruit so it doesn't fall apart. Remove them with a slotted spoon and keep them warm while you make the clear gel mixture.
Combine sugar and clear jel in a large pot, big enough to hold all the fruit comfortably. Add cold water or cold juice to the pot and whisk to dissolve the clear jel completely. (Again, it must be cold water here. Do not use the hot cooking liquid.)
Turn on the heat to medium-high and whisk continuously until the mixture begins to bubble and thicken. As soon as it bubbles, add lemon juice and cook for 1 additional minute.
Turn off the heat and fold in the blanched fruit.
Immediately fill the canning jars with the mixture, taking extra care to de-bubble the jars as the mixture will be thick. Leave 1-inch headspace.
Canning Pie Fillings
For most home canned pie fillings, the canning instructions are the same. Be sure to refer to your specific recipe, as some recipes have slightly different times.
Cap the jars with 2 part canning lids and twist on rings to finger tight. Process in a water bath canner for 30 minutes, adjusting for altitude. Canning times are the same for pints and quarts.
Altitude adjustments are as follows:
0 to 1,000 Feet in Elevation: 30 minutes

1,001 to 3,000 Feet in Elevation: 35 minutes
3,001 to 6,000 Feet in Elevation: 40 minutes
Above 6,000 Feet in Elevation: 45 minutes
(There are a few meat based recipes at the very end, and that one must be processed in a pressure canner because they contains actual meat. Mincemeat and pot pie fillings with meat cannot be processed in a water bath canner. Likewise, low acid vegetables require a pressure canner too. That's the exception, and all the other fruit pie filling canning recipes are done in a water bath canner.)
Pie Filling Recipes for Canning
There are only 4 "official" pie filling recipes for canning put out by the extension services. That includes recipes for canning apple, peach, cherry, and blueberry pie filling. You'll find them listed in dozens of canning books and handouts from the USDA and other extension services.
The University of Washington Extension Service expanded on these original recipes with their own research, and now there are pie-filling canning recipes for more than a dozen different fruits. From their instruction handout:
"You can prepare and can other fruit pie fillings besides the four listed in the handout. Those fruits that you can also prepare into fillings include:
Apricots, Nectarines, Pears, Plums, Prunes,

Rhubarb

— use directions for Peach Pie Filling.
Blackberry, Currant, Gooseberry, Huckleberry, Loganberry, Raspberry, Strawberry — use

directions for Blueberry Pie Filling.

"
By "use instructions for" they mean the relative amounts of fruit, clear jel, water/juice and lemon juice. The actual preparation of strawberries for canning in pie filling is pretty different from peaches; you're not peeling strawberries, of course.
It can be helpful to have a specific recipe to follow for each fruit, even if you are "just using the instructions for" either blueberry or peach pie filling.
Beyond these fruit pie filling canning recipes, there are also approved canning instructions for old-fashioned green tomato pie filling and mincemeat pie filling, as well as pressure canning recipes for meat pot pie fillings.
I'll take you through each of them one by one.
Apple Pie Filling
The apple pie filling canning recipe work with any type of apple, though I'd suggest seeking out the best pie apples, which are the types that hold their shape when cooked rather than sauce apples.
Crab apple pie filling works too, if you have crab apples big enough chop and remove the seeds. Some varieties of crab apples are really just small apples, and they'd work wonderfully as a pie filling. Peeling is optional, and you can keep the peels on if you'd like.
Beyond canning apple pie filling, you can also just can apple slices as they are. To make a pie, just drain the jar (reserving the liquid) and then thicken the liquid with cornstarch or flour before adding it to the pie crust with the apple slices.
Besides pie filling, there are literally dozens of apple canning recipes to try, so don't limit yourself to just one or two recipes.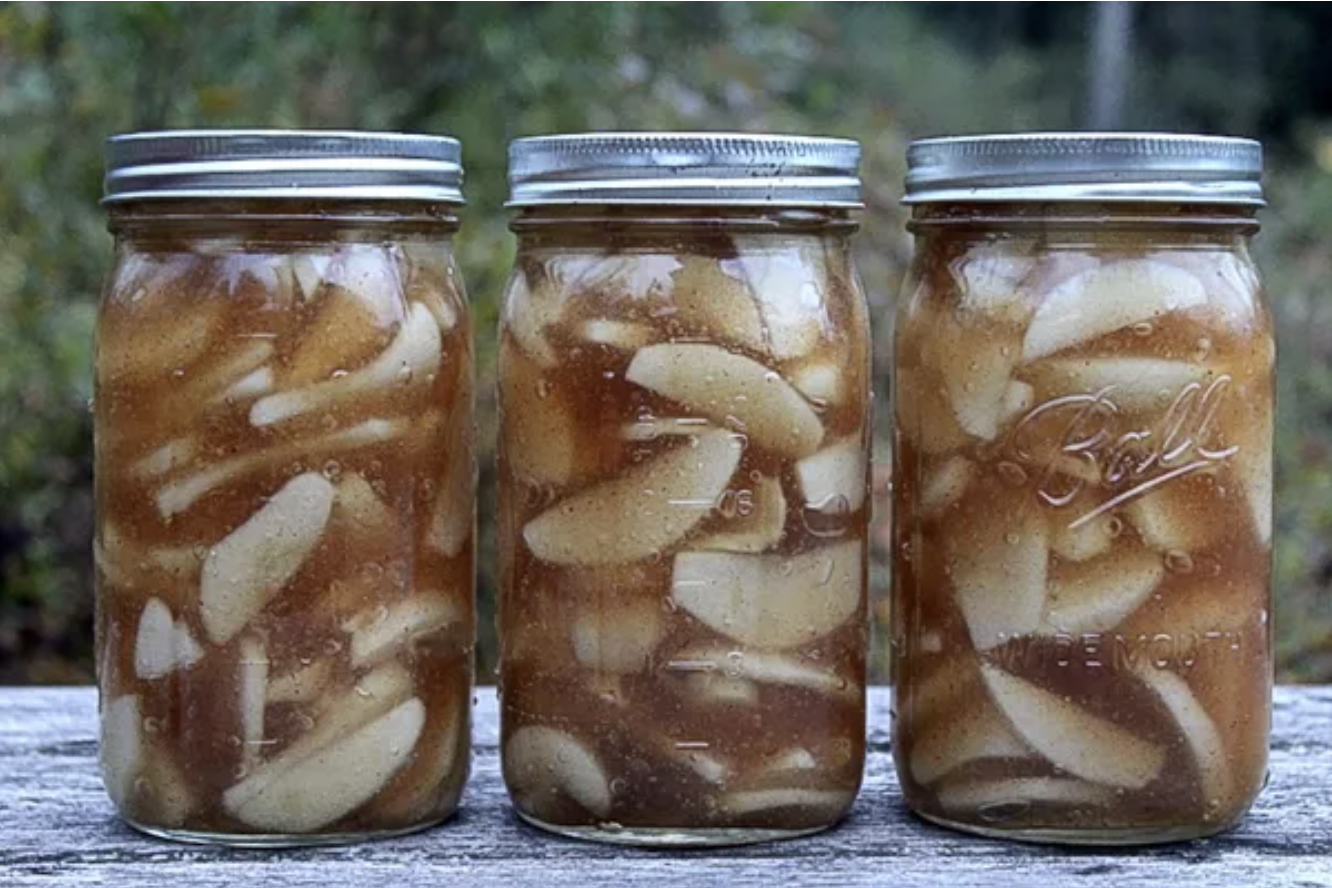 Blueberry Pie Filling
The blueberry pie filling canning recipe is actually the master pie filling canning recipe for most other berries, including Blackberry, Currant, Gooseberry, Huckleberry, Loganberry, Raspberry and Strawberry.
While the recipe is the same, some of the fruits require slightly different preparation. Gooseberries, for example, require tops and tails to be removed. Strawberries are sliced, etc.
Here are specific canning recipes for each of those fruits.
Huckleberry Pie Filling (Coming soon)
Loganberry Pie Filling (Coming soon)
Cherry Pie Filling
Cherries are a bit different than many of the other pie filling recipes on this list, as they need to be pitted. The recipe also has you freeze them so they release some of their own juice.
That allows you to can cherry pie filling in it's own juice, resulting in a much better flavor.
You can use any type of cherry, including black cherries and rainier cherries. We grow pie cherries here in the northeast, also known as sour cherries or tart cherries, so that's what we make into pie filling (they're the most flavorful anyway).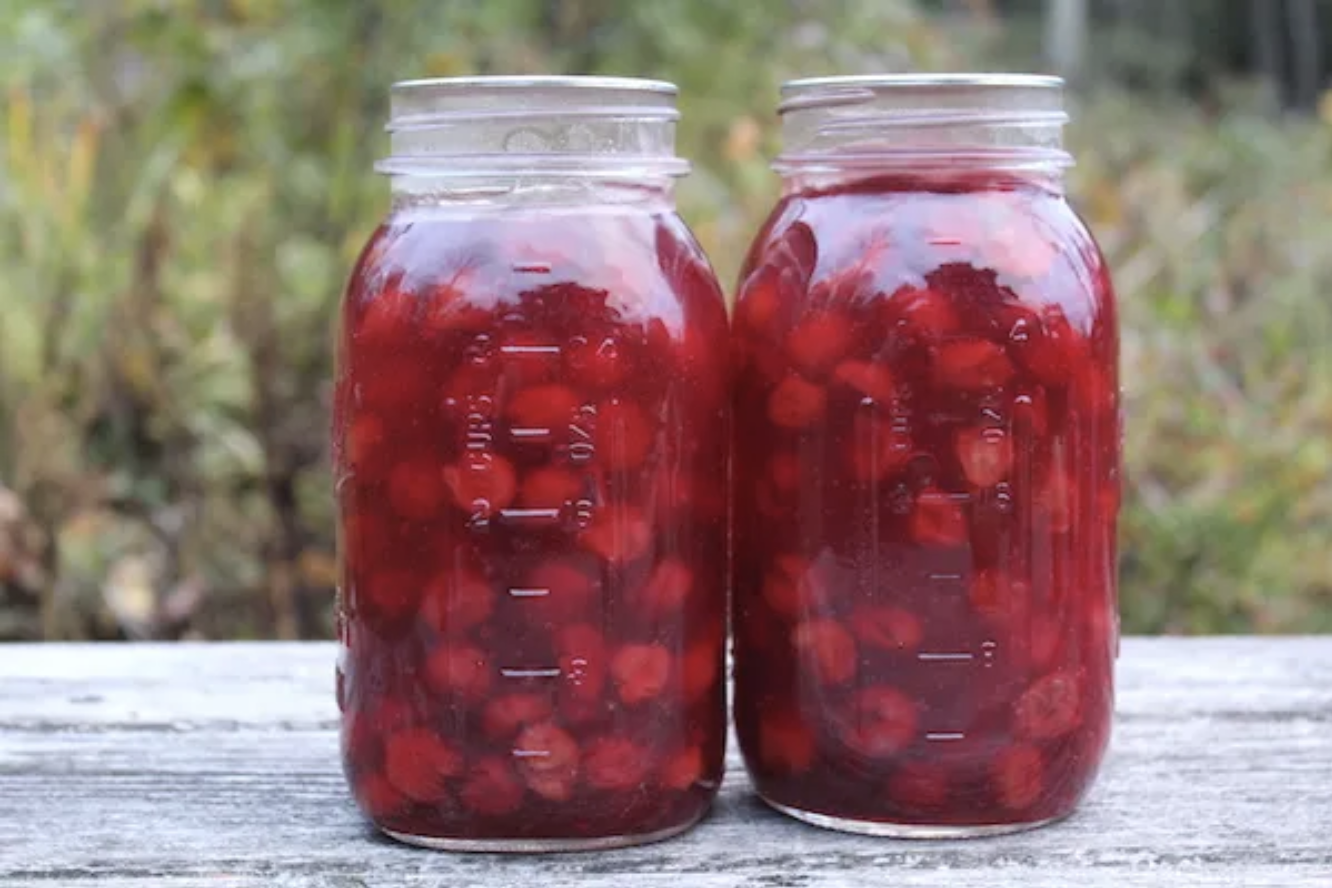 Peach Pie Filling
Since peaches are one of the least acidic types of pie filling fruit, at least in terms of the four base recipes, they're used as the base recipe for other not so acidic fruits.
The recipe uses a lot of lemon juice, which works well with peaches, but can be a bit harsh with some of the fruits that use this base recipe.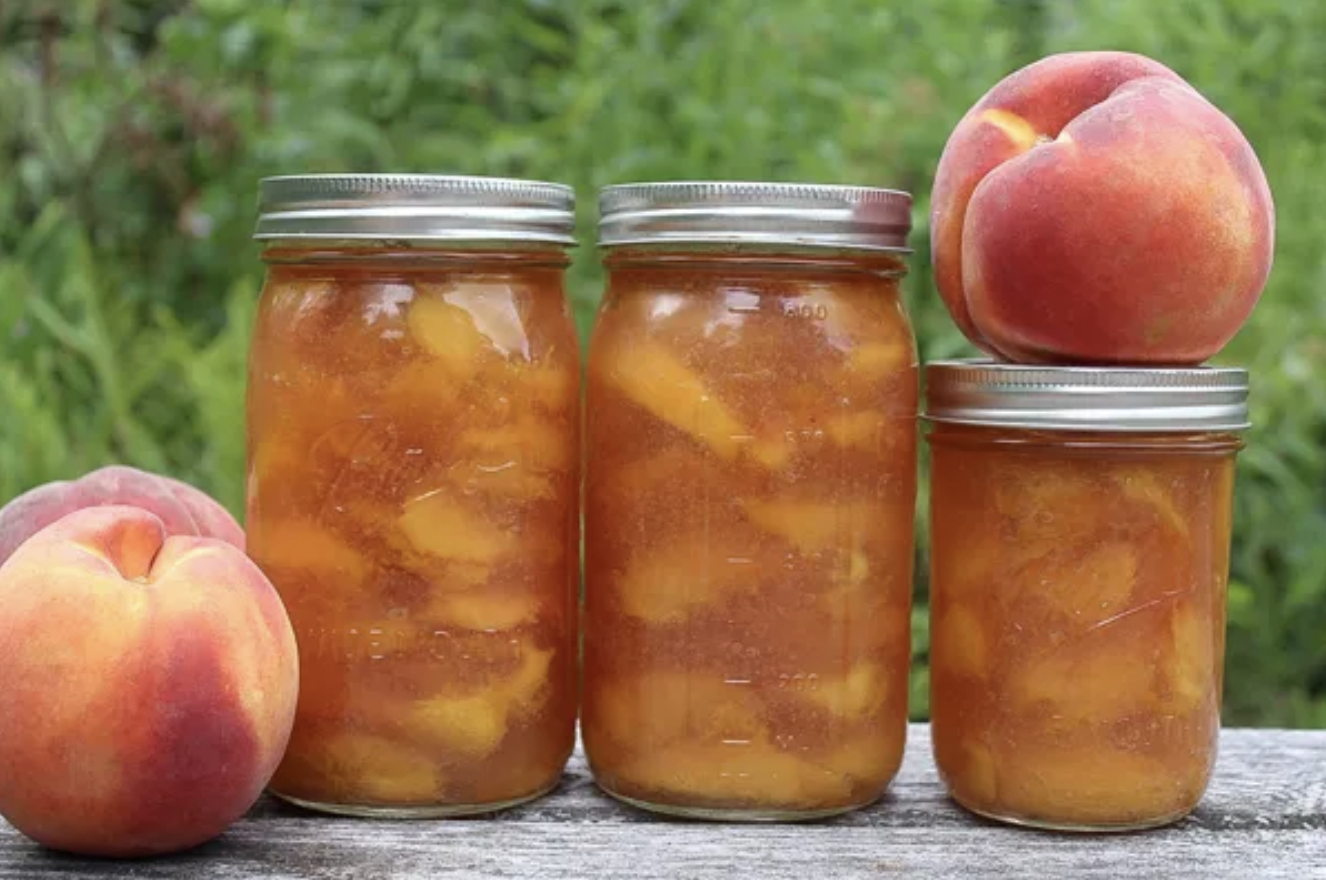 All that extra lemon juice results in a very tart pie filling with some fruits that are already quite acidic, like rhubarb. I wish they'd tested rhubarb with a lower amount of lemon juice so it could be used with the amounts in the blueberry pie filling recipe, since rhubarb is actually quite acidic even though it's technically a vegetable.
Pears actually have much less acidity than apples, so they're also canned as a pie filling using the peach base recipe, rather than the apple recipe.
Don't use Asian pears, as they're not acidic enough for canning. Likewise, don't use white peaches, as they're also not acidic enough for canning.
In any case, all of these pie filling recipes use the base recipe for canning peach pie filling:
Nectarine Pie Filling (coming soon)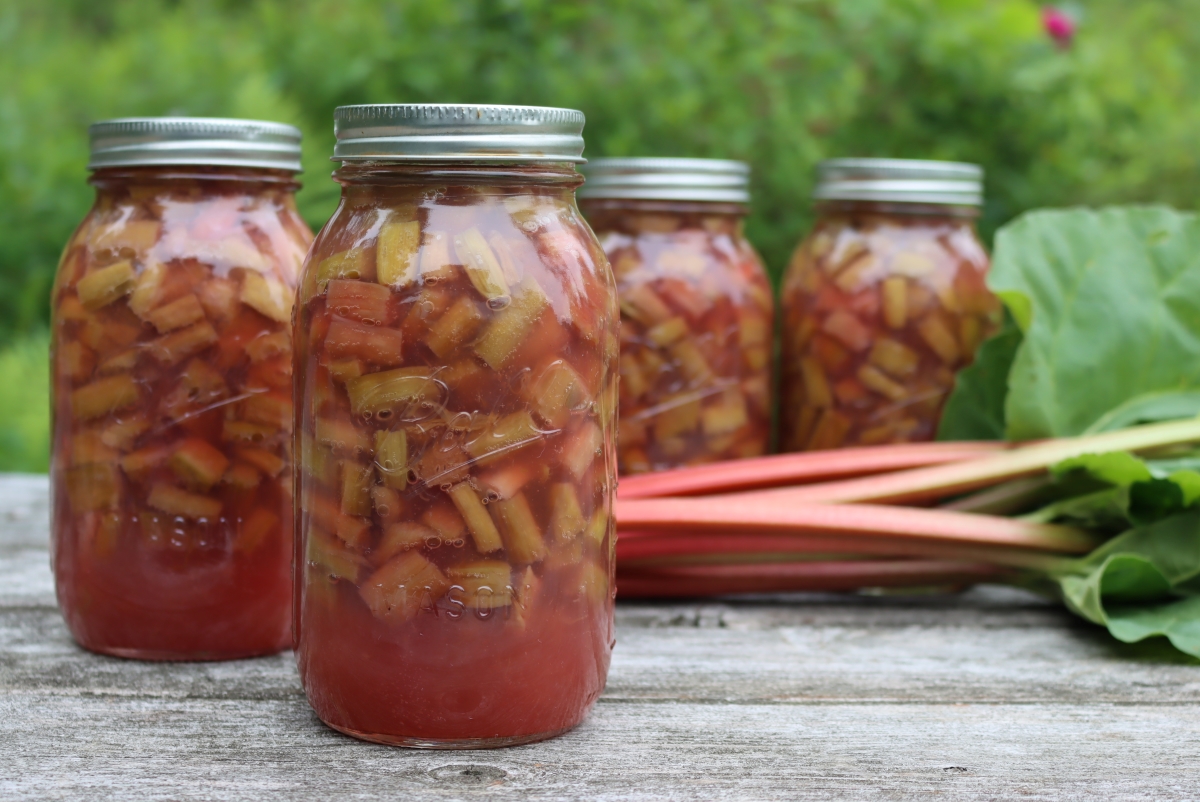 Canning Mixed Fruit Pie Fillings
If you are mixing fruit types, like in strawberry rhubarb pie filling, then you need to use the recipe with the greater amount of lemon juice. In this case, you'd use the "peach pie filling" recipe which is approved for rhubarb because it has more lemon juice than the blueberry base pie filling that's used for strawberry.
Ball canning has also developed a few tested recipes as well, and this cranberry pear pie filling is one such example:
But more commonly, mixed fruit fillings are usually mixed berry fillings that use the blueberry pie filling base recipe.
Pie Filling Recipes without Clear Jel
Most pie filling canning recipes use clear jel, but here are a few that I've found with other thickeners (like apples, or regular pectin). The Ball Book of Canning has a few more options beyond these, and I'll be testing those out later this summer:
Non-Fruit Pie Filling Recipes for Canning
Beyond all the fruit pie fillings, there are also a number of specialty pie filling recipes that bare mention.
Believe it or not, green tomato pie is an old time favorite, and it's made without added pectin since green tomatoes are high in pectin. That's a sweet pie recipe for dessert, and it's water bath canned.
The others involve meat, and they must be pressure canned.
Ways to Preserve Fruit
Looking for more ways to preserve fruit?