Pickled cauliflower is a perfect match for warm curry spices, and it's unbeatable on a charcuterie board.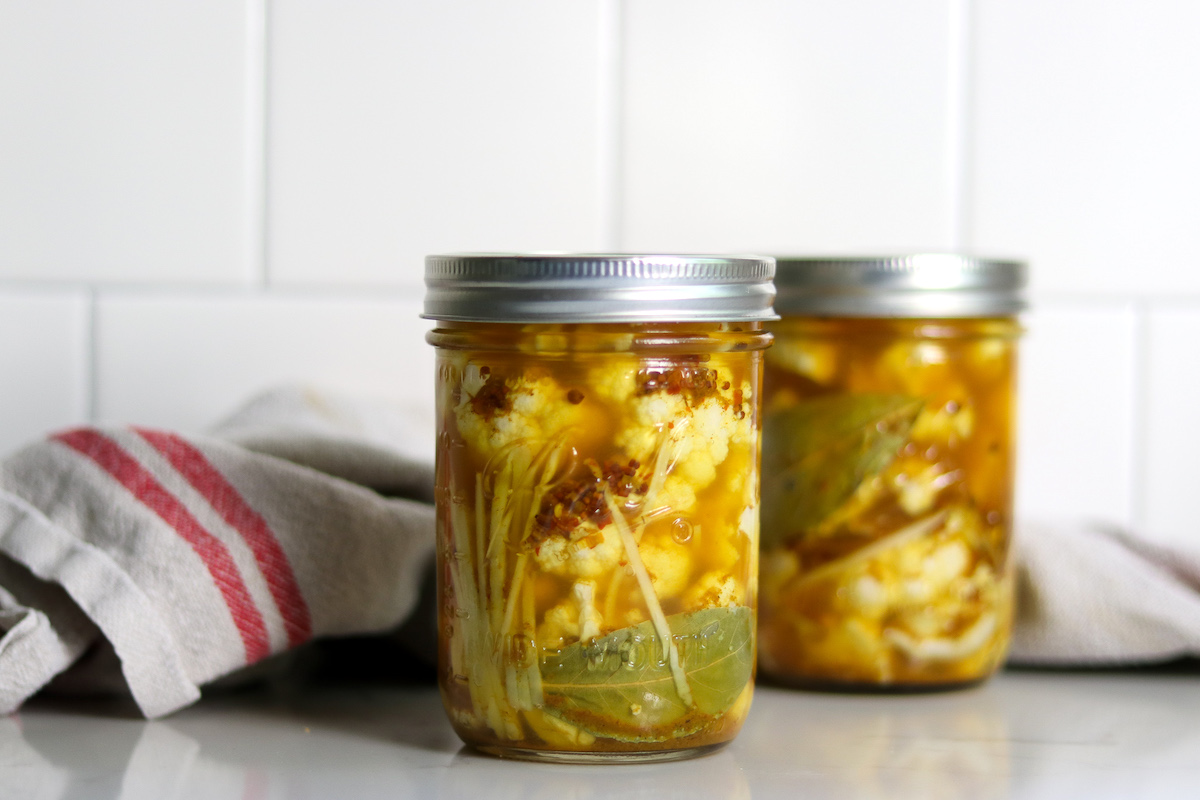 With its crisp texture and mild, nutty flavor, cauliflower is an ideal (yet under-utilized, in my opinion) candidate for pickling. This recipe features a bright yellow brine packed with warm spices (think curry powder, turmeric, and ginger to name just a few), which transforms an ordinary head of cauliflower into a beautiful pickle for any cheese or charcuterie board.
Another thing I love about this recipe is the fact that it makes a small batch, so the prep is extremely quick—I find I can get all my ingredients prepped, assembled, and ready for canning in under 20 minutes.
And speaking of canning, the instructions are a cinch and make use of a hot water bath canner; no pressure canner required.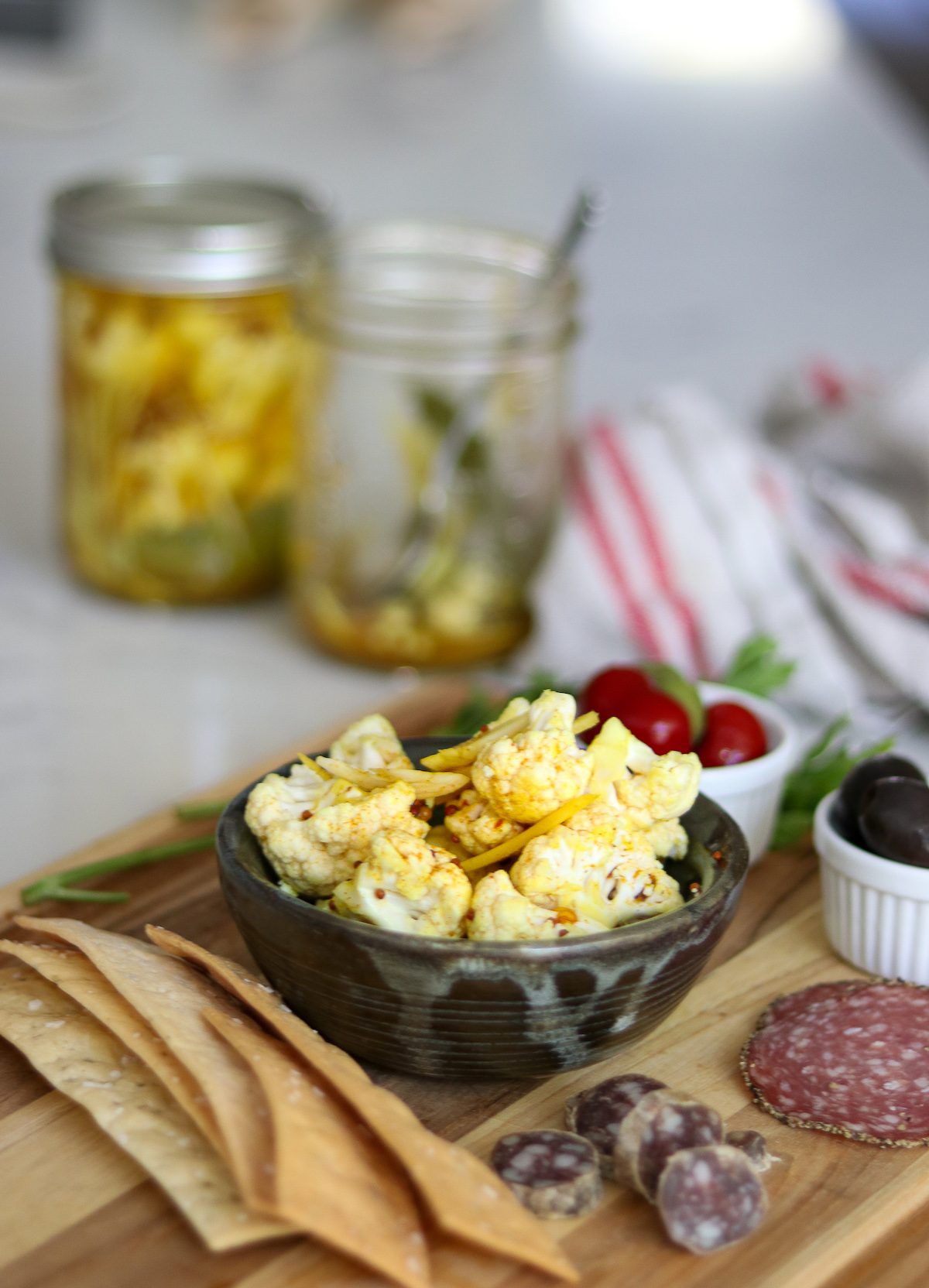 Ingredients for Pickled Curry Cauliflower
The ingredient list for pickled curried cauliflower might appear long at first glance, but most of the ingredients listed below are common spices and aromatics you likely already have in your pantry (and are readily sourced, if not).
For this recipe you'll need the following ingredients:
White wine vinegar (choose one with at least 5% acidity)
Sugar (white sugar or cane sugar)
Curry powder
Turmeric powder
Coriander seeds
Brown mustard seeds
Red pepper flakes
Garlic cloves
Fresh ginger
Bay leaves
Cauliflower*
*I typically use white cauliflower when I make this recipe, but you can also opt for purple, orange, or green (also known as broccoflower) cauliflower if you can find it!
This recipe makes enough pickled cauliflower for two one-pint jars or four half-pint jars. It can be doubled or tippled if you'd like a bigger batch.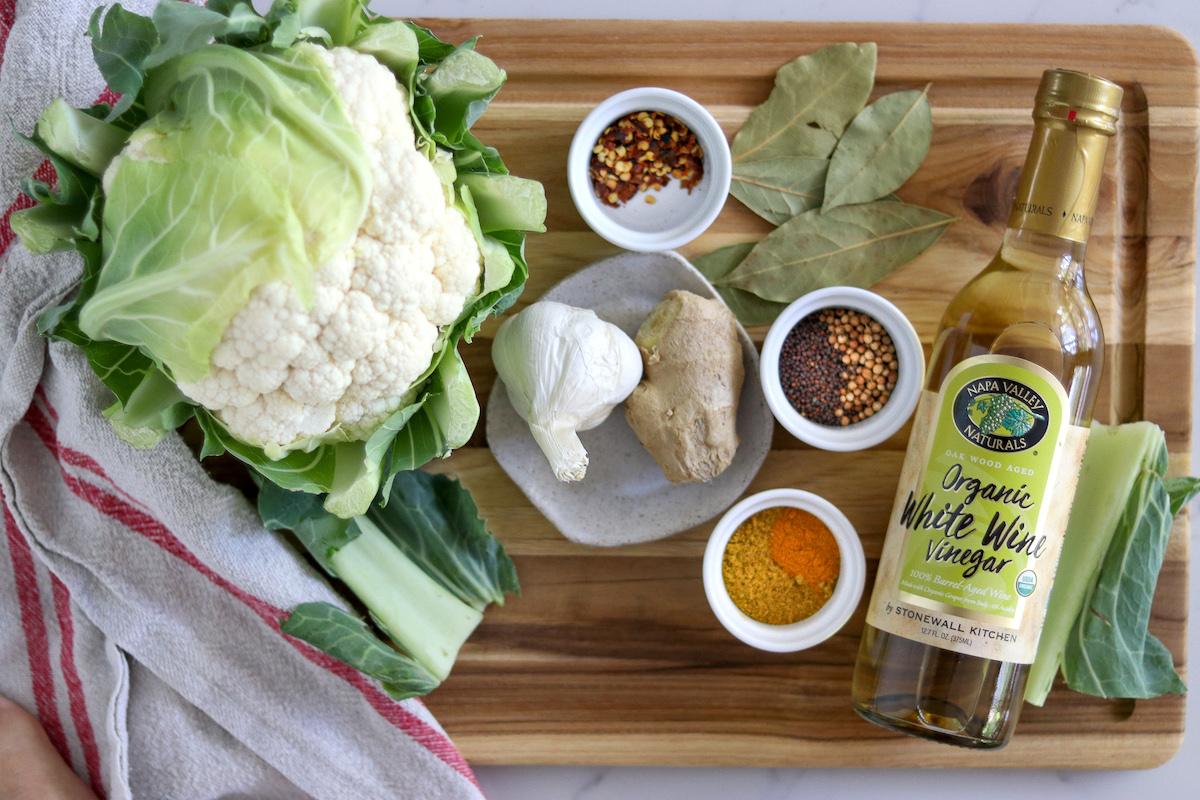 How to Make Pickled Curry Cauliflower
Prepare a water bath canner and jars and two-part lids for canning.
Using a sharp paring or chef's knife, cut the cauliflower into small, bite-sized florets (or cut into larger pieces and break apart into small florets with your hands). Peel and cut 5 cloves of garlic into thin slices.
Peel the ginger and slice into long, thin matchsticks (if the ginger is very fresh, just scrub the skin cut into matchsticks—no need to peel).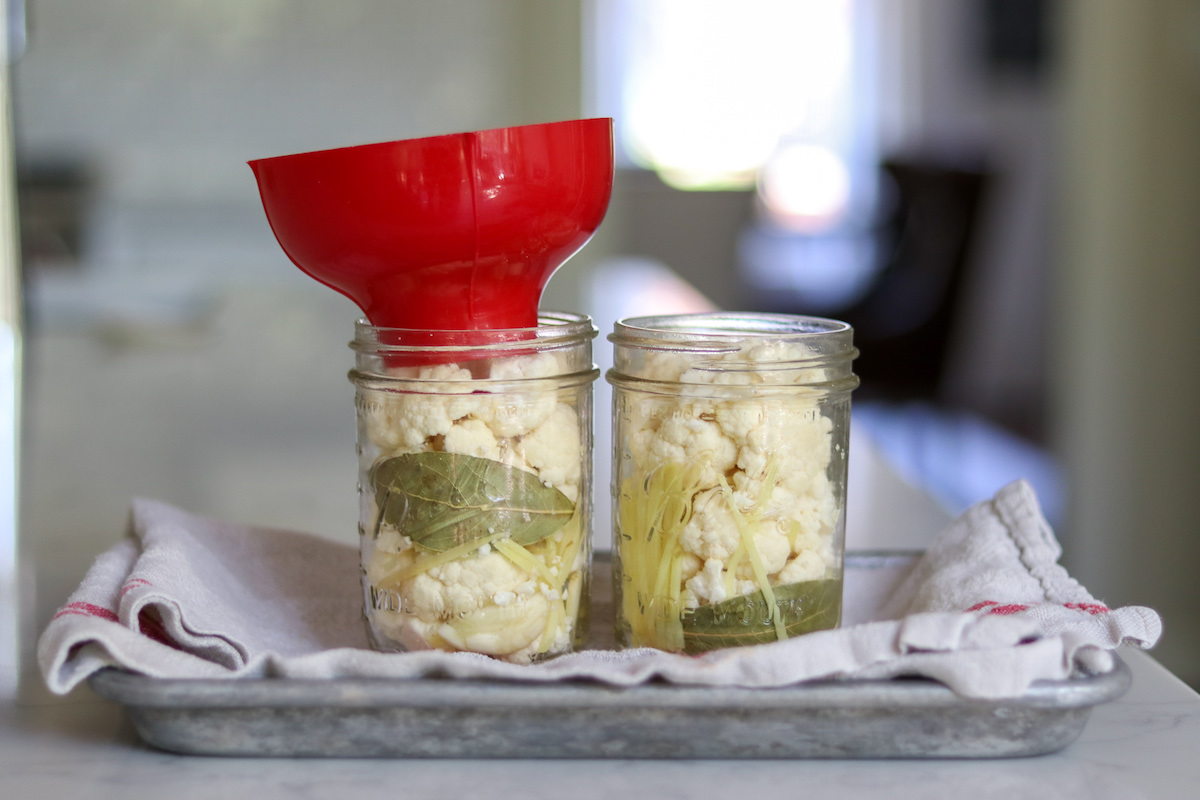 In a medium-sized saucepan, add 1 1/2 cups of white wine vinegar, 1 1/2 cups of water, 2 tablespoons of white or cane sugar, 2 teaspoons of curry powder, 1/2 teaspoon turmeric powder, 1 1/2 teaspoons of pickling salt, and 1 teaspoon each of coriander seeds, brown mustard seeds, and red pepper flakes (feel free to cut down on the red pepper flakes if you've chosen a curry powder that already packs quite a bit of heat).
Bring the brine to a boil, stirring to incorporate all of the ingredients. Once the mixture reaches a boil, turn off the heat and remove the saucepan from the burner. Set the brine aside.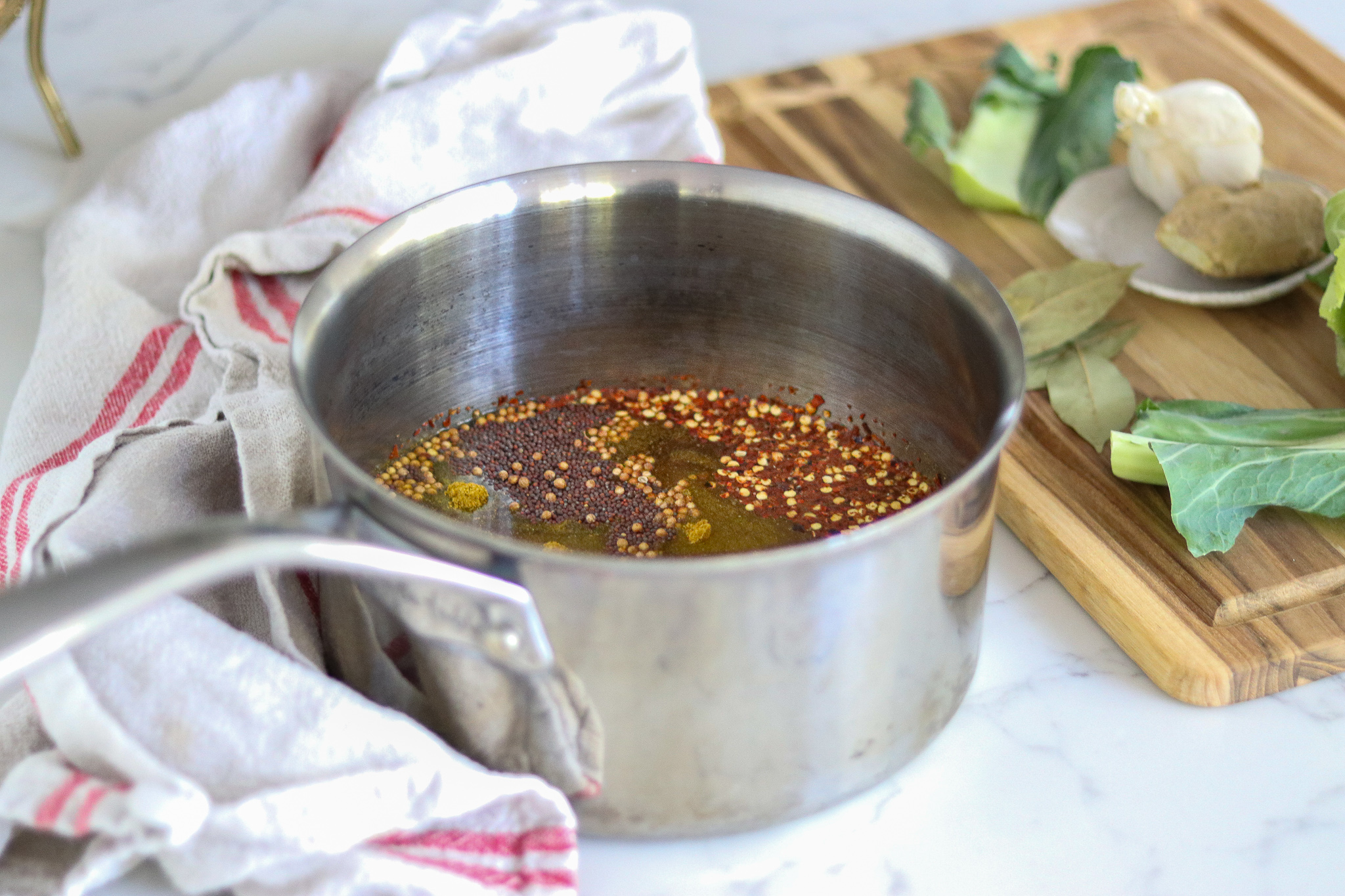 Divide the cauliflower florets between two one-pint jars or four half-pint jars, adding equal parts sliced garlic and ginger.
Add a bay leaf to each jar (or half a bay leaf if using half-pint jars).
Pack the ingredients tightly so each jar is completely filled.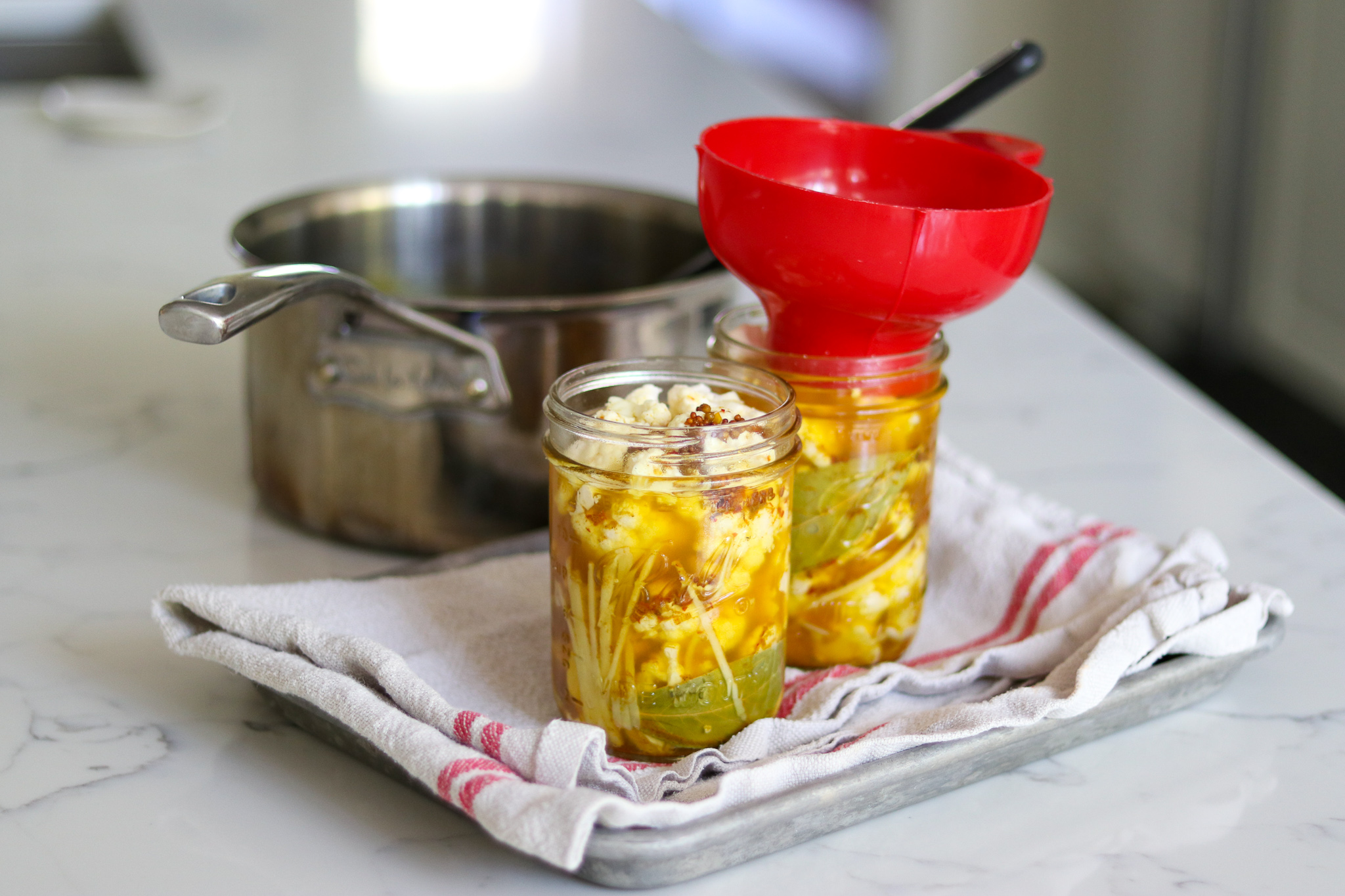 Carefully pour the hot brine over the cauliflower, garlic, and ginger mixture. Leave a 1/2-inch headspace at the top (I like to use this canning funnel, which has a headspace measure built in).
Use a wooden skewer to remove any bubbles or air pockets, readjusting the brine to fulfill the correct headspace if necessary.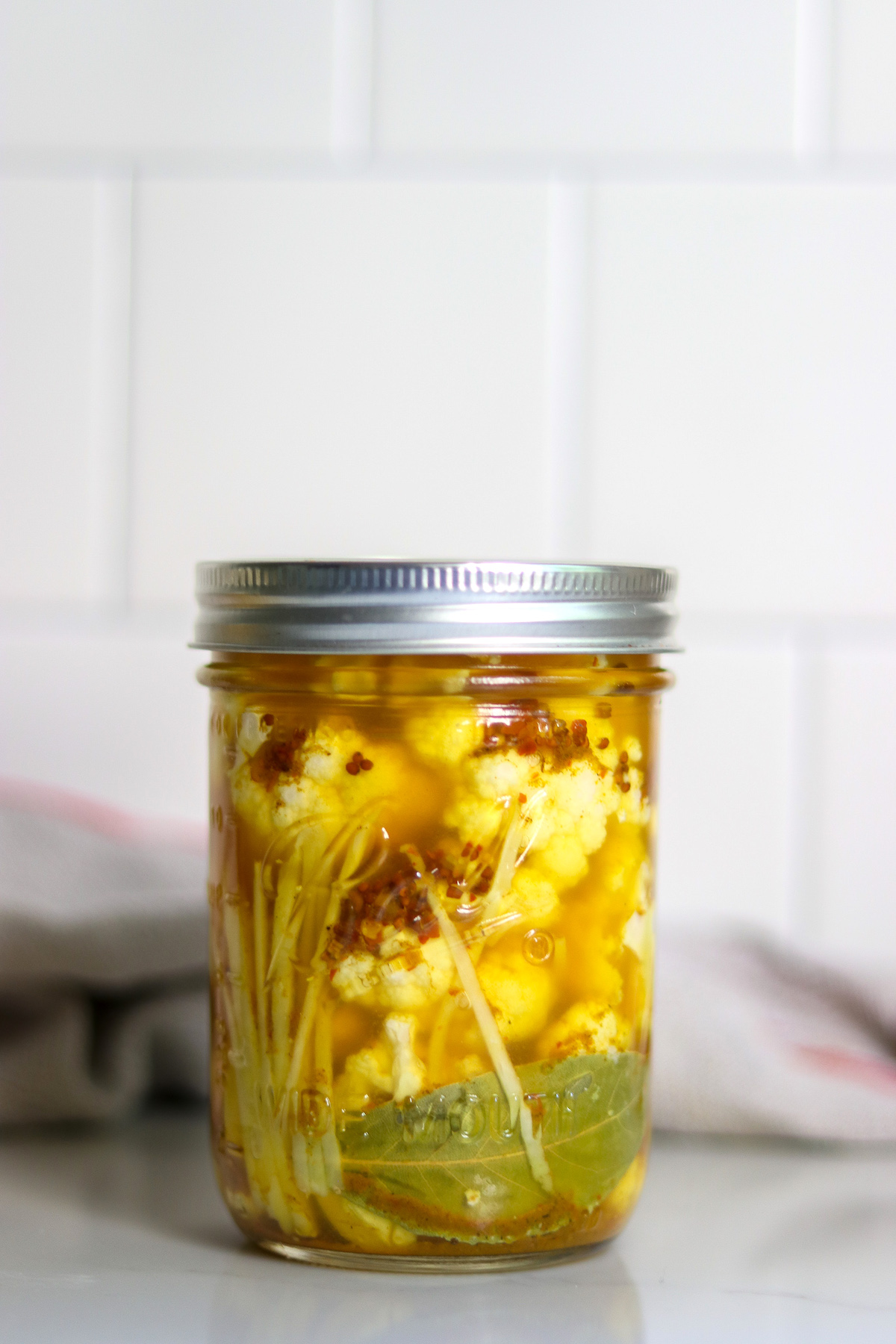 Use a clean dish towel to wipe the jar rims clean before covering with two-piece lids, screw the bands until finger-tip tight.
Wipe the jars and lids one more time before proceeding to canning instructions.
Canning Pickled Curry Cauliflower
Carefully place jars in a prepared water bath, making sure each jar is covered by 1 to 2 inches of water. Cover the water bath canner and bring the water up to boiling.
Process the jars for 15 minutes (if you're canning at a higher altitude, this time might need to be adjusted).
When the timer goes off, turn off the heat and let the jars sit in the hot water for an additional 5 minutes. Transfer the jars to a clean tea towel and let them cool completely (about 12 to 24 hours depending on the size of the jar).
When the jars have cooled, check the lids to make sure they have been sealed correctly. If the seal springs back when pressed, the jar should be transferred to the refrigerator and used within a couple of weeks.
Remove the band from properly sealed jars to use for another canning project. Store the canned pickled curry cauliflower in a cool, dark location for up to 12 months.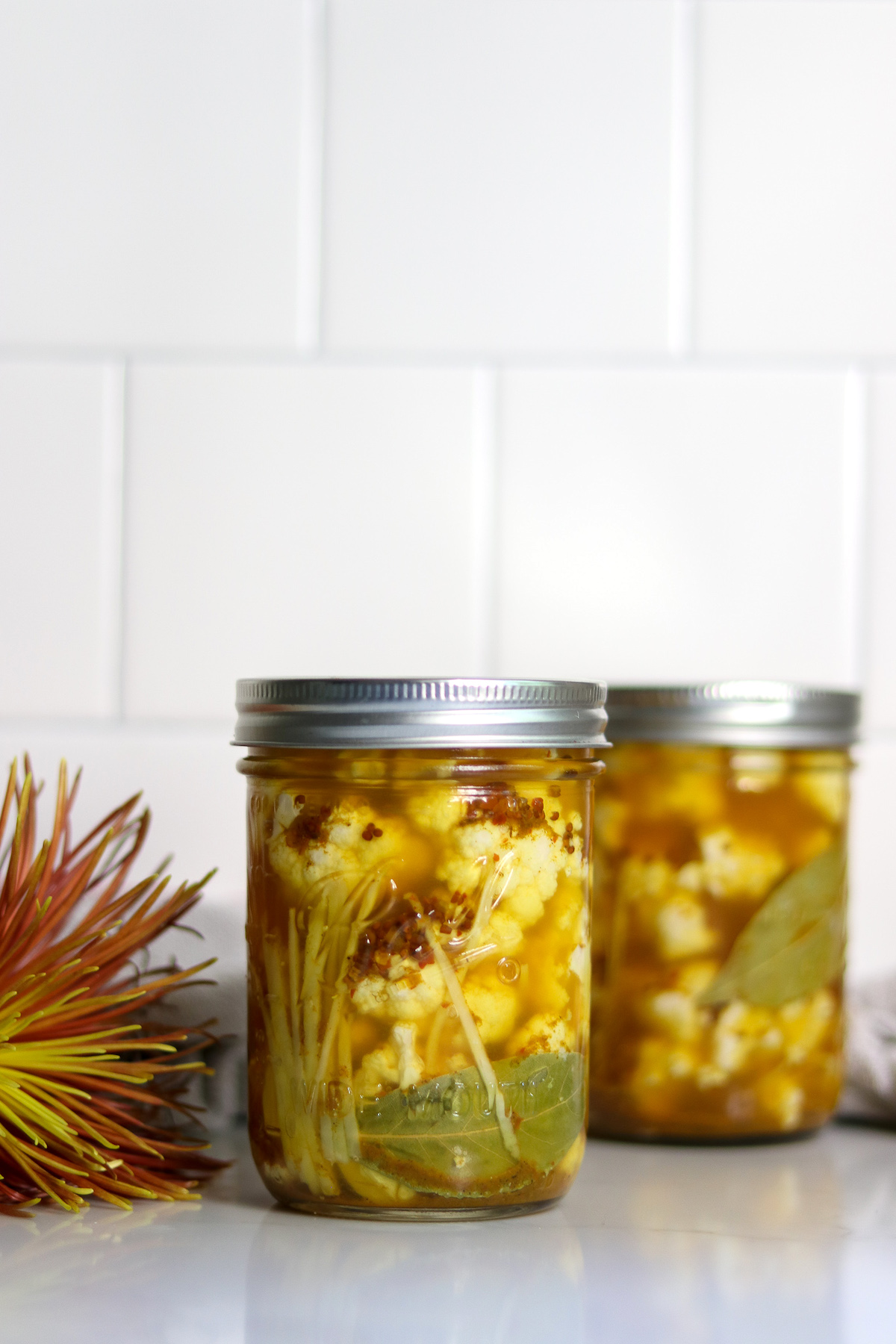 Serving Pickled Curry Cauliflower
Pickled curry cauliflower is always a hit when served with cheese and charcuterie, especially with strong or aged cheeses. I like to serve them in ramekins, but they're also gorgeous served right on the board. They also make a delicious bar snack, either with a cold beer or a dry martini (or any other favorite cocktail!).
Another great way to serve these pickled florets is to thinly slices them before tucking them into a grilled cheese sandwich. Of course, my family loves these so much that we're also very content to eat them right out of the jar with a fork, standing in front of the fridge!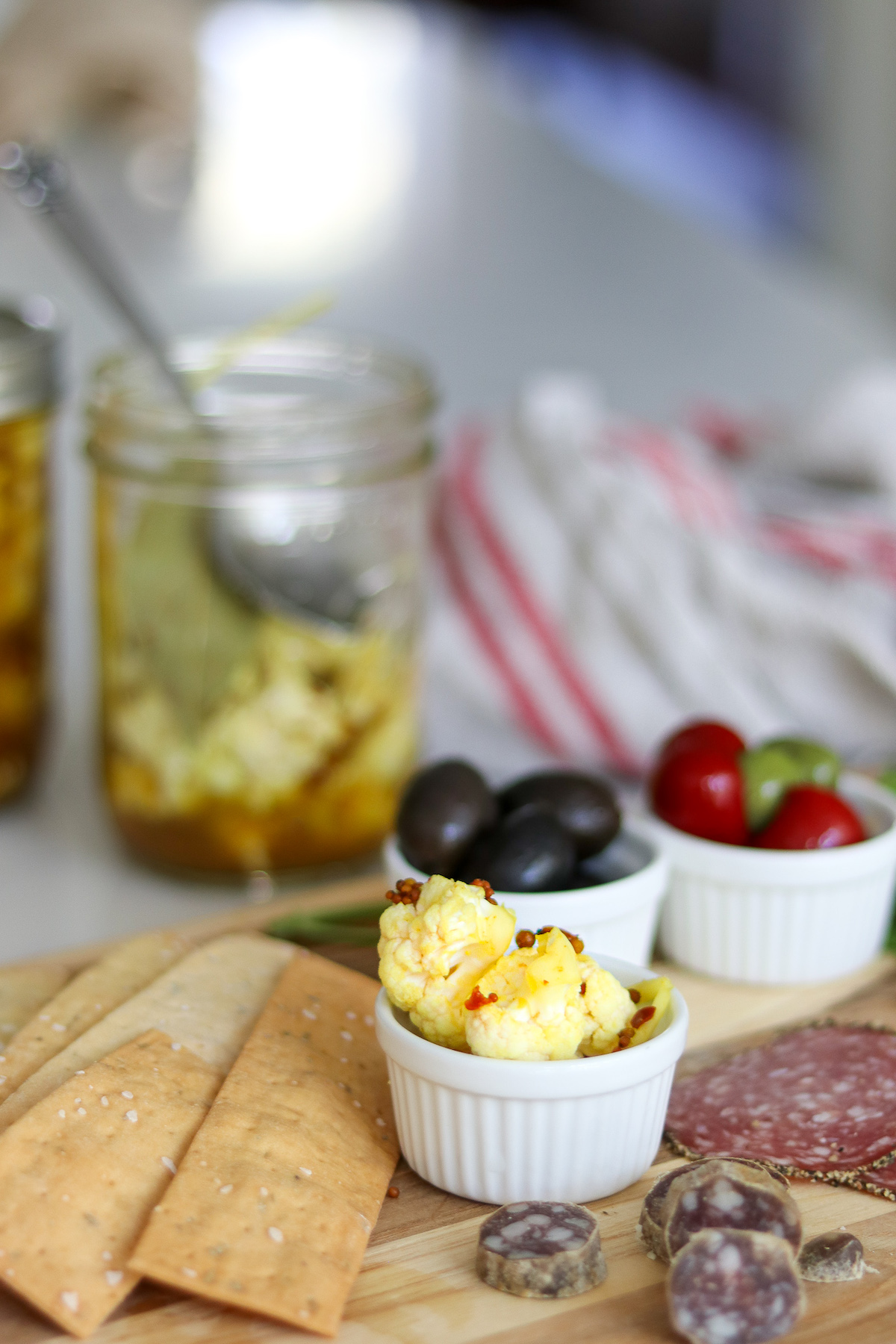 Cauliflower Canning Recipes
Looking for more canning recipes using cauliflower?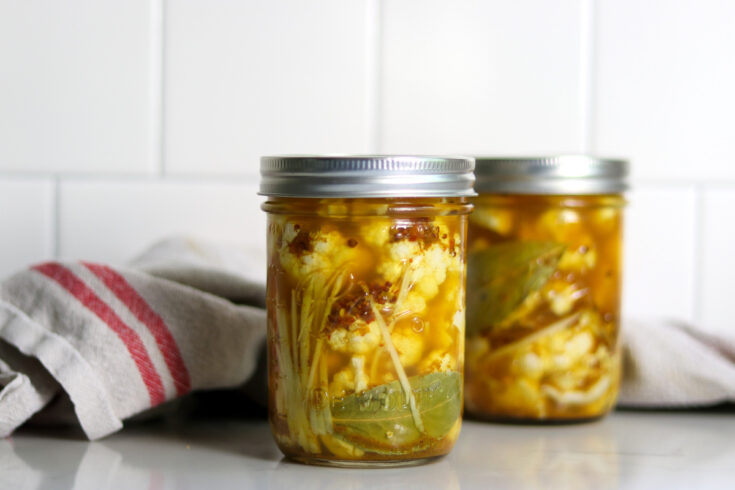 Yield:

2 (1-pint) jars or 4 (1/2-pint) jars
Pickled Curry Cauliflower
Additional Time:
15 minutes
A delicious and fast recipe for canned pickled curried cauliflower—perfect for cheese and charcuterie boards!
Ingredients
1 1/2 cups white wine vinegar (minimum 5% acidity)
1 1/2 cups water
2 Tbsp. sugar (white or cane sugar)
2 tsp. curry powder
1/2 tsp. turmeric powder
1 1/2 tsp. pickling salt
1 tsp. coriander seeds
1 tsp. brown mustard seeds
1 tsp. red pepper flakes
5 garlic cloves, peeled and thinly sliced
1" fresh ginger, cut into thin matchsticks
2 bay leaves
1 head of cauliflower, cut into small florets
Instructions
Prepare a hot water bath canner, jars, and two-piece lids.
Cut the head of cauliflower into small florets.
Combine white wine vinegar, water, sugar, curry powder, turmeric, pickling salt, coriander seeds, brown mustard seeds, and red pepper flakes in a medium-sized saucepan. Stir the ingredients together and bring to a boil. Turn off the burner and set aside.
Fill the prepared jars with cauliflower florets, ginger, garlic, and bay leaves (break bay leaves in half if using half-pint jars).
Carefully pour the hot brine over the cauliflower mixture, leaving 1/2" headspace at the top. Remove bubbles using a wooden skewer, adding more brine if necessary.
Cover the jars with two-lids and screw until finger-tip tight. Wipe the jar with a clean dish towel.
Process the jars in a hot water bath canner for 15 minutes. When the timer goes off, turn off the heat and let the jars sit for another 5 minutes in the hot water. Remove and let cool on a clean dish towel for 12 to 24 hours or until room temperature.
Check the seals of each jar, transferring any unsealed jars to the refrigerator. Store sealed jars in a cool, dry location for up to 12 months.
Pickling Recipes
Don't stop at cauliflower! Keep your pickle jars full with these easy pickling recipes…