Pickled cranberries are a delicious holiday side dish and an excellent tart replacement for traditional whole berry cranberry sauce.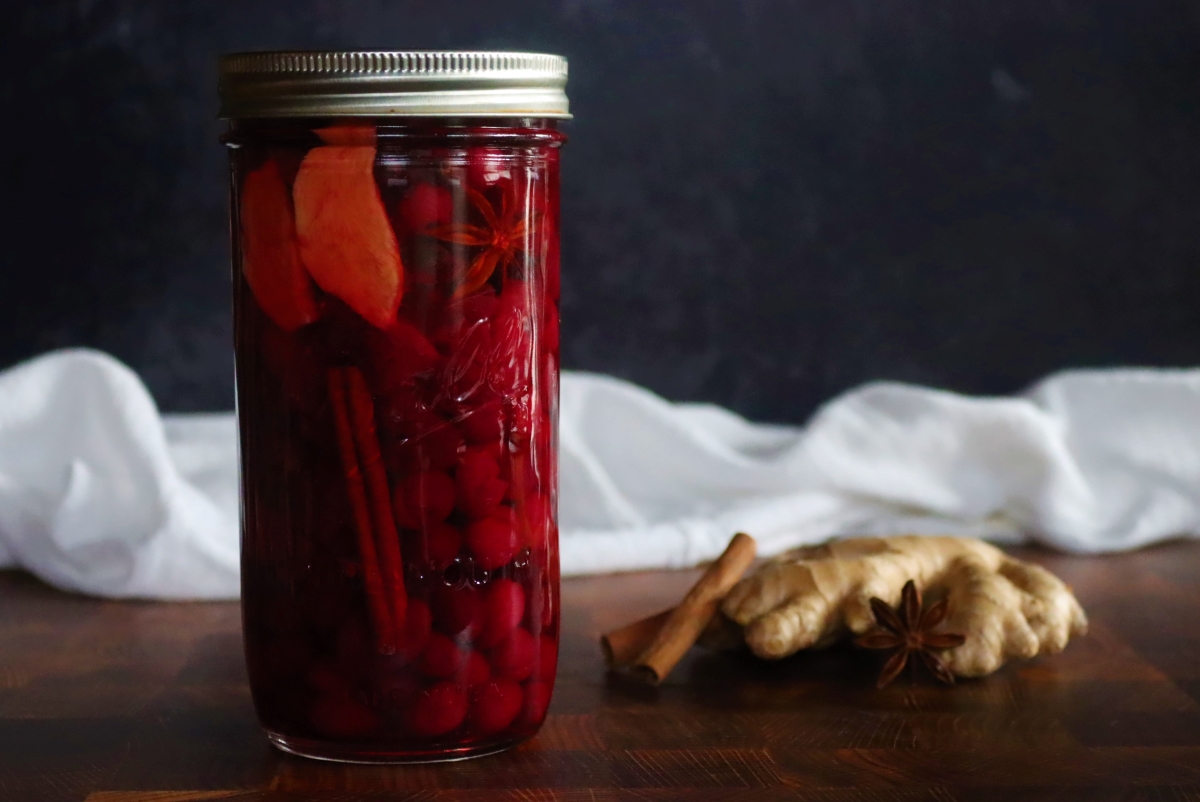 If you've never experienced the tangy, tart sweetness that is pickled cranberries, let me be the first to tell you how delicious they are, either served with meat or poultry, on a cheese and charcuterie board, or simply straight from the jar. Flavored with warming spices such as fresh ginger, cinnamon, and cloves, these pickles are as gorgeous as they are tasty.
The recipe and canning method I've outlined below is simple, requires very little prep, and makes four 1-pint jars, which means you can give the extras as beautiful homemade gifts (if you want to, I wouldn't begrudge you for keeping them all to yourself).
If you'd rather skip the canning process, no problem!
I've included instructions for making these cranberries into a quick fridge pickle that will last 4 to 6 weeks in the fridge, if they aren't eaten before then (and, in my house, that's what happens whenever I make them).
How to Make Pickled Cranberries
To make these pickled cranberries you'll need roughly 36 ounces of cranberries, which works out to 3 bags of cranberries if you're buying them from the store, or about 4 1/2 cups of cranberries total.
For the brine, you're going to combine 3 cups of cider vinegar, 3/4 cup of water, and 2 cups of sugar in a large saucepan. For the sugar, I like to use regular white sugar or maple sugar (or a mix of the two), the maple sugar adds extra depth of flavor without overwhelming the other ingredients.
Bring these ingredients to a boil and then add two cinnamon sticks directly to the boiling brine. This recipe also calls for fresh ginger, allspice berries, whole cloves, and whole black peppercorns, but these spices are gathered in a spice bag or in a length of cheesecloth before they're added to the brine, and are removed before canning.
*In my photos, you'll notice the cinnamon sticks and sachet spices are floating in the jar with the cranberries. I only keep them in if I want to display the pickled cranberries on the table during a special holiday dinner, and only if I'm serving the cranberries as a quick fridge pickle (and even in that case, they should be removed after a couple of days, as they'll develop a bitter or off flavor in the brine) Do not can the picked cranberries with the whole spices in the jar!
When the brine is boiling and the spices have been added, carefully stir in the cranberries. They'll need to be cooked for 5 to 7 minutes, or until they begin to pop and the water has returned to a boil. When the berries are done, remove the saucepan from the heat and fish out, and discard the cinnamon sticks and spice sachet.
At this point, you can divide the cranberries and brine into pint jars, let the contents of the jars come to room temperature, and then store in the fridge for 4 to 6 weeks. If you'd like to preserve them for a longer amount of time, I'll explain how to can the pickled cranberries using a water bath canner in the next section.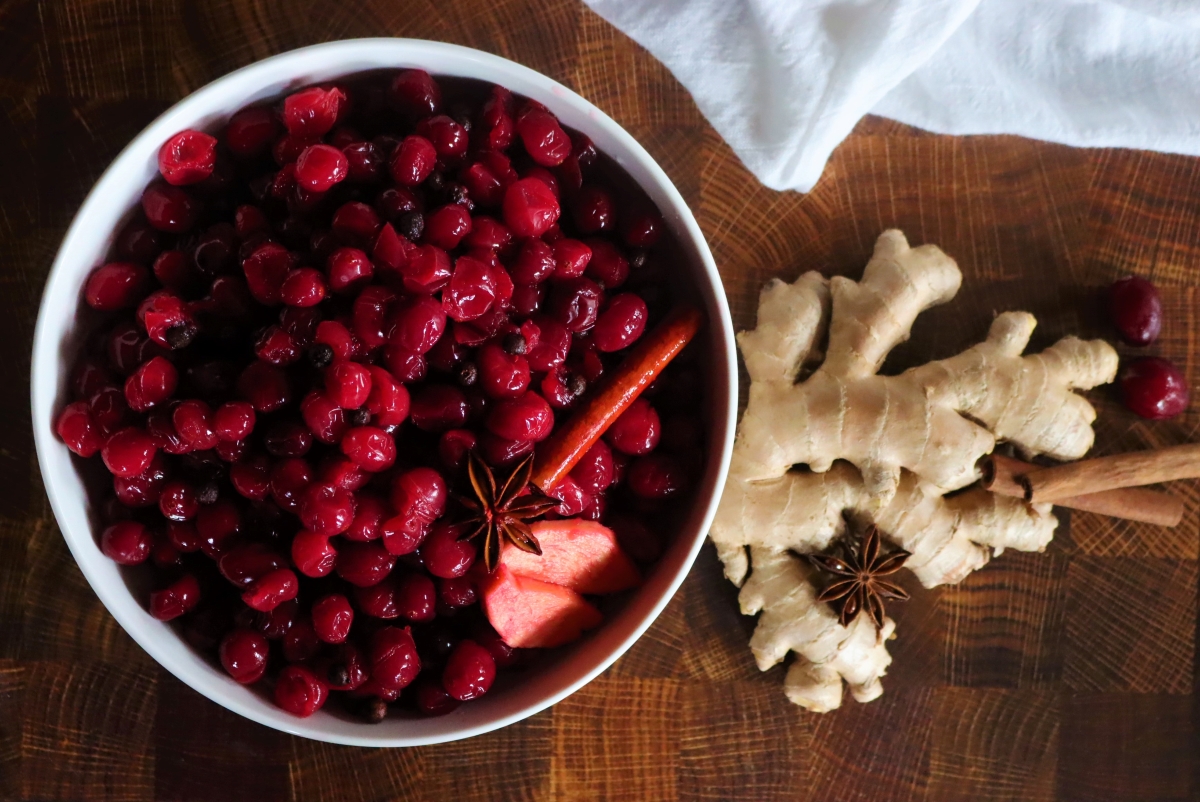 Canning Pickled Cranberries
If water bath canning is brand new to you or you need a refresher, my ultimate guide to water bath canning is a great place to start!
To get started, prepare a water bath canner, 4 pint-size jars, and 4 sets of two-piece canning lids.
Use a slotted spoon to divide the hot cranberries among the jars and cover with hot brine, leaving 1/2-inch headspace. Adjust the lids until fingertip tight and load the cans into the hot water bath canner and process for 10 minutes. When the timer goes off, give the jars 5 minutes before removing them from the water.
Give the canned pickled cranberries 12 to 24 hours to come to room temperature before checking to see if the lids have properly sealed. If in doubt, store the jar in the refrigerator and treat as a fridge pickle. Sealed jars should be stored in a cool, dark place.
*Reminder, do not can the pickled cranberries with the spices in the jar. The jar below is refrigerator pickles, which I displayed on my holiday table. Leaving whole spices in the canning brine like that for extended periods will result in bitter flavors. It's important to use a spice sachet when you're planning on canning this recipe, and remove all the whole spices before they go into the jars.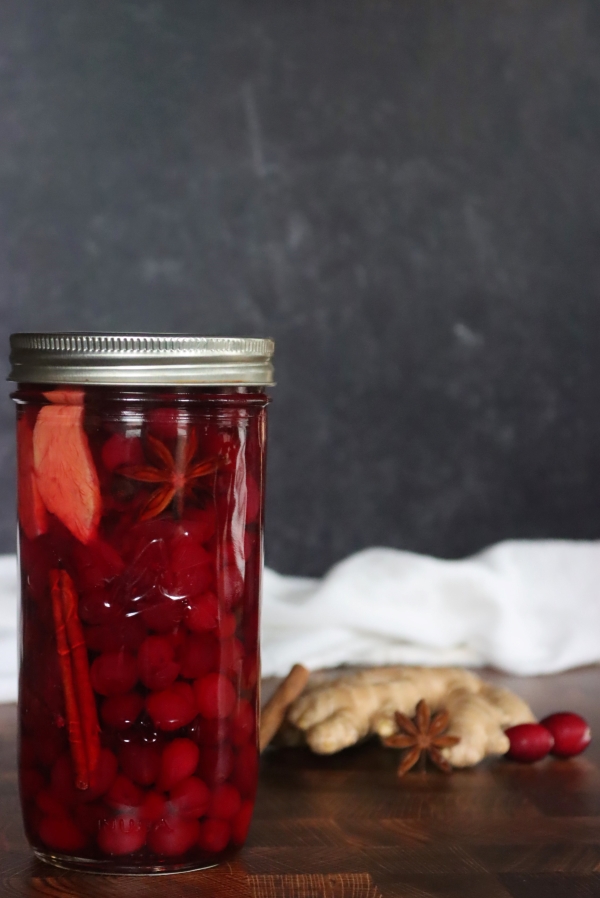 Ways to Use Pickled Cranberries
The most obvious and sure-fire successful way to use pickled cranberries is with meat and poultry. Roast beef, pork, turkey, chicken, and game are even more delicious when these cranberries are served as an accompaniment.
In my opinion, a cheese and charcuterie board, especially one with lots of strong cheeses, is where these cranberries really shine. I serve them as-is, either directly on the board or in a small dish, or I roughly chop the pickled berries and stir them into a good, strong mustard for an instant and delicious condiment inspired by Italian mostarda.
Another way to use pickled cranberries is in a salad, especially hardy grain salads that can sit and marinate for a couple of days. The sweet-tart brine is also delicious when added to a vinaigrette, especially when the dressing is used to top leafy green vegetables like kale or Swiss chard.
One of my favorite ways to use these pickles is in a cocktail. You can try making this festive dirty cranberry Gibson, which calls for pickled cranberries as well as a splash of the brine (which can also be used as a cocktail base or shrub in its own right).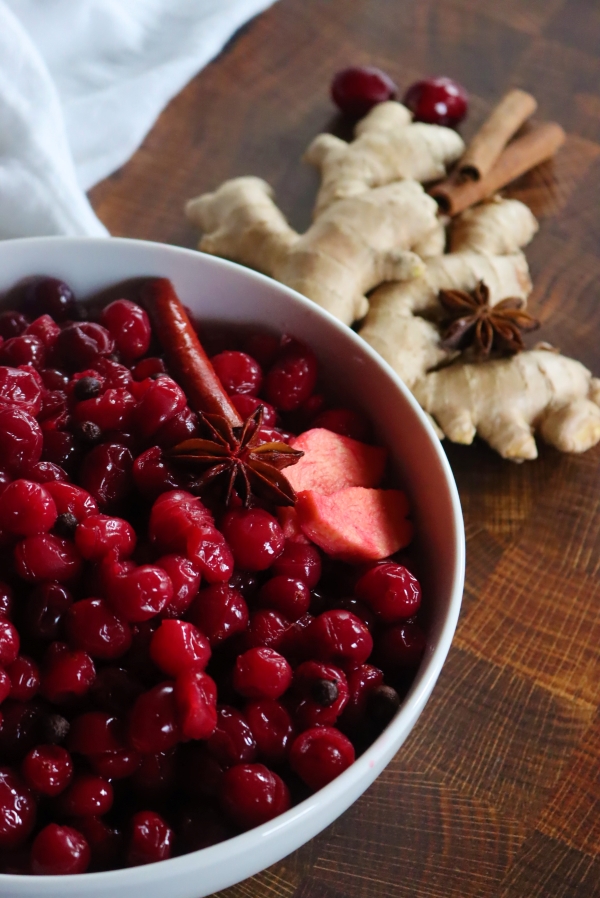 Ways to Preserve Cranberries
Looking for more ways to preserve cranberries?
Adapted from Marisa McClellan's book Naturally Sweet Food in Jars, the original recipe included coconut sugar as an alternative sweetener. Personally, I don't care for coconut sugar, but everyone's tastes are different.
White sugar works fine in this recipe, but I'd suggest using organic raw cane sugar for the best flavor. I've also made it with our homemade maple sugar, and that really compliments the cranberry spiced flavors wonderfully.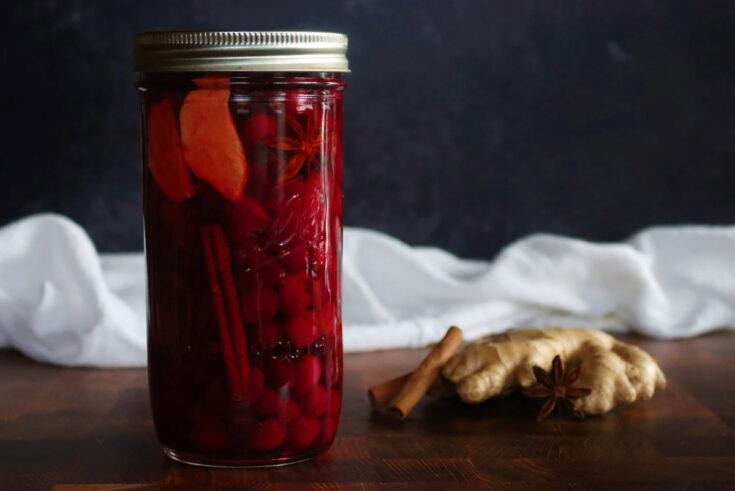 Yield:

4 (1-pint) jars
Pickled Cranberries
Canning Time (Optional):
10 minutes
These pickled cranberries are easy to make and full of tart-sweet flavor.
Ingredients
3 (12-ounce) bags of fresh cranberries
3 cups cider vinegar
3/4 cup water
2 cups white sugar*
2 cinnamon sticks
1 (1-inch) piece fresh ginger, thinly sliced
1 tsp. allspice berries
1/2 tsp. whole cloves
1/2 tsp. black peppercorns
Instructions
Prepare water bath canner, pint jars, and two-piece canning lids.
In a large saucepan, combine the vinegar, water, and sugar and bring to a boil. Add the cinnamon sticks.
Gather the ginger, allspice berries, whole cloves, and peppercorns in a spice sachet or in cheesecloth. Add to the brine.
Carefully stir in the cranberries and allow them to cook for 5 to 7 minutes or until they begin to pop and the brine is once again boiling.
When the timer has gone off, remove the cinnamon sticks and spice sachet. Discard the whole spices and sachet. Remove the saucepan from the heat.
Use a slotted spoon to divide the cranberries among 4 pint-size jars. Pour the brine over the cranberries, leaving 1/2 headspace at the top of each jar.
At this point, you can either let the contents of the jars come to room temperature before storing as a fridge pickle, or the jars can be processed in a hot water bath canner for 10 minutes.
Notes
*If I have it on hand, I also like to use maple sugar or a mix of maple sugar and white sugar when making pickled cranberries. The original recipe used coconut sugar, which I don't care for, but it works well if that suits your tastes.
Cranberry Canning Recipes
Looking for more easy cranberry canning recipes to fill up your mason jars?
Holiday Canning Recipes
Need a few delicious canning recipes for this festive time of year?