Love the taste of in-season watermelon but not the comparatively flavorless version found throughout the rest of the year? Try making this recipe for canned watermelon lemonade concentrate—you'll be able to feel the summer sunshine even on the darkest winter days!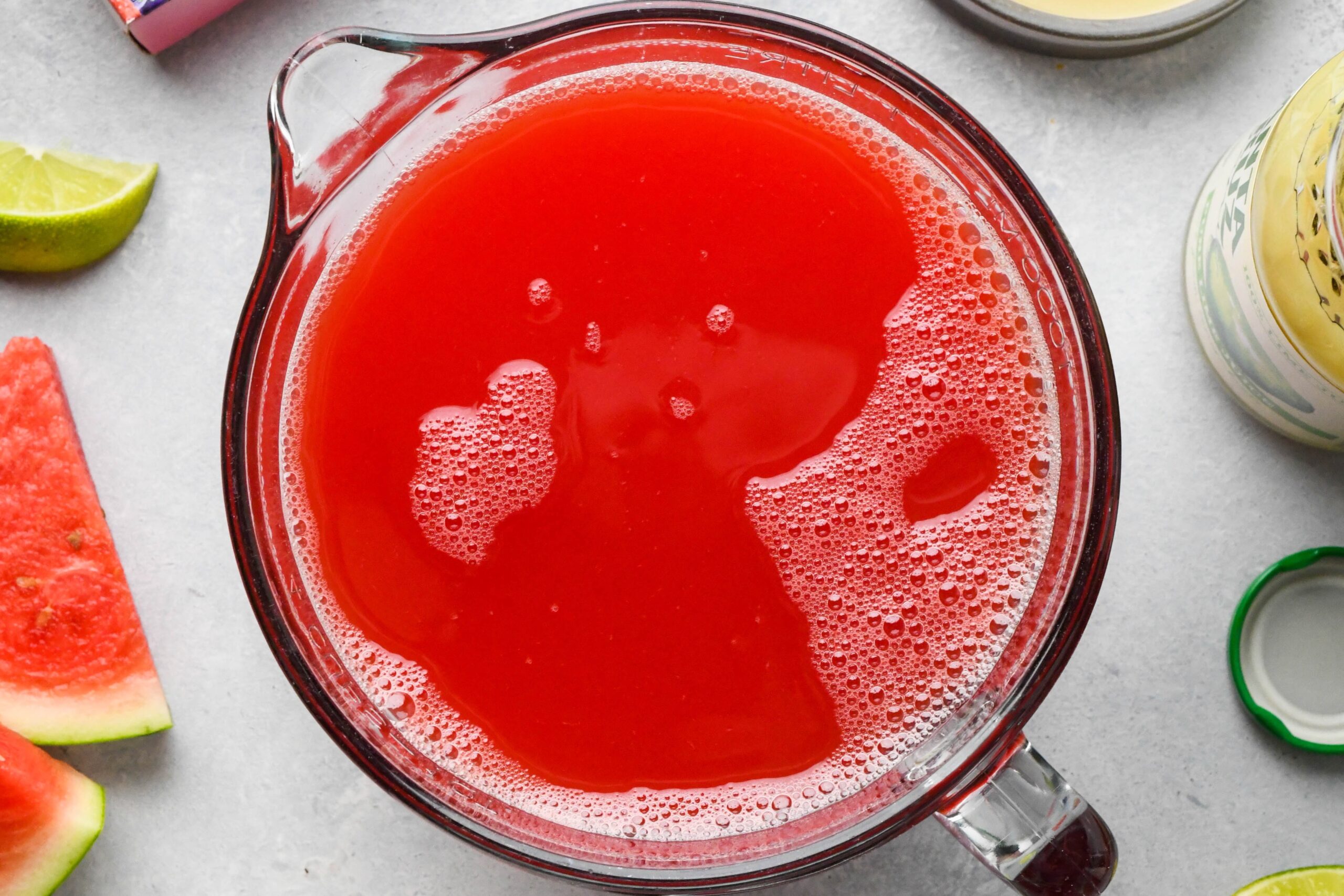 Enjoying decidedly summery flavors over the course of winter is just one of the many reasons I love canning seasonal produce, and this recipe for watermelon lemonade concentrate delivers in spades. Whether you're in the mood for a glass or an entire pitcher, this lemonade concentrate is packed with the taste of watermelon that's been picked at peak ripeness.
If you're interested in preserving other beverages that are perfect summer (or want to bring a taste of warm weather to a wintery day), check out this related recipe post to learn all about canning strawberry lemonade.
Is Watermelon Safe for Canning?
Watermelon has a pH of 5.2 to 5.6, which means it isn't considered safe for canning on its own. In order for fruit to be safe for canning, the pH level must be 4.6 or lower—in other words, fairly acidic. Thankfully, there's an easy workaround! Simply add citrus juice to the recipe (or vinegar, which isn't great for lemonade, but works fine if you're making watermelon pickles).
You'll need to add a fairly significant amount of citrus juice to this recipe to make it safe for canning, but good quality lemon and lime juice will help elevate the delicate flavor of watermelon rather than masking it. I strongly suggest using bottled citrus juice when canning for the sake of food safety and consistency.
In terms of my favorite options when it comes to bottled citrus juice, I always have great results when I use Santa Cruz organic lemon juice or Floribbean Key lime juice. This recipe calls for lemon juice, but you could always make an equally thirst-quenching limeade concentrate if you prefer the taste of lime with your watermelon.
Whether you choose to make your watermelon juice more acidic with lemon or lime juice, never decrease the amount of citrus juice called for in any canning list of ingredients as reliable recipes will have been tested for optimal food safety.
Making Watermelon Juice
This base of this recipe is, of course, fresh watermelon juice. We're going to make it by puréeing and straining enough fruit to yield 6 cups of juice.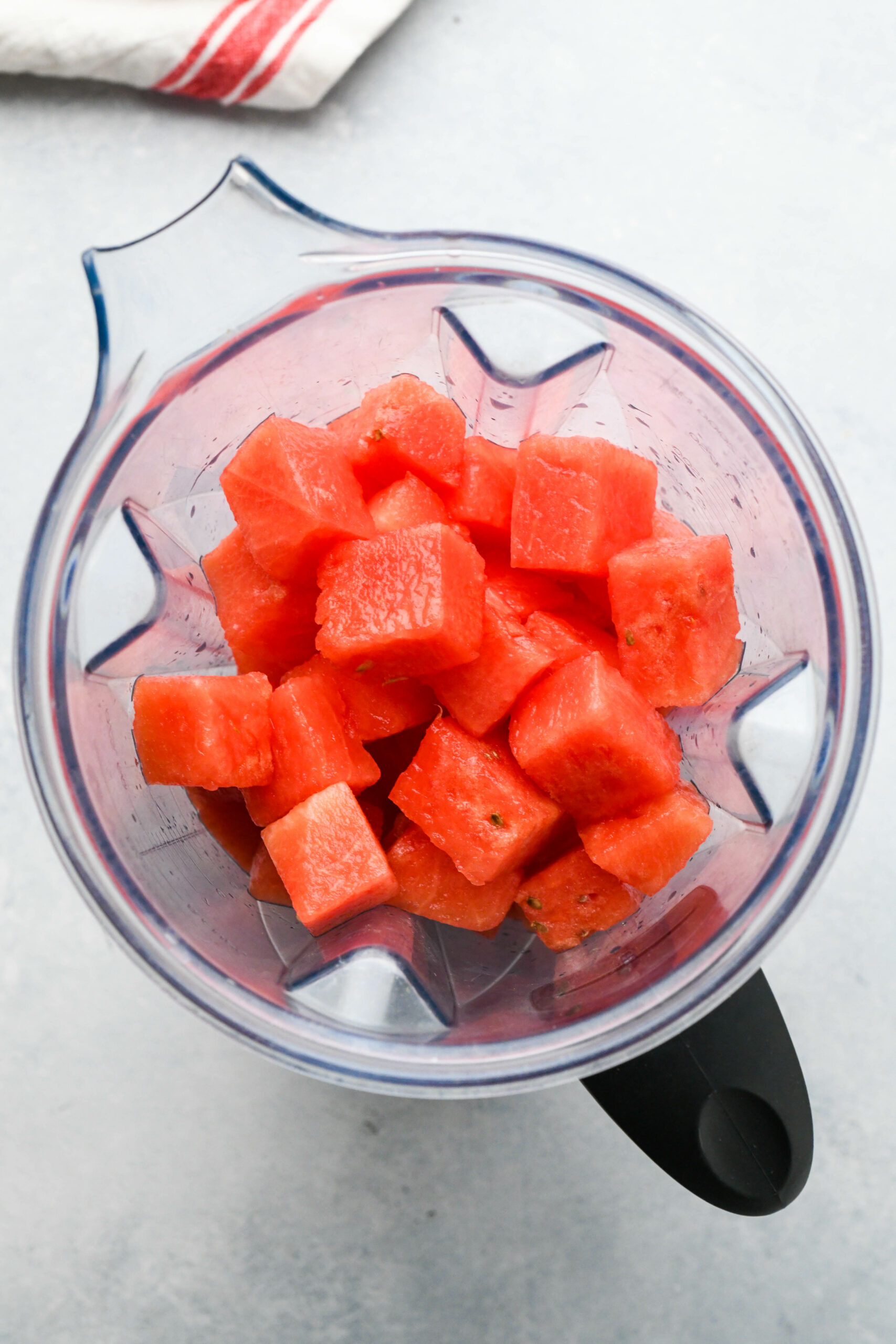 In general, I find that one medium-sized watermelon or two small watermelons will produce enough strained juice for this recipe, but if you have leftover juice you can enjoy it with ice and a squeeze of lemon or lime.
Cut the watermelon into large chunks and purée in a blender. Don't worry too much about seeds or getting the purée totally smooth—the next step is to pour the watermelon juice through a mesh sieve that has been lined with cheesecloth, which will catch any larger bits of fruit.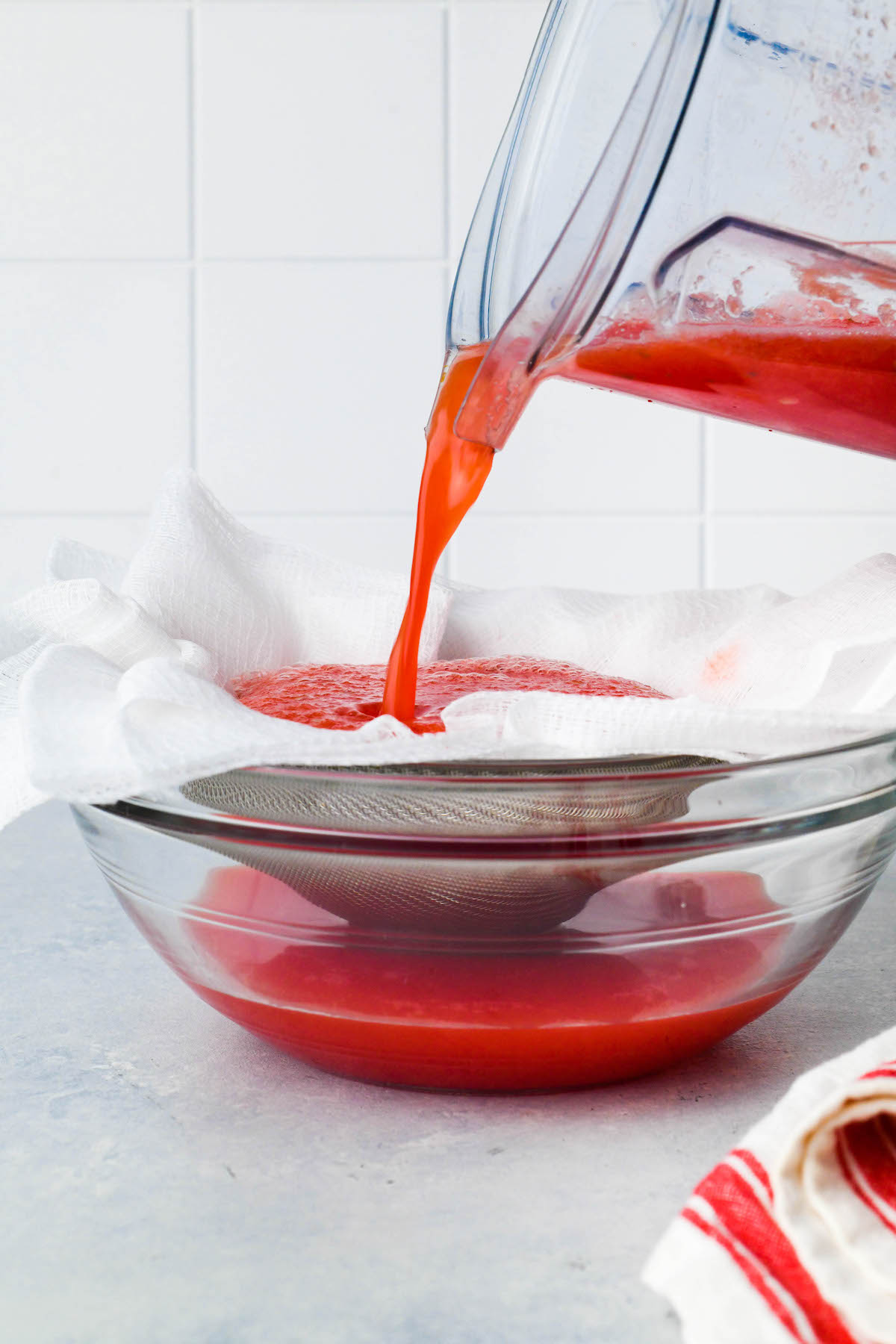 Making Watermelon Lemonade for Canning
Before you start making the lemonade, you'll want to prepare a water bath canner for canning. This recipe comes together rather quickly, so your canner should already be preheated to around 180 degrees F (just simmering) for hot pack canning. Also prepare jars, lids and rings.
Pour the watermelon juice, along with 4 cups of lemon juice and 6 cups of granulated sugar, into a large pot. Stir the ingredients together using a large wooden spoon or a spatula.
Over medium-high heat, heat the lemonade concentrate until it reaches 190° F (88° C), stirring often. This will happen fairly quickly, and I highly recommend using a food thermometer (an unobtrusive little kitchen gadget you can use for all kinds of recipes and canning projects) during this step for accuracy.
Do not boil the juice! It'll cause some of the pectin in the lemon juice to set, and that's no good for lemonade.
As soon as the watermelon mixture reaches 190° F, remove the pot from the heat—it's time to get canning!
Canning Watermelon Lemonade Concentrate
Canning your watermelon lemonade concentrate only takes a few minutes meaning that with only a little extra effort you can enjoy the fresh taste of watermelon well into the winter months.
Make sure each jar has been sealed finger-tip tight with two-piece canning lids before loading the jars into a hot water bath canner, being sure to cover by at least 1 to 2 inches of water.
Half pints, pints, and quarts are processed for 10 minutes below 1,000 feet in elevation.
Altitude adjustments for canning watermelon lemonade – Between 1,000 feet and 6,000 feet, process for 15 minutes. Above 6,000 feet, process jars for 20 minutes.
Once the canning time is complete, carefully remove the jars from the canner with a jar lifter.
Place the hot jars on a clean surface lined with a kitchen towel, leaving at least a 1-inch space between each jar to allow air to circulate—you'll find that the watermelon concentrate will need about 24 hours to come to room temperature.
Check the seal on each jar lid, moving any unsealed jars to the fridge (use within a week or so). Sealed jars can be stored in a cool, dry location out of direct light for up to 6 months.
Watermelon Canning Recipes
Looking for more watermelon canning recipes?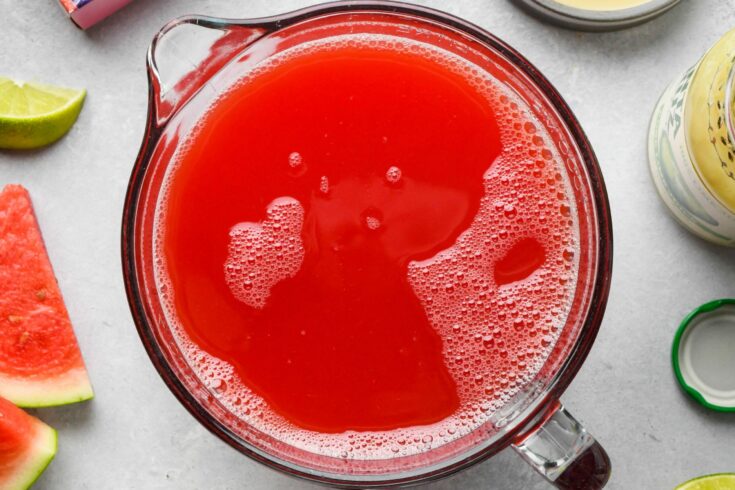 Yield:

Makes 6 pints (or 3 quarts)
Watermelon Lemonade Concentrate
Additional Time:
10 minutes
Enjoy the taste of this summery watermelon lemonade concentrate all year long with this easy recipe and instructions for canning!
Ingredients
6 cups puréed and strained watermelon juice*
4 cups bottled lemon juice
6 cups white granulated sugar
Instructions
Add the watermelon juice, lemon juice, and granulated sugar to a large pot.
Heat the mixture to 190° F or 88° C, stirring often, and then remove the pot from the heat.
Carefully ladle the hot concentrate into prepared quart jars leaving 1/4-inch headspace. Remove any bubbles with a chopstick or knife, and re-adjust the liquid to fulfill headspace requirements if needed. Wipe down the rims and sides of each jar and apply two-piece canning lids until fingertip tight.
Load jars into prepared hot water bath canner and process for 10 minutes, adjusting for altitude. (See notes**)
Using a jar lifter, move the jars to a clean surface lined with a kitchen towel. Leave at least 1 inch of space between each jar.
Allow the contents of each jar to come to room temperature (12 to 24 hours). Check the seal of each jar, moving any unsealed jars to the fridge. Remove canning rings from sealed jars and store in a cool, dry place away from direct sunlight and use within 6 months.
To reconstitute this watermelon lemonade concentrate: combine with still or sparkling water (we like 1.5 parts water per 1 part concentrate).
Notes
*To make watermelon juice: purée large chunks of cut-up watermelon in a blender (about 1 medium-large watermelon or 2 smaller watermelons); pour through a fine mesh sieve lined with cheesecloth.
**Altitude adjustments for canning lemonade – Between 1,000 feet and 6,000
feet, process for 15 minutes.  Above 6,000 feet, process jars for 20
minutes.
Drink Canning Recipes
Looking for more drink canning recipes?