Watermelon rind preserves are a unique sweet treat that you can make from watermelon rinds. While watermelon rind pickles are better known, these preserves were just as popular back in the day.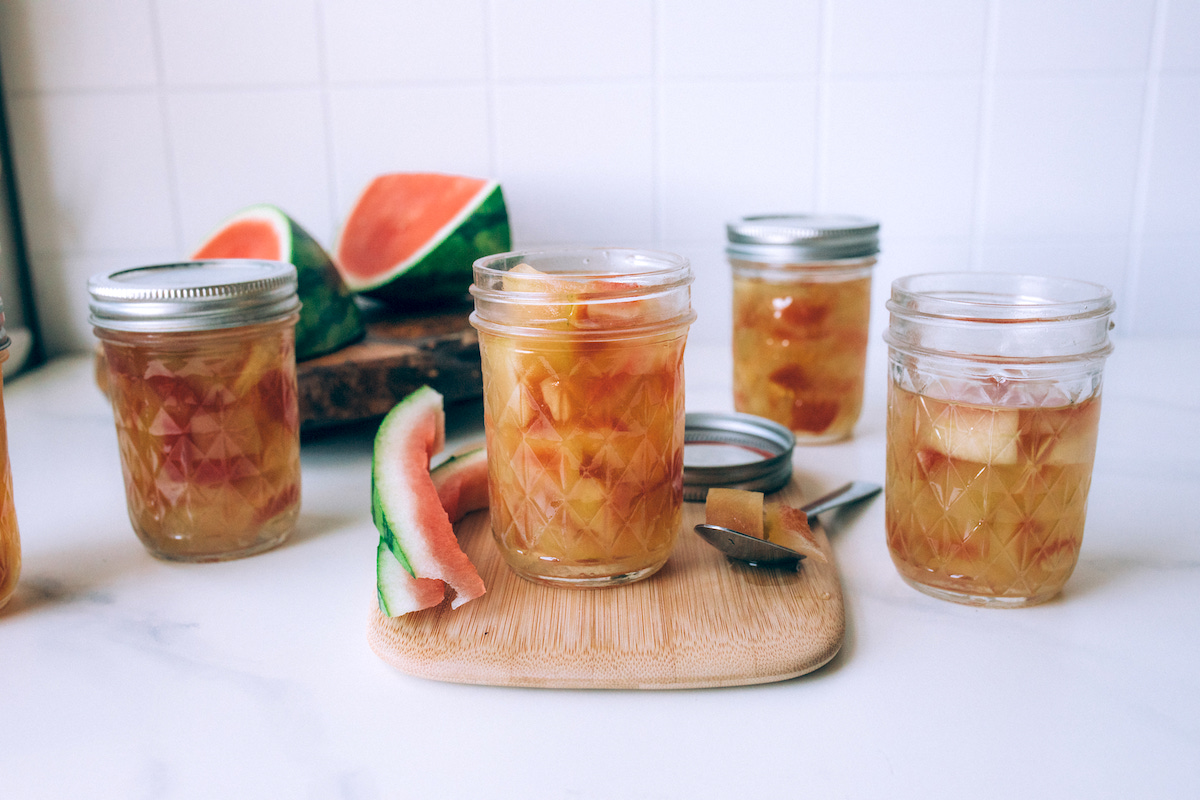 Old-fashioned watermelon rind pickles are probably the best-known use for watermelon rind, but watermelon rind preserves were just as popular.
There's this scene in the book Farmer Boy (from the Little House on the Prarie Books) where the kids (ages 10 to 16) are left to tend the farm alone for a few days when their parents go to town. It's a chaotic few days, but they mostly keep things together while their parents are gone. They get into trouble, of course, and eat just about all the sugar in the sugar keep. The pigs get out, things get damaged, and they sneak into the garden and eat up most of the fresh watermelon while lying in the shade of their big farm trees.
When it's time to clean up the watermelon rind, the young boy starts to take it to his favorite pig, but his older sister scolds him. "Don't you dare waste that watermelon rind on a pig; I'm making preserves!"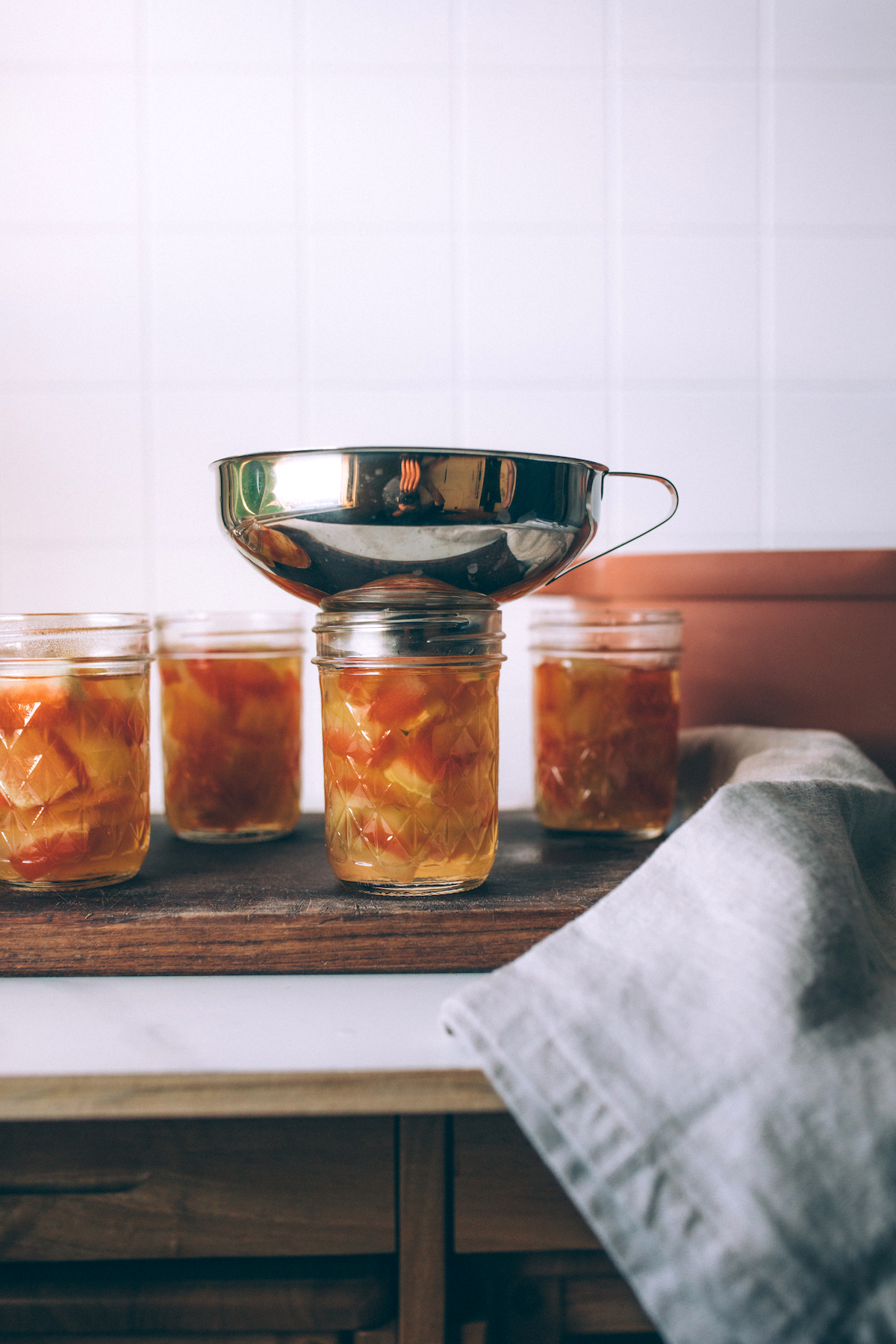 This isn't a pioneer family, and they're not living on cornmeal mush. They have a well-stocked pantry, and a donut jar that's seemingly never empty. Just about every page of the book is full of that little "Farmer Boy" eating plate after plate of delicious home-cooked food, slathered with fresh butter and jam, and at least half a dozen donuts a day to fuel all his hard work.
They're not lacking…and still, his sister wouldn't waste watermelon rinds on a pig.
Why not?
Because they make absolutely delicious preserves, of course!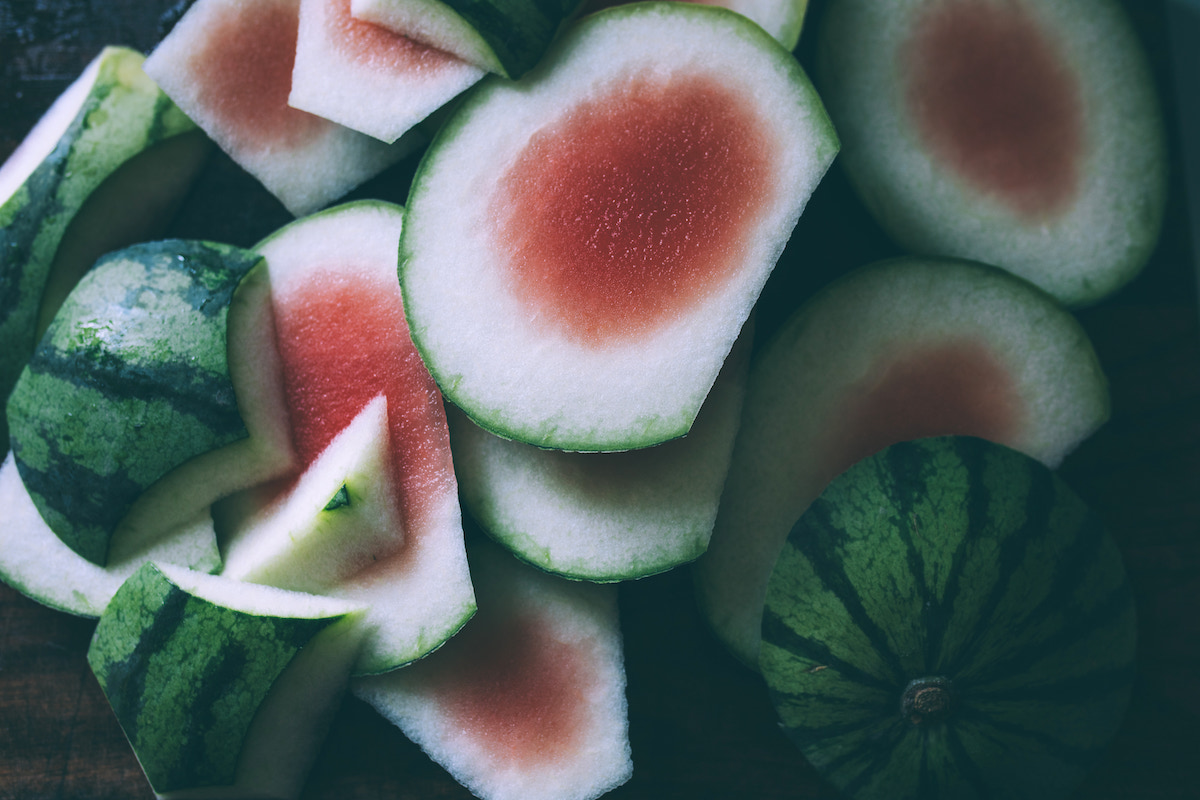 What Are Watermelon Rind Preserves?
A classic recipe from the South, watermelon rind preserves are like a cross between a jam and a loose jelly.
Small pieces of watermelon rind are candied in a sweet and tangy liquid, which are then set in a lemon-spiked syrup before being canned in a hot water bath canner.
They have a bit of added salt too, which isn't common in most preserves, but it goes especially well with watermelon. (Just ask grandpa, he always sprinkled his watermelon slices with salt.)
Ingredients for Watermelon Rind Preserves
To make watermelon rind preserves, you'll only need a handful of ordinary ingredients. If you don't go through watermelon super quickly, you can save up the rinds over the course of a week and use them all at once. For this recipe, you'll need about 1 1/2 quarts of unpared watermelon rind, which should include the green, woody exterior, white pith, and a strip of pale pink flesh.
Watermelon rind, unpared
Salt (Himalayan, sea salt, or kosher will work well)
Ground ginger
Sugar
Lemon juice
One lemon, thinly sliced (optional, but I think it adds an important flavor)
This recipe makes enough watermelon rind preserve to fill six (1/2-pint) jars.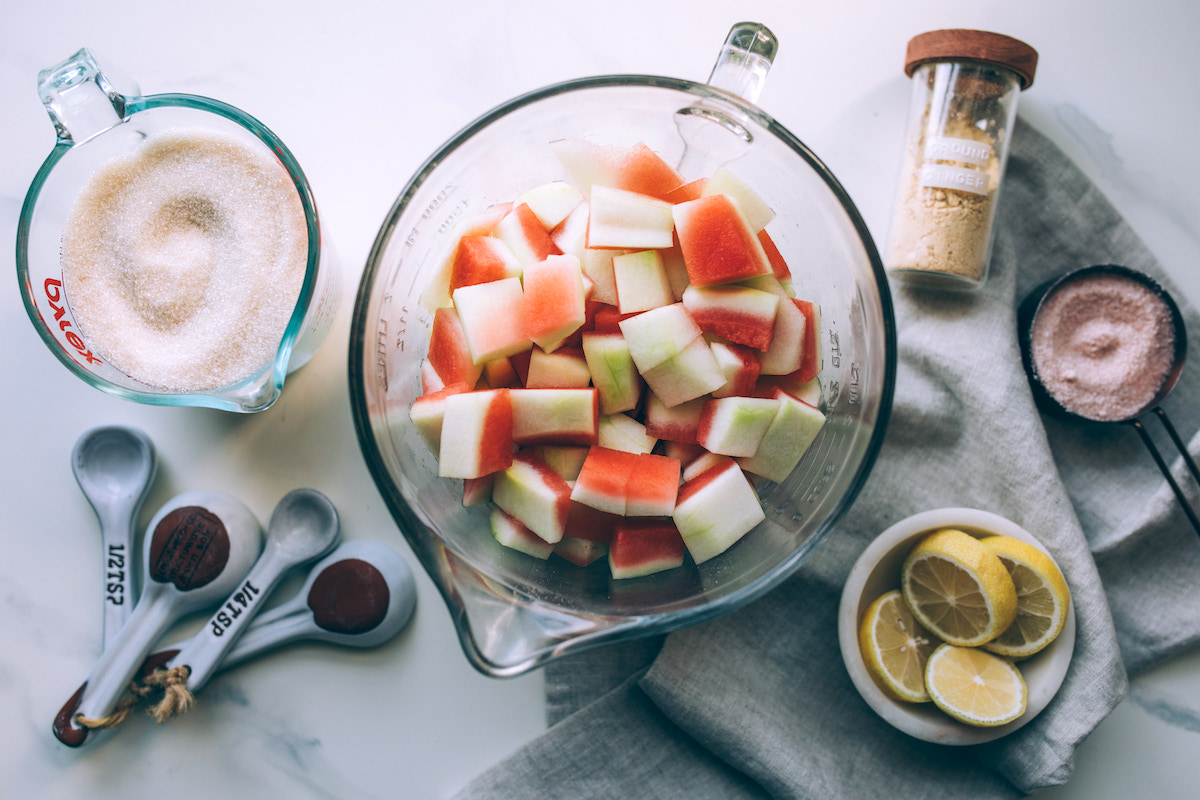 How to Make Watermelon Rind Preserves
The first step when you're making watermelon rind preserves is to prepare the rind for candying, which means removing the tough outer green exterior. For safety's sake, I prefer to break down the intact rind into smaller pieces before using a paring knife to carefully carve away the melon.
It takes a little bit more time to do it this way, but I think a little caution goes along way to prevent any kitchen mishaps.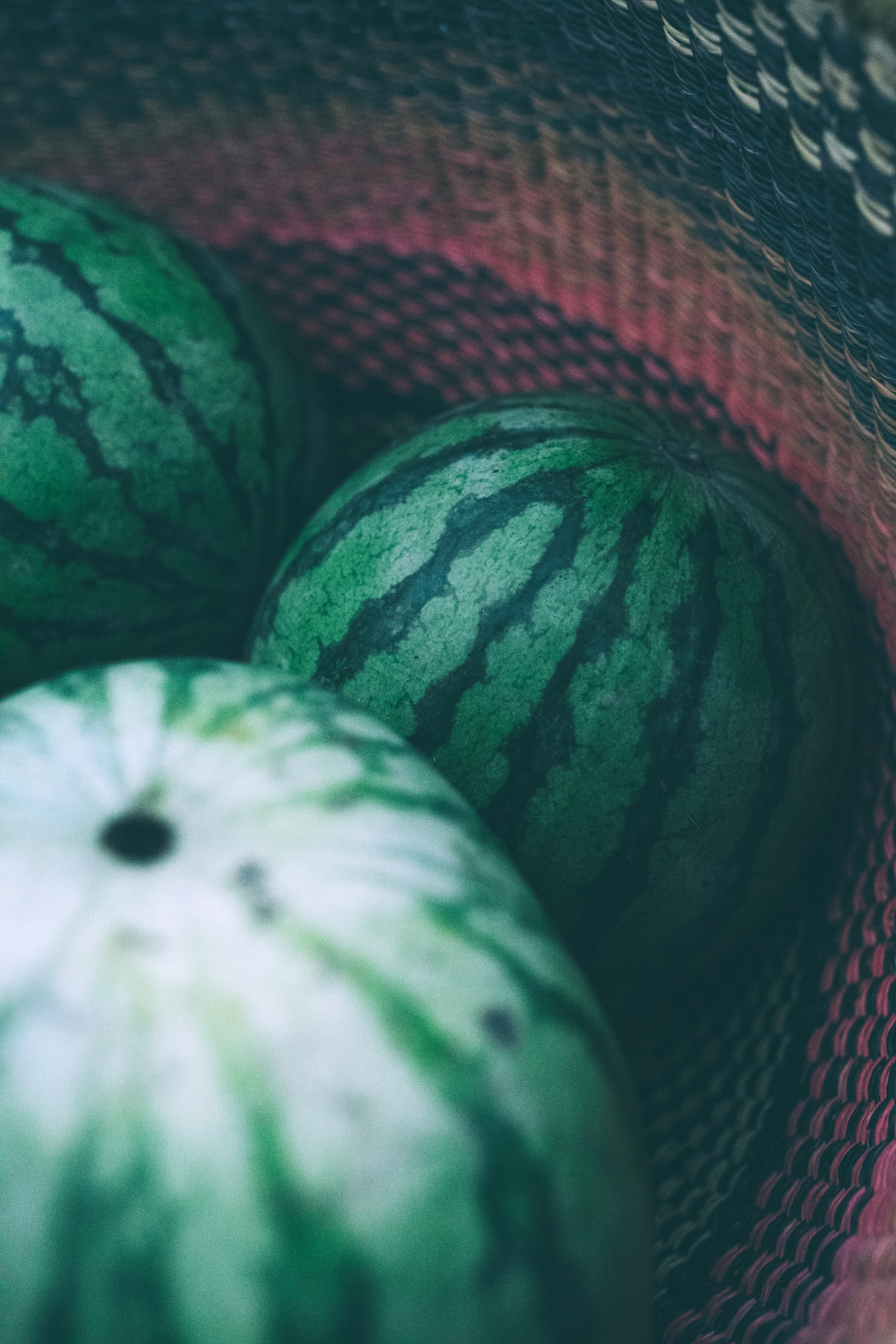 As I mentioned, you can begin with a watermelon rind that's been leftover from eating, or making watermelon jelly or watermelon lemonade concentrate (or any recipe that calls for lots of watermelons with the rind).
In these pictures, you can see that I've cut the stem ends off a watermelon and used that flat edge to shave off the rinds on all four sides of the melon.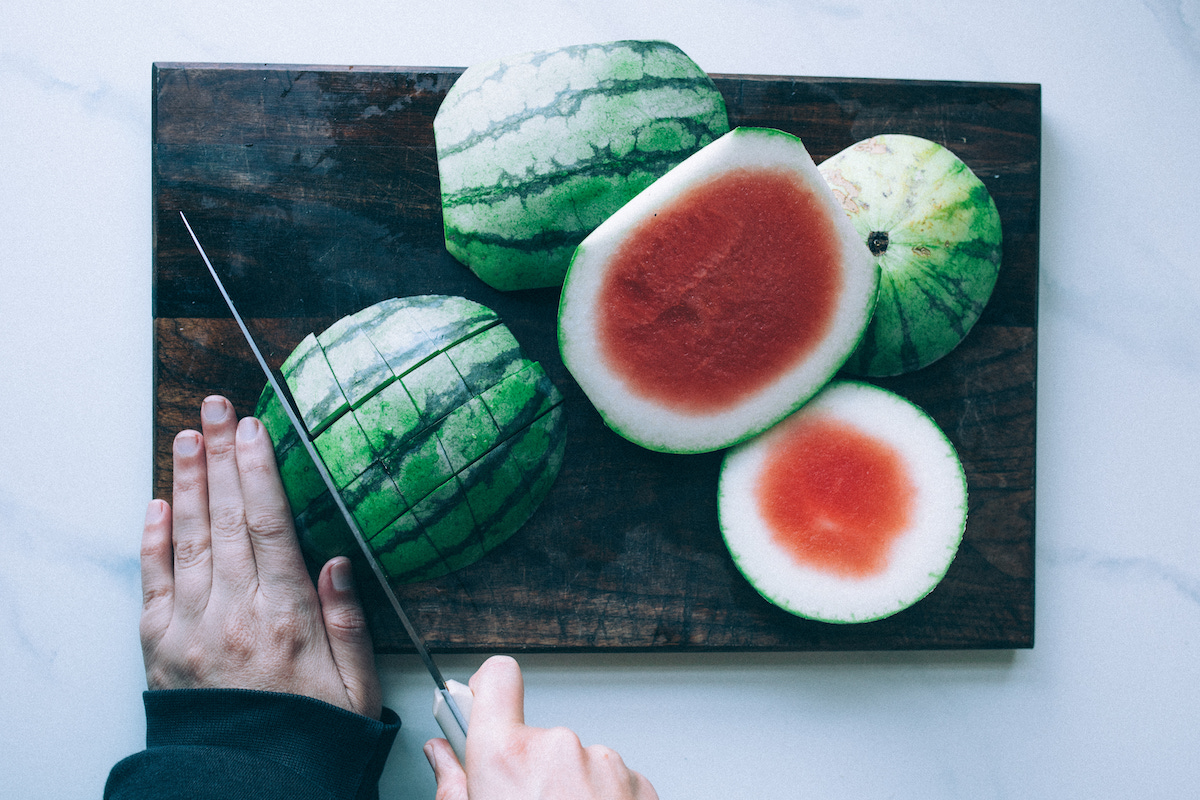 I then cut the remaining rind into small cubes, which are much more manageable in terms of getting rid of the outer rind. This also leaves me with a de-rinded watermelon, which I can use for all sorts of things (not to mention, snacking on while I make these preserves).
Once the melon is prepared, we're going to submerge it in a simple cold water brine and let it sit for 5 to 6 hours in the fridge.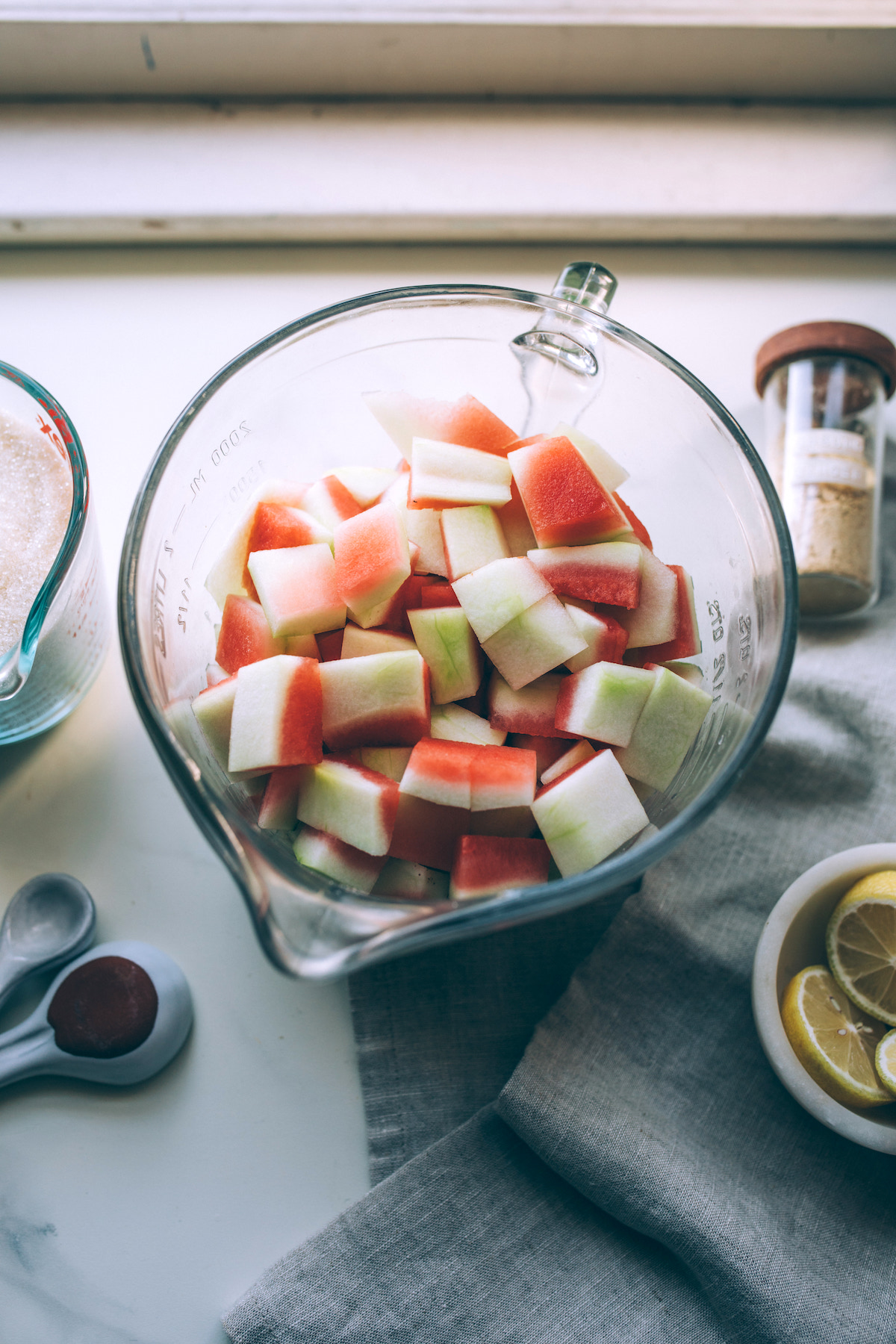 To make the brine, dissolve 4 tablespoons of the salt of your choice into 2 quarts of cold water. If you're having issues dissolving the salt in cold water, you can always make a hot water brine and chill it in the fridge before using. Whichever way you choose, just make sure the brine is nice and cold when you pour it over the watermelon rind.
After the watermelon rind has been soaking for 5 to 6 hours, drain it in the colander and rinse well with cold water, draining again.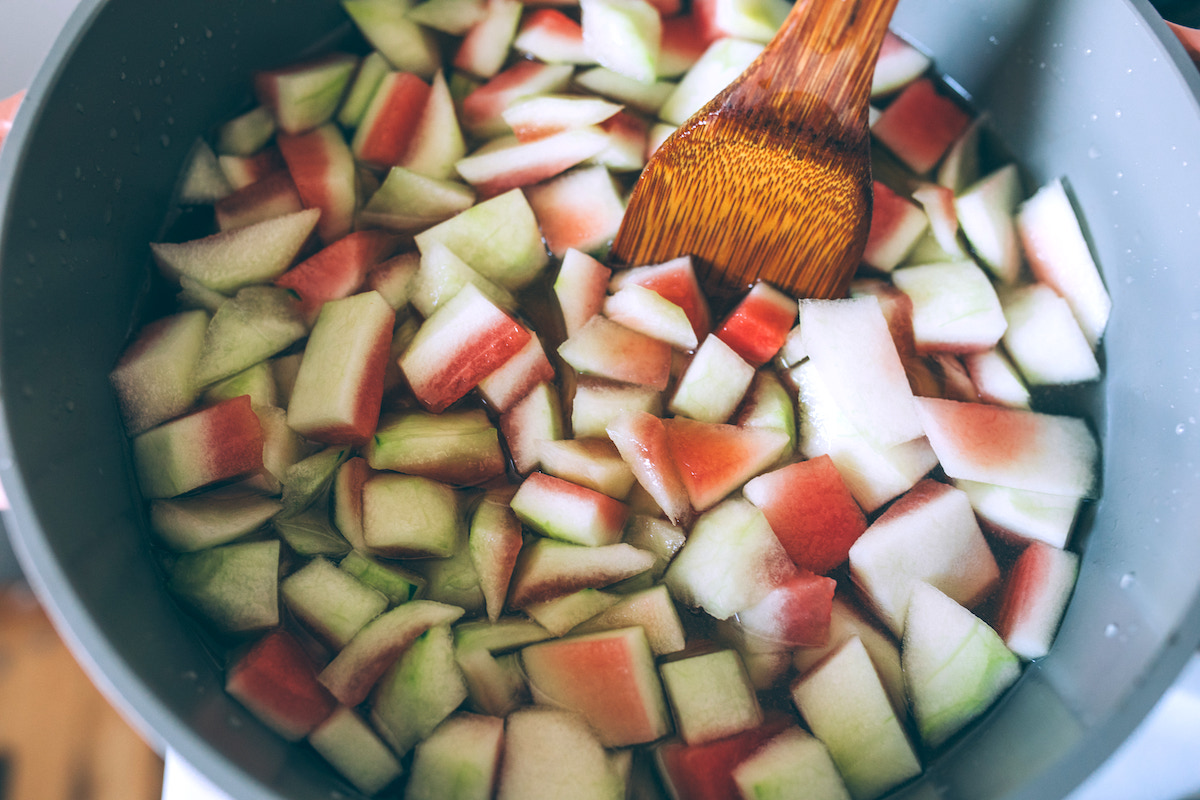 Cover the watermelon rind with cold water and let it sit for another 30 minutes. Drain it again and then add it back to a large saucepan.
Sprinkle 1 tablespoon of fresh ground ginger over the watermelon rind before covering with more cold water. Bring the the water and ginger to a boil and cook the watermelon rind for about 10 minutes, or until fork tender. When the rind is cooked, drain it once again in a colander.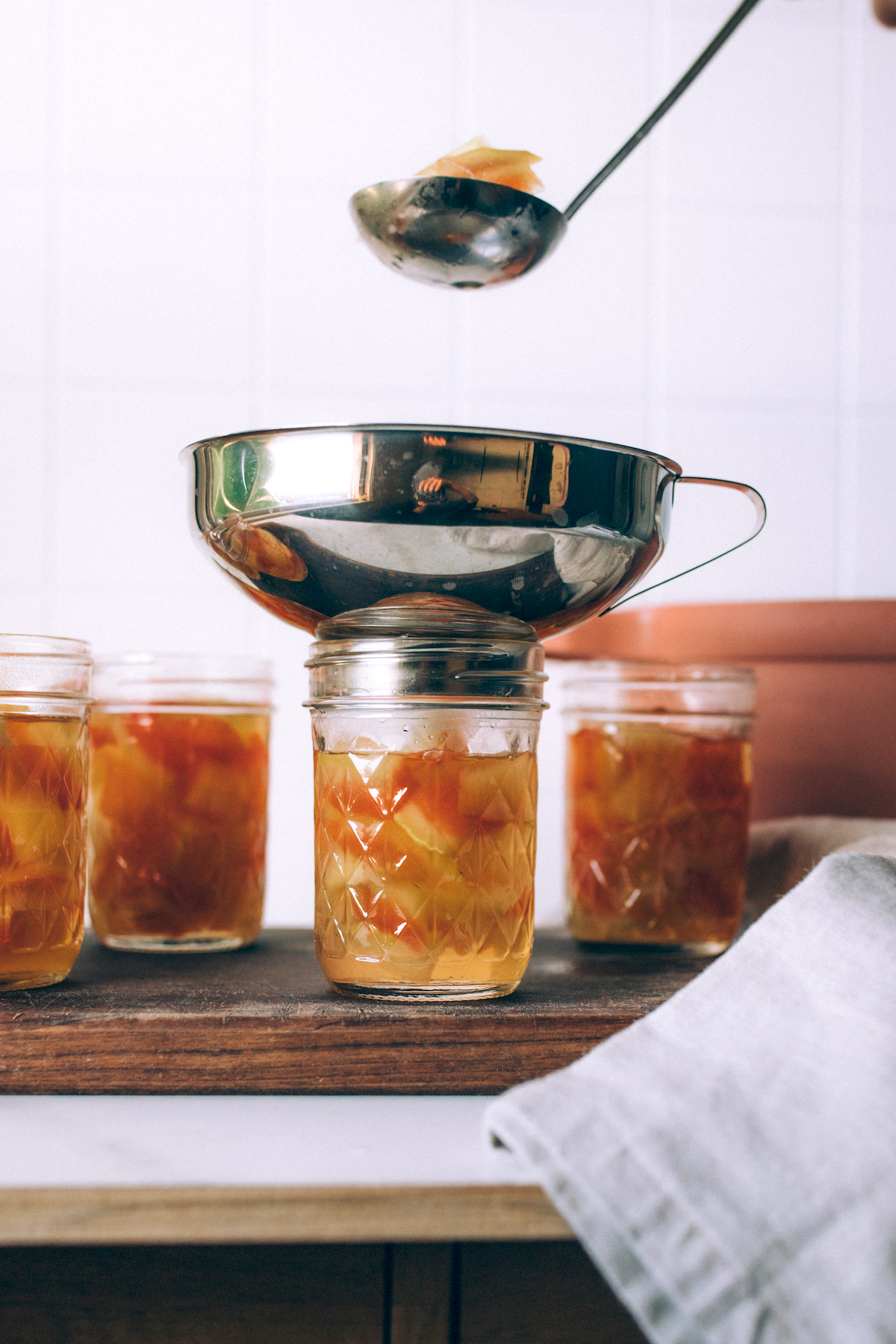 Next, we're going to make a syrup for the watermelon rind. To do this, add 4 cups of sugar, 1/4 cup of lemon juice, and 7 cups of water to a large saucepan. Bring the mixture to a boil, allowing it to boil for 5 minutes, and then carefully add the watermelon rind pieces to the syrup.
Gently boil this mixture for about 30 minutes, at which point add the sliced lemon to the syrup and watermelon rinds. Continue cooking the watermelon rind until the melon rind is clear.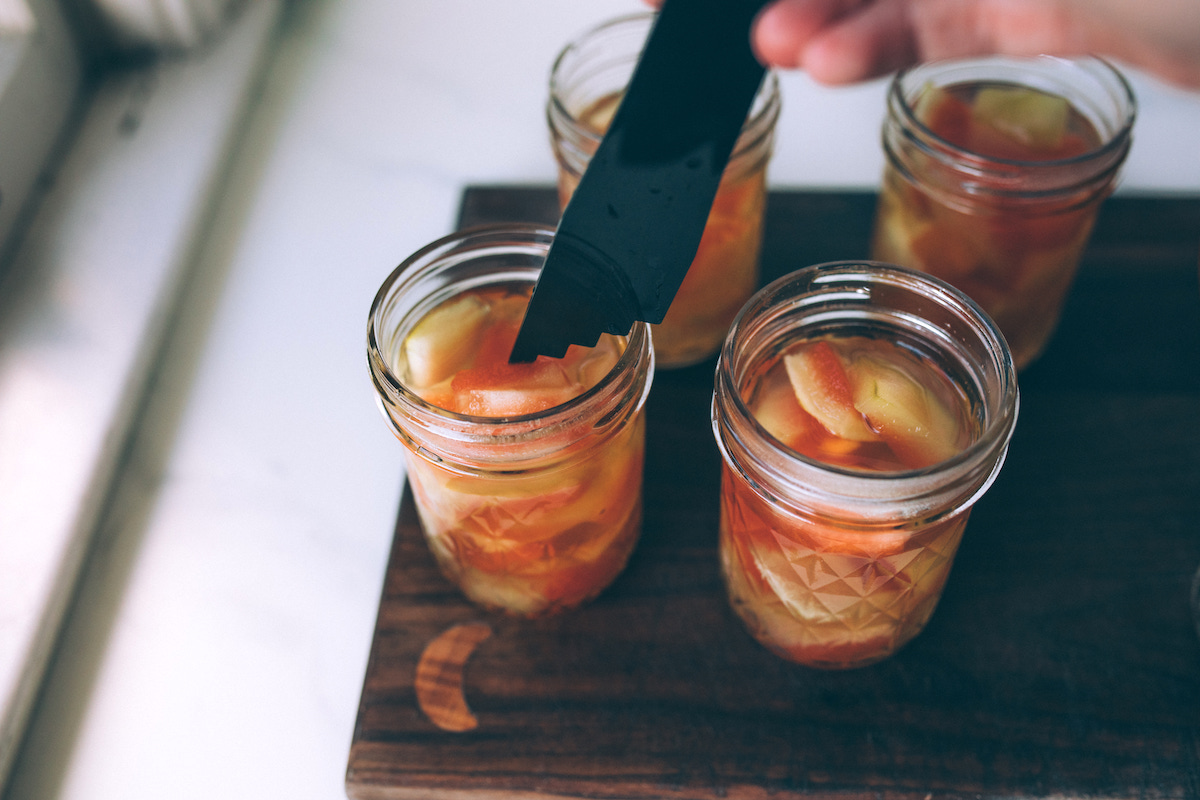 Prepare 6 (1/2-pint) jars for a hot pack, making sure the jars are nice and hot in order to prevent thermal shock.
Carefully ladle the fruit into each jar, adding the syrup to cover. For this particular canning project, we're going to leave a 1/4-inch headspace at the top.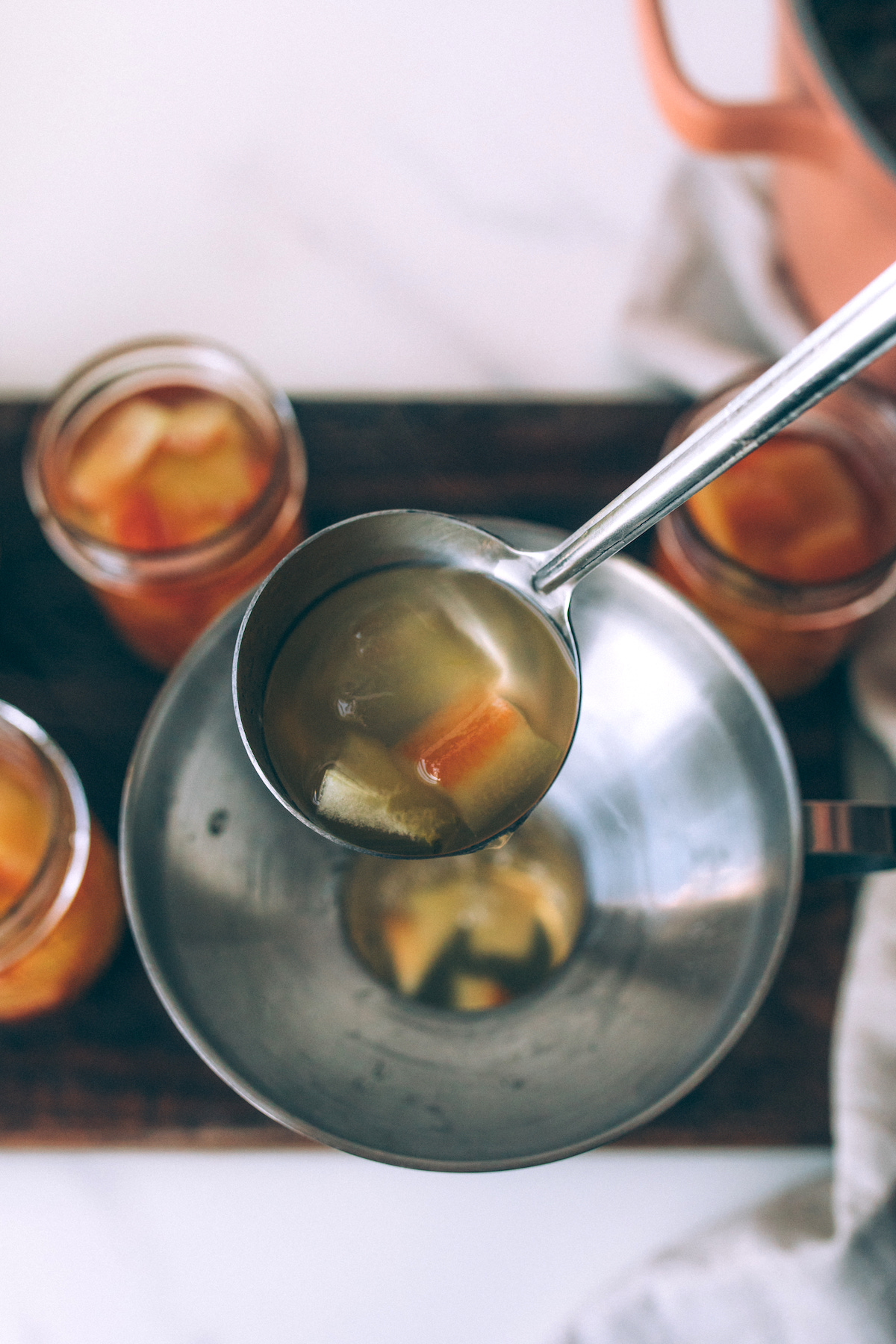 I find that, particularly with a hot pack, a canning funnel with built-in headspace measurer is very much worth its relatively small cost.
This little device has protected me from hot splashing liquid more times than I can count.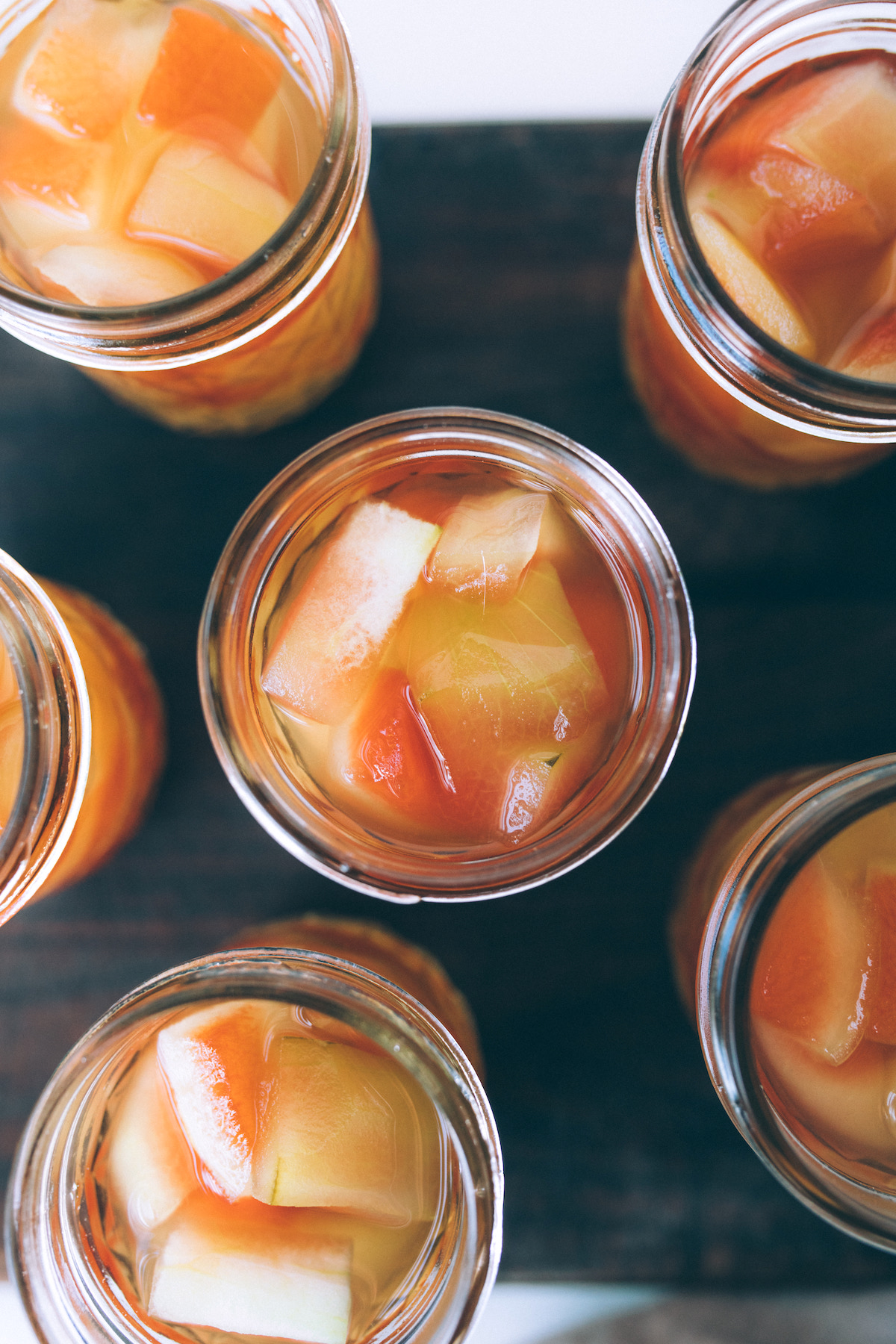 Use a wooden chopstick to break up any air bubbles and readjust the syrup level if you need to—it's important to keep that 1/4-inch headspace at all times.
Wipe down the sides and rim of each jar with a clean kitchen towel. Being mindful not to burn yourself, apply two-piece metal jar lids to each jar until fingertip tight.
Using a pair of canning tongs, load each jar into a prepared hot water bath canner, covering each jar with at least an inch of water.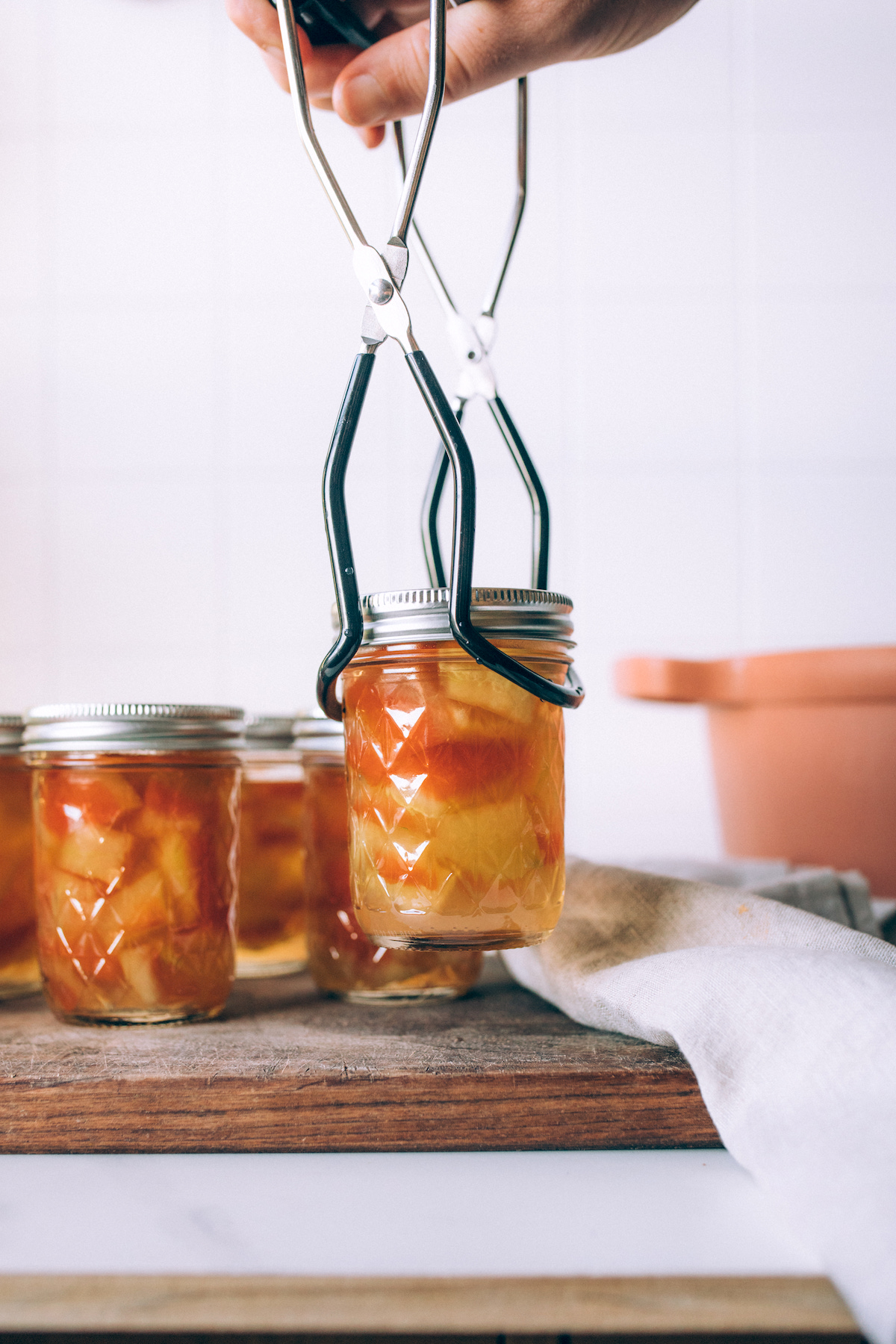 Canning Watermelon Rind Preserves
Process half-pint or pint jars for 10 minutes, or for altitudes over 6,000 feet, process jars for 15 minutes.
When the timer goes off, transfer jars to a clean surface lined with a kitchen towel, leaving at least 1 inch of space between each jar. Let the jars and their contents come down to room temperature, this will take between 12 and 24 hours. Check the seals of each jar, moving any unsealed jars to the fridge. Sealed jars can be kept in cool, dry place away from direct sunlight for up to 18 months.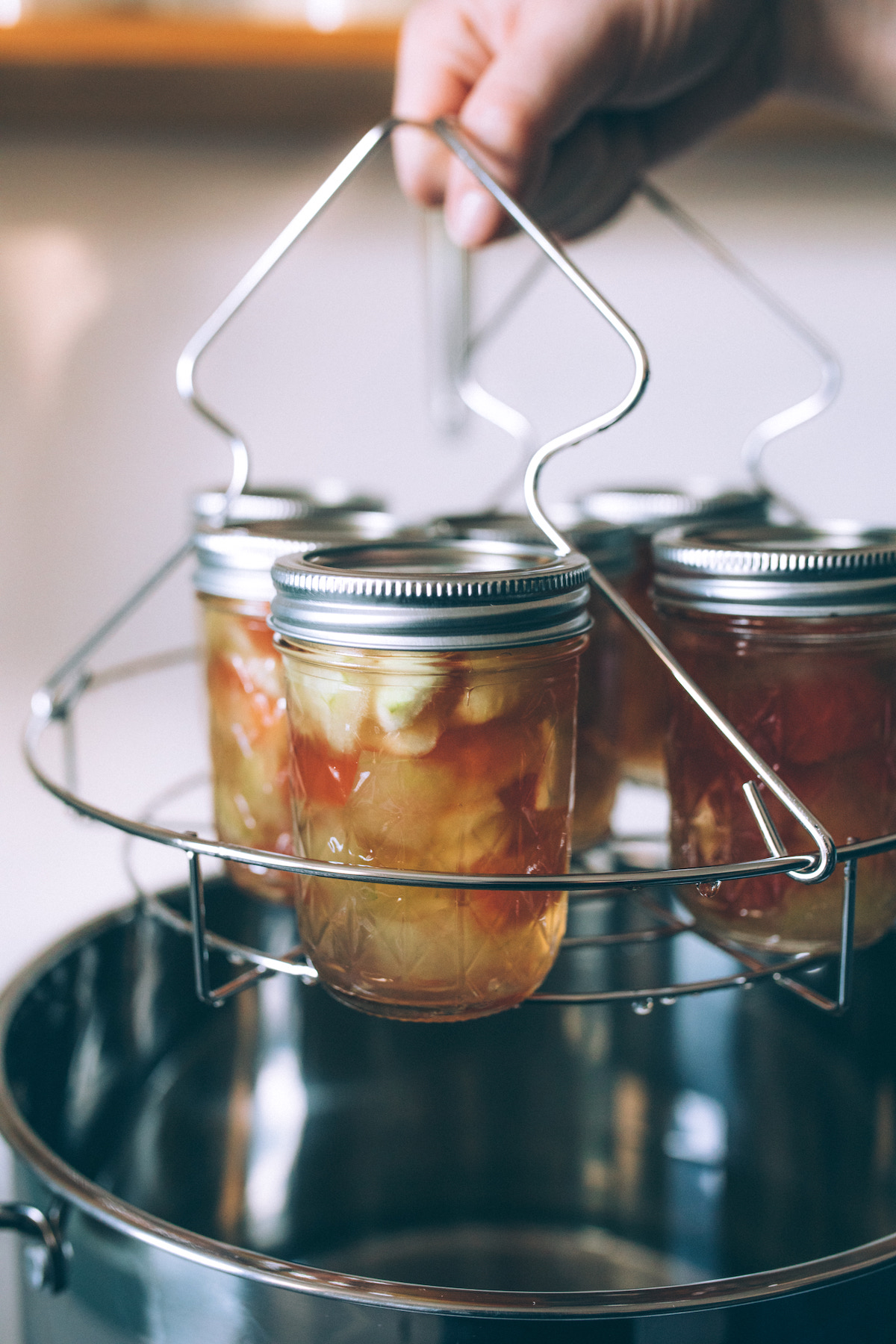 Ways to Preserve Watermelon
Looking for more delicious ways to preserve watermelon?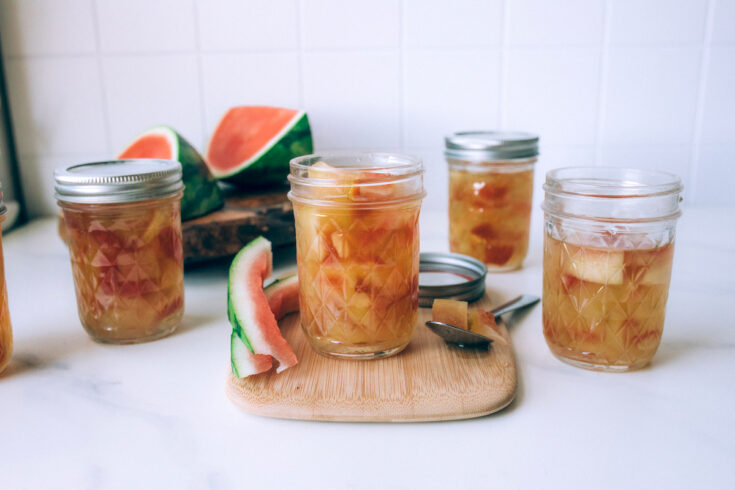 Yield: 6 (1/2-pint) jars
Watermelon Rind Preserves
Prep Time: 6 hours

Cook Time: 20 minutes

Additional Time: 10 minutes

Total Time: 10 minutes

A summery preserve that makes delicious use of watermelon rind!
Ingredients
1 1/2 quarts watermelon rind pieces, unpared
4 Tbsp. salt
2 quarts cold water
1 Tbsp. ground ginger
4 cups sugar
1/4 cup lemon juice
7 cups water
1 lemon, deseeded and thinly sliced
Instructions
Using a sharp paring knife, remove the hard green exterior from each piece of watermelon rind. Cut pieces into 1-inch squares.
Make a cold brine by dissolving salt in cold water. Pour the brine over the watermelon rind and let stand for 5-6 hours in the refrigerator.
Drain the watermelon rind and rinse well with cold water over a colander.
Cover the rinsed watermelon rind with more cold water and let stand for 30 minutes. Drain.
Place the watermelon rind in a large saucepan and sprinkle with dried ginger. Cover with cold water and cook until fork tender, about 10 minutes. Drain.
In a large saucepan, combine sugar, lemon juice, and 7 cups of water. Boil for 5 minutes and then add watermelon rind and cook for 30 minutes.
Add sliced lemon pieces and continue to cook until the watermelon rind is clear.
Prepare jars for canning. Ladle hot preserves into jars and cover with hot syrup, leaving 1/4-inch headspace. Wipe sides and rim of jars, apply two-piece metal canning lids.
Load jars into hot water canner and process for 10 minutes, adjusting for altitude.
Remove jars from canner and transfer to a clean surface lined with a kitchen towel; leave 1 inch of space between each jar.
Let the jars come to room temperature, about 12-24 hours, and then check seals on each jar. Unsealed jars should be stored in the fridge, sealed jars can be kept in a cool, dry place away from direct light for up to 18 months.
Notes
*For altitudes greater than 6,000 feet, process jars for 15 minutes.

The lovely photography in this post is by Stephanie at My Tiny Laguna Kitchen.
Watermelon Canning Recipes
There's more than one way to get watermelon into a canning jar!
Summer Canning Recipes
There's plenty more you can put up this season!