Canning gooseberries is a simple way to preserve a bumper crop of this short-lived summer fruit.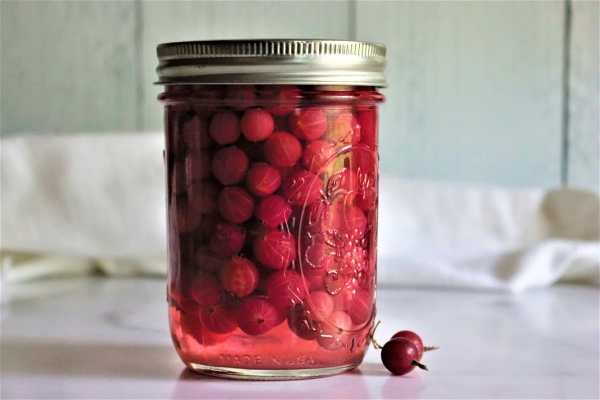 Fresh gooseberries are absolutely delicious in the summer months and their one of my husband's favorite fruits. We make gooseberry jam and gooseberry jelly every year, but this year I decided I'd like to try canning whole gooseberries instead.
As a whole fruit, they're more versatile for baking recipes in the winter months and I'm excited about making gooseberry muffins this winter. There's nothing that brings back summer memories better than fruit.
Since gooseberries ripen at the very peak of the summer season, they capture all that goodness in tart little round fruits that look absolutely lovely in a jar.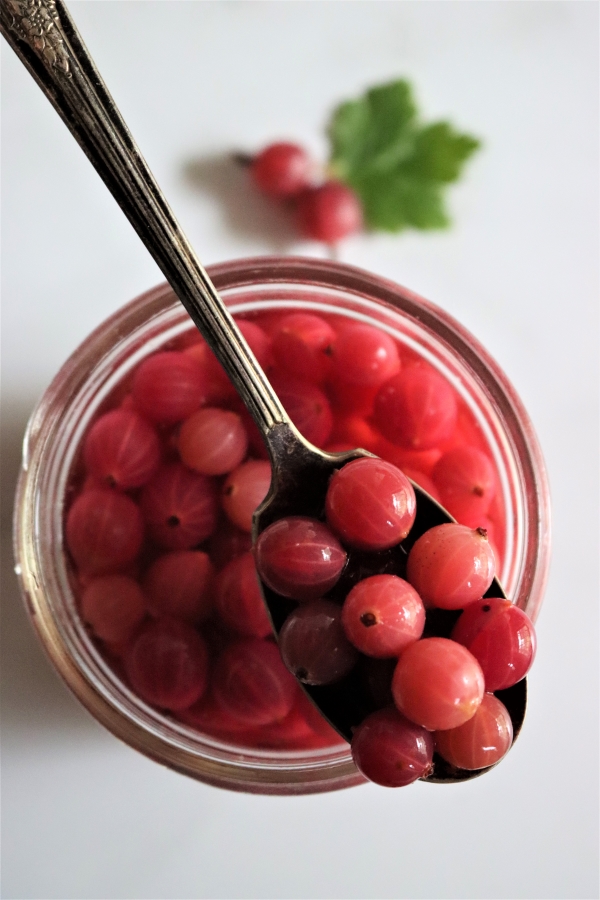 How to Can Gooseberries
The process for canning gooseberries is the same as canning most other berries. The instructions from the national center for food preservation have generic instructions for canning berries that work for a number of different fruits.
They're the exact same instructions you'd use for canning blueberries or canning raspberries.
Gooseberries aren't exactly the same as those fruits, and you will have to do some specific preparation before the fruit goes into the jar. That said, the canning instructions for gooseberries are the same.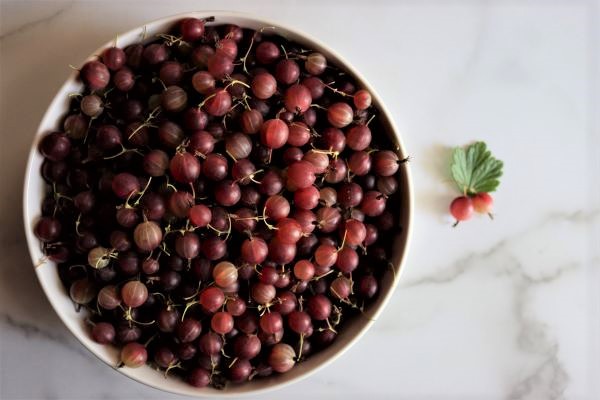 Harvest gooseberries when fully ripe, as opposed to how they're often harvested for jam and other gooseberry canning recipes. Those often include some unripe fruit to boost the pectin content to get the jam or jelly to set.
Since we're canning whole gooseberries we just want ripe fruit at the peak of freshness.
In my garden, we grow multiple varieties of gooseberries and some ripen to a bright green color, while others are purple or pink. Hopefully, you know what type you have, and if not, sample them over the season as they ripen.
When fully ripe, gooseberries are reasonably sweet (and just slightly tart). Early in the season, they're very tart, like a green apple, and also very hard. The birds will also start to pick them off as they ripen, which is a dead giveaway.
To prepare gooseberries for canning, you'll need a sharp paring knife to remove the tops and tails. The tops are the stems that stay attached to the fruit, and the "tails" are the flower or blossom end. Both of them are tough and woody, and need to be removed before using gooseberries in most recipes anyway.
(Gooseberry jelly, syrup, and wine are the only exceptions since everything will be strained out in those recipes.)
Syrup for Canning Gooseberries
Generally, I can fruit in extra light syrup, as it mimics the natural sweetness of the fruit without adding any extra. I do that with sweet fruits, like when I'm canning peaches or canning strawberries.
If you can fruit in plain water, they'll lose some of their natural sugars to the canning liquid and taste washed out.
To make enough extra light syrup for a batch, you'll need:
6 1/2 cups water and 3/4 cup sugar for a 9-pint canner load
10 1/2 cups water and 1 1/4 cup sugar for a 7-quart canner load
Fruit juice is also an option, and you can process gooseberries in apple, grape, cranberry, or pineapple juice. They'll obviously flavor the fruit, but it's a more natural way to put them up without added sugar (but also without sacrificing flavor).
Since gooseberries are a tart fruit, many people choose to can them in a more concentrated syrup, such as light syrup or medium syrup. Some even go for heavy syrup, but they'll be pretty candied at that point.
You can find the sugar and water amounts for different canning syrups here.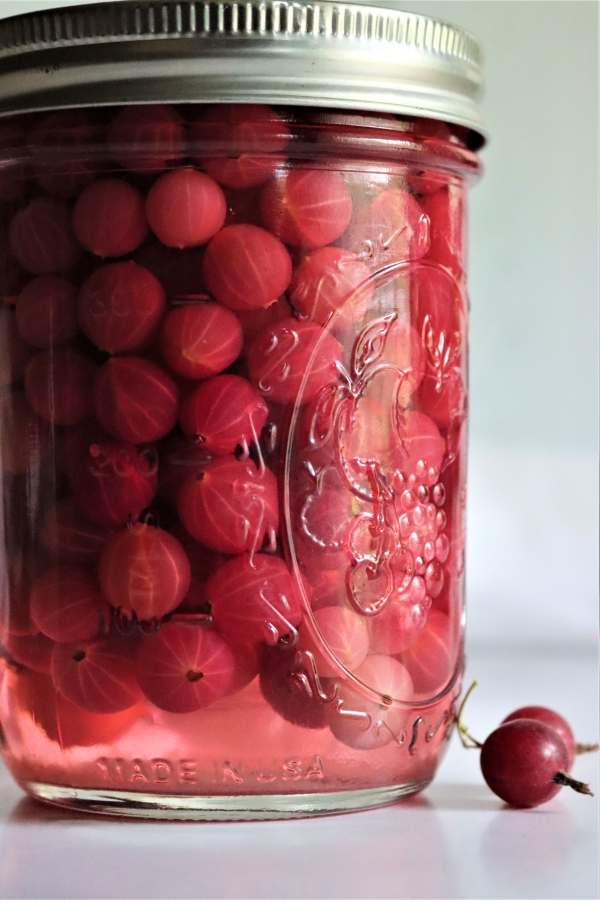 Process Times for Canning Gooseberries
Once you've prepared the gooseberries and decided on your canning liquid, it's time to get them into canning jars. At this point, if you're not familiar with water bath canning I'd suggest you read my beginner's guide to water bath canning before proceeding.
(Gooseberries can also be preserved by pressure canning, though I don't recommend it as the extra heat and pressure cause them to break apart more than waterbath canning.)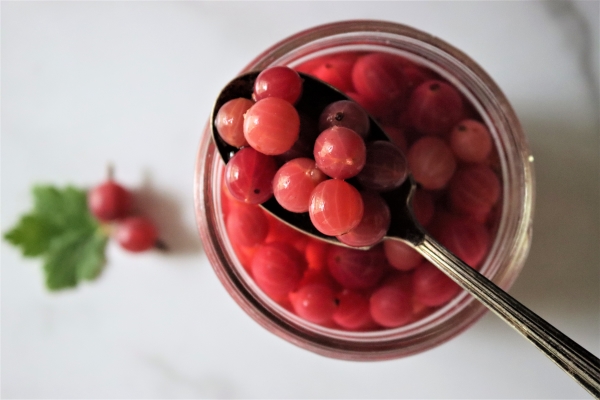 You have two options for canning gooseberries, either a hot pack or a raw pack. Both yield good results, so really it's just a matter of personal preference. Hot pack will leave slightly less empty space in the jars since the fruit shrink when heated, but raw pack is easier at canning time.
Hot Pack ~ Heat the gooseberries in boiling water or syrup for 30 seconds. Use a slotted spoon to fill jars with hot berries, leaving 1/2 inch headspace. Fill with hot syrup or water, maintaining 1/2 inch headspace.
Raw Pack ~ Fill canning jars with raw berries, shaking them down gently but don't press or pack them overly tight. Pour boiling juice, water or syrup over the top, leaving 1/2 inch headspace.
The canning times are slightly longer for raw pack, so keep that in mind if you choose to use that method. You can see canning times for gooseberries in the table below, and they vary based on jar size, pack type, and elevation.
Using Canned Gooseberries
Home-canned gooseberries can be used almost anywhere you'd use fresh gooseberries. They make an excellent topping for granola, yogurt or ice cream. They're also perfect in baked goods.
When canned whole, they can be turned into gooseberry jam, jelly, or compote later as well.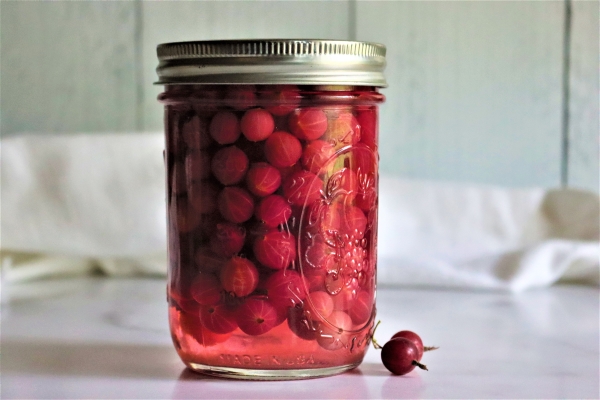 Yield:

Yield Varies, See Notes
Canning Gooseberries
Canning whole gooseberries is a simple way to preserve gooseberries right on the pantry shelf.
Ingredients
gooseberries
water or syrup, see note
Instructions
Gooseberries may be canned as a raw pack or hot pack fruit. I'd recommend raw pack, and that's how I've written these instructions. Hot pack instructions are in the notes.
Prepare gooseberries by washing the fruit and picking them over to remove any spoiled or unripe fruit. Use a sharp paring knife to remove tops and tails.
Prepare a water bath canner and bring it up to scalding hot, but not simmering for raw pack (about 140 degrees F).
Fill canning jars with raw gooseberries, leaving 1/2 inch headspace.
Prepare your canning syrup and bring it up to a boil. If using extra light syrup, you'll need 3/4 cup sugar and 6 1/2 cups water for every 9-pint canner batch. You can also can them in water or fruit juice, or heavier syrups. See notes.
Pour boiling syrup over the gooseberries in jars, leaving 1/2 inch headspace.
Cap with 2 part canning lids and process in a water bath canner for 15 minutes for pints and 20 minutes for quarts if below 1,000 feet in elevation. See notes for higher altitudes.
Once the canning time is complete, remove jars with a jar lifter and allow them to cool to room temperature on a towel on the counter before checking seals.
Notes
Canning Syrup: Gooseberries may be canned in plain water or fruit juice as well as syrup. For juice, you may use apple, pear, cranberry, grape, or pineapple juice.
I've given instructions for making enough syrup for a 9-pint canner batch of extra light syrup, but you can use whatever concentration you prefer. You can find the sugar and water amounts for various canning syrups here.
Hot Pack
For hot pack, bring gooseberries to a boil in the canning syrup for 30 seconds before packing them into jars using a slotted spoon. Pour boiling syrup over the top of the fruits, leaving 1/2 inch headspace. Process both pints and quarts using process times for raw pack pints.
Altitude Adjustments
If above 1,000 feet in elevation you'll need to adjust canning times as follows:
1,001 to 3,000 feet process for 20 minutes (pints) or 25 min (quarts)
3,001 to 6,000 feet process for 25 minutes (pints) and 30 min (quarts)
Above 6,000 feet process for 30 minutes (pints) and 35 min (quarts)
Summer Canning Recipes
Looking for more easy summer canning recipes to put up the harvest?