Blueberry Jam is a delicious homemade preserve with just a few ingredients, no added pectin required.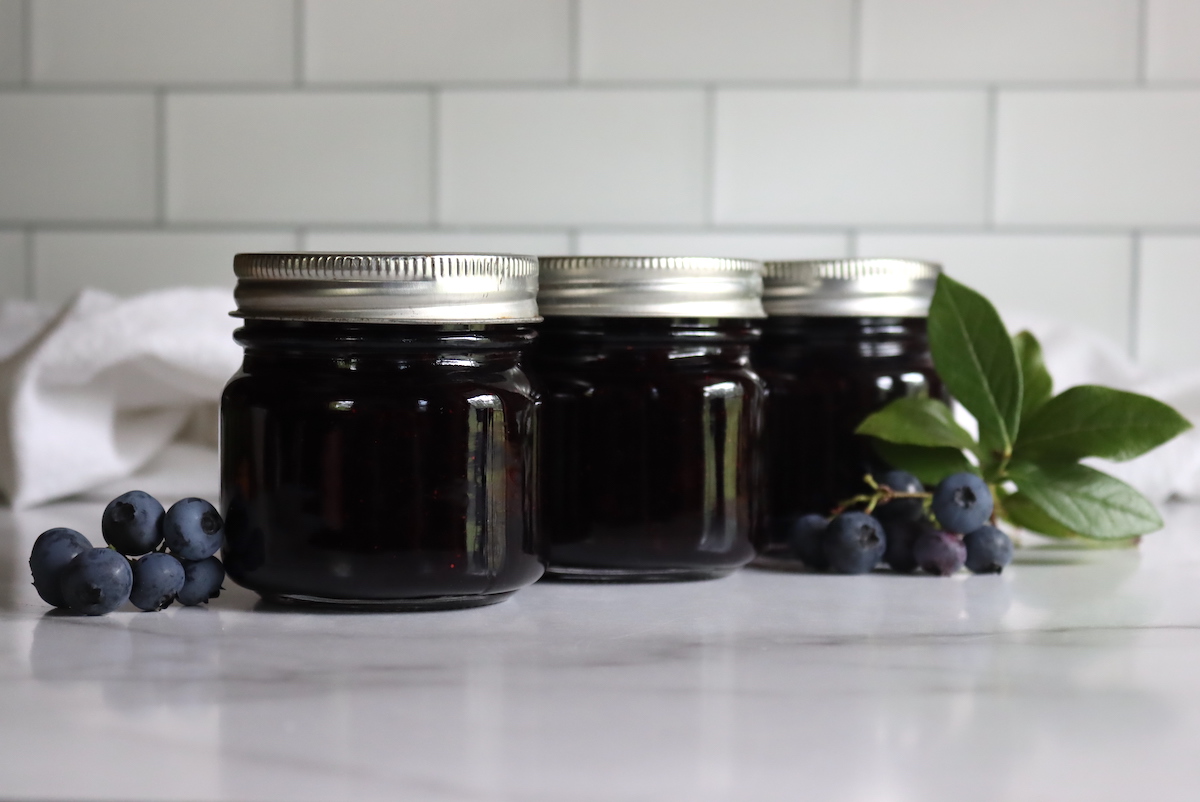 Homemade blueberry jam is a real treat, and all you really need to make this flavorful preserve is blueberries, sugar, and a bit of lemon juice.
You can make it using fresh blueberries from your garden, the farmer's market or local pick-your-own, or you can use storebought blueberries, either fresh or frozen.
Whatever you choose, opt for the most flavorful fruit you can find, as the quality of the ingredients will determine the finished flavor of this homemade jam.
Ingredients for Blueberry Jam
Blueberry jam is simple to make and you do not need to add pectin or outrageous amounts of sugar. You will need the following:
4 cups blueberries (fresh is preferred)
2 cups granulated sugar
¼ cup lemon juice (fresh or bottled)
The best blueberry jam is made from fresh, ripe blueberries. You want to do a diligent job of picking through the blueberries, making sure that none of them are overripe (becoming squishy or moldy) or that none are still green and not ripe enough.
Blueberries are not known to have a significant amount of pectin, and there are recipes for blueberry jam that has added pectin. But following this recipe will give you blueberry jam with a great consistency and no added pectin.
Blueberries have a good acidity level for canning, but adding lemon juice to the mix increases the pectin and adds a boost of flavor while maintaining the traditional blueberry taste!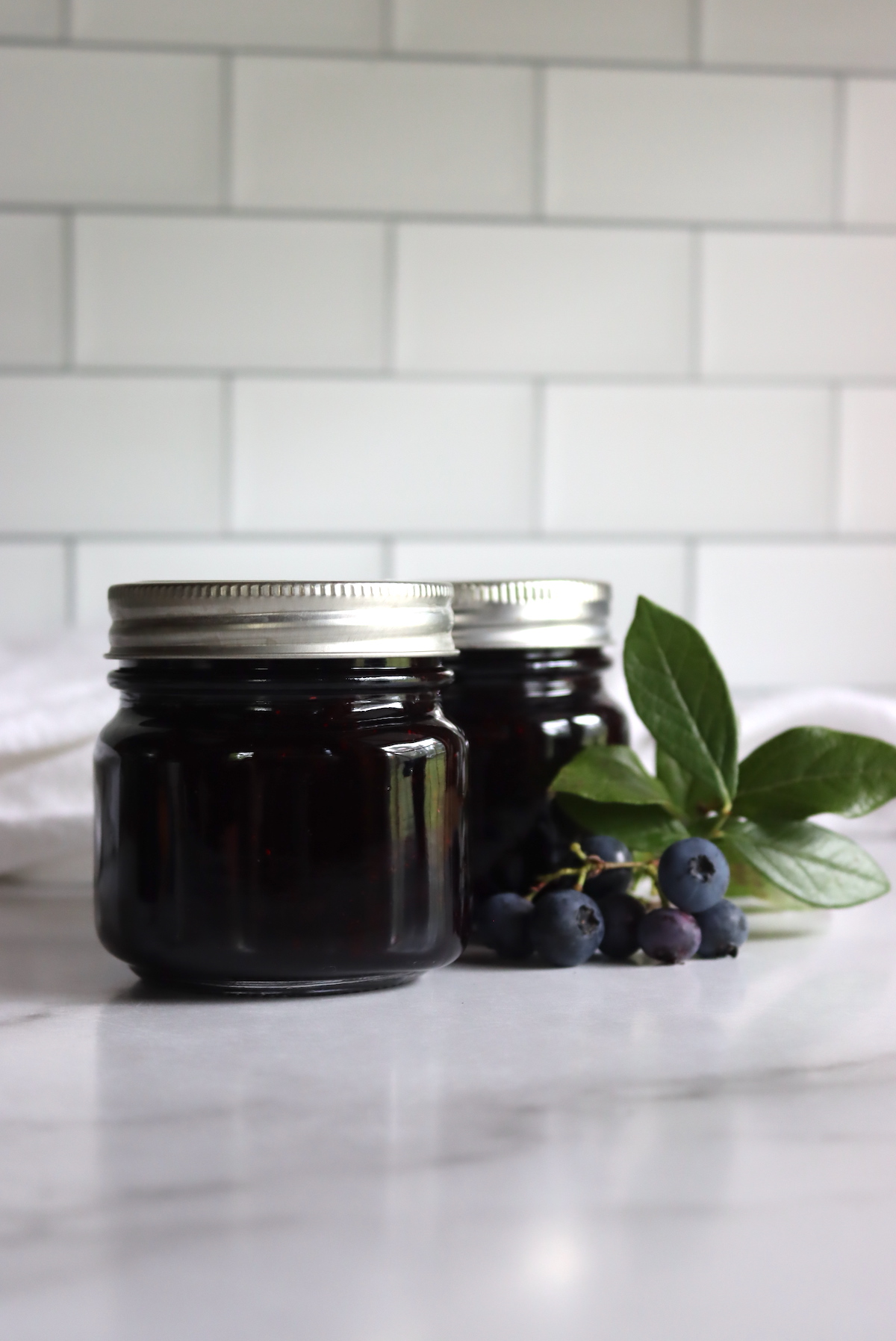 How to Make Blueberry Jam (without Pectin)
As you pick through the blueberries, check for good quality, ripe berries, remove the stems, and of course, any leaves or debris mixed in with your harvest.
Place 4 cups of blueberries in a medium saucepan or jam pot and add the lemon juice. Do not add sugar yet!
Start slowly cooking the blueberries with lemon juice over low heat, stirring often. Since there is not much liquid in the pot to begin with, it is essential to be patient and start cooking the berries on low heat; otherwise, you can end up scorching your fruit and the result will be a bitter-tasting jam.
Once the blueberries start to pop and release some juices, you can increase the burner temperature to medium-high, stirring continuously and watching for scorching.
Gently mash the berries with your spoon as they are cooking to help them fall apart a little more, ensuring you end up with a smooth, spreadable jam.
After 5-8 minutes, the blueberries should have cooked enough that you now have plenty of liquid and are ready to add the sugar.
Stir the 2 cups of sugar into your blueberry mixture, keeping the heat at medium-high.
Continue to cook the blueberry jam until it reaches the gel stage, which will take about 20 minutes or a bit longer because we started over low heat.
Using the cold plate test, you can test your jam to see if it is at the gel stage. To do this, have a couple of small plates or saucers in the freezer.
When you are ready to test your jam, take a plate out of the freezer, drop about a tablespoon of jam onto the plate, and then return it to the freezer for 1-2 minutes.
Remove the plate from the freezer again, and lightly push at the edge of the dollop of jam with your fingertip.
If the jam appears to have a "skin" on top or wrinkles when you gently push it, you know it has reached the gel stage.
If your finger slides right through it, then it is not ready yet, and you need to continue to cook your jam. Be patient and continue to be watchful for scorching! You may even need to reduce the heat while the jam cooks and thickens.
Another way to test for the gel stage is to use a candy thermometer and cook the jam until it reaches 220° Fahrenheit.
When the jam has reached the gel stage, ladle or pour it into prepared jars or containers, leaving ¼" of headspace at the top of each jar.
Wipe the rim of the container with a clean cloth and put lids on your containers.
If canning, process jars in a water bath canner for 10 minutes (15 minutes if above 6,000 feet in elevation).
Fresh blueberry jam is excellent for immediate use by storing it in the refrigerator but should be eaten within a month. You can also freeze blueberry jam, which will keep well for up to 6 months.
Blueberry Jam Variations
Blueberries are such a versatile fruit, and there is virtually a never-ending list of ways to use blueberries.
Fruits such as raspberries and strawberries make excellent jams, and adding blueberries gives those traditional jams a nice twist.
Canning Blueberry Jam
If you have a large volume or harvest of blueberries and plan to make a lot of jam, or if you like having the fresh taste of blueberries year-round, canning your jam is quite simple.
Canning allows you to store your delicious blueberry jam for up to 18 months or longer if safely canned and stored in your pantry or a cool, dry place.
Prepare a water bath canner and jars before you start cooking the jam. If you're unfamiliar with water bath canning, please read my beginner's guide to water bath canning before you get started.
Once the jam has reached the gel stage, carefully ladle the jam into the hot jars, leaving ¼" headspace at the top of the jar.
The headspace at the top is essential, so do not overfill your jars. A Canning funnel with headspace measurements on it makes this step easier.
Wipe the rims of the filled jars with a clean cloth and apply 2 part canning lids.
Load the filled jars into your preheated canner and bring the canner to a full rolling boil. Once boiling, process the jars for 10 minutes (or 15 minutes if above 6,000 feet in elevation).
When the processing time has elapsed, turn off the heat and allow the jars to set in the water for an additional 5 minutes.
Use a jar lifter to remove the jars from the canner and set them to cool on a towel on the counter, leaving some space between the jars for airflow. Check the seals on the lids after 24 hours and store any unsealed jars in the refrigerator for immediate use.
Store your canned jam in your pantry or other cool, dry place. It will maintain good quality on the shelf for about 18 months but will still be good after that as long as the jar remains sealed. Refrigerate after opening.
Ways to Use Blueberry Jam
Blueberry pancakes are always a favorite breakfast (and sometimes dinner) option. If you like blueberry pancakes, try adding some blueberry jam along with maple syrup on top of your pancakes for a delightful punch of incredible blueberry flavor!
Of course, blueberry jam is perfect on your favorite bread, toast, croissants, English muffins, biscuits, and more.
Muffins are even more fantastic with a spoonful of blueberry jam on top.
I also like adding whole blueberries and blueberry jam to my favorite banana bread recipe. The blueberries make a sweet addition to the flavor, plus you end up with some fun blue-colored banana bread!
Blueberry Canning Recipes
Looking for more blueberry canning recipes?
Canning Blueberry Pie Filling (coming soon)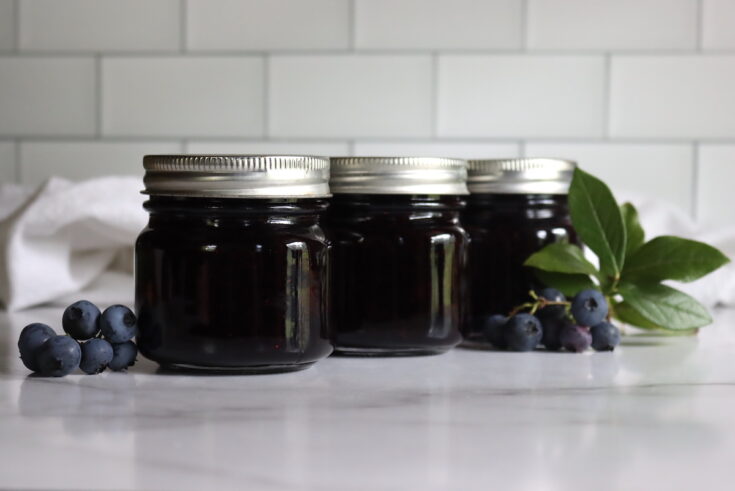 Yield:

Makes 3-4 half pint (8 oz) jars
Blueberry Jam (without Added Pectin)
Additional Time:
10 minutes
Blueberry jam is a simple preserve that's made with just blueberries, sugar and lemon juice.
Ingredients
4 cups of ripe blueberries
2 cups granulated sugar
¼ cup lemon juice
Instructions
Pick through your blueberries carefully, remove the stems and rinse your berries with clean water.
Place the blueberries and lemon juice into a medium saucepan.
Over low heat, slowly cook the blueberries until they begin to pop and produce their own juices. Stir and carefully watch to prevent scorching, especially at this early stage.
Lightly mash the blueberries as you stir and cook them, allowing them to break apart.
Once the blueberries and lemon juice have created a significant amount of juice, add the sugar, stirring to dissolve.
Turn the heat up to medium-high, and continue to stir and check to make sure the jam is not scorching.
Cook the jam until it has reached the gel stage, which should be approximately 20 minutes or a little longer.
Test the jam to see if it has reached the gel stage by using the cold plate test, or until the temperature reaches the gel stage at 220° F.
Ladle or pour the jam into prepared jars or containers.
Preserve the jam by using a hot water bath canning method, or after the jam has cooled, keep the jam refrigerated or frozen until ready to eat. If canning, process in a water bath canner for 10 minutes (15 minutes if above 6,000 feet in elevation).
Old Fashioned Jam Recipes
Love making jams the old-fashioned way, with no added pectin? Just sugar, fruit, and a little bit of love in each jar…
Summer Fruit Canning Recipes
Putting up more fruit this summer? I have plenty of fruit canning recipes…