Fiddleheads have a very short season, just a week or two and those cute little curls unfurl and the moment has passed. How do you enjoy fiddleheads all year long? Quick and easy fiddlehead pickles are the answer!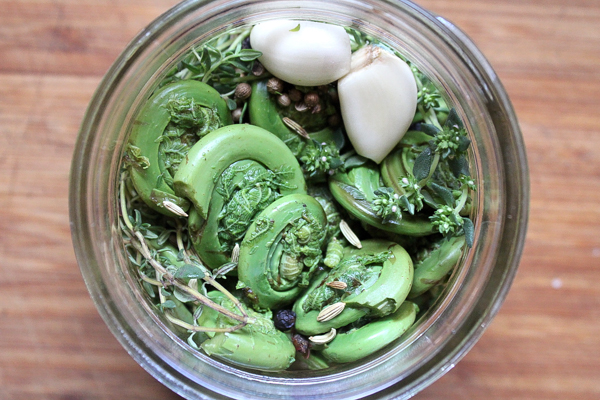 A few years back my friends took me out to a fancy local seasonal restaurant for my birthday, and I was pretty shocked to see fried fiddleheads on the menu. My birthday is in October, so fiddleheads are not exactly seasonal. Freezing pops the cells and dramatically alters the texture, and these tasted like they were picked yesterday.
It's a small place, and I had the chance to ask the chef how they managed it. He told me they pickled them about 6 months before and saved them as a surprise on their fall menu. Just a little throwback to spring to shake things up.
Once they were breaded and fried it was impossible to tell that they'd been preserved. The vinegar went well with the overall flavor, like malt vinegar on fish and chips. The extra salt blended right into the battered and fried goodness.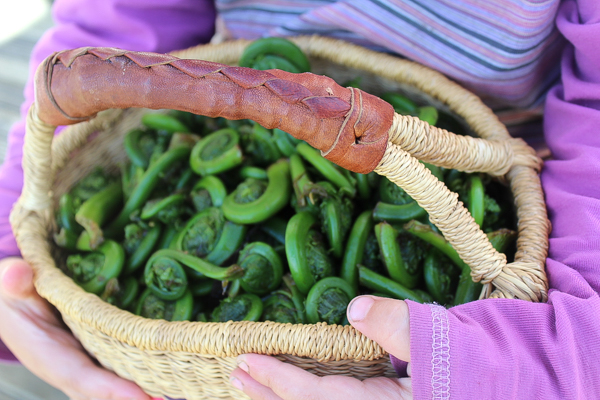 Fiddleheads are easy to forage if you know where to look at just the right time. The trick is, more often than not once they've hit the grocery store produce section the moment has passed in the field.
If you find them in the grocery store in your area, make a note of when. The next year, start looking about a week or two before that.
They usually grow in about a week or two after the first ramps (wild leeks), and in central Vermont, that's sometime around the end of April or beginning of May.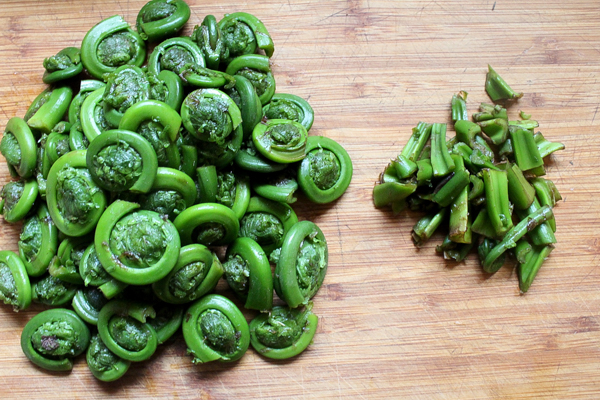 Start by trimming the cut ends off of the fiddleheads. They brown quickly, and a fresh cut means a crisper-finished fiddlehead pickle.
Fiddleheads need to be cooked before they can be eaten. They're mildly toxic raw, and fiddleheads are sometimes cooked in a change of water to get any last bits of that out. For canning, just give them a 10 minute boil in salted water, followed by straining and rinsing.
Once the fiddleheads are cooked and rinsed, they're ready to be packed into canning jars. The seasoning is up to you, but this year I went with a simple mix of coriander, fennel, peppercorns, thyme and garlic.
Feel free to use whatever seasonings strike your fancy. They can be made with the same seasonings you'd use for dill pickles if you'd like, or go exotic and try Indian spices for a change. I'm planning on making some deep-fried fiddleheads with these pickles later this year, so I'm sticking with just enough spice to bring out their flavor and not overwhelm them.
In the end, you can process the jars in a water bath for 10 minutes and they'll be shelf-stable. Or you can simply pour a vinegar brine over the fiddleheads and seasoning and store them in the refrigerator.
Since the fiddleheads are cooked either way, the extra cook time for canning doesn't really affect the final taste. Canning them is convenient though if you're going to attempt to store them for any length of time.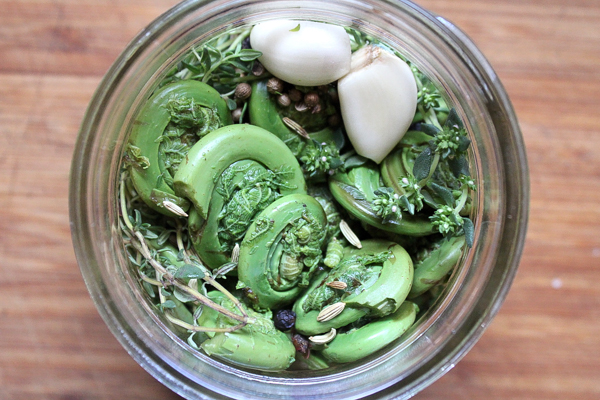 Yield:

Makes 1 Pint
Pickled Fiddleheads
These simple pickled fiddleheads can be water bath canned for long-term preservation, or they can be kept in the refrigerator for immediate use.  Either way, the vinegar helps bring out the flavor of the fiddlehead ferns. 
Ingredients
2 cups fiddleheads, about 1/2 lb.
1/2 cup water
1/2 cup vinegar white or cider
1 tsp salt, plus more for cooking the fiddleheads
1/2 tsp peppercorns
1/2 tsp fennel
1/2 tsp corriander
1 sprig thyme
2-3 cloves garlic
Instructions
Boil the fiddleheads in salted water for 10 minutes. Strain and rinse.
Pack cooked fiddleheads in a pint mason jar, leaving 1-inch headspace.
Add all spices directly into the jar on top of the cooked fiddleheads.
Bring water, vinegar and salt to a boil and pour over the fiddleheads and spices.
Cap with a 2 part mason jar lid.
Process in a water bath canner for 10 minutes, or store in the refrigerator. Either way, give them at least a few days for the flavors to infuse before eating.
Pickle Recipes
Looking for more easy homemade pickling recipes?