Cherry Jelly is a delicious way to preserve cherries, and there's no pitting required. This recipe can be water bath canned to store on your pantry shelf, or you can skip it and make a simple refrigerator or freezer preserve.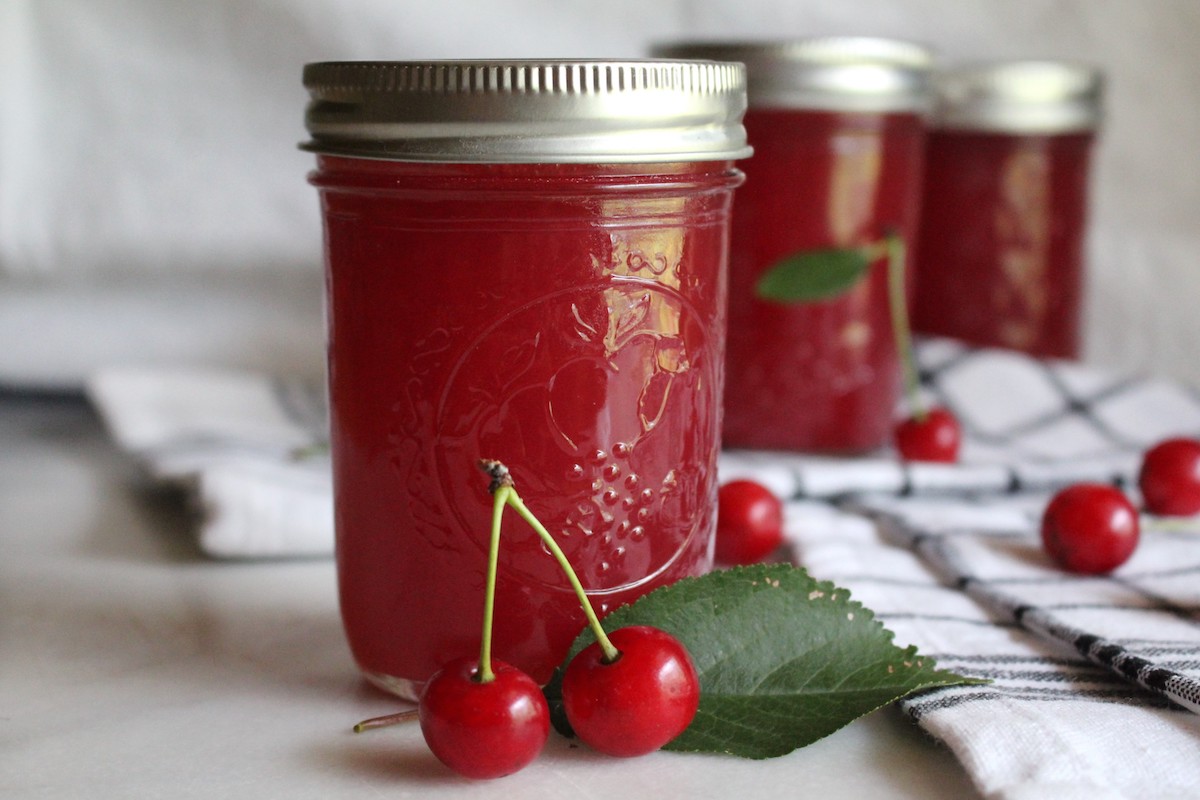 We have half a dozen sour cherry trees in our yard, and they produce some of the best fruit for pie, jam, and preserves. While the fruit are tart, they're much more flavorful than standard sweet cherries. Since preserves add sugar anyway, I'm happy to bottle up all that extra flavor.
We make home-canned cherry pie filling each year, as well as sour cherry jam, but sometimes the crops just come in all at once, and I don't have time to spend all day pitting cherries. That's when I start making cherry jelly because it's one of the few cherry preserve recipes that doesn't require pitting.
(You can also make this recipe with regular sweet cherries, black cherries, Rainer cherries or any other cherry you can find. When working with sweet cherries, I'd suggest adding 1 to 2 Tbsp of lemon juice to the batch to add a bit of acidity to balance out the flavors. Tart cherries are already naturally acidic, so lemon juice isn't necessary there.)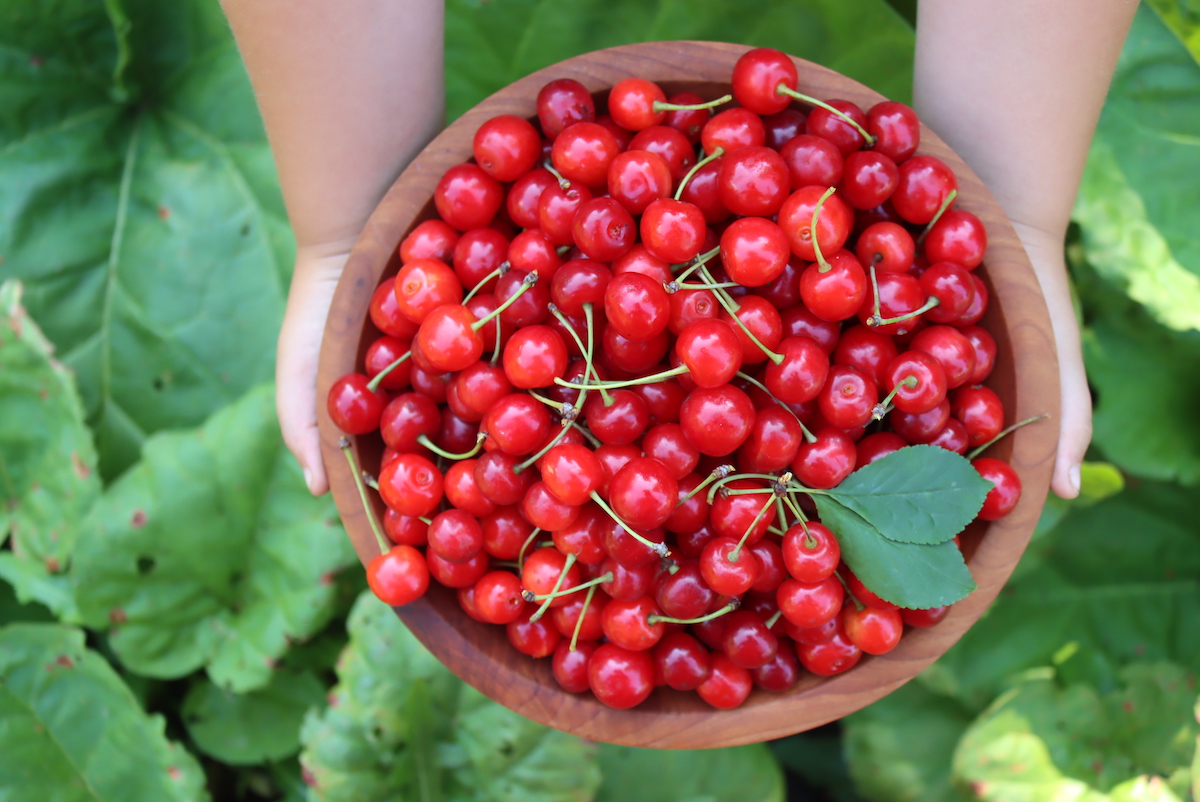 Best Cherries for Jelly
Generally, the best cherries for jelly are tart cherries (also known as sour cherries). They have the most cherry flavor, and their tart acidity helps to balance the sugar in jelly recipes.
That said, you can make this recipe with any cherry you choose, and it'll still be lovely. Black cherries make a deep, rich cherry jelly that tastes a bit like red wine. Rainier cherries make a light jelly that tastes a bit like apricots.
When using sweet varieties, I would suggest adding a splash of lemon juice to the batch to help balance the acidity. You can also opt for a low-sugar pectin and reduce the sugar, and I'll include instructions for that as well.
Freezing the cherries whole will help you extract more juice later, so if you're harvesting too many cherries to handle in season, you can just freeze them as is to make jelly later.
Lastly, you can skip the fresh cherries and buy bottled cherry juice. Tart cherry juice is readily available in most health food stores, as it's high in antioxidants, and naturopaths often recommend it as a health supplement. You can find it plain or concentrated, and if it's concentrated, you'll want to dilute it to regular strength before using.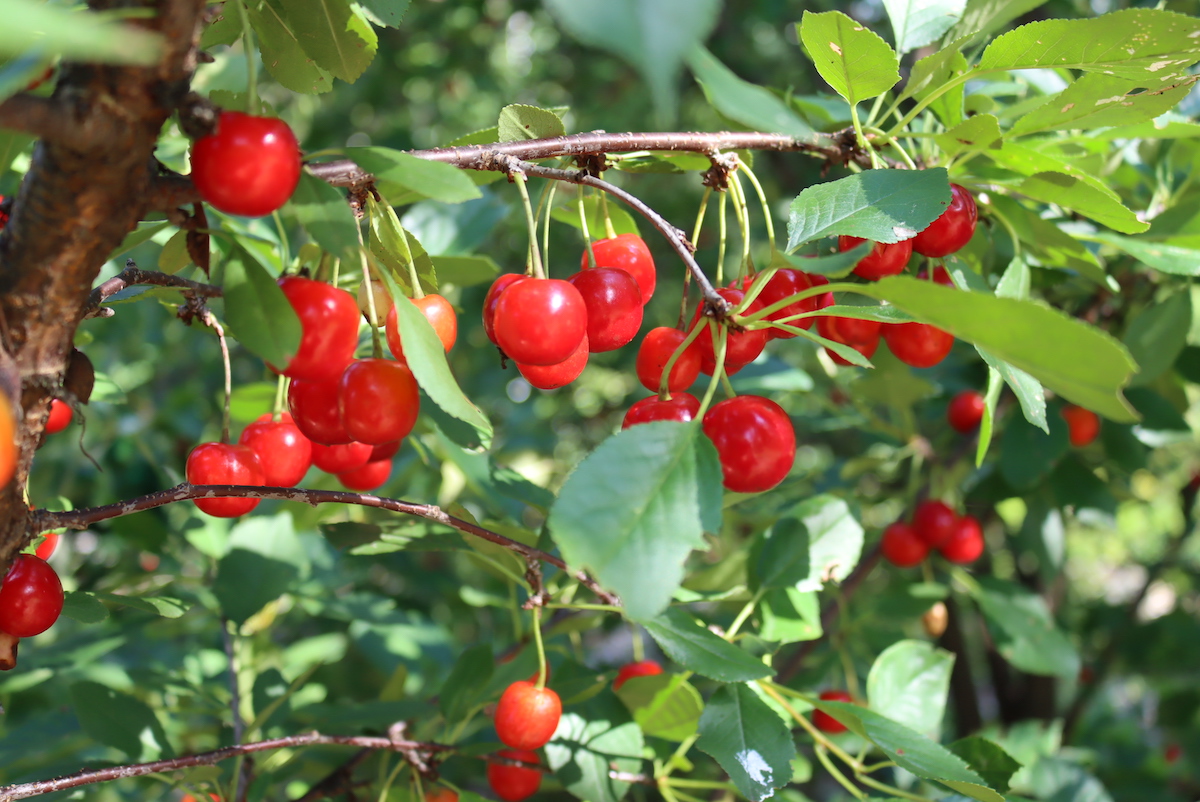 Ingredients for Cherry Jelly
You will love cherry jelly if you love cherries and the richness of cherry flavor!
To make a batch of 5 half-pints (8-ounce) jars of jelly, you will need 4 cups of cherry juice, and to get that, you should start with approximately 3 pounds of tart (sour) cherries. If you're buying them at the farmer's market, that's about 2 quarts.

Sweet cherries are less juicy than tart cherries, so you'll need a bit more to get the right amount of juice.
Ripe, tart red cherries will produce a tangy juice that is relatively acidic, so adding lemon juice to the jelly recipe is not necessary. You can add the lemon juice for a little more zing, but the jelly does not need the lemon juice to gel as some other fruits do. I would recommend it if you're using sweet cherries.

This recipe calls for regular pectin (like Sure-Jell), which means we will use 4 cups of sugar to match our 4 cups of cherry juice.
If your cherries produce more than 4 cups of juice, you can add sugar accordingly to match the amount of juice. Doing this will also increase the amount of jelly you make, so you should have at least six jelly jars ready when you get to that point.
If you find yourself slightly short of 4 cups of juice, you can add some apple or cranberry juice to get up to the correct amount.
For those who like to use less sugar, or if you want to make jelly that's a bit more diet-friendly, you can use a low-sugar pectin alternative such as Sure Jel Low Sugar (see Notes).
Using the same 4 cups of juice, you would use with regular pectin, using the low-sugar option allows you to use only half that amount, around 2 cups.
Using less sugar does reduce your yield a little; however, if you have more than 4 cups of juice (up to 5 cups), you can still get by with 2 cups of sugar and can still make five half-pints of jelly.
Juicing Fruit for Cherry Jelly
Unlike common sweet cherries, such as Bing, sour or tart cherries are typically smaller, but all cherries have one pit (seed or "stone") inside them. When making jam, you have to pit the cherries, which is time-consuming. That's one reason jelly is a bit simpler.
Luckily, we don't have to remove the pits from these tart cherries, because we will cook them to get only the juice. The pit and the flesh will be discarded, and it is perfectly all right to cook the cherries with the pits inside.
To get the best cherry jelly, you should use the best cherries. Do not use overripe cherries. You should check the cherries for dark or soft spots, also called "bruising." Mold will begin to appear where the stem is (or was), indicating that they are definitely past its prime.
Using a few rotten cherries can ruin your whole batch of jelly, so be a little picky about your pick of cherries!
There are two main methods for juicing cherries for jelly. I like to use a steam juicer, but you can also just juice them on the stovetop in a sauce pan. I'll take you through both options. (You can also use store-bought bottled cherry juice.)
Steam Juicer
A steam juicer is an incredibly efficient way of making juice for jelly or other canning projects. It extracts every last bit of juice from the fruit, and helps you get the most bang for your buck if you're purchasing fruit.
To use one, just place the cherries in the top basket and add a bit of water into the under tray. Put the juicer on the stove and allow the cherries to steam for about 45 minutes to an hour.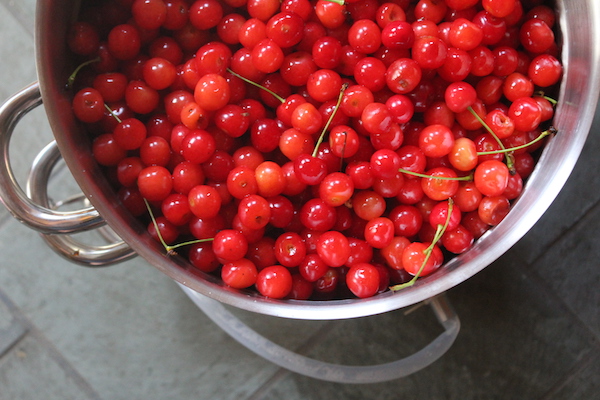 Since cherry season is in high summer, I actually like to set this up outdoors in my outdoor canning kitchen. It's really convenient because my "kitchen" is right in the middle of my blueberry patch and cherry orchard.
It's literally steps from the trees to the juicer, so everything is really fresh.
I have a high output three burner outdoor stove, and it's the perfect size to fit my steam juicer next to my extra-large Amish water bath canner.
Stovetop Juicing Method
After you have picked through your cherries, rinse them under clean water, then place them in a medium saucepan or jelly pot.
Add ½ cup of water, and cook the cherries over medium-high heat, stirring often at first, until the juices start bursting from the cherries. Once a substantial amount of juice is in the pot, they do not need to be stirred as often.
Bring the cherry mixture to a boil, then reduce the heat to medium-low, cover and simmer, allowing all the cherries to pop and release their juices, for approximately 10 minutes.
Avoid cooking at a high temperature to prevent evaporation of some of the liquid. You want a good amount of juice, but not a thick juice.
Once the cherries have simmered for 10 minutes, remove the pan from the stove.
Using a jelly bag, carefully and slowly pour the cherry mixture into the bag, allowing the cherry juice to run through. Let the cherry mixture sit until dripping has slowed considerably or until you have at least 4 cups of juice.
If you do not have a jelly bag, use several layers of cheesecloth inside a strainer instead. Make sure you have a deep bowl under the strainer to allow at least 4 cups of juice to run through.
Typically you do not want to squeeze the bag or the cheesecloth to extract more juice. To produce a bright, clear red cherry jelly, there should not be any pulp from the cherries in the juice.
If you are using cheesecloth and don't have enough layers, it's possible you may get some pulp from your cherry mixture into your juice. That will not harm the flavor, but your finished jelly may be a little cloudy.
If you want to strain your juice even more, you can pour the filtered liquid through a 100% cotton cloth, such as a tea towel, although this will reduce the amount of juice you get, taking into account what will soak into the towel. This should not be necessary if you use a jelly bag.
How to Make Cherry Jelly
Once you have your juice, it's time to make cherry jelly!
If you cannot extract 4 cups of cherry juice from your mixture, you can add another juice (such as apple or cranberry) to the extracted liquid to make up 4 cups.,
Pre-measure 4 cups of sugar (or less if using low-sugar pectin) and set aside. Do not add it to the juice yet.
Pour the 4 cups of juice into a medium saucepan or jam pot.
Lemon juice can be added at this point if you opt to add it.
Place the pan with the juice on the stove and cook the liquid over medium-high heat until the mixture comes to a boil, stirring occasionally.
Slowly add the pectin of your choice, stirring continuously to dissolve the pectin.
Bring the mixture to a full boil, and continue to boil for one minute, stirring continuously.
Slowly add the pre-measured sugar, continuing to stir as the sugar dissolves and the juice returns back to a full boil.
Boil the jelly for 1-2 minutes. Then remove the pan from the stove.
Carefully ladle or pour the mixture into your prepared hot jelly jars, leaving ¼ inch of space at the top of each jar.
Wipe the rim of the jars with a clean cloth, and using 2-part canning lids, place the lid on the jar and then screw on the ring, tightening only until finger-tight.
At this point, your jelly is done, and you can proceed to canning with a hot water bath, or else let it sit undisturbed on the counter for 24 hours or more, until the jelly has set. Store this jelly in the refrigerator for up to 1 month, or keep it frozen for up to 6 months.
(If canning, see instructions for canning below.)

Cherry Jelly Variations
Our cherries ripen at the same time as fresh raspberries on our homestead, so I'll often mix them together to make cherry raspberry jelly. Using the full sugar and regular pectin recipe makes a sweet yet tangy jelly that is unlike no other!
Tart cherries combine deliciously with serviceberries (also known as Juneberries or Saskatoon berries) to make Saskatoon Cherry jelly.
Many other fruits pair well with cherries, such as grape, currant, peach, nectarine, orange, or quince, and any combination of those will make a flavorful jelly.
Did you know that cherry pits are used to make almond extract? It's true!
Cooking the cherries with the pits inside, as this recipe calls for, adds a natural almond flavor to the cherries. If you want to bring out the almond flavoring even more, add additional almond extract as you cook the juice.
Vanilla is another flavoring I like to add to almost anything. You can cook a vanilla bean, (seeds and all), with the cherries, bringing the smooth vanilla flavor through with the juice.
Canning Cherry Jelly
Canning jelly using the hot water bath method is a very simple way to transform your batch of jelly into a stable year-round product with a shelf life of over 18 months.
If you are a beginner or novice canner, please read my Beginners guide to water bath canning for detailed canning instructions, including the supplies you will need.
Once your jelly is ready, ladle or pour the jelly into hot jelly jars, leaving ¼" headspace at the top.
Use a clean cloth to wipe the rim before you place the lid on the jar, then screw on the canning rings until "finger tight."

Using a jar lifter, place the jelly jars into the prepared hot water bath canner.
Once the water has returned to a boil, set the timer for 10 minutes. Processing time may need to be adjusted according to your altitude. If above 6,000 feet, process jars for 15 minutes.

After the processing time has elapsed, turn off the heat under your canner, and remove the jars using the jar lifter. Place the hot jars on a towel on the counter, leaving some air space between them as they cool.
Leave the jelly jars undisturbed for 24 hours, and then check to see if all the jars have been sealed. Any unsealed jars may be stored in the refrigerator and used within a month.
Store sealed jelly jars in your pantry or a cool, dry place. They will maintain quality for 18 months (or longer if they stay sealed), but store opened jars in the refrigerator.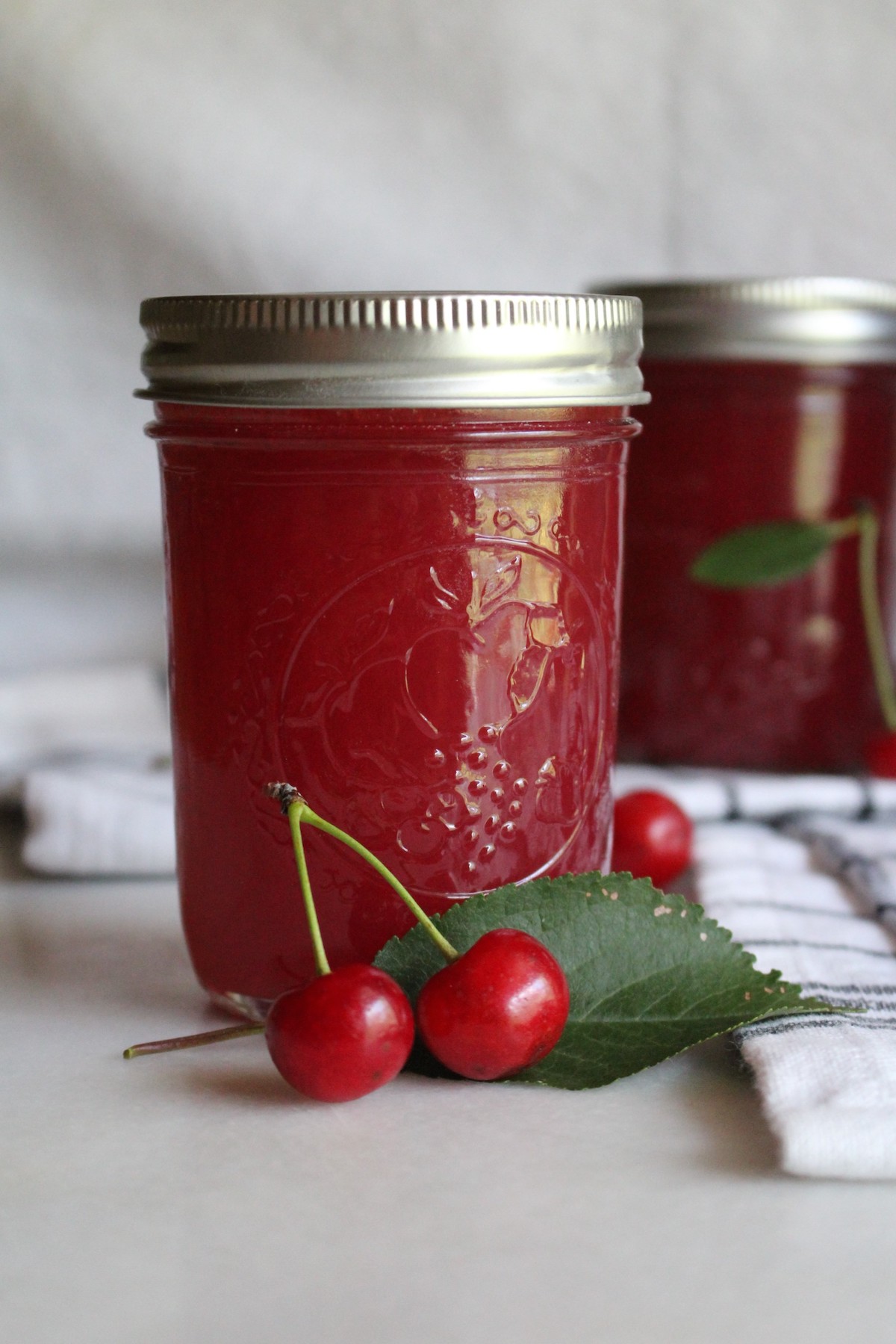 Ways to Use Cherry Jelly
Cherry jelly goes great with peanut butter on a sandwich or all by itself on toast or English muffins. You can top any of your favorite kinds of bread with cherry jelly.
Try dissolving a teaspoon of cherry jelly in your hot tea for a surprisingly sweet burst of flavor.
Make a batch of cherry or cranberry scones and serve them with cherry jelly for a delicious treat.
Ways to Preserve Cherries
Need a few more ways to preserve cherries this summer?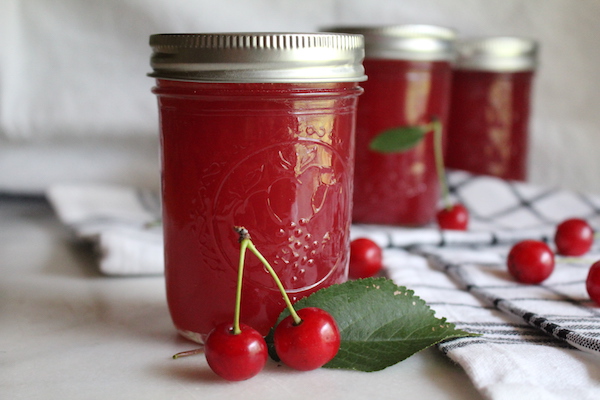 Yield:

Makes 5 half pint (8 oz) jars
Cherry Jelly
Canning Time (Optional):
10 minutes
Total Time:
2 hours
20 minutes
Cherry jelly is an easy to make homemade preserve, and the best part is you don't have to pit the cherries!
Ingredients
4 cups tart cherry juice (from 3 lbs of sour cherries)
½ cup water
2 Tbsp. lemon juice (optional)
4 cups sugar (See Notes for low sugar recipe)
1 box (1.75 oz.) regular pectin (see Notes for low-sugar recipe)
Instructions
Place clean, ripe cherries in a medium saucepan and add ½ cup water.
Cook on medium-high, stirring occasionally, as the cherries pop and release their juices.
Bring the mixture to a boil, then reduce the heat to medium-low, cover and simmer for 10 minutes.
After the cooking time has elapsed, remove the pan from the stove, pour the cherry mixture into a jelly bag, and let it sit until the juice has stopped dripping. Use several layers of cheesecloth and a strainer if you do not have a jelly bag.
Pre-measure the sugar and set it aside.
Add 2 Tablespoons of lemon juice to the cherry juice if desired.
In a medium saucepan or jam pot, cook the juice on high heat, bringing it to a full boil.
Stirring continuously, slowly add the powdered pectin to the boiling juice.
Allow the juice with pectin to boil for one full minute.
Add the sugar slowly to the boiling juice, stirring continuously as the sugar dissolves.
Return the mixture back to a hard boil, stirring while boiling for 1-2 minutes.
Pour the hot jelly into prepared jelly jars using a canning funnel, leaving ¼" headspace, and wipe jar rims to remove any spills.
Secure lids to the jars and process the jars in a water bath canner for 10 minutes (or 15 minutes if above 6,000 feet in elevation). Canning is optional.
If you do not plan on canning your jelly, leave the jars to cool on the counter until the jelly has set, for 24 – 48 hours.
Jelly that has not been canned should be stored in the refrigerator for up to 1 month or in the freezer for six months. Jelly that has been processed and sealed using a canning method can be stored in a cool, dry place, where it will maintain quality for 18 months. For all jelly, refrigerate once opened.
Notes
Low-sugar pectin can be used to make jelly, and it calls for less sugar than the regular pectin recipe does. You can reduce the amount of sugar by half or a little more.
Sure-Jell low-sugar pectin is a reliable brand to use for making jelly with less sugar.
For making cherry jelly using low-sugar pectin, use 2 cups of sugar for 4-5 cups of juice. Low-sugar jelly is a great option for people who need to (or want to) keep their sugar intake low.
Another option is Pomona's Universal Pectin for low-sugar recipes. You will need to follow the instructions in the box, as this pectin is a 2-part low-sugar pectin, and the steps are different than for regular pectin.
*You will get a lower yield using less sugar and low-sugar pectin. For cherry jelly, you can use up to 5 cups of juice to yield 5 half-pint jars.
Jelly Recipes
Looking for more easy homemade jelly recipes?
Summer Canning Recipes
Keep your canning kettle hot with these summer canning recipes!