Canning grapes is a quick and easy way to preserve grapes for year-round enjoyment. Home-canned grapes are surprisingly tasty, and they maintain excellent flavor and texture through the canning process.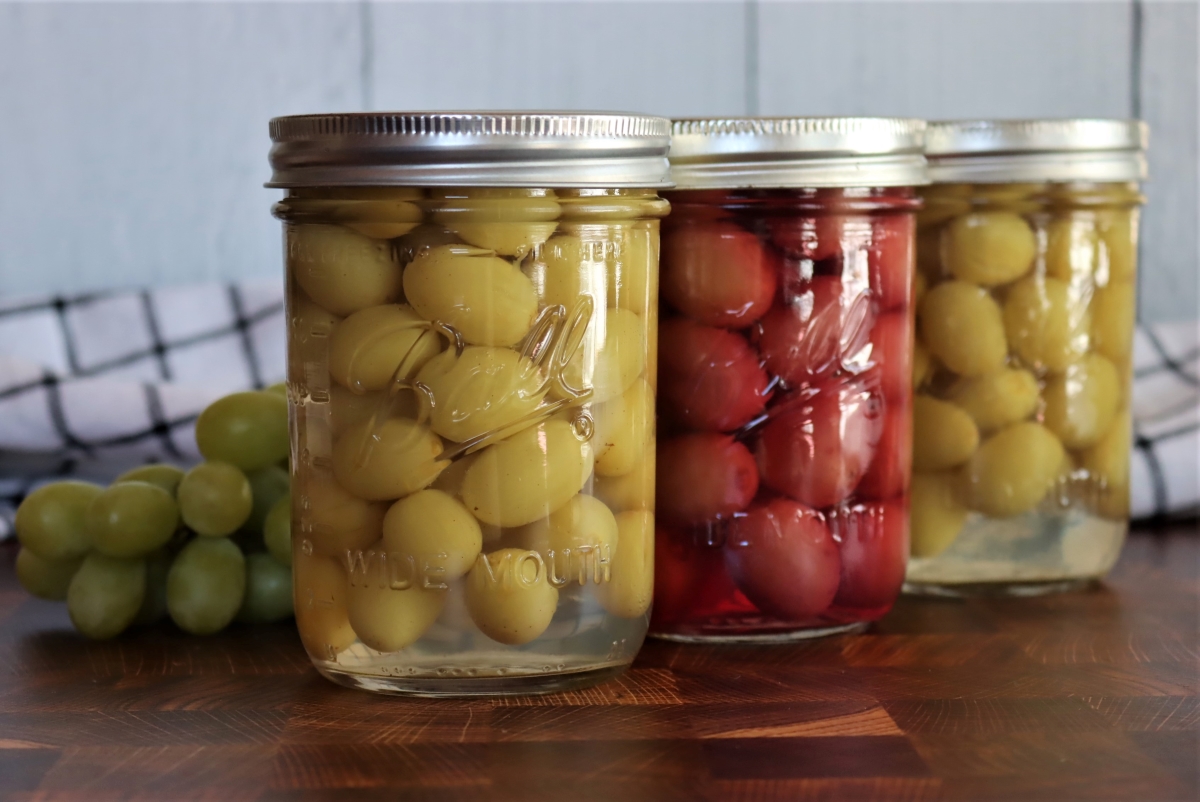 Canned grapes were one of my favorite foods when I was a little child, or more accurately, canned fruit cocktail where I'd pick out the grapes and save them for last.
I know, it's a strange food to love, but they really are surprisingly good.
When I was just four years old, and my brother was six, we'd wake up early, and he'd cook breakfast for us. My mom was already at work, and my dad was asleep after working all night on the 3rd shift.
My brother would cook the only thing he knew how…hot cereal. They called it Malt-O-Meal, and it's a lot like cream of wheat, basically warm soft mush. It doesn't have much flavor, but we'd spoon-canned fruit cocktail over the top, and it was our special meal.
Canned grapes were by far the best part, and I always wondered why they didn't just sell cans of grapes at the store. I'd pick through the fruit cocktail to save the grapes for last…like a tiny dessert on top of my breakfast bowl.
When I found myself with a bumper crop of grapes, I knew just how I'd use them…home-canned grapes!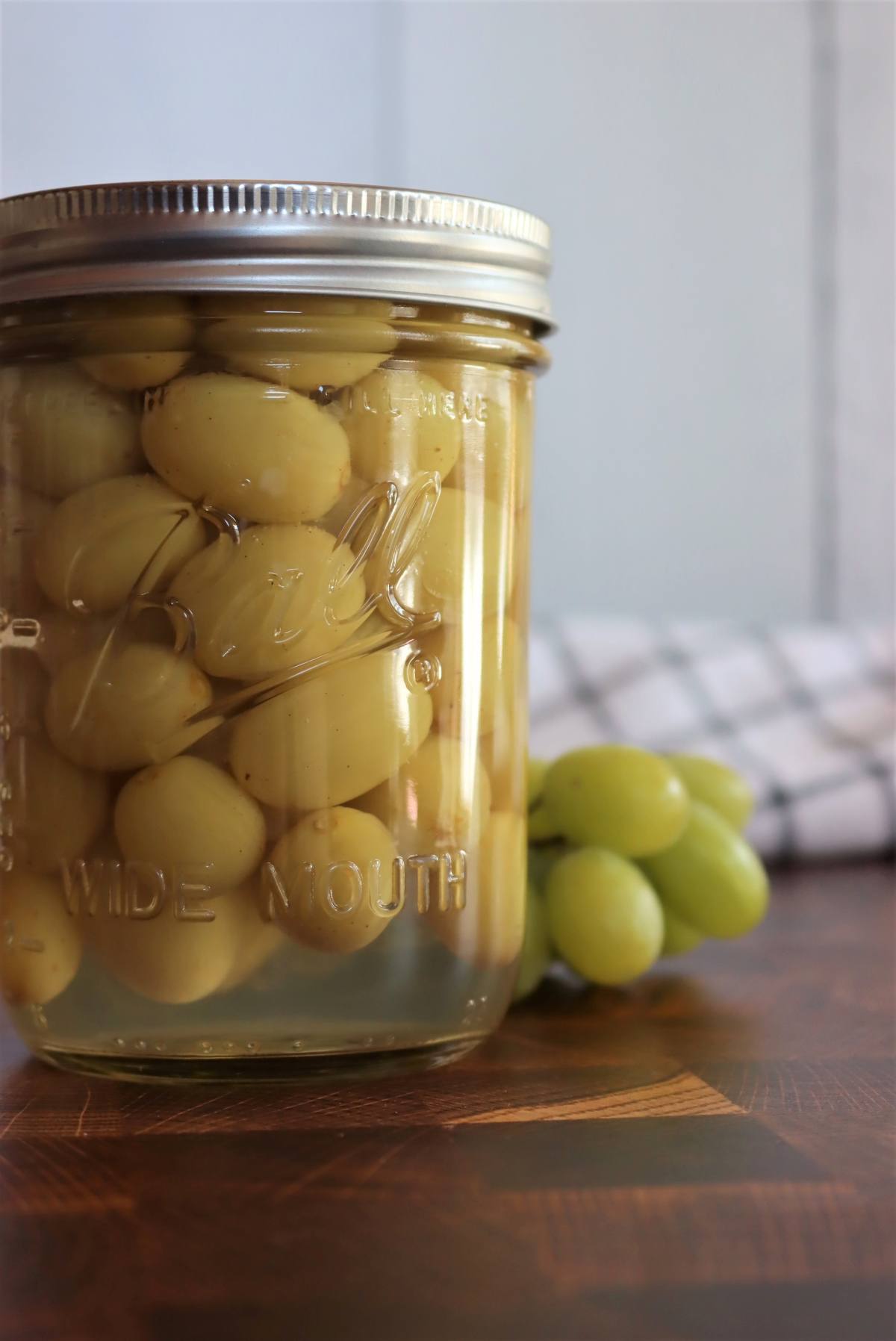 How to Can Grapes
Canning grapes is pretty straightforward, provided you're familiar with the basics of water bath canning. If you're new to canning, I'd strongly suggest you read this beginner's guide to water bath canning before continuing.
Start by preparing a water bath canner and deciding on a canning syrup.
Syrup for Canning Grapes
Grapes are naturally quite sweet, and they really don't need any extra sugar. That said, if you can grapes in plain water they'll lose sugars to the canning liquid and taste washed out.
I'd suggest canning grapes in an extra light syrup that matches the natural sugars in fruit. It means they won't taste sweeter, and it helps prevent flavor and sugars from being lost into the canning water.
Canning in a small amount of sugar also helps the grapes retain their texture.
I make extra light syrup with 3/4 cups sugar and 6 1/2 cups water (for a 9-pint canner load), or 1 1/4 cups sugar to 10 1/2 cups water (for a 7-quart canner load).
For sweeter grapes, try light syrup or even medium syrup, but know that the grapes will be more like candied grapes than canned fresh fruit. Here's where you'll find the measurements for various canning syrups, from extra light to heavy syrup.
Water, apple juice, and grape juice are also perfectly safe for canning. White grape juice in particular is an excellent all-natural choice (and will work just like an extra light syrup).
Water Bath Canning Grapes
Grapes can be canned as either a raw pack or a hot pack, but as with most fruits, the quality is better if you can them as a hot pack. Raw pack is simpler and quicker, as you just pack the grapes directly into canning jars without blanching.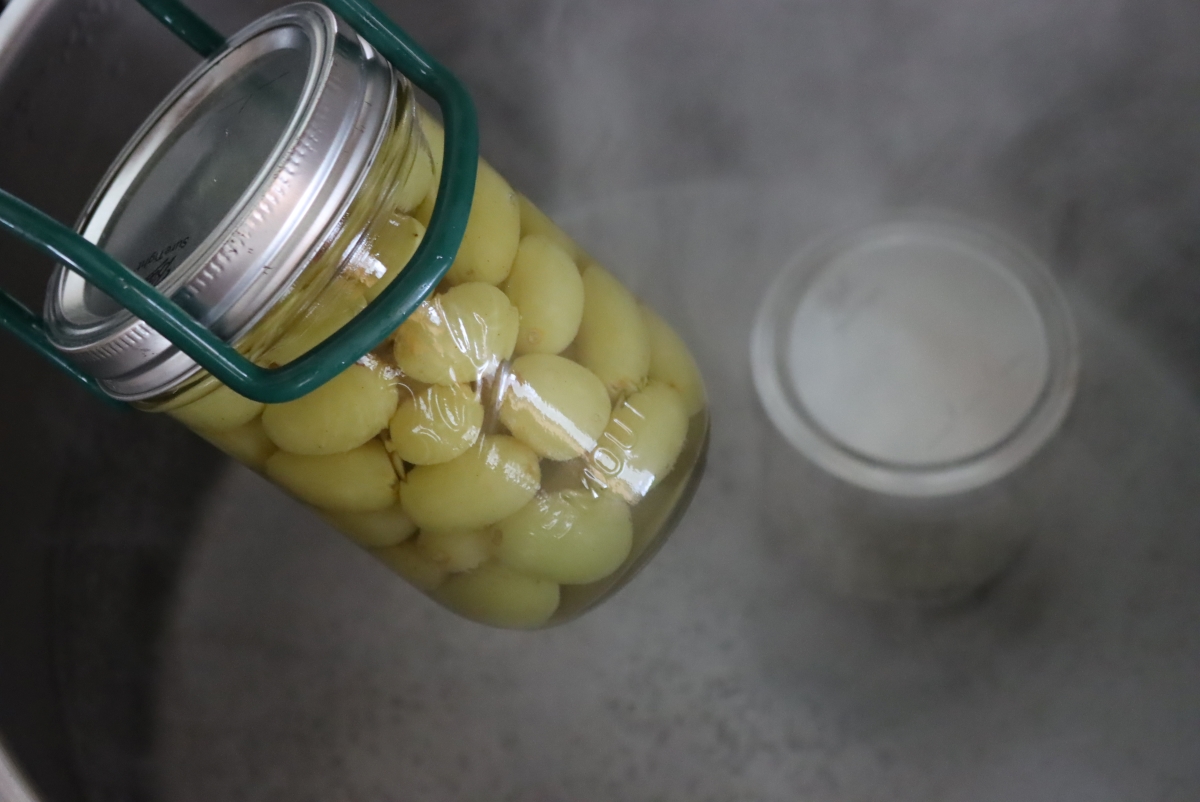 Raw Pack
Wash and stem the grapes, then pack them into prepared canning jars. Pour boiling canning liquid (syrup, juice, or water) over the top of the grapes in the jar leaving 1-inch headspace.
Load the jars into a water bath canner that has been pre-heated to around 140 degrees F (the canner should not be boiling/simmering for raw pack).
Turn up the heat and bring the canner to a full rolling boil, then start the timer.
Hot Pack
The only difference for hot pack is that the grapes are blanched in boiling water for 30 to 60 seconds before loading into canning jars.
This pre-cooking step helps the grapes release air from their tissues, which means they shrink a bit so that they'll fill the canning jar better. It also creates micro fractures in the grape skins, which helps them process better without popping during canning.
Hot pack canned grapes tend to float less, fill out the jar better, and have a better-finished texture. I know blanching is a pain, but 30 seconds is totally worth it for better quality canned grapes.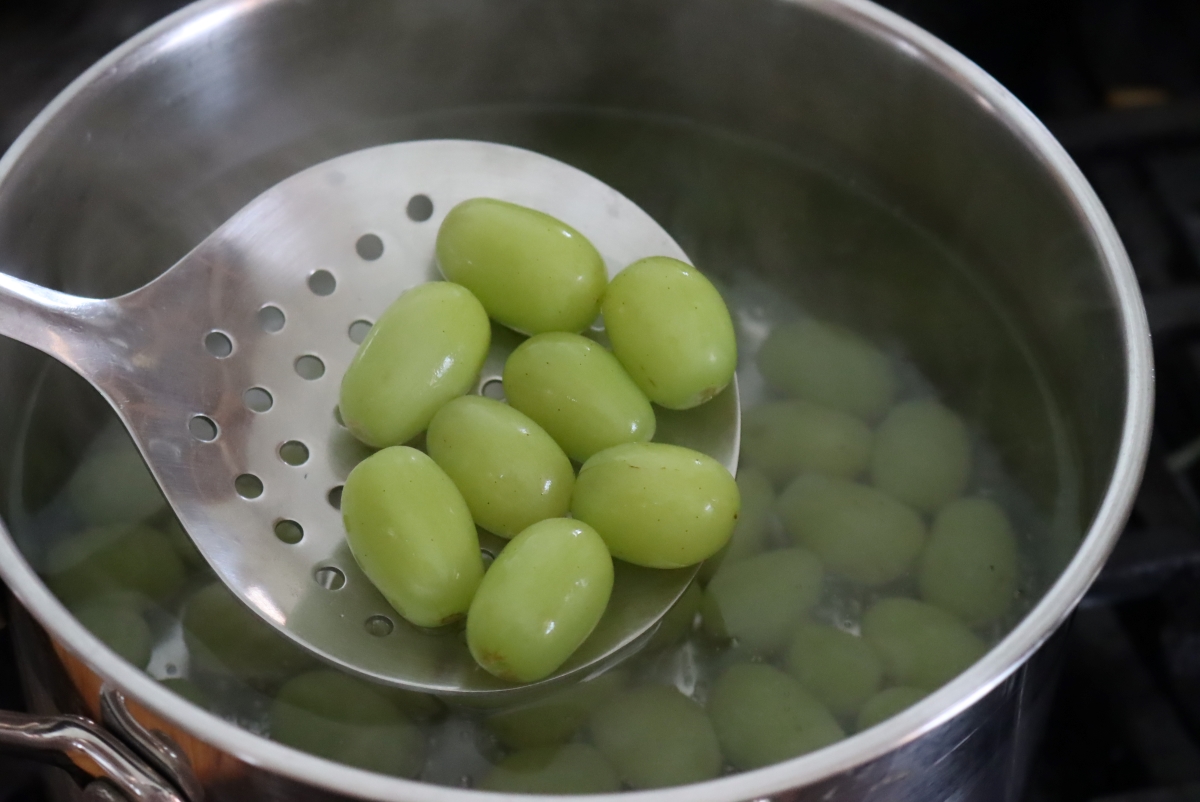 Remove the grapes from the blanching pot with a slotted spoon and pack them directly into canning jars. Pour boiling canning liquid over the top of the grapes (syrup, juice, or water).
(Note that you're not canning the grapes in the blanching liquid, but a separate syrup. The blanching liquid.)
For hot pack, the water bath canner should be pre-heated to just barely simmering (around 180 degrees F).
Processing Times for Canning Grapes
The processing times for canning grapes vary based on whether you're doing hot pack or raw pack, and your altitude.
For hot pack pints and quarts (my preferred method), the processing time is just 10 minutes if you're under 1,000 feet in elevation.
Take a look at the table below for raw pack, or you're at higher altitudes.

Ways to Preserve Grapes
Looking for more tasty ways to preserve grapes?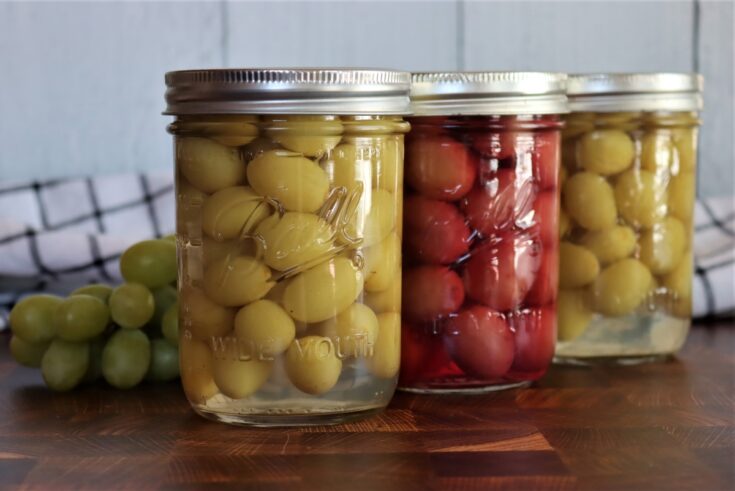 Yield:

Yield Varies, See Notes
Canning Grapes
Canning grapes is an easy way to preserve grapes past their short harvest season.
Ingredients
Grapes
Water or Grape Juice
Sugar *Optional, see note
Instructions
Prepare a water bath canner and canning jars before beginning.
Prepare a canning liquid of your choice. I'd suggest extra light syrup (measurements in notes below), but grape juice is also a good option. Plain water is fine too. Bring the liquid to a boil and keep it hot.
Wash and stem grapes. Bring a saucepan full of water to a boil on the stove and blanch grapes for 30 to 60 seconds. Remove with a slotted spoon and load into canning jars, leaving 1-inch headspace.
Pour boiling canning liquid over the grapes, maintaining 1-inch headspace.
Process in a water bath canner for 10 minutes (for altitudes below 1,000 feet) for half-pint, pint, and quart jar sizes. Higher altitudes and raw packs require different processing times, see notes.
Remove from the canner and allow the jars to cool completely before checking seals. Store unsealed jars in the refrigerator for immediate use. Sealed jars will maintain quality on the pantry shelf for 12-18 months. Refrigerate after opening.
Notes
Selecting Grapes for Canning - The best grapes for canning are firm grapes that are just slightly underripe or perfectly ripe. They should have tight skins and a very firm texture. Green grapes have a better flavor and color when canned, and red grapes will bleed color into the canning liquid and be nearly white when strained.
Canning Grapes Yield - On average, it takes a pound of grapes to fill a pint jar and two pounds for a quart jar. That's weighed on the stem as purchased (or harvested) and assumes a hot pack. For a raw pack, you'll need slightly fewer grapes and the jars will finish partially empty as the fruit shrink during canning more if they're not blanched as in a hot pack.
Extra Light Syrup - To make extra light syrup, use 3/4 cups sugar and 6 1/2 cups water (for a 9-pint canner load), or 1 1/4 cups sugar to 10 1/2 cups water (for a 7-quart canner load). Bring sugar and water to a boil in a saucepan and stir to dissolve.
Altitude Adjustments and Raw Pack Canning Times -
Canning times vary based on elevation and the type of pack, raw or hot. Hot pack is described above, but you can simply load the raw grapes into jars without blanching and pour boiling syrup or juice over the top for a raw pack. Raw packs are lower quality generally, and require longer canning times.
Hot Pack Altitude Adjustments
For 0 to 1,000 Feet: Process 10 Minutes (all jar sizes)
For 1,001 to 6,000 Feet: Process 15 Minutes (all jar sizes)
Above 6,001 Feet: Process 20 Minutes (all jar sizes)
Raw Pack Altitude Adjustments
For 0 to 1,000 Feet: Process 15 min for pints and 20 min for quarts
For 1,001 to 3,000 Feet: Process 20 min for pints and 25 min for quarts
For 3,001 to 6,000 Feet: Process 20 min for pints and 30 minutes for quarts
For Above 6,001 Feet: Process 25 min for pints and 35 minutes for quarts
(If canning half-pint jars, use times for pint jars. Do not can grapes in jar sizes larger than quart jars.)
Fruit Canning Recipes
Looking for more ways to can fruit at home? I have plenty of fruit canning recipes to share: