Zucchini pickles are a simple way to preserve zucchini for year-round eating. I'm particularly fond of these bread and butter zucchini pickles, which are perfect as quick refrigerator pickles or water bath for canning.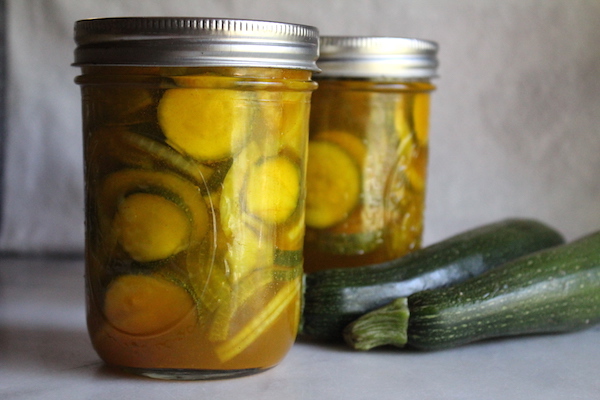 If you've ever grown your own zucchini, you'll be familiar with the sudden, often overwhelming number of squash that can accompany a bumper crop. Even if, like me, you're someone who loves zucchini (along with everyone else in our household, thankfully), zucchini-based inspiration is never unwelcome when it's late in the season and the pile somehow keeps growing and growing.
Yes, there's always zucchini bread, zucchini chocolate cake, and zucchini slaw to make, but zucchini is also a favorite of mine for pickling and canning.
While it's somewhat bland flavor when raw is the perfect base for a bold pickle, which can be made into a quick refrigerator or canned for long-term storage. Zucchini pickles are also crisper (and stay crisp) much better than cucumber pickles. Surprisingly so, in fact.
I've converted more than one person to Team Zucchini Pickle, which just gives me another excuse to gift and unload more surplus zucchini.
I like to slice the zucchini into rounds when I make these pickles, combining them with thinly sliced white onion added for texture and crunch. To guarantee an extra crisp texture, I soak the zucchini and onion slices in saltwater before they go into the hot brine.
We enjoy these pickles wherever we'd usually eat cucumber pickles, but we particularly enjoy them tucked into sandwiches with cured meat and strong cheese or on a charcuterie plate with pickled eggs and crabapple jelly. Of course, in my opinion, they're at their absolute best eaten straight from the jar with a fork.
If you're new to the world of canning, be sure to check out my beginner's guide to water bath canning before making these if you intend to can them. Of course, they can always be made as quick refrigerator pickles too!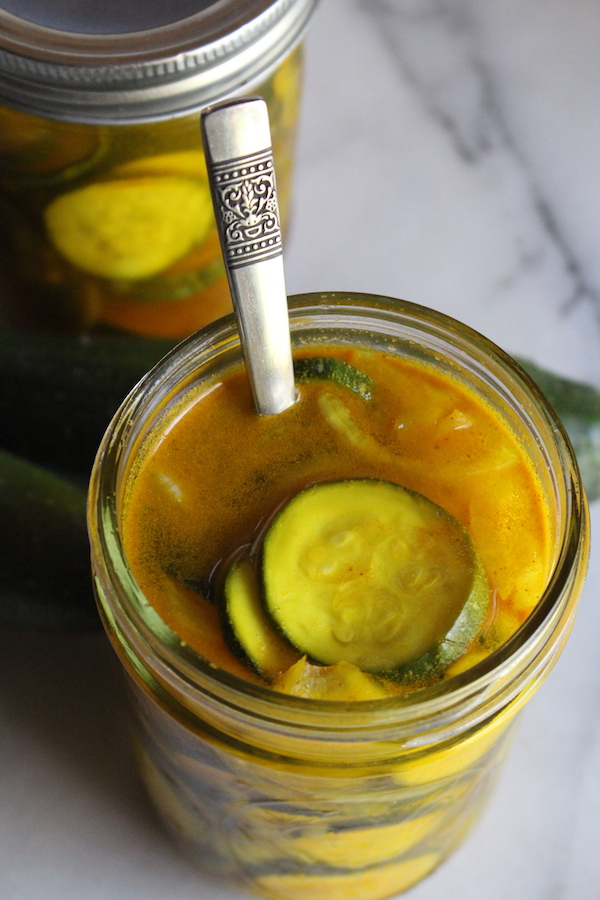 How to Make Pickled Zucchini
This recipe works best when smaller, young zucchini is used. Larger zucchini is spongy, which means it won't crisp up, and can sometimes be on the bitter side.
Try to pick zucchini that is the same size, not only does this look better aesthetically, but this helps ensure the zucchini is evenly processed. You'll need to end up with enough sliced zucchini to yield 16 cups; but count on at least 1 zucchini per cup, especially if they're quite small.
I slice the zucchini into 1/8- to 1/4-inch rounds, any thicker and the pickle won't be as crisp (or it might need longer to process if you're canning the pickles).
Next, you'll need 4 cups of sliced onions. I like to use white onions for this pickle recipe; they're crunchy and have just the right amount of heat (which, don't worry, won't be as intense after the pickling process). I slice the onions a little bit thinner than the zucchini, so that they're more of an accent flavor than overwhelming.
Once the vegetables are prepped, you're going to transfer them to a large bowl.
We're going to sprinkle them with 1/2 cup of canning or pickling salt and then cover everything with 1 inch of water. Swish the contents of the bowl around a little bit and then set it aside for 2 hours.
This step is integral to the success of the recipe as it draws moisture out of the zucchini, making it crisp, as well as softening the heat from the onions. When the 2 hours are up, drain the vegetables and set them aside.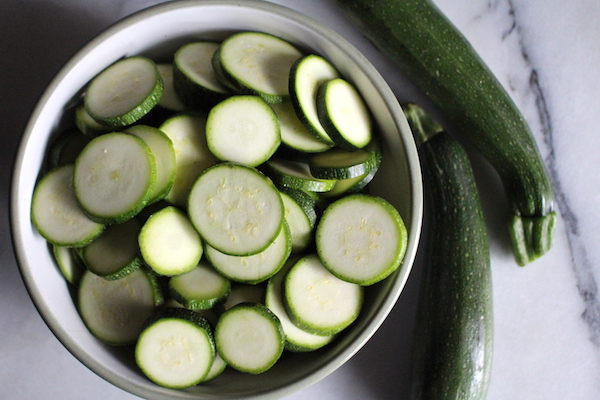 To make the brine, we're going to add 4 cups of white vinegar or cider vinegar*, 2 cups of sugar, mustard seed, celery seed, and turmeric to a saucepan (the turmeric is responsible for the pickle's sunny yellow hue).
From there, bring the brine to a boil before adding the drained zucchini and onion slices; be careful not to splash, for the sake of safety and turmeric stains). Lower the heat and simmer the mixture for 5 minutes.
At this stage, the pickles are ready to be made into a quick pickle or canned in a hot water bath.
*I typically use white vinegar or apple cider vinegar for pickling veggies, but you can theoretically use any vinegar you want as long as it's standardized 5% acidity. Pickling brine, by definition, needs to be at least half vinegar by volume (in this case, 2 cups of sugar are being added to 4 cups of vinegar, so it's plenty acidic and safe for canning).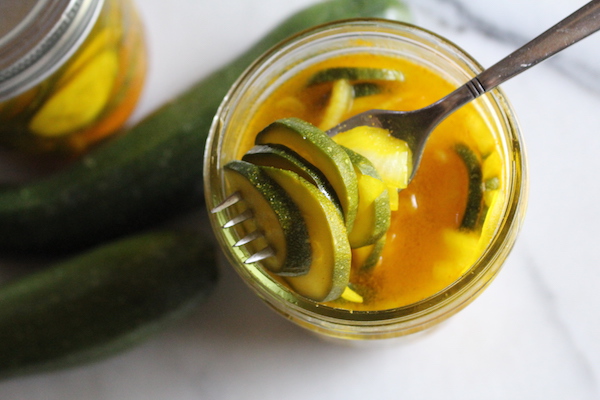 Canning Pickled Zucchini
The beauty of canning pickled zucchini is that you get to enjoy their taste far into the winter, when the seasonal zucchini panic is a distant memory. I like to save a jar or two to keep as cold fridge pickles, which will keep for two months, although they'll become less crisp over time.
While the brine is coming to a boil, prepare a hot water bath canner, 8 or 9 pint jars, and two-piece canning lids.
When the pickles and brine are ready, transfer the hot vegetables and brine into the hot canning jars, leaving 1/2-inch headspace.
Use a wooden chopstick or plastic utensil to remove any air bubbles, adding more brine to meet headspace requirements if necessary. Apply the lids until fingertip tight and process in the canner for 10 minutes. If you live at higher altitudes, you'll need to increase the time (I've included the times in the notes section of the recipe card).
When the timer goes off, turn off the heat and allow the pickles to sit in the hot water for another 5 minutes. Carefully remove the hot jars from the canner with a jar lifter and place them on a clean surface, leaving space between each jar.
Let the zucchini pickles come to room temperature, about 12 to 24 hours depending on ambient temperature, and then check each lid to see if sealed properly. If the is flat or slightly concave, the ring can be removed, cleaned, and reused. Any jars with questionable seals should be stored as zucchini refrigerator pickles.

Zucchini Canning Recipes
Looking for more ways to get zucchini in a jar this season? Try any of these zucchini canning recipes!
Ways to Preserve Zucchini
While canning zucchini does store it neatly on the pantry shelf, it's not the only way to preserve zucchini for year-round eating!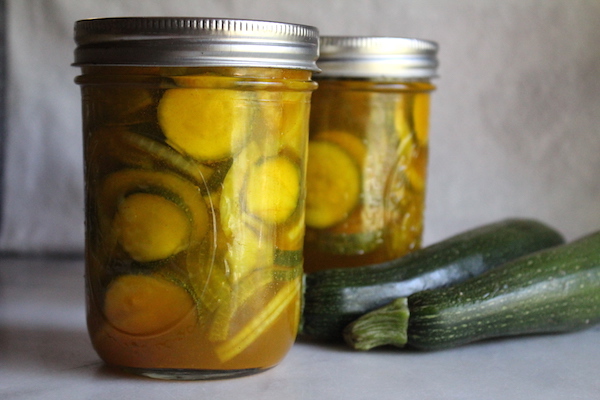 Yield:

Makes about 8 to 9 pints
Bread and Butter Zucchini Pickles Recipe
Canning Time (Optional):
10 minutes
Total Time:
2 hours
25 minutes
Bread and butter zucchini pickles are a sweet and zesty way to pickle zucchini. This can be made as a refrigerator pickle or processed in a water bath canner.
Ingredients
16 fresh zucchini, sliced
4 cups onions, thinly sliced
1/2 cup canning or pickling salt
4 cups white vinegar 5%
2 cups sugar
4 Tbsp. mustard seed
2 Tbsp. celery seed
2 tsp. ground turmeric
Instructions
Prepare a hot water bath canner, jars and two-piece lids for canning (optional, if canning).
Cover the zucchini and onion slices with 1 inch of water and the pickling or canning salt. Let stand 2 hours before draining thoroughly.
Combine the vinegar, sugar, mustard seed, celery seed, and ground turmeric in a large saucepan.
Bring to a boil, add the sliced zucchini and onion, and simmer for 5 minutes.
Working quickly, fill the prepared, hot jars with the vegetable mixture and pickling solution, leaving 1/2-inch headspace.
Remove air bubbles using a wooden chopstick or plastic utensil and adjust headspace if needed.
Adjust lids to fingertip tight and process for 10 minutes (see notes below if canning at higher altitudes).
When the timer goes off, turn off the heat and let the processed jars sit in the hot water for 5 minutes before removing and transferring to a clean surface.
Give the canned zucchini pickles 12 to 24 hours to come to room temperature.
Check the seals on each jar (they should be slightly concave), remove the rings (save for the next use), and store in a cool, dry place. If any of the jars haven't sealed properly, store in the fridge and enjoy within a couple of weeks.
Notes
Canning at higher altitudes: 1,001-6,000 feet process jars for 15 minutes; 6,001+ feet process jars for 20 minutes. Canning recommendations are for pint jars.
Easy Pickle Recipes
Need a few more easy pickling recipes?
Summer Canning Recipes
Looking for more easy summer canning recipes to put up the harvest?