Pickling recipes go way beyond simple cucumber pickles! Learn how to pickle vegetables of all types, made with vegetables from Asparagus to Zucchini. Believe it or not, you can also pickle fruits, so I've included fruit pickling recipes as well.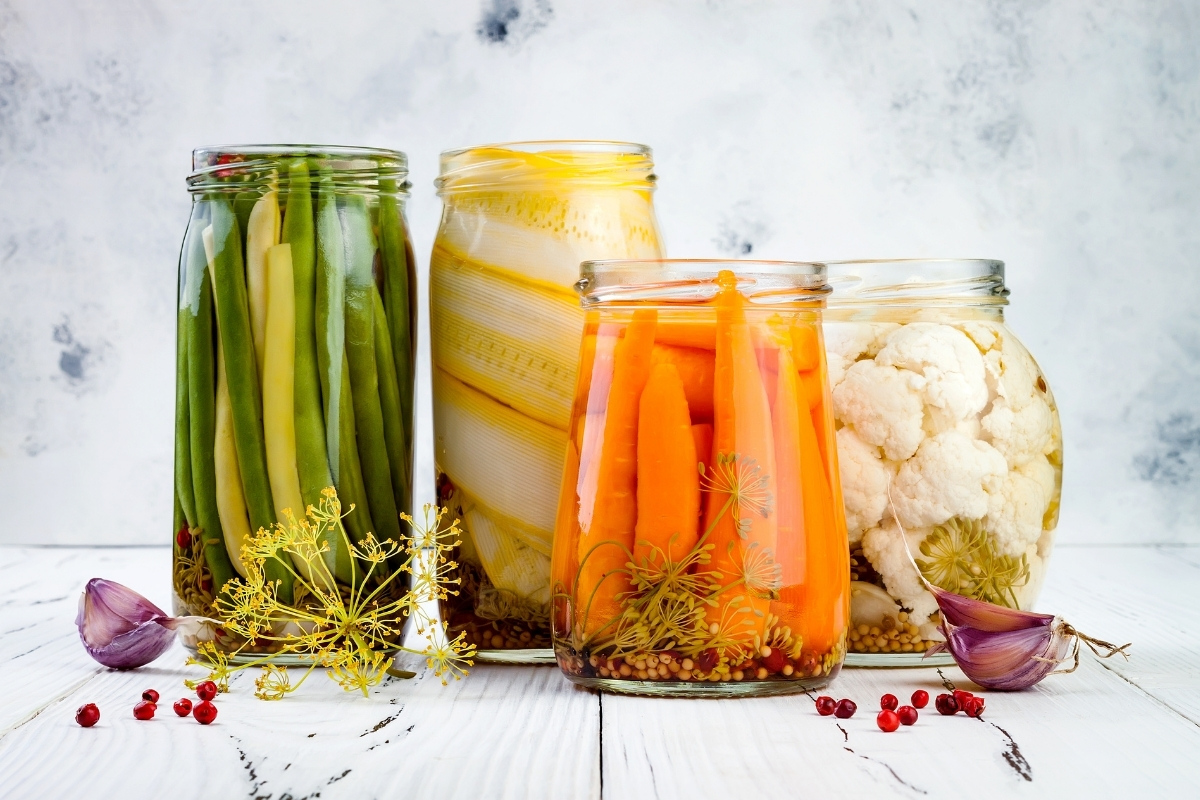 When you think of pickles and pickling, I bet you imagine jars of classic dill pickles, or maybe sweet and zesty bread and butter pickles…but either way, your mind goes right to cucumber pickles.
Those are delicious, but that's just the start. Nearly any food, fruits and vegetables alike, can be pickled as an easy yet fun preservation method. All you need is a pickling recipe to follow.
I bet you grew up like me, never eating more than the pickles offered on your hamburger. Sure, you might have tasted something pickled on an antipasto platter at a party, but you never imagined creating those yourself.
When I began homesteading, I started making pickles from all the cucumbers we grew. Then, I realized I could preserve green beans by making dilly beans and tried pickling carrots, which ended up being one of my family's favorite snacks.
Soon, I started looking into all of the different foods I could pickle, and I was amazed. Many other cultures throughout the world pickle all sorts of food, and you'll find amazing recipes.
If you're running out of ways to preserve your garden bounty, I guarantee you can pickle them. Before you know it, you'll find different ways to include pickled dishes into your meals, and your entire family will love to try these new flavors.
Pickling Basics
After you select the vegetable or fruit you want to pickle, you have to create a basic brine. Homemade pickling gives you plenty of flexibility with your sugar, salt, and spices, but you still need to have a brine.
Vinegar is used for preservation, and most brines require 50% vinegar by volume. That means if you're adding in a cup of water, fruit juice, wine or anything else as a liquid in your brine, you need to add in at least a cup of vinegar to keep that 1:1 ratio.
The type of vinegar doesn't really matter as much, so long as it's standardized to at least 5% acidity. Rice venegar tends to be more like 3%, which isn't quite acidic enough and you'll need to use more than 50%. Check the labels, most apple cider vinegar and distilled white vinegar brands are standardized to 5% acidity. Champagne vinegar, white wine vinegar, malt vinegar and any other type works well too, and will impart it's own flavor…but be sure to check the label to ensure it's at least 5% acidity.
It's possible to pickle with only vinegar, but that often results in pickles that are entirely too sour. Bread and butter style pickles are the exception, and they use only vinegar as the liquid, and then add in a good bit of sugar to create a sweet and zesty pickle.
Most pickles require some sort of sugar to create the proper balance of flavors required, but usually it's just a small amount.
The other half of the brine is often water, but you have flexibility. Consider using fruit juices or wine to create unique flavor profiles in your pickles.
Beyond the liquids, there is usually both salt and sugar in a basic pickle brine. They're both preservatives on their own, but when pickling fruits and vegetables, they add flavor. Skipping these is possible, but I suggest not to do so; your pickles won't nearly be as delicious as hoped.
Each recipe you follow will have different amounts of salt and sugar. Salt balances out the sugar, and sugar brings out the natural sweetness in fruits and vegetables. Recipes vary widely; some recommend ¼ to ½ tsp salt per pint, but others increase up to 1 tsp per pint. Sugar varies as well, but most recipes are anywhere from 1 tbsp to 2 tbsp of sugar per pint.
Don't forget the spices!
Yes, a basic brine for pickling is vinegar, water, sugar, and salt, but spices are where the flavor truly develops. Adding spices to vegetables and fruit makes them pop.
Here are some common spices added to homemade pickle recipes.
Dill seed
Mustard seed
Coriander seed
Peppercorns
Garlic
Onions
Red pepper flakes
Bay leaf
Oregano
When you use a recipe, feel free to omit or add spices as you want to suit your tastes. It's up to you and won't harm the safety of the recipe. Just make sure you don't reduce the vinegar in the brine recipe.
Crisp Pickles
One of the most common complaints when people make homemade pickles is that the pickles aren't crispy enough. I know when I eat a pickle, I want that crunch with the first bite.
If it doesn't crunch, I don't want it. Who wants a soggy, soft pickle?
It took me a while to figure out how to get a consistent crunchy pickle, and you'll find all sorts of recommendations. I tried many methods and now stick with the ones that I know work, and it's often a combination of a few things.
First, always make sure you use small, firm fruits or vegetables. If the quality of food is too ripe or too soft, you'll have trouble turning that into a crunchy pickle. How can soggy cucumbers turn into crispy pickles?
The truth is, they won't, so stick to just barely ripe (not over ripe) foods for your pickling recipes.
That's also why you should try to pickle foods as soon as you harvest from out of your garden. The longer they sit, especially on your countertops, the softer they become. Some suggest soaking cucumbers or other vegetables in an ice water bath for several hours. This particularly helps if you can't pickle your foods immediately.
Aside from that, I use two things that result in crisp pickles: Ball Pickle Crisp and adding tannins to the jar.
Ball Pickle Crisp is an easy solution; you find this at your local canning section. Follow the directions on the container and add these small, white granules to each jar before canning. It's typically recommended to add ⅛ to ¼ tsp per jar, based on the size of the jar.
Adding oak leaves, grape leaves, or black tea to jars often has good results. It doesn't hurt to add them into each jar or ½ tsp of loose black tea. However, if your foods are already soft, this won't be a magic solution either.
Quick Refrigerator Pickles
If you want pickles but don't want to take the time to can them, refrigerator pickles are a fun solution. Sometimes, dragging out that canner when it's already hot outside is the last thing you want to do. That's why refrigerator pickles are growing in popularity!
All you have to do is make a quick brine on the stove, add your cucumbers or other foods to your jars, put in your spices and seal them up. As the name suggests, store refrigerator pickles in your fridge.
Refrigerator pickles have a short shelf life, so they need to be used up quickly. That's typically why people suggest using this method though! Most jars store for no longer than six weeks if stored properly; I suggest keeping them towards the back of your fridge to make sure they stay consistently cold.
Canning Pickles
If you prefer your pickles to have a longer storage life, canning homemade pickles is the way to go. Pickles have high acidity levels – as long as you use the right brine recipe! – so this low temperature pasteurization method is perfect. All you need is a hot water bath to ensure bacteria won't grow in your sealed jars.
The beginning steps are the same as making refrigerator pickles. Start by washing your fruits and vegetables, slicing them into your desired sizes. Put spices into the jars, followed by your foods and cook a brine on the stove. Some recipes have you cook the foods in the brine before loading the jars, while others have you pour the brine over the foods in the jar.
When canning pickles, it's essential to use the proper headspace. Headspace is the unfilled space between the food in the jar and the lid of the jar. The USDA recommends leaving ½ inch of headspace for all pickles processed in a boiling water bath.
The general processing time for pickles is 15 minutes for pint jars. However, you should always double check with the recipe you follow to ensure you are processing at the right time.
Pickling Recipes
Many of these pickling recipes are canning approved, but some are designed quick pickling recipes. Some foods aren't approved for canning, such as pickled eggs, and I've omitted those. I know we love some jars of pickled eggs, but those are safest when put into the fridge.
This list includes fruits and vegetables. Most people assume pickling is only for vegetables, but open up and try fruits. Pickled fruits like apples are delicious with the sweet and sour flavors. It may turn out to be your new favorite snack.
Apples (& Crabapples)
If you have an abundance of apples in the fall, try pickling apples and crabapples. Pickled apple slices are delicious with their tangy yet sweet flavor. You'll love these on grilled cheese, pulled pork, and all sorts of other dishes.
Experiment with the flavors when pickling apples, catering to either sweet or sour flavors. Maple syrup and fall-inspired spices work fantastic for this fruit. Try different types of apples since each one has a different texture, crispness, and taste.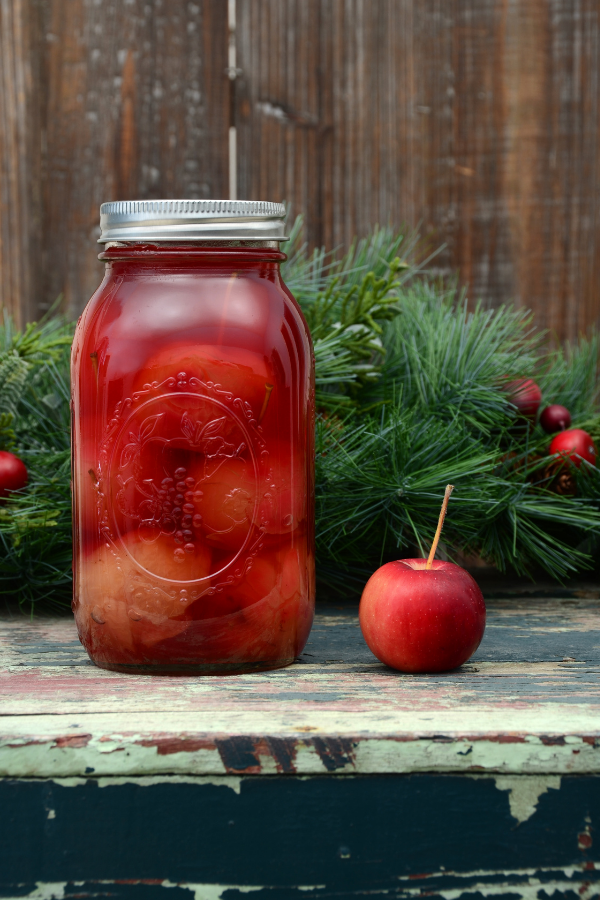 Apricots
I never imagined pickling apricots is possible, but these are the perfect sweet and sour treat. The flavors work great with baked ham, bbq dishes, and more. Or, you can eat them right out of the jar!
Not to mention, the brightness of these on your shelf look so pretty during dreary winter evenings.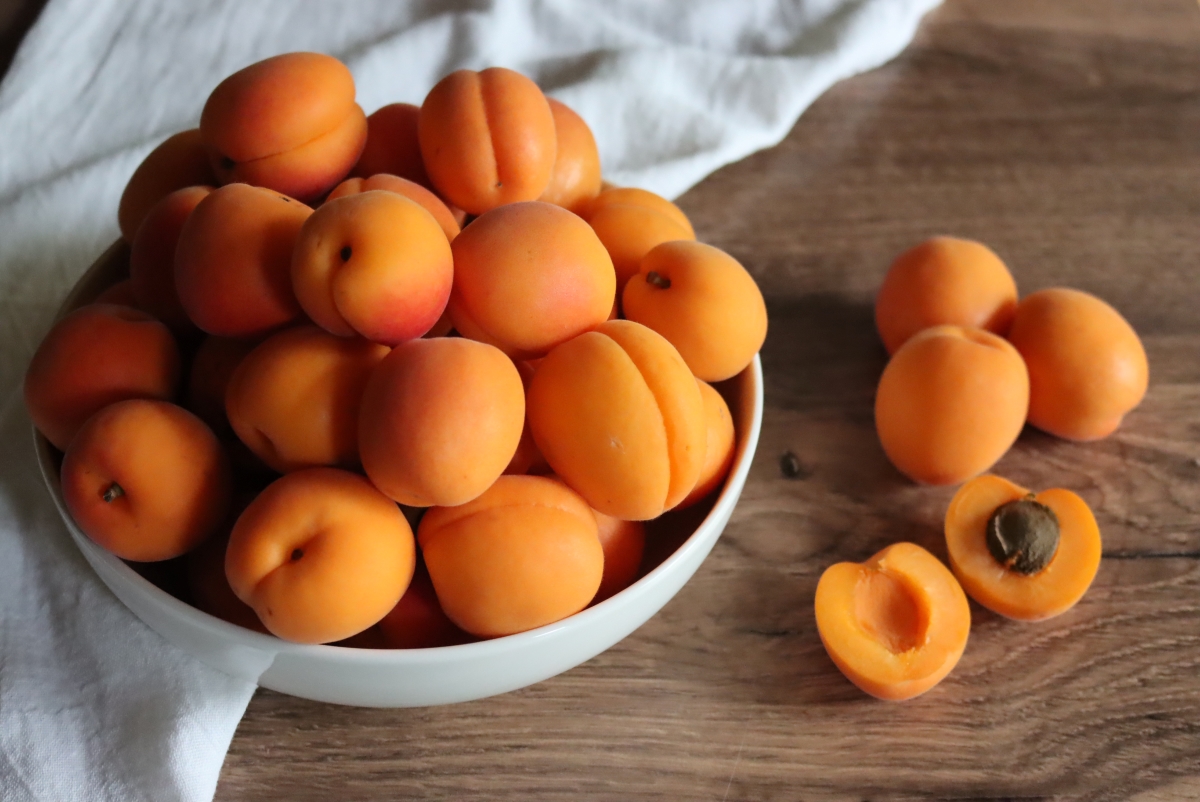 Artichokes
Pickled artichokes belong on appetizer or cheese trays all year round. Put a bit of cheese on top of them with a cracker, and you have a delicious snack before dinner.
Depending on the recipe you select, some pickled artichokes have a spring-like flavor that works great in salads. It's best to use small hearts because they hold their firmness the best.
They also make a wicked good pizza topping!
Asparagus
Pickled asparagus is one of the first pickles of the season, and it happens to be one of my favorites. Asparagus stays remarkably crisp when pickled, as the vinegar helps preserve the texture better than pressure canning plain asparagus.
Asparagus has quite a bit more flavor than cucumber pickles, and I love eating pickled asparagus on top of salads and with homemade fish cakes. Basically, any dish that would go well with fresh asparagus, and could benefit from a little salt and vinegar.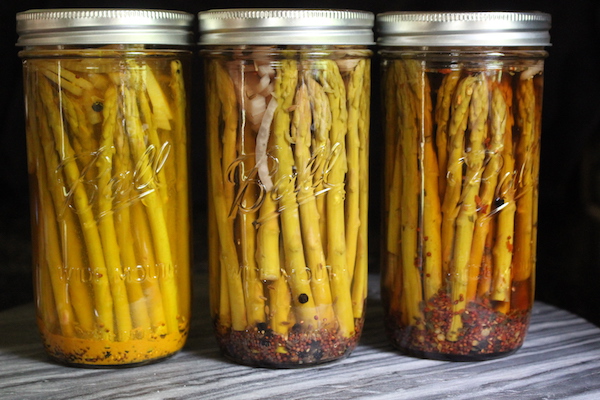 Beets
Beets are a classic spring vegetable, one of the first you may plant in your garden each year. So, that means this is one of the first pickling recipes you try this year.
Beets pickle extremely well, which is one of the reasons they are a traditional dish. You may remember your grandparents serving pickle beets. They hold their crispness well, and it's an easy way to preserve your bumper crops.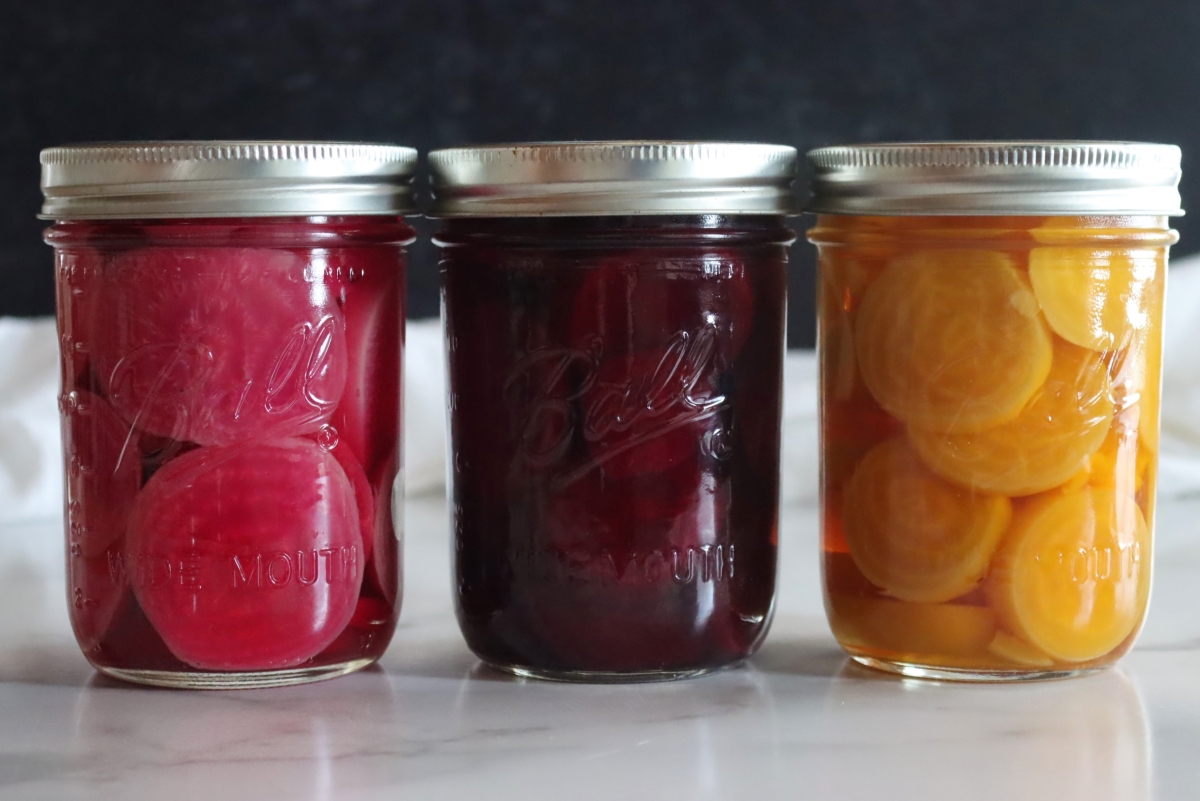 Blackberries
If you have extra blackberries from the seasonal harvest, try pickling them! Pickled berries may sound strange, but their flavor works well over salads or ice cream.
I first found pickled blackberries on a charcuterie board at a friend's house, and I fell in love. Cheese and pickled blackberries is a flavor profile that will knock your socks off with a balance of sweet, salty, and savory – yum!
Blueberries
Blueberry season is one of my favorite seasons on the homestead. Pickled blueberries are the perfect accompaniment to meat and fish dishes, and if you make the brine even sweeter by adding more sugar, try drizzling these over ice cream and desserts.
Another way to use pickled blueberries is by serving them over goat cheese as an appetizer. I promise your guests will be blown away!
Broccoli
Pickled broccoli is a great snack, and they absorb flavor well, so you can come up with all sorts of flavor profiles. Plus, the stems hold their crunch well when pickled.
Try adding pickled broccoli as an appetizer salad or a veggie side dish. Some of these recipes are a bit spicy, while others focus on the tangy and sweet flavors.
Broccoli stems are particularly good for pickles, and since many people don't like them as much as the florets on a dinner plate, it's a great way to use them up!
Brussels Sprouts
Few canning recipes allow you to can Brussels sprouts, but it is possible if you pickle them. If you end up with an abundance, pickling Brussels sprouts is a great idea since they maintain their crunch well.
Like other vegetables, Brussels sprouts absorb flavor well, so using different spices will create unique tastes from spicy to sweet!
Cabbage
Pickling cabbage is pretty common; it's how many people preserve coleslaw for long term storage. You'll find dozens of recipes to try and plenty of ways to use it, like adding handfuls on top of your sandwiches for some crunch.
I like having jars of pickled cabbage on hand. It works as a condiment that goes with nearly anything from pork to chicken. Another reason I like it is because it's easy and pickles fast, so it's possible to eat it the same day you create it!
At this point, there's no canning approved recipe for processing pickled cabbage, and it's not nearly as good as it is fresh anyway. Stick with quick refrigerator picked and you'll be happier here.
Carrots
One of my favorite vegetables to pickle is carrots. My kids love homemade pickled carrot sticks; it's a snack I keep on hand all year round. I prefer ours with a little less salt and more sugar, but you can adjust your flavors however you like.
I recently started adding them to all of my appetizer trays, and our family now asks for pickled carrots. So, it's safe to say it's a hit for all.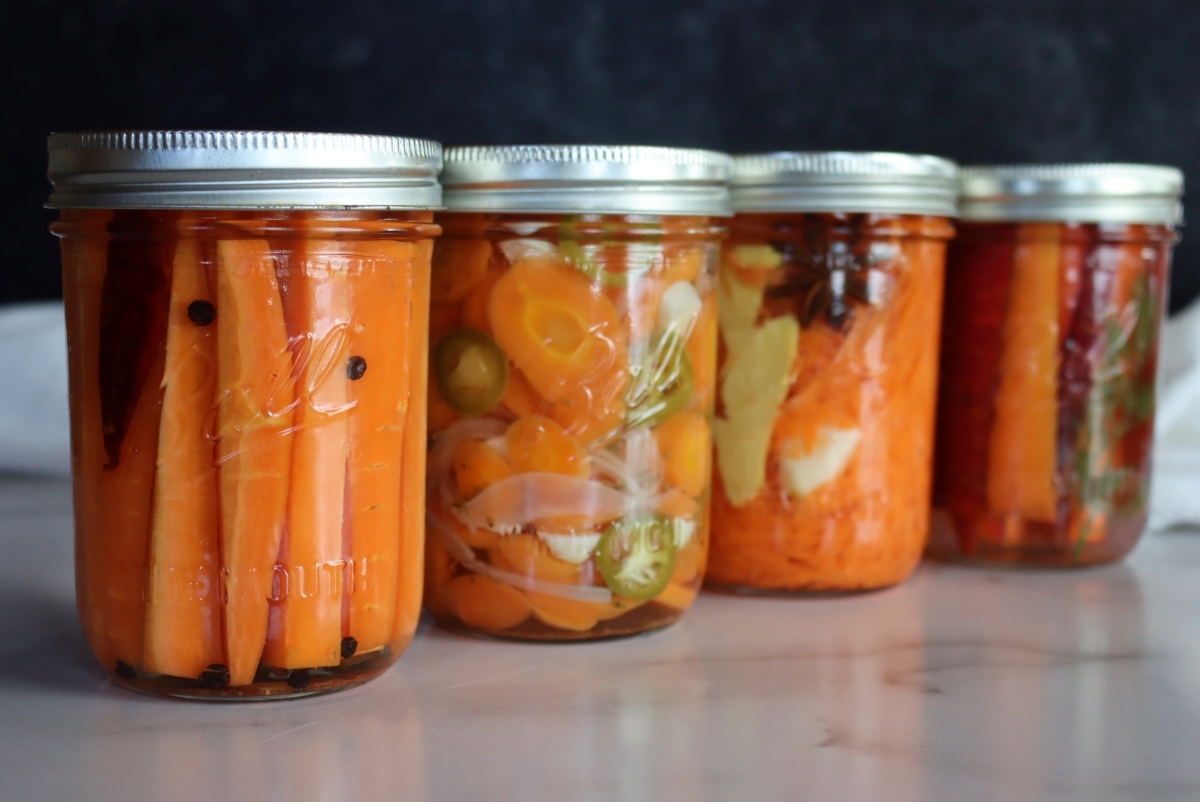 Cauliflower
The first time I visited an Amish grocery store I discovered pickled cauliflower, and my mind felt blown. I never thought about pickling cauliflower, but I have tried dozens of cauliflower recipes. This vegetable absorbs whatever flavors and spices you put with it.
You'll find plenty of ways to use pickled cauliflower like enjoying it as an appetizer or on toast as a meal. Pickling is one of the few ways to preserve cauliflower besides freezing since it's not safe to can in a pressure canner.
Celery
Another quick pickling vegetable is celery. You'll love this tangy, crunchy pickle that is so easy to make. (It's not the best for canning, but it's great as a refrigerator pickle.)
I found all sorts of ways to use pickled celery like putting it in chicken and tuna salad or serving alongside hot wings. Pickled celery works great with cold meats and cheeses on charcuterie boards.
Cherries
Pickled cherries are a great way to savor this summertime fruit, and they're ready quickly compared to other fruits. If you're looking for a fun addition to your charcuterie board or as part of a summer salad, pickled cherries are just that.
The first time I tried these, I loved the balance of sweet and sour. When you take a bite, they burst with flavor, and I found them quite addicting as a snack.
Corn
Summer and corn go hand in hand, but after you eat your weight in corn on the cob, try pickling corn.
I try to add a few jars of pickled corn to our pantry every year. It tastes great when mixed into salads, pasta salads, or salsa.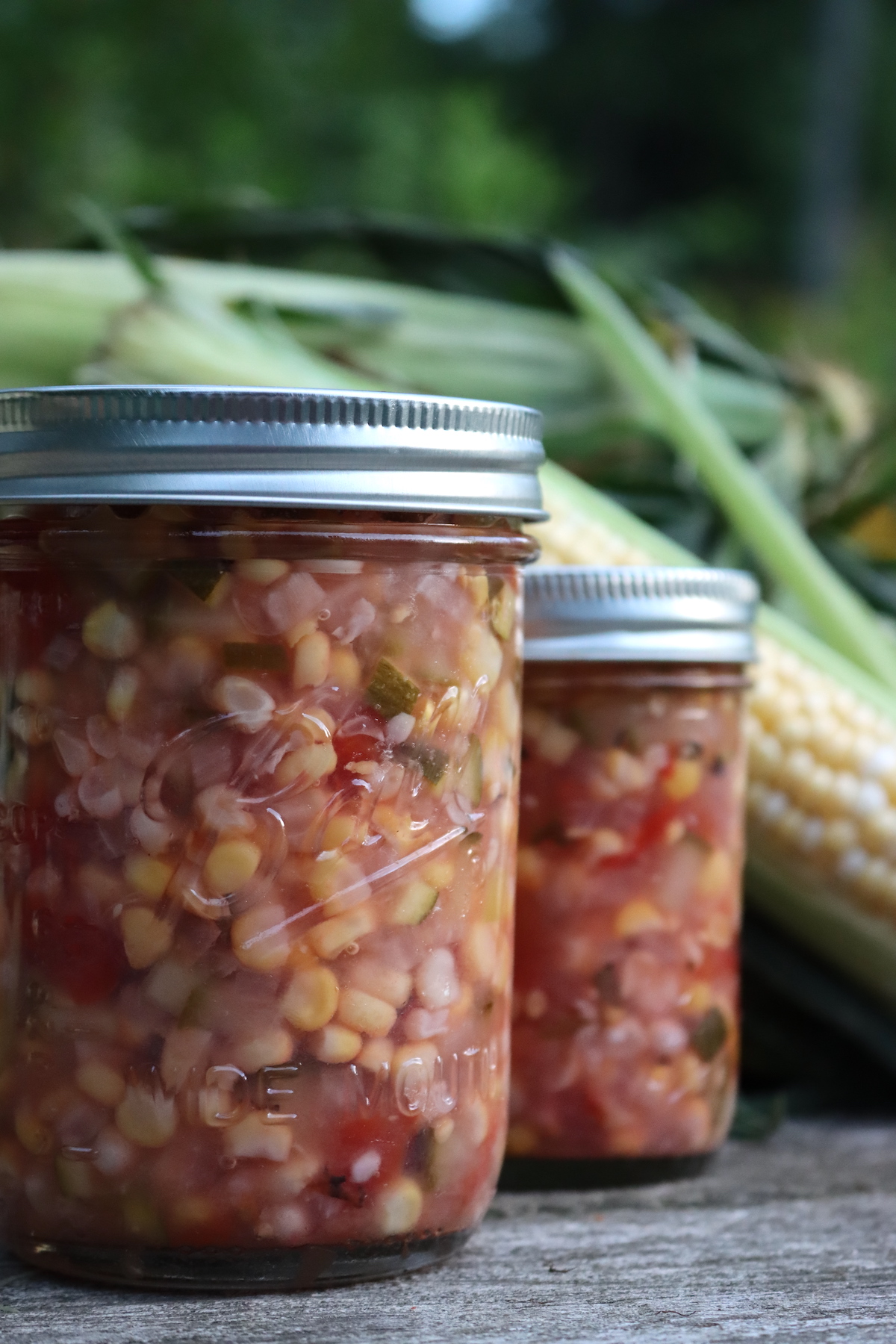 Cranberries
Cranberry lovers go crazy for pickled cranberries. You'll find endless ways to use these little sweet gems like adding to drinks, topping cooked meats, or putting on a charcuterie board.
I like to have a few jars available during the holiday season. Pickled cranberries serve as a table centerpiece and work with your cheese spread before Thanksgiving or as part of your Christmas dinner.

Cucumber
Most people associate cucumbers with pickling recipes, and while they're definitely not the only vegetable you can pickle…they are incredibly popular for a reason.
Classic dill pickles are just the beginning, and you can adjust seasonings in literally dozens of ways to make your cucumber pickles taste like almost anything. Garlic, turmeric, dill, and coriander are classic pickling spices, but you can also use warm spices like allspice and clove.
Daikon
Daikon is a part of radish, but they deserve a special note because they are well known throughout the pickling world. You'll find all sorts of pickled daikon recipes because it's a staple in Eastern countries.
Pickled daikon radishes often go alongside Vietnamese and Korean dishes; it's a big reason to put these into your garden this year.
Eggplant
Preserving eggplant is not easy; it's not well-suited to canning or freezing. So, pickling eggplants makes sense.
Eggplant mixes well with fresh spices and stores great. Try serving it as antipasto, on sandwiches, or on pizza. I love pickled eggplant with garlic, oregano, and other Italian seasonings.
Fennel
Pickled fennel is a delicious condiment that works with anything you want, especially grilled recipes. Whether you want to eat them out of the jar or in salads, it'll spice up your dishes.
My favorite recipes include star anise and orange; they give a delicious flavor to dishes you may cook on the grill.
Figs
Never thought about pickling figs? Figs are great for pickling with a sweet and sour flavor that goes great with pork, turkey, and game meats. I also found they work great with hard cheeses and crackers.
Pickled figs are good when made with Kadota or Adriatic fig varieties. These keep their color well even when ripe, but any fig variety works.
Grapes
Pickled grapes don't taste like a sweet grape; they have an intense flavor but the sugar balances out tangyness in recipes. You may be surprised by these!
You'll find that you love pickled grapes with cheese or on top of green salads.
Garlic
If you love pickles and garlic, pickled garlic is something you would love to try. It holds in the refrigerator for months, but some recipes work for canning.
Whether you want plain or spicy garlic, you'll enjoy munching on these. Toss some into salads or on an antipasto dish.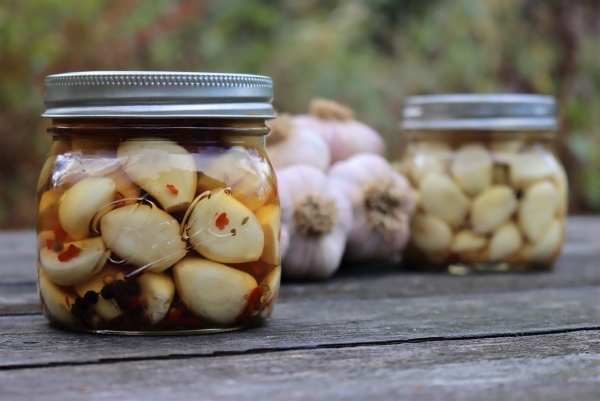 Ginger
Pickled ginger is something you'll find in Japanese restaurants, and they call it gari. It's often served with sushi or sashimi with the purpose of enhancing the flavors of your dishes.
You'll find pickled ginger at most Asian markets, but making it at home is easier than you may realize. Plus, if you make sushi at home regularly, homemade gari will save you money!
Green Beans
Green beans are another vegetable that I believe soaks up flavors well. I tried dilly beans for the first time years ago, and it was love at first bite.
Green beans soak up whatever you put in your brine, so try all sorts of spices to create something you really love! Our family likes zesty and spicy pickled green beans.
Kohlrabi
Kohlrabi is a crunchy vegetable that has a cabbage flavor; the name means cabbage turnip. Since it's known for being firm like broccoli stems, it stands up well to pickling or shaving into dishes.
Pickled kohlrabi is a delicious treat that tastes great when deserved next to hamburgers or hot dogs. Shredded kohlrabi works well in pickled salads or as a garnish on dishes.
Mushrooms
Pickled mushrooms are incredibly easy to create, and you'll find all sorts of ways to use them. I like pickled mushrooms on charcuterie boards or on top of meat dishes, especially steak.
Try using different varieties of mushroom since each variety has different flavors and textures. Whether you want to try button mushrooms, morel mushrooms, or any other ones you find, you can create quite a yummy treat.
Onions
An addicting treat is pickled onions. They taste great in salads with a tangy, sweet flavor, and red onions give a bright pop of color to dishes.
Pickled red onions are a valuable item in my kitchen, and I find all sorts of ways to use them up. They taste great on sandwiches, salads, and antipasto dishes. The onion flavor with the vinegary, zippy taste makes the perfect dimension of flavor.
Okra
Not sure how to use up all the okra in your garden? Pickled okra has an addicting crunchy bite, and it's possible to safely can this veggie or save them in the fridge.
This is a traditional option on relish trays and side dishes, especially in the south where okra grows regularly.
Peaches
Another Southern favorite is pickle peaches that belong in every picnic. Serve these yummy treats with sandwiches or as a side dish during dinner.
I know the first time I heard of pickled peaches, I was skeptical that these would taste good. Surprisingly, pickled peaches are sweet with a sharp, vinegary flavor and a hint of spices. Eat them with your fingers, put them on your cheese and cracker board, or serve as a topping over ice cream.
Peas
Peas are a delicious spring vegetable that handles the pickling process well; they won't lose any of their pea flair. Instead, they absorb the tartness well, working for quick pasta dishes and garnishes for soups or salads.
One pairing you may love is peas and asparagus; these spring veggies go well together.
Pears
If you've never tried pickled pears, you're missing out. These fruits handle picking well, and pickled pears have a delicious sweet, tangy, spiced flavor. Pickled pears are a unique yet delicious condiment you didn't know you were missing.
These are another item you may add to your charcuterie board. The flavors work well when paired with hard and soft cheeses, bread, nuts, and berries.
Peppers
If you grow an abundance of peppers in your garden, you'll have a never-ending supply of pickling peppers. Each pepper type is different from the others; some are spicy while others are sweet. That results in different pickles!
Luckily, all types of peppers pickle well. We make homemade pickled pepperoncini rather than buy them at the store, and the same goes for pickled banana pepper rings. The flavor is much better when you make them at home!
Pineapple
Your next favorite pickled food is pickled pineapple. It's a combination of sweet and sour with a bit of heat, depending on the spices you use.
Pickled pineapple works great on fish dishes, shredded pork, or anything that needs a little extra acid and tangy zest added.
I think pickled pineapple does particularly well with hot peppers, and it makes a unique sweet and spicy relish that way.
Plums
Sweet, pickled plums are a popular snack in China. These plums are soaked in a salty, sweet spiced brine, and the brine is often mixed with sparkling water for a refreshing drink.
Plums work great with rice vinegar for a less acidic pickle. Make sure you use firm plums to avoid mushy pickled plums.
Pumpkins
Pickled pumpkins are a yummy side dish that goes well with turkey or meat-based meals. Depending on the recipe used, the flavors from cinnamon, cloves, and cardamom pair well with the sweet and sour flavor of the brine.
I never knew that pickling pumpkins is popular throughout Northern Europe. The texture varies from crunchy to soft, depending on how long it is cooked. So, while it might not be the classic crunchy pickle you love, the flavors are enticing.
Ramps
Ramps only come into season for a short period, and one way you can extend the season is by pickling ramps. These recipes let you enjoy ramps year-round, pickled in an aromatic brine.
Pickled ramps pair well with soppressata as part of a charcuterie spread and cheese platter. Be creative with these recipes; some say that ramps pair well with shallots or even hot peppers for a bigger bite.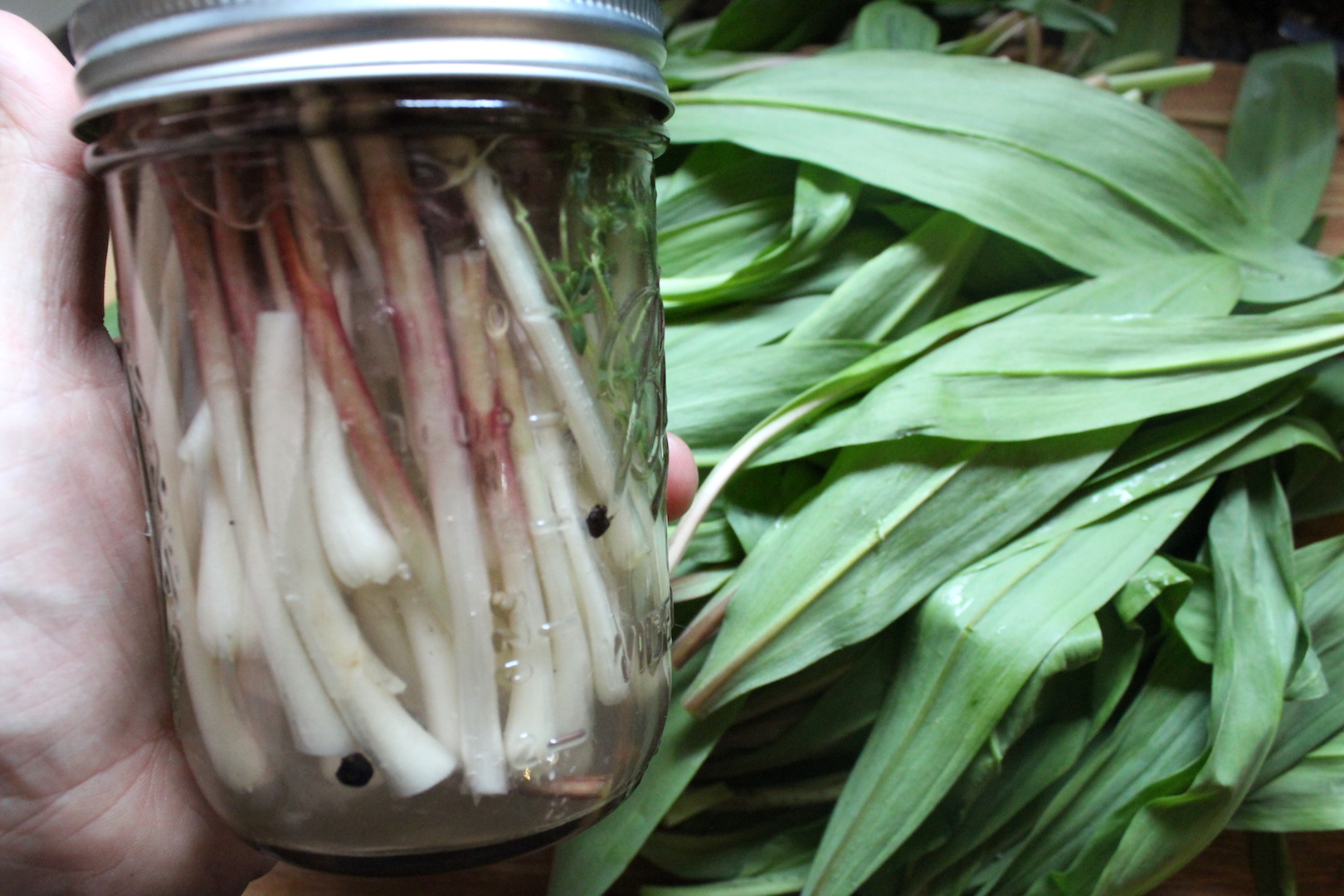 Raspberries
Here is another berry I bet you never thought about pickling.
Raspberries pair well with cinnamon and anise, and if you put enough sugar into the brine, these fruits make a yummy syrup over top of ice cream.
Radishes
Radishes belong in the spring vegetable category as well; they often are one of the first veggies harvested out of the garden. I used to struggle to find a way to use up our extra radishes until I tried pickling them.
Pickled radishes are quick and easy to make, enhancing your dishes. You'll find them sweet, tangy, and a bit spicy, but best of all – delicious!
Rhubarb
You may assume rhubarb is a fruit because it's sour, but technically, it's a vegetable. Most use it to make crisps, jams, and crumbles, but its fibrous, crunchy texture makes delicious pickles.
Pickled rhubarb plays up the tartness and crunchiness inherent in rhubarb. It's easy to make and produces pretty, ruby-colored pickles.
Spring Onions
If you have extra spring onions to harvest, try pickling them!
Pickled spring onions play all sorts of roles. Put a spoonful on top of a burger, leave them as part of your appetizer during a party, or serve them with goat cheese and baguette rounds. You really can't go wrong!
Sunchokes (or Jerusalem Artichokes)
You'll often find sunchokes or Jerusalem artichokes at specialty markets and farmers markets in the fall and winter months. They're a unique root vegetable that comes from a type of perennial sunflower, and they're delicious raw or cooked.
They're a bit like jicama, crisp and lightly sweet when raw, and a bit like potatoes when cooked. The main problem with them is that they have high levels of inulin, which is a pre-biotic…great for the digestive system, but also great at giving you gas.
When pickled, the gas problem goes away, and you can just enjoy this unique vegetable without the side effects!
Squash
Squash pickles similar to cucumbers, absorbing flavors and giving you the perfect bite. Make sure you avoid using squash that are too large; they should be small to avoid large seeds. Big seeds in squash pickles won't work.
It's a great substitute for cucumbers as well. If you don't like cucumbers and only want to grow them for cucumbers, try using squash instead!
Strawberries
Pickled strawberries are a yummy, easy treat to make, and people find them refreshing and unexpected. It's not something most people expect to encounter, but you may end up
You can serve pickled strawberries tossed into salads or served with cheese and crackers. Play around with the amount of sugar and spices added to the brine to create a flavor profile you really love.
Swiss Chard
Swiss chard grows in a variety of colors, and these greens have crunchy, thin stems. Most sautee or eat swiss chard raw, but you can preserve the beauty of the stems by pickling them.
These are definitely best as a quick refrigerator pickle; there is no safe canning recipe for swiss chard stems. Serve these with burgers, chicken, or baked potatoes – yum!
Turnips
A classic Middle Eastern pickle is pickled turnips. The combination of heat and vinegar make these addicting and the perfect complement to roasted chicken, gyro, or falafel.
Turnips are an underrated vegetable in general, so you know they aren't too commonly considered for pickling. Most recipes use a handful of sliced beets to give the turnips a gorgeous pink hue. Don't forget garlic since it pairs so well with turnips!
Tomatillos
Pickling is a great way to use up any fresh tomatillos you have in your fridge, waiting to get used. These are typically the size of a large cherry tomato, the perfect size for pickling!
I find all sorts of ways to use them besides eating them as snacks, which is delicious. They taste great in quesadillas, enchiladas, or other side dishes.
Tomatoes
Pickling tends to be one of the last ways people think of preserving tomatoes, but if you have a bumper crop, try using pickling as a way to store them.
I love pickled cherry tomatoes. I always end up with way too many cherry tomatoes than we can consume in any other method. So, I put them to good use by pickling them and eating them later. You also can try pickling green tomatoes!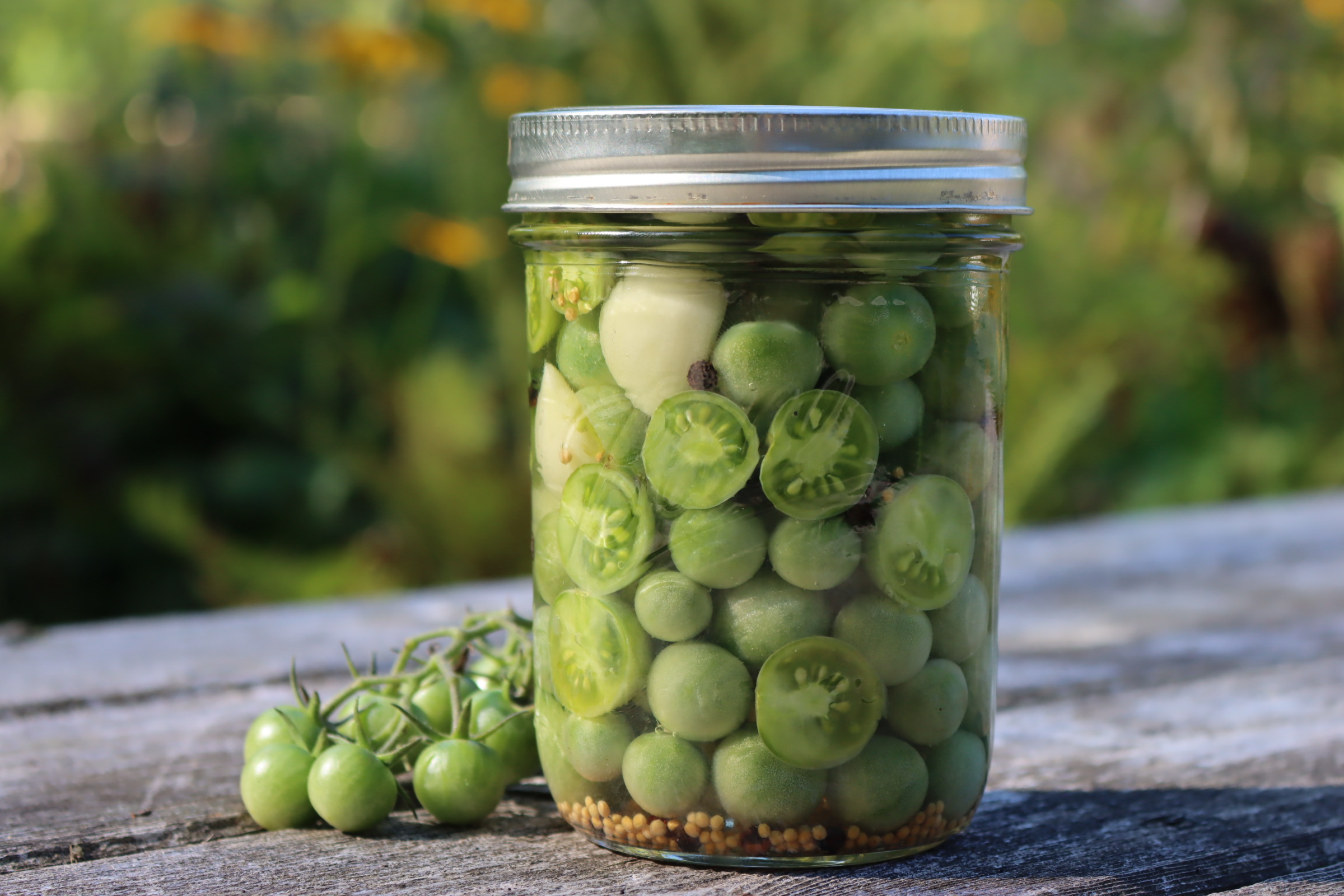 Watermelon
While watermelon itself is a delicate fruit, watermelon rind has been pickled for generations. It adds flavor to boring wintertime meals out on the prairie during the early settler days, and it's fondly mentioned in the little house on the prairie books.
Imagine you're eating little more than salt pork and corn grits all winter, a few pickles, even pickled rind will go a long way to spicing things up. Waste not, want not.
The recipes survive still to this day because they actually turned out to be pretty darn tasty, and watermelon rind takes on flavors wonderfully (all while staying nice and crisp).
Zucchini
Much like cucumbers, zucchini has a simple taste that absorbs the spices and flavors of homemade pickles perfectly.
I'm particularly fond of making them into bread and butter pickles, as the sweet/tangy flavor of that classic pickle recipe works wonders with the natural flavors of zucchini.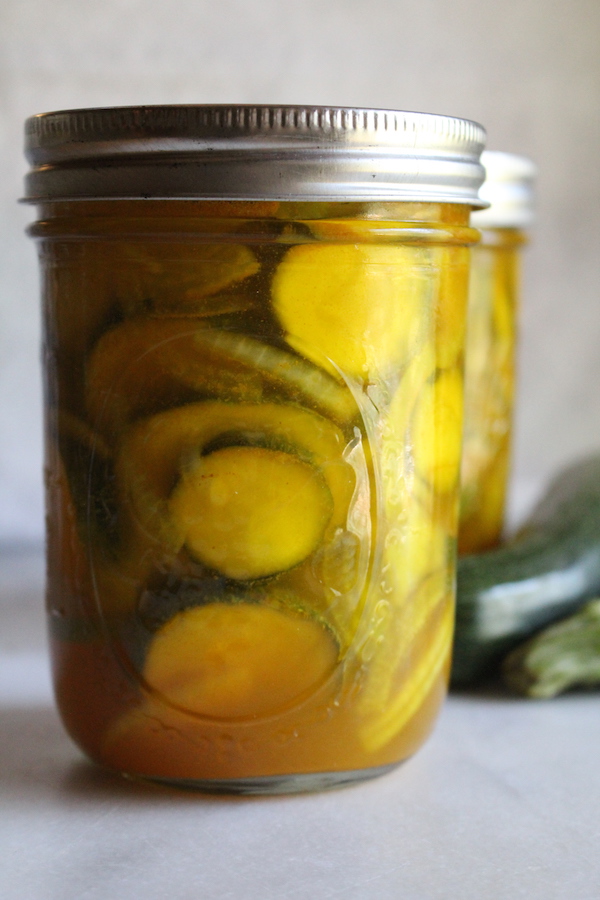 These are some of my favorite pickling recipes, covering almost every fruit and vegetable under the sun. If I've missed any of your favorites, please do let me know below in the comments.
I'll never pass up the opportunity to try out a new pickling recipe!