Pickled jalapeño peppers are delicious on their own right out of the jar, but they also make the perfect topping for cheese and charcuterie plates, tacos, and nachos!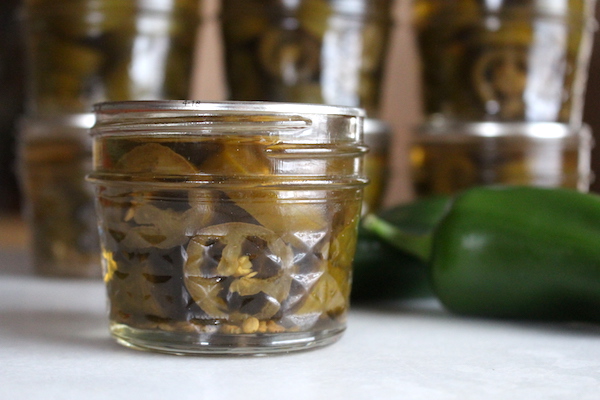 Most of the year here in Vermont we find ourselves craving heat. It's amazing how much a little spice can warm up a cold winter's night, and we find plenty of ways to use our homemade Pickled jalapeños.
Jalapeños plants are almost as productive as zucchini, even with our short growing season. I literally harvest them but the bucketful and my children love playing hide and seek in the massive bushes. They get so full and dense you can actually lose a 4-year-old between rows.
Making pickled jalapeños is the absolute best way to preserve jalapeños in my opinion. While it's possible to can plain hot peppers, I actually find that a bit of vinegar and salt enhances their flavor.
I use them regularly in my cooking, and you'd be surprised how often recipes that call for jalapeños also call for added acidity. A single jar of these little beauties is the perfect way to add both.
The short water bath canning time means they hold their shape and texture much better than a pressure canning recipe anyway.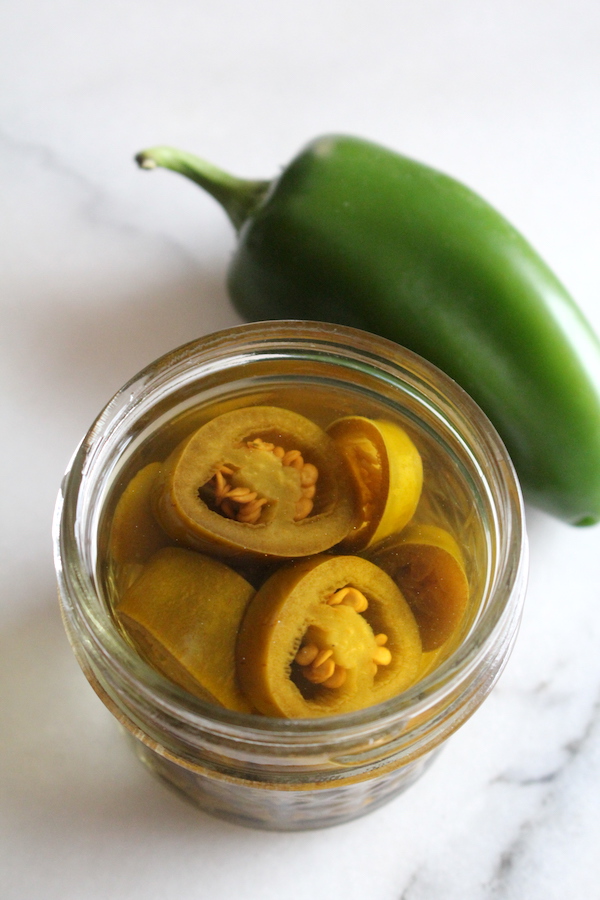 Choosing Jalapeños for Pickling
Choose fresh jalapeño peppers straight from the vine or buy them from a farmer's market if at all possible; jalapeños from the grocery store are often picked before they're fully ripe, which means they won't have the same complexity of flavor or level of heat that a more mature pepper would have.
As a general rule, when jalapeño peppers are small and green they're not as spicy. Peppers that are allowed to grow in size and ripen into red fruit are much more likely to be extra spicy, so choose a greener pepper if you aren't looking for that level of heat.
Preparing Jalapeños for Pickling
I can't emphasize enough the importance of wearing gloves when cutting up hot peppers, especially when you're working your way through a large batch of them.
This is not optional! Please wear gloves when cutting jalapeños.
Sure, you can get away with it when just quickly slicing up a single pepper for a quick meal, but you're going to be slicing for a while. Without gloves, your hands are going to be marinating in all that heat and liable to burn your eyes (or other sensitive bits) for many hours afterward even if you wash them diligently.
If you've ever unthinkingly touched your eye after slicing a jalapeño pepper (even after washing your hands with soap and water) then you'll know the searing pain a capsicum oil-coated finger can afflict when you're least expecting it.
Prepping jalapeño peppers for canning couldn't be easier since they're so thin-skinned, there's no need to roast or even peel them before filling the jars and processing in a water bath canner.
For this recipe, we're going to be filling a 1-pint jar with sliced peppers, which means you'll need about 1 pound of whole jalapeño peppers.
I like to slice the peppers into rings that are about a 1/4-inch in thickness, but you can go thinner if you want pickles that are more finely textured. Don't worry about removing the seeds or the membrane, the sliced peppers can go in the jar as-is.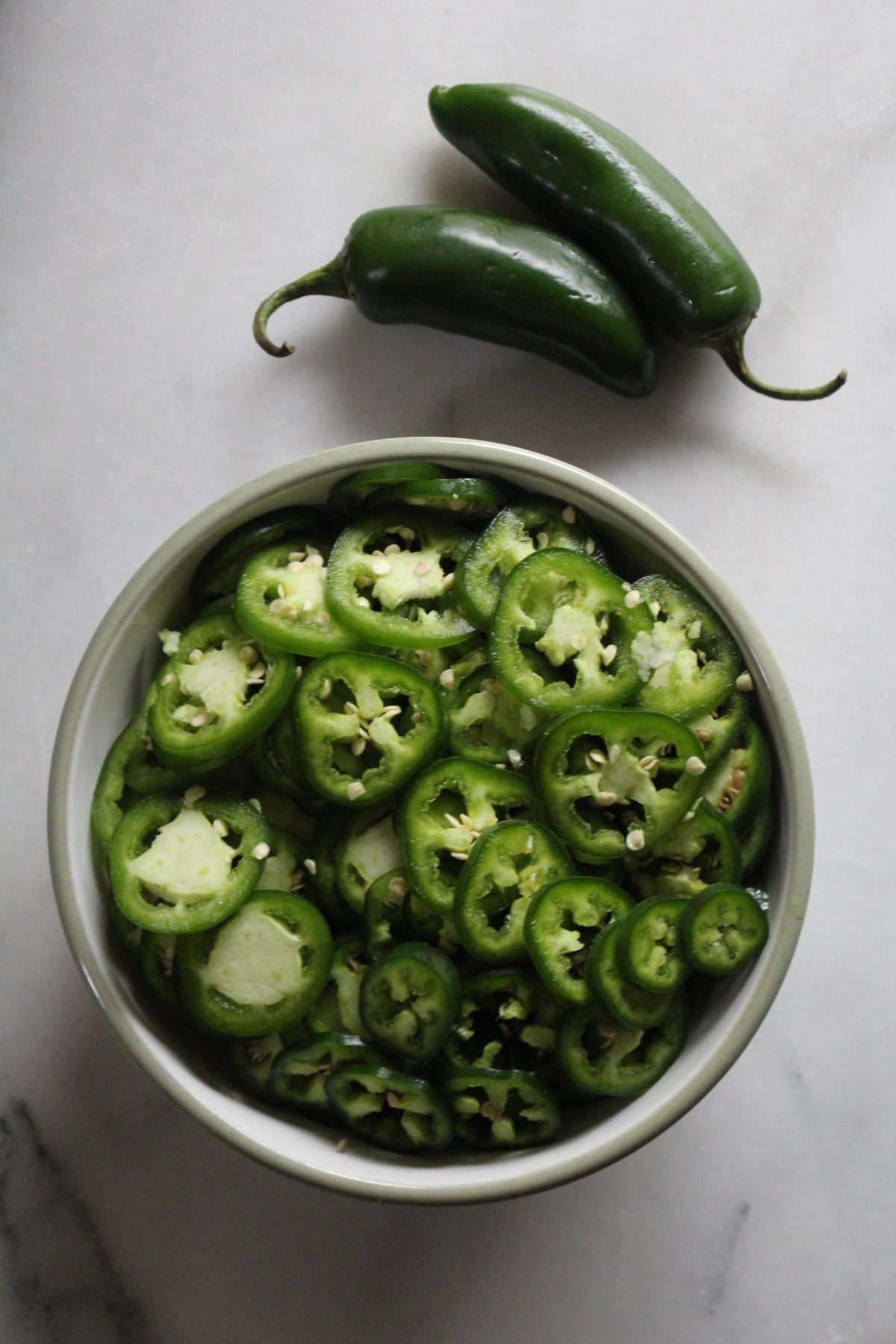 How to Make Pickled Jalapeños
We're going to make a tangy brine to pickle the jalapeño peppers using vinegar, water, canning salt, and pickling spices.
You'll need to bring these ingredients to a boil in a medium-sized saucepan, giving it a few quick stirs to dissolve the salt once the brine is nice and hot.
Carefully pour the hot brine into the jar, covering the sliced peppers, making sure to leave 1/2-inch of headspace at the top to allow for the natural expansion of the jar's contents as it heats up during the canning process.
Using a wooden chopstick or plastic utensil, wiggle the covered peppers around in the brine to remove any air bubbles.
Seal the jar with a two-part canning lid, turning the screw-top outer lid until fingertip tight.
At this point, the pickled jalapeños can be stored in the fridge for weeks or even months as refrigerator pickles. Canning is also an option, and that'll allow you to store pickled jalapeño peppers right on the pantry shelf.
Canning Pickled Jalapeño
The process of canning pickled jalapeño peppers is straightforward and efficient due to the vinegar in the brine. Since they're pickled, they can be processed in a water bath canner instead of a pressure canner as you often have to do when canning vegetables.
To get started, prepare a water bath canner.
Fill the jars as you otherwise would, first with jalapeño slices and then pickling brine, ensuring a 1/2 inch headspace.
Load the jars into the canner and allow the canner to return to a boil. Once boiling, set the timer for 10 minutes (or 15 minutes, if you're working at an altitude of 1,000 to 6,000 feet).
When the timer goes off, turn off the heat and let the jar sit in the hot water for 5 minutes. This extra 5 minutes allows the jars to cool slightly before you remove them and helps to prevent siphoning (or liquid loss due to thermal shock when you remove the jars from the canner).
Carefully remove the jar from the canner with a jar lifter or canning rack. Allow the contents to come to room temperature (usually in about 12 hours).
Once the jars are completely cool, check seals. Store any unsealed jars in the refrigerator for immediate use. Don't worry if this happens, simply transfer the jalapeños to the fridge and enjoy within a couple of weeks.
Store your sealed jars of pickled jalapeño in a cool, dark place for up to 18 months.
(If you're interested in preserving peppers using a pressure canner in plain water without pickling, you can follow these instructions for canning peppers.)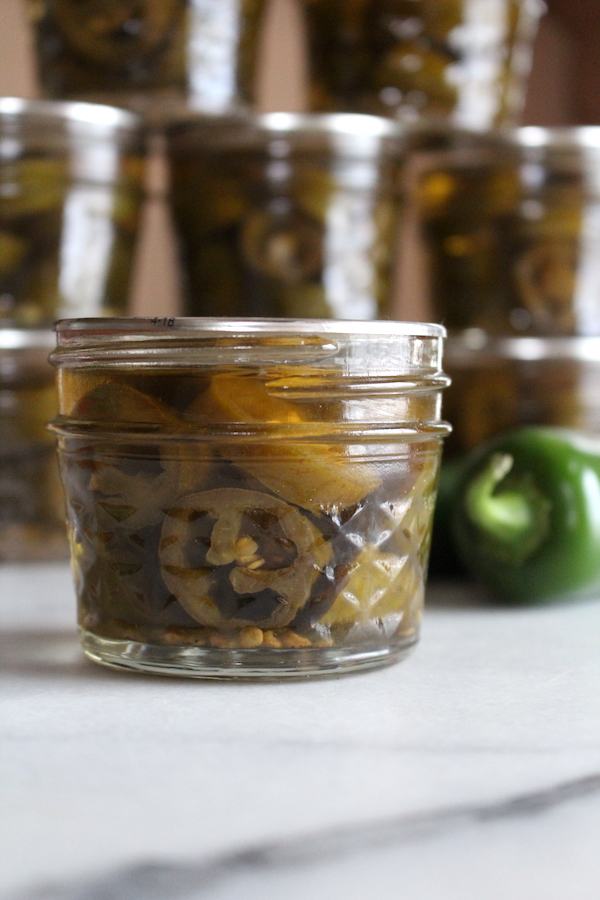 Pickled Jalapeño Recipe Variations
One of the easiest ways to change up the flavor of pickled jalapeño peppers is to play around with different herbs and spices. Coriander seeds, whole peppercorns, cumin seed, horseradish, and bay leaf can be added to the brine with delicious results.
If you're a fan of bread and butter pickled cucumbers, you'll love the taste of hot peppers when they get the same treatment. Substitute white vinegar for the cider vinegar, increase the amount of sugar, and add mustard seeds, celery seed, and turmeric to the brine as it heats up.
I also like to add thinly sliced white onion to the peppers when I'm making bread and butter pickles. They contribute plenty of crunch and give the jalapeños a pleasant relish-like flavor and texture. In my opinion, nothing beats this combination when piled high on top of a hot dog or burger.
You can check out my post on making bread and butter pickles for more detailed instructions, scaling the ingredients up or down to however many jars of peppers you'd like.
Pickling lime, which is used to preserve the crunchy texture of canned vegetables, can also be used if you'd like (although I do find pickled jalapeño peppers hold their shape well without the use of pickling lime).
To use pickling lime, you'll want to dissolve the lime in water first (be very careful not to inhale it as you're working), and soak the pepper slices for 12-24 hours in the refrigerator. For 1 1/2 cups of pickling lime, you'll need 1 1/2 gallons of water.
Carefully but thoroughly rinse the pepper slices with cold water and then let the slices soak in cold water for an hour. Repeat this rinsing process step two more times to ensure that you've removed all the excess pickling lime. Then use the rinsed peppers as called for in the recipe.
You can read more about using pickling lime on this pickle crisping fact sheet by the Washington State Extension Service. Using pickling lime can be tricky, and since it's so alkaline, it can cause the pickles to be unsafe if it's not rinsed properly. I don't use it, but if you choose to, be sure to follow a tested recipe and use specific food-grade pickling lime.
Another variation on pickled jalapeños we love around here is what is called "cowboy candy" — since the method is slightly different, I've written up an entire post about it here shortly.
Ways to Preserve Jalapeño
Looking for more ways to preserve jalapeños?
Did you know you can freeze whole, halved, or sliced jalapeño peppers? Check out this handy guide to freezing peppers from Pepper Geek!
If you're a fan of fermentation, these fermented jalapeños from Nourished Kitchen look absolutely delicious!
For those with an adventurous side, why not give this recipe for jalapeño wine a try from Urban Overalls?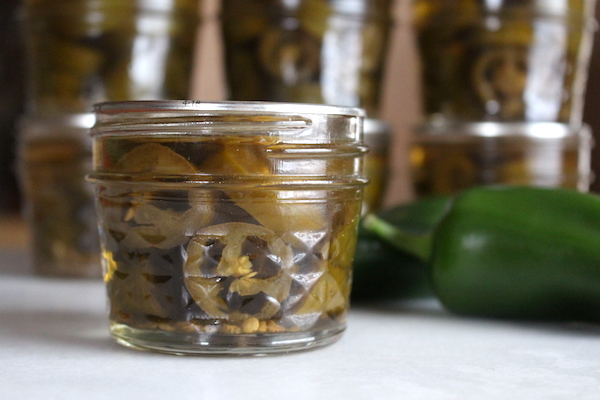 Yield:

Makes 1 Pint (or 4 small quarter pint jars)
Pickled Jalapeños
Canning Time (Optional):
10 minutes
Use these easy pickled jalapeño peppers to top nachos, tacos, hot dogs, and cheese plates.
Ingredients
1 lb. jalapeño peppers
1 cup vinegar
1/4 cup water
1 tsp. canning salt
Instructions
Preheat the water bath canner.
Wearing gloves, slice the jalapeño peppers into thin slices.
In a medium-sized saucepan, bring the vinegar, water and canning salt to boil.
Carefully pour the prepared brine over the peppers, leaving a 1/2-inch headspace in the jar.
For refrigerator pickles, simply allow the jars to cool and then store in the refrigerator. They should keep for several weeks.
If canning, process the jar in a water bath canner for 10 minutes (adjusting for altitude, see notes). When properly processed, they should maintain peak quality on the pantry shelf for 12-18 months.
Notes
If you're canning at an altitude of 1,000 feet to 6,000 feet, process the jar for 15 minutes. Above 6,000 feet in elevation, process jars for 20 minutes.
Pickling Recipes
Love pickled everything? Be sure to check out my posts about pickled veggies:
Summer Canning Recipes
Putting up more than just pickles this season?