Tomatillo salsa is the perfect way to preserve tomatillos, and with this tested canning recipe, you'll have them ready at a moment's notice right on your pantry shelf!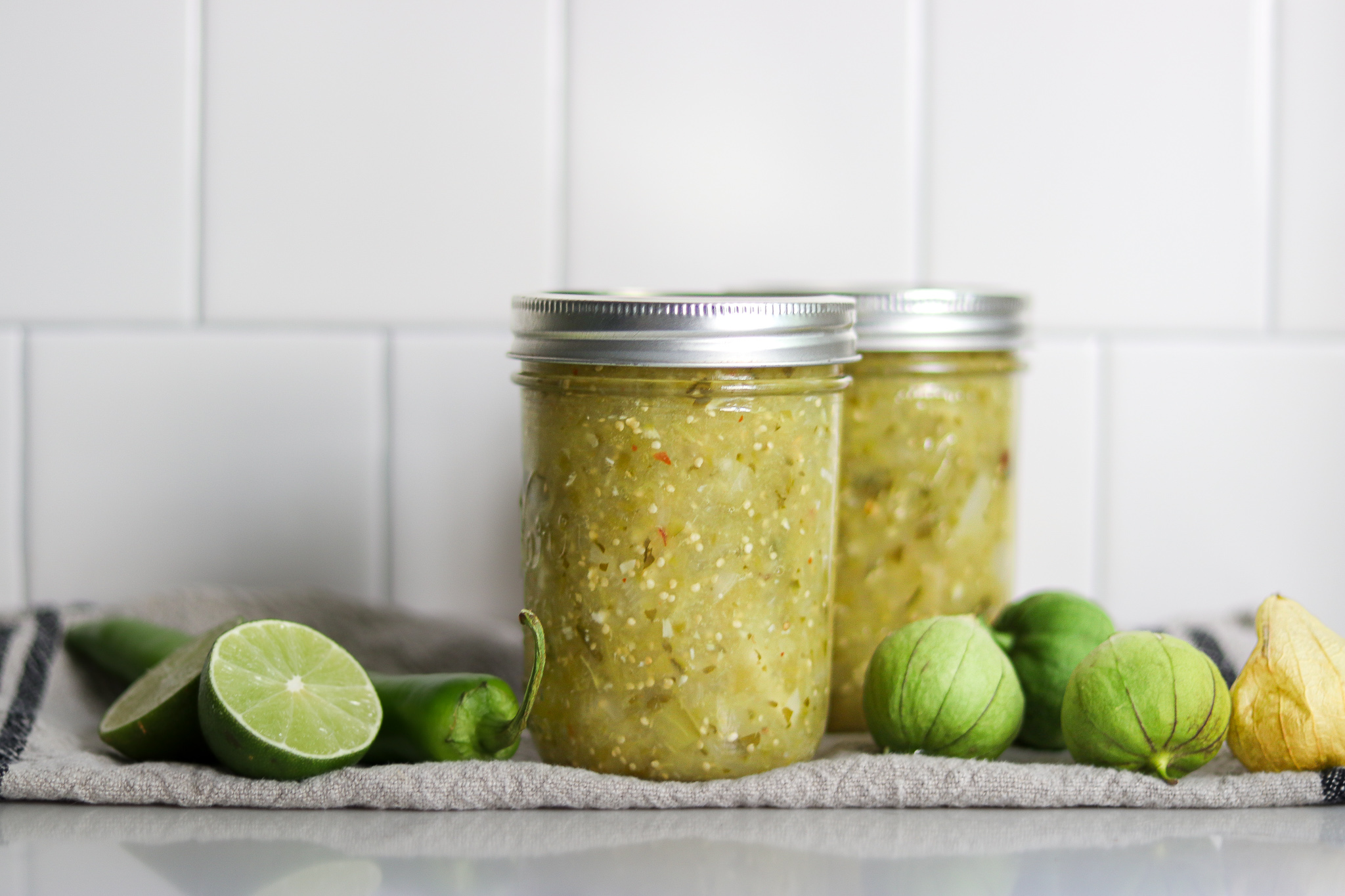 Tomatillos are one of those crops where the harvest is measured in buckets and wheel barrel loads, even if you're only growing a few tomatillo plants in your garden. I've harvested 20 lbs from a single plant, and nothing seems to slow them down.
One year when life got in the way, our garden turned to hayfield and at the end of the season, we actually harvested tomatillos with rakes, pulling them from a tangle of waist high grass. They really just don't if they aren't cared for, they're going to make buckets of tomatillos anyway.
So if you are planting tomatillos in your garden this year, it's a good idea to have a few tested tomatillo canning recipes on hand. Trust me, you're going to need them.
This particular canning recipe for tomatillo salsa is one of my favorites, and it's perfect just as it is, just add chips for dipping.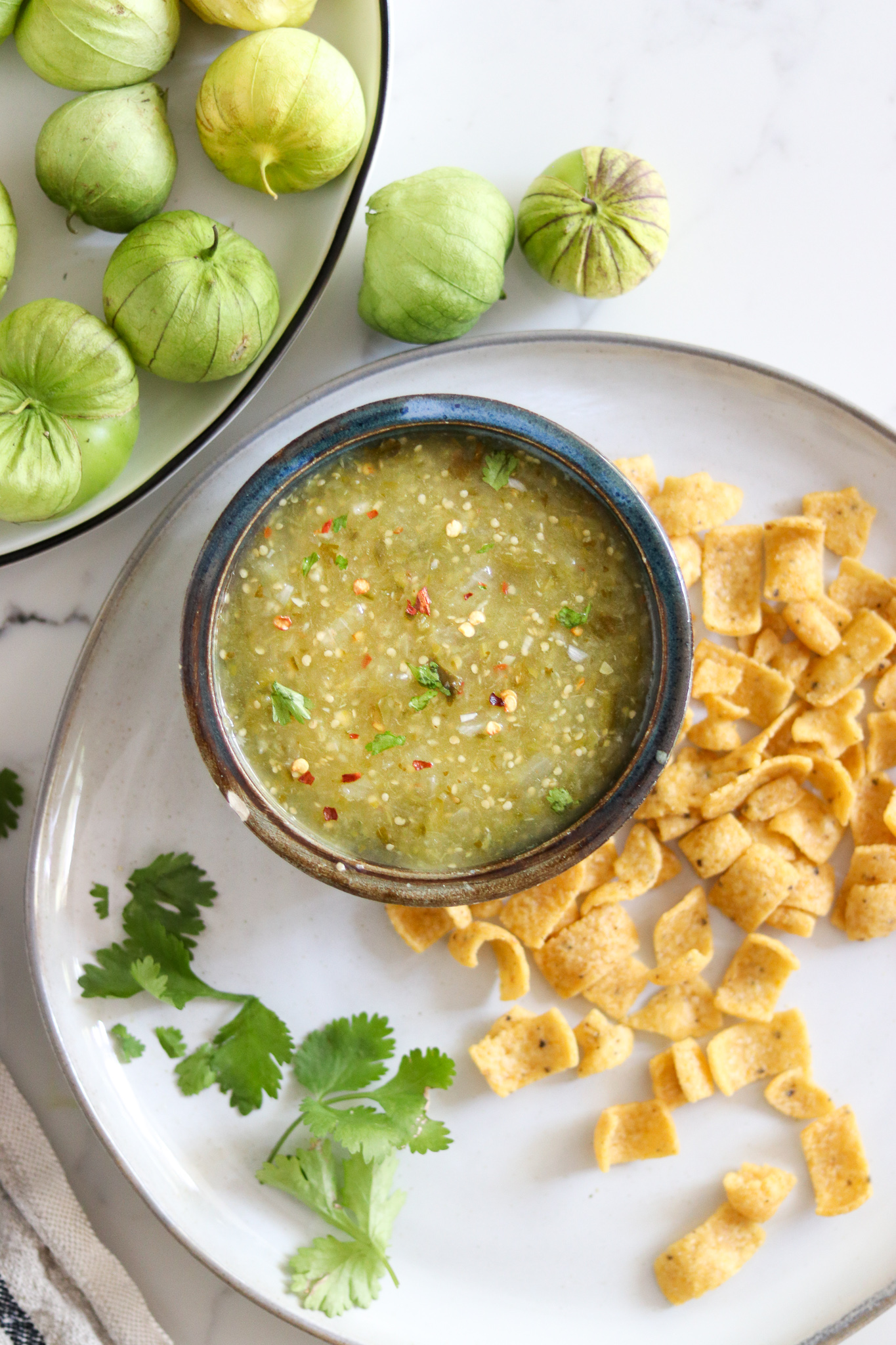 Are Tomatillos Safe for Canning?
Tomatillos are right on the borderline when it comes to safe canning, and when you're canning plain tomatillos, the tested recipes require that you add a bit of bottled citrus juice just to be safe.
This recipe is adapted from The Ball Complete Book of Home Preserving, and they're the ones that tested it to ensure canning safety. It includes quite a bit of fresh lime juice for flavor, and then a full cup of vinegar to ensure that the pH is safe for water bath canning.
You cannot reduce the vinegar in this recipe if canning, but that's ok, it actually works wonderfully in the salsa. Tomatillos can use all that acidity to bring out their flavor, and it adds a nice zip to the jar.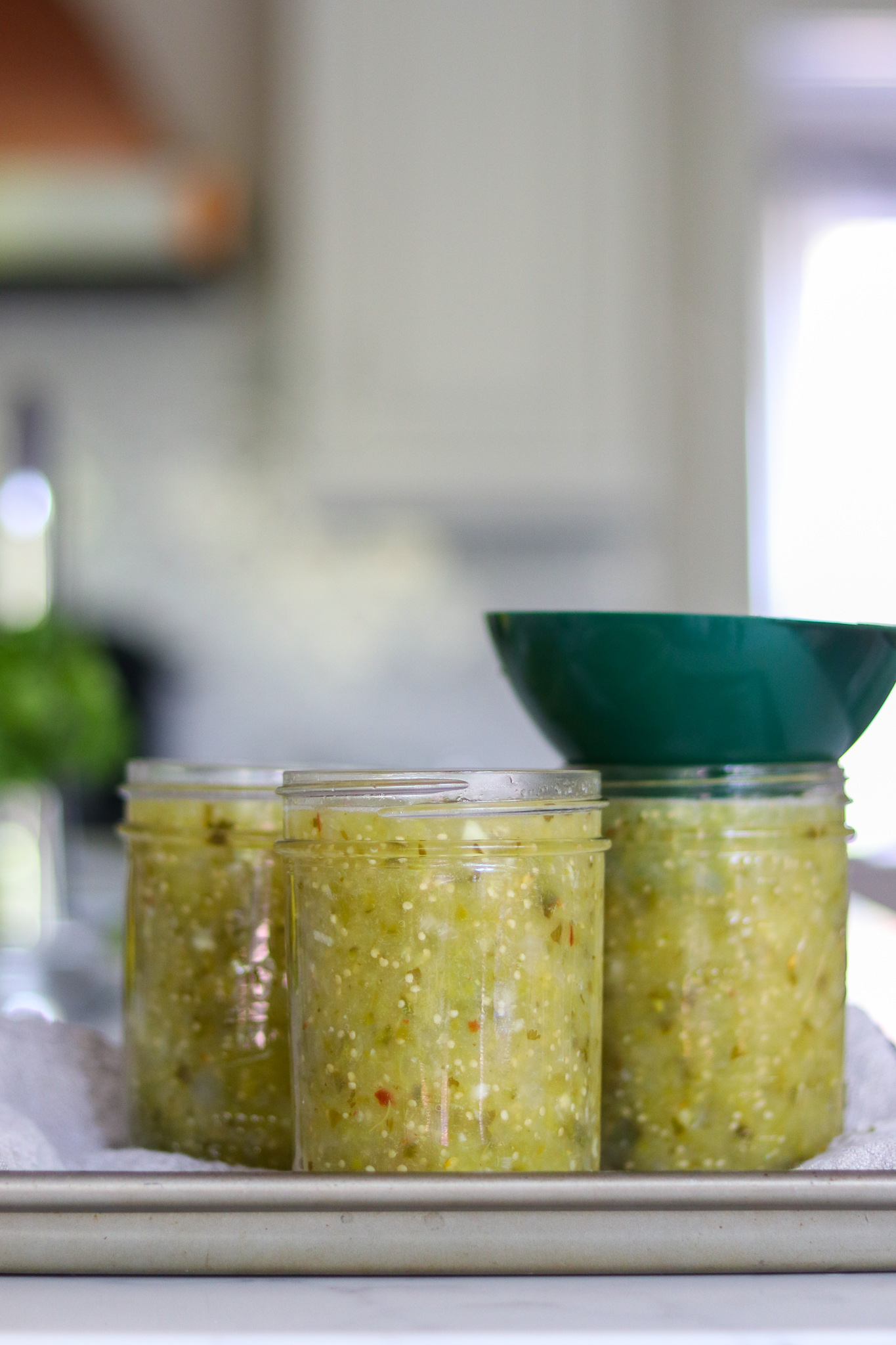 Ingredients for Tomatillo Salsa
To make about 6 pints, the ingredients for this tested canning recipe for tomatillo salsa are as follows:
12 cups tomatillos, husked and chopped (about 5 pounds)
2 ½ cups onion, chopped
2 cups of fresh peppers (you can use a mix of jalapeno, Anaheim, and poblano peppers based on desired heat)
1 cup white vinegar (or other vinegar, such as cider vinegar, standardized to 5% acidity)
Fresh juice from 4 small limes or 2 large limes (or 1/4 cup bottled lime juice)
7 cloves of garlic, minced
2 tsp salt
6 tbsp cilantro, chopped (optional)
1 tsp red pepper flakes (optional)
Most canning recipes require bottled lemon juice, largely because it comes at a standardized acidity. This recipe, however, uses vinegar to add acidity for canning, and the lime juice is just for flavor.
I'd encourage you to use fresh lime juice if you can, as it adds better flavor, but bottled lime juice will also work in a pinch.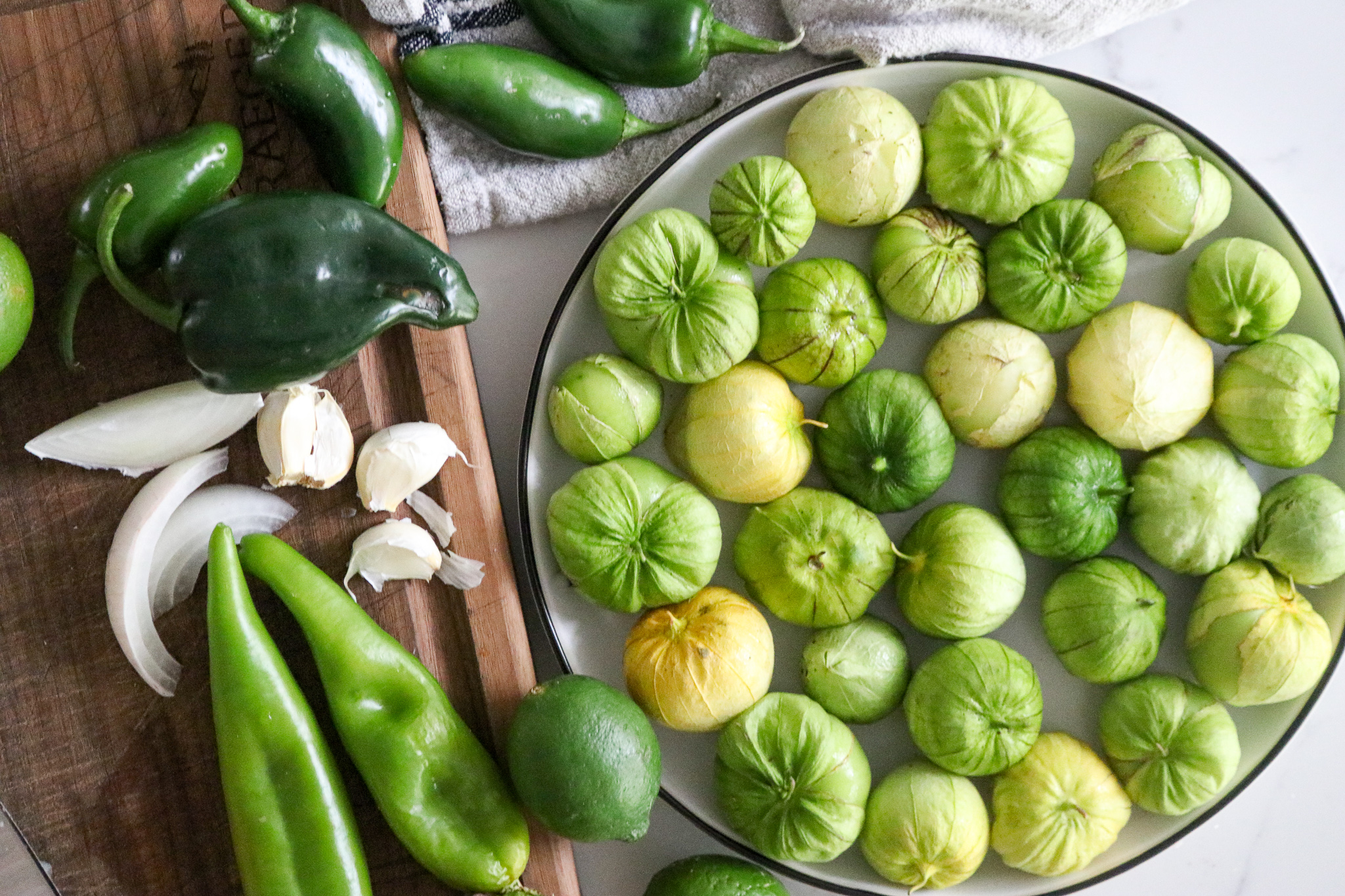 The peppers used in this recipe can be any hot or sweet peppers that you have on hand. If you'd like a very mild salsa, you can even use green or red bell peppers. For a medium salsa, go with Anaheim chilies or Poblano peppers.
For more heat, go with jalapenos or other hot peppers of your choice. You can even mix in a bit of habanero or ghost pepper if you're feeling adventurous.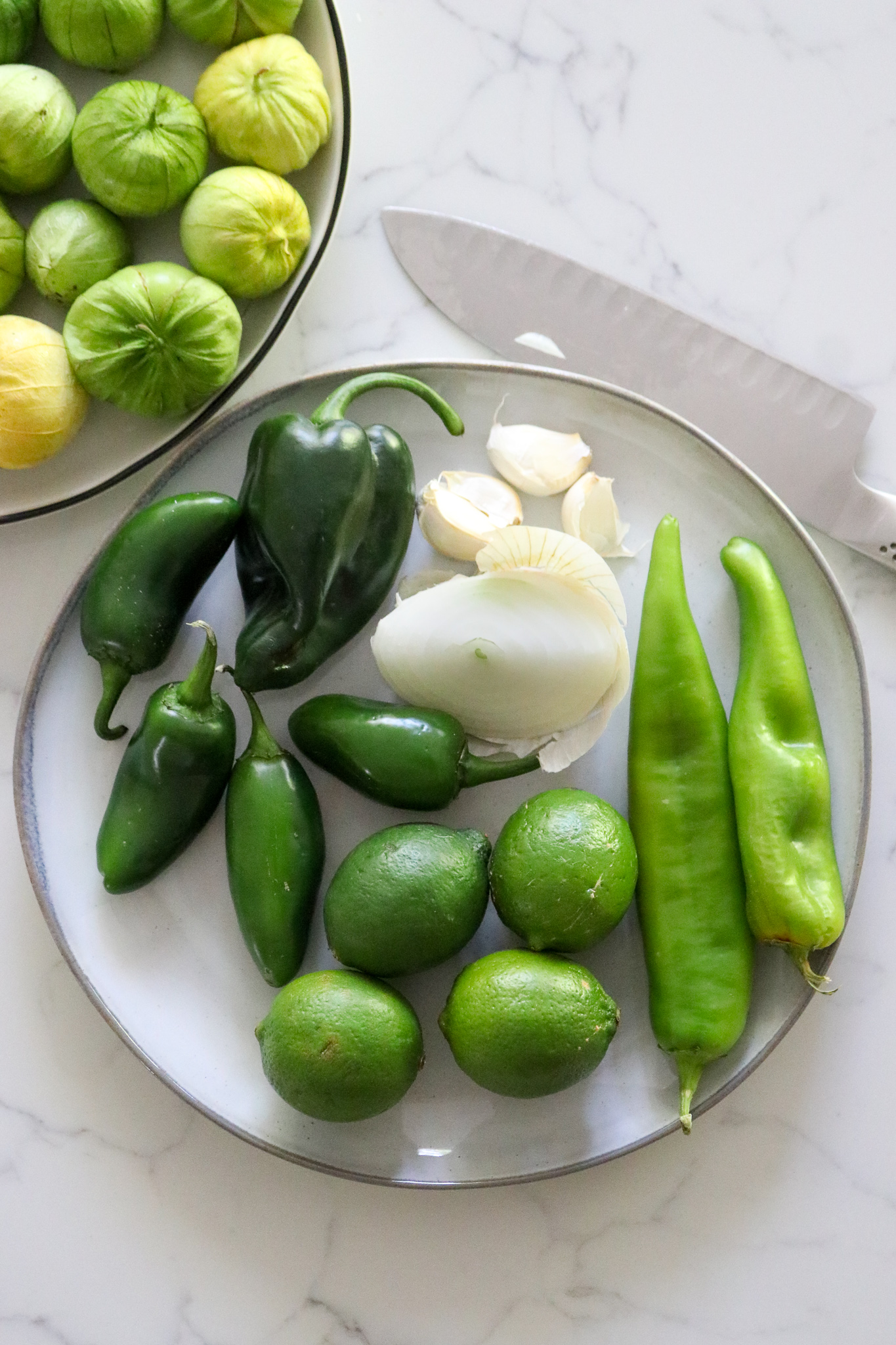 For a well balanced salsa, I went with a mix of jalapeno, Anaheim, and poblano peppers. But the choice is up to you, and any pepper will work in this canning recipe.
You can leave the seeds in when you chop the peppers, if you want more heat, or remove them and just use the chopped pepper.
Either way, make sure you dice the peppers relatively finely, into 1/4 inch slices for smaller, long thin peppers, or 1/4 inch dice for bigger poblanos.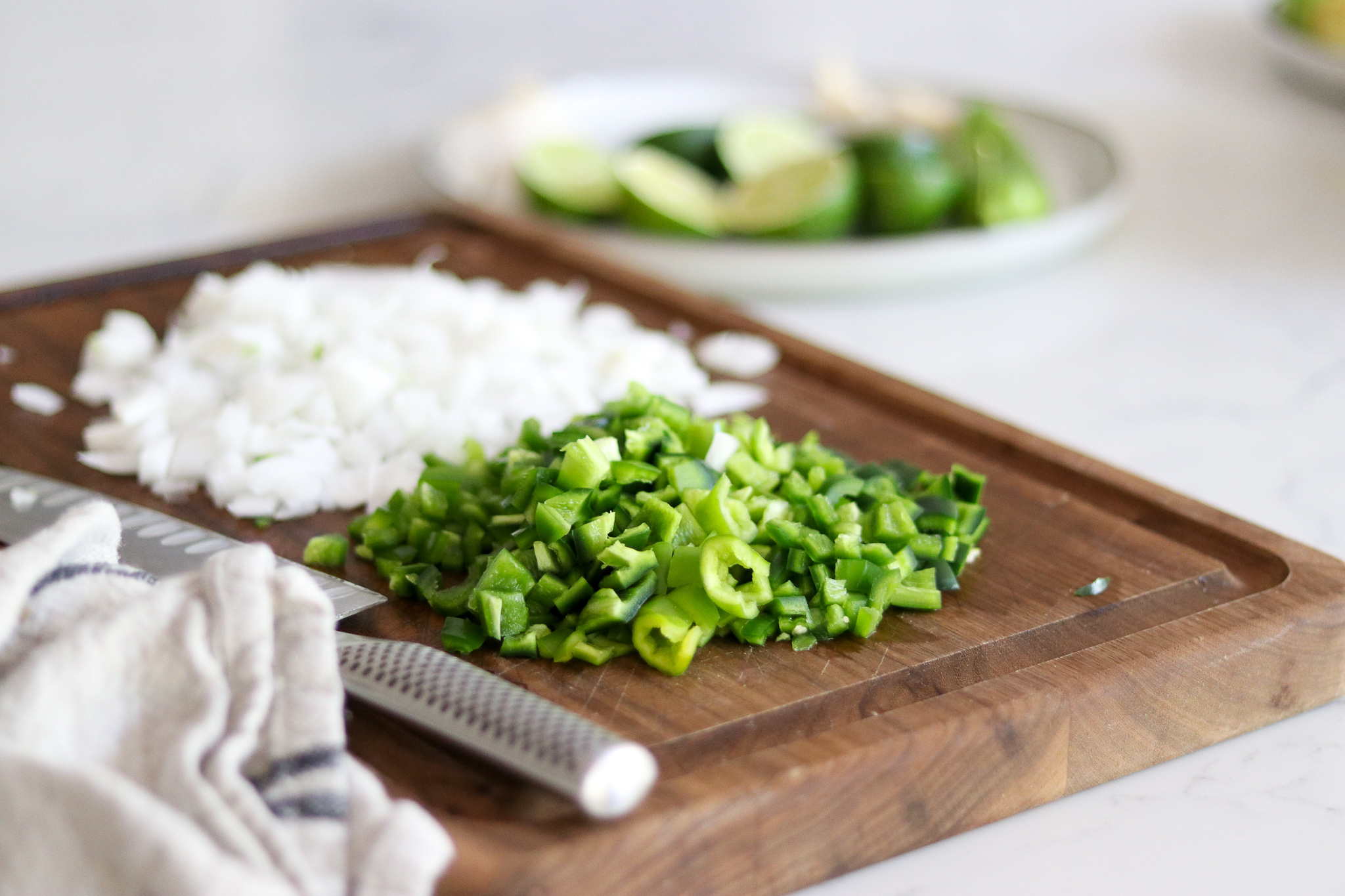 For the tomatillos, you can use just about any variety that you like, and believe it or not, there are a lot of them out there these days.
There are purple fleshed tomatillos and very mild yellow fleshed tomatillos that taste almost like pineapple and you can eat them out of hand like a fruit.
Most are the standard green tomatillos, and those will work wonderfully, and give you the best deep green color in the finished tomatillo salsa.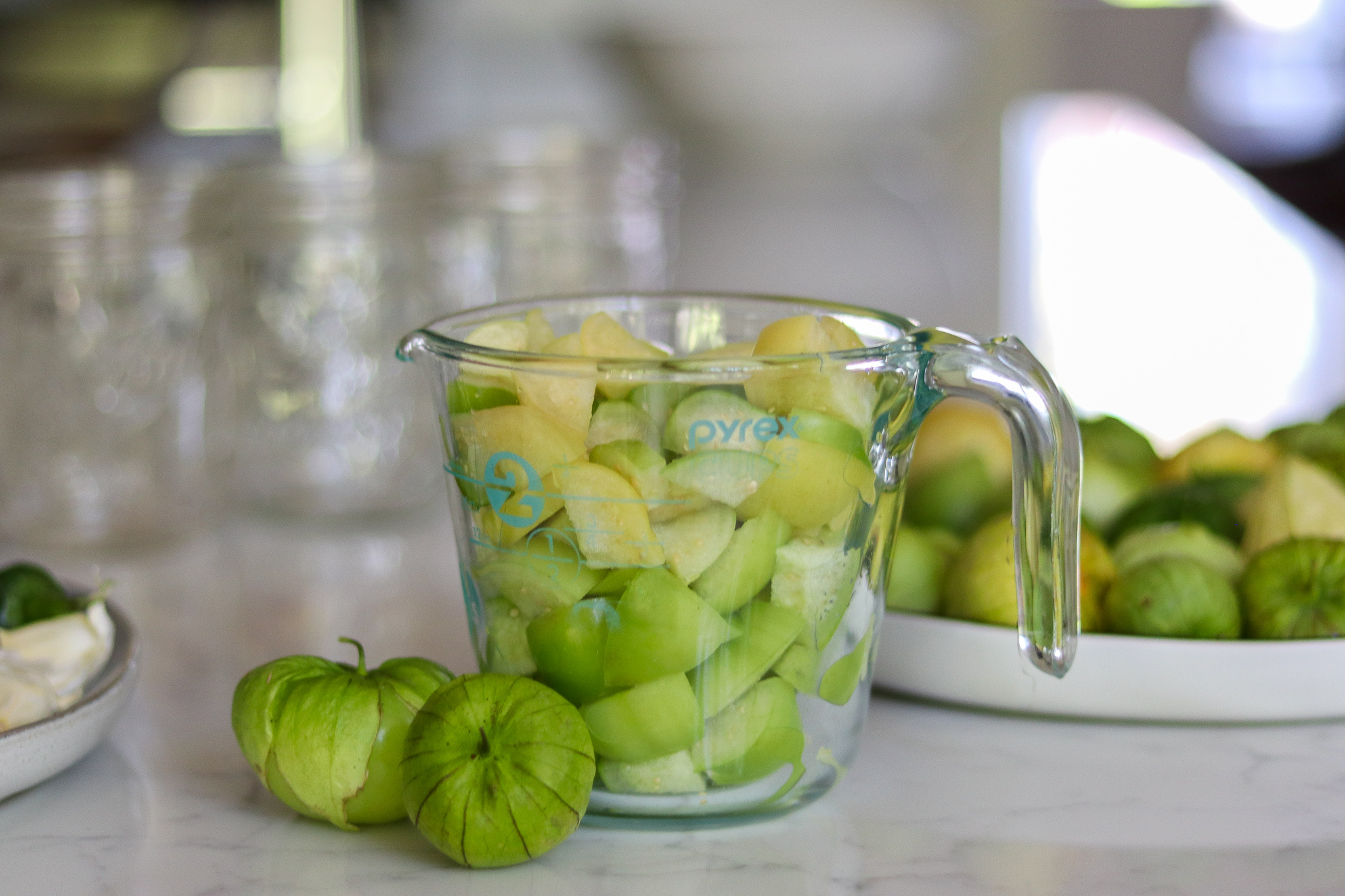 Incidentally, if you happen to have other species of physalis from your garden, such as the sweeter tiny varieties known as ground cherries, husk cherries or cape gooseberries, those will work in this recipe as well.
They're sweet fruit, and taste a bit more like pineapple, so more often people choose to preserve them in ground cherry jam, but they'll also make a wonderfully fruity salsa with this recipe.
Really any husked physalis fruit is great in this recipe.
How to Make Tomatillo Salsa
Start by chopping and measuring all your veggies, as that's the most time consuming part of the recipe. Once you have all your veggies prepared, start pre-heating a water bath canner and prepare jars, lids and rings (if canning).
This recipe comes together pretty quickly once all the veggies are chopped, so you'll want to get your canner pre-heated before you start cooking the salsa.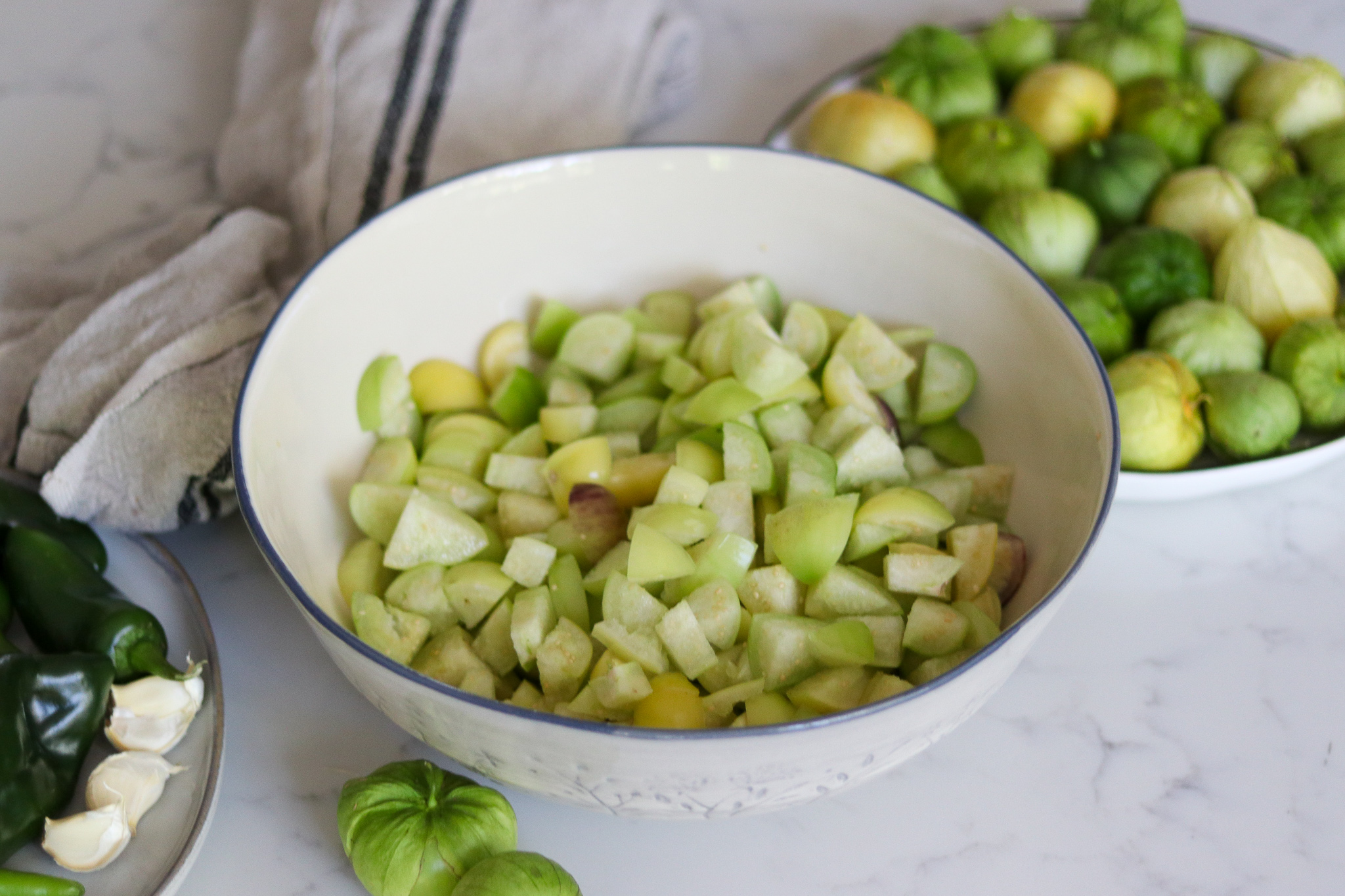 Next, place all the measured ingredients into a large dutch oven or stock pot. This includes the chopped veggies, as well as lime juice and vinegar, and finally the spices.
The liquids will keep everything from scorching while the veggies soften, but keep an eye on the pot and stir frequently so that nothing burns. Once the tomatillos release their juices that's less of a concern.
Reduce the heat to a simmer and cook the mixture for about 15 minutes, until heated through and fully incorporated.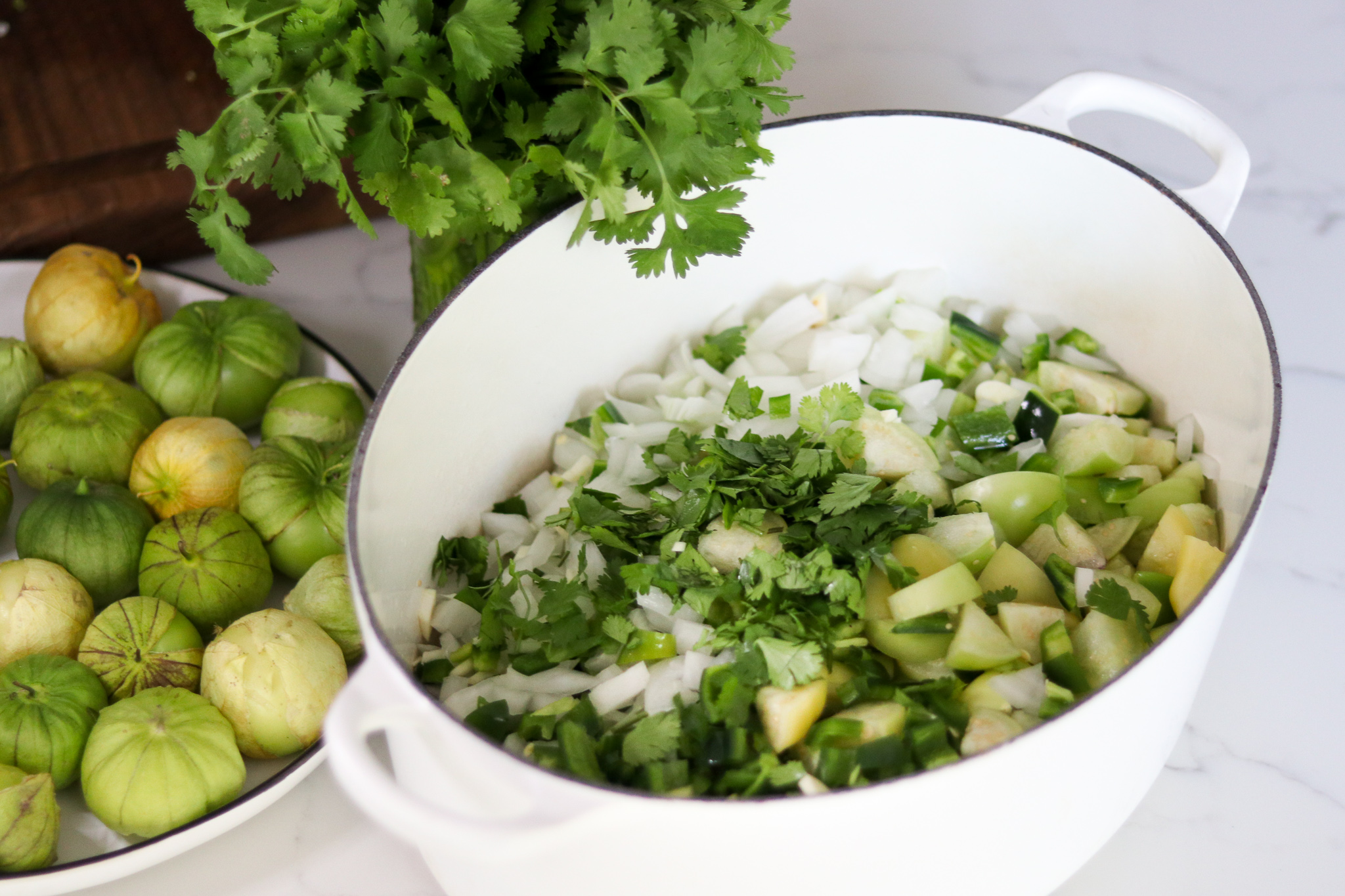 At this point, if you want a smoother salsa, you can use an immersion blender to blend everything together before proceeding. Or you can leave it chunky, it's up to you.
Ladle the hot mixture into prepared canning jars, leaving 1/2 inch headspace. De-bubble the jars, re-check headspace and then cap with 2 part canning lids.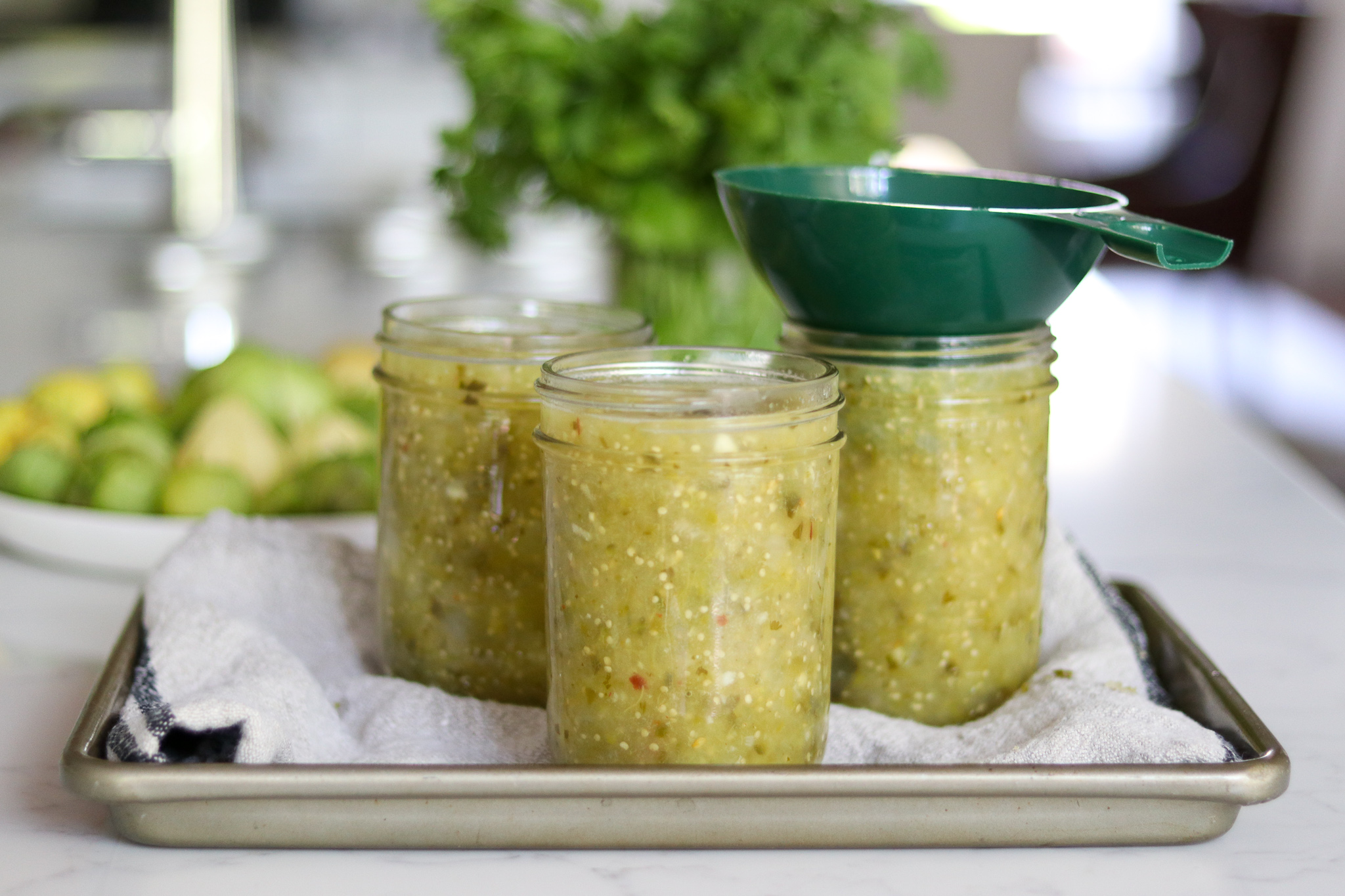 If you're not canning, allow them to cool completely on the counter before storing them in the refrigerator or freezer. If freezing, make sure you leave 1 inch headspace for expansion, and use straight sided freezer safe jars.
If you are canning tomatillo salsa, which is my preference, you'll want to use a jar lifter to place the jars into a pre-heated water bath canner.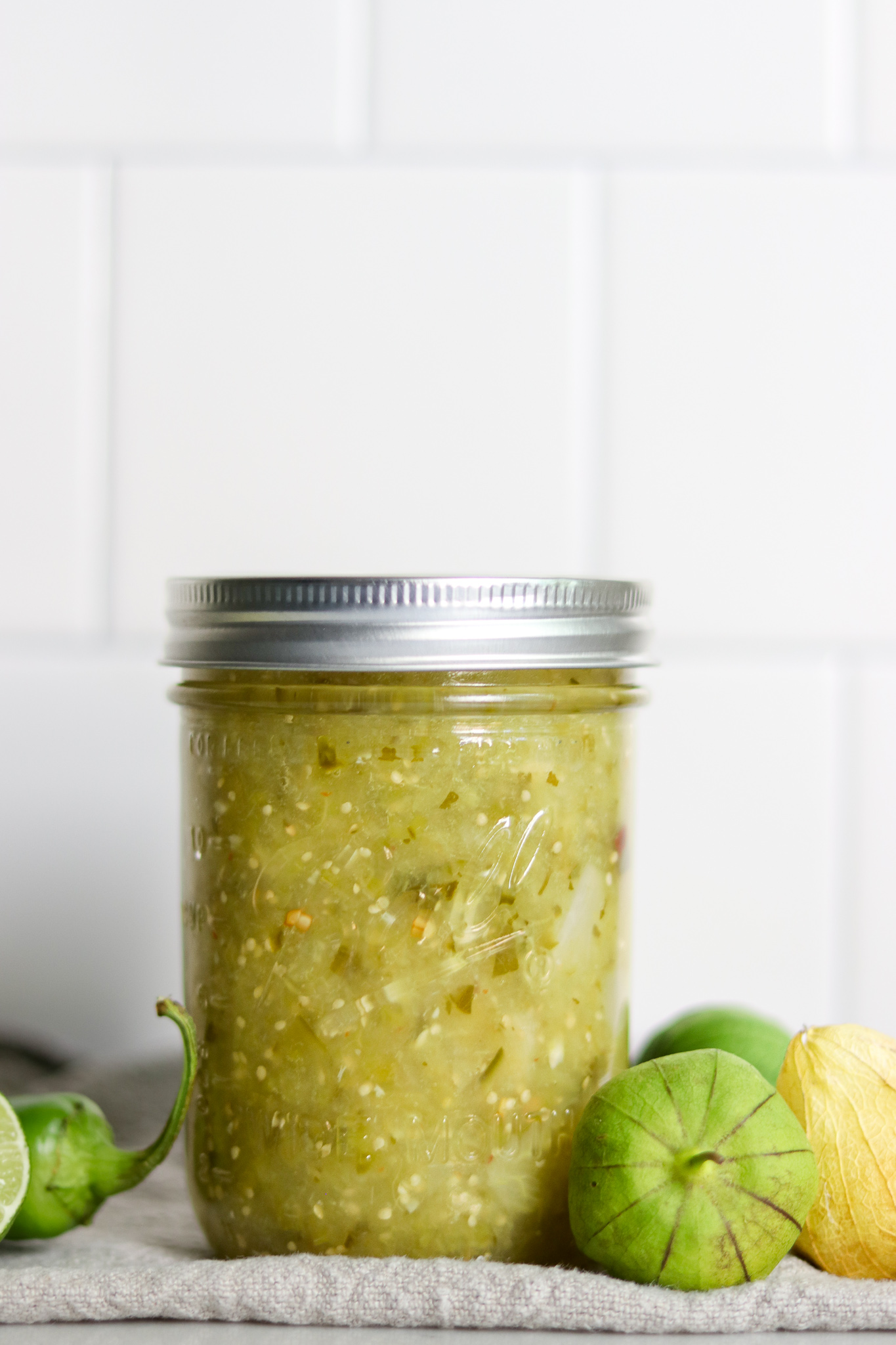 Canning Tomatillo Salsa
If canning tomatillo salsa so that you can keep it on your pantry shelf, load the prepared jars filled with 1/2 inch headspace into a simmering water bath canner. Bring the canner up to a full rolling boil before starting the timer.
Altitude adjusted processing times are below:
Process the jars for 15 minutes (under 1,000 feet in elevation).
Between 1,000 and 3,000 feet in elevation, process for 20 minutes.
Between 3,000 and 6,000 feet in elevation, process the jars for 25 minutes.
Above 6,000 feet in elevation, process the jars for 30 minutes.
Once the processing time is complete, turn off the heat and leave the jars in the canner for another 5 minutes to cool slightly before removing them to cool completely on a towel on the counter. This helps prevent siphoning.
Allow the jars to cool completely, and check seals after 12-24 hours. Store any unsealed jars in the refrigerator for immediate use within the next week or two.
Properly water bath canned and sealed jars of tomatillo salsa will maintain peak quality on the pantry shelf for 12-18 months, and be safe to eat so long as they're sealed. Refrigerate after opening.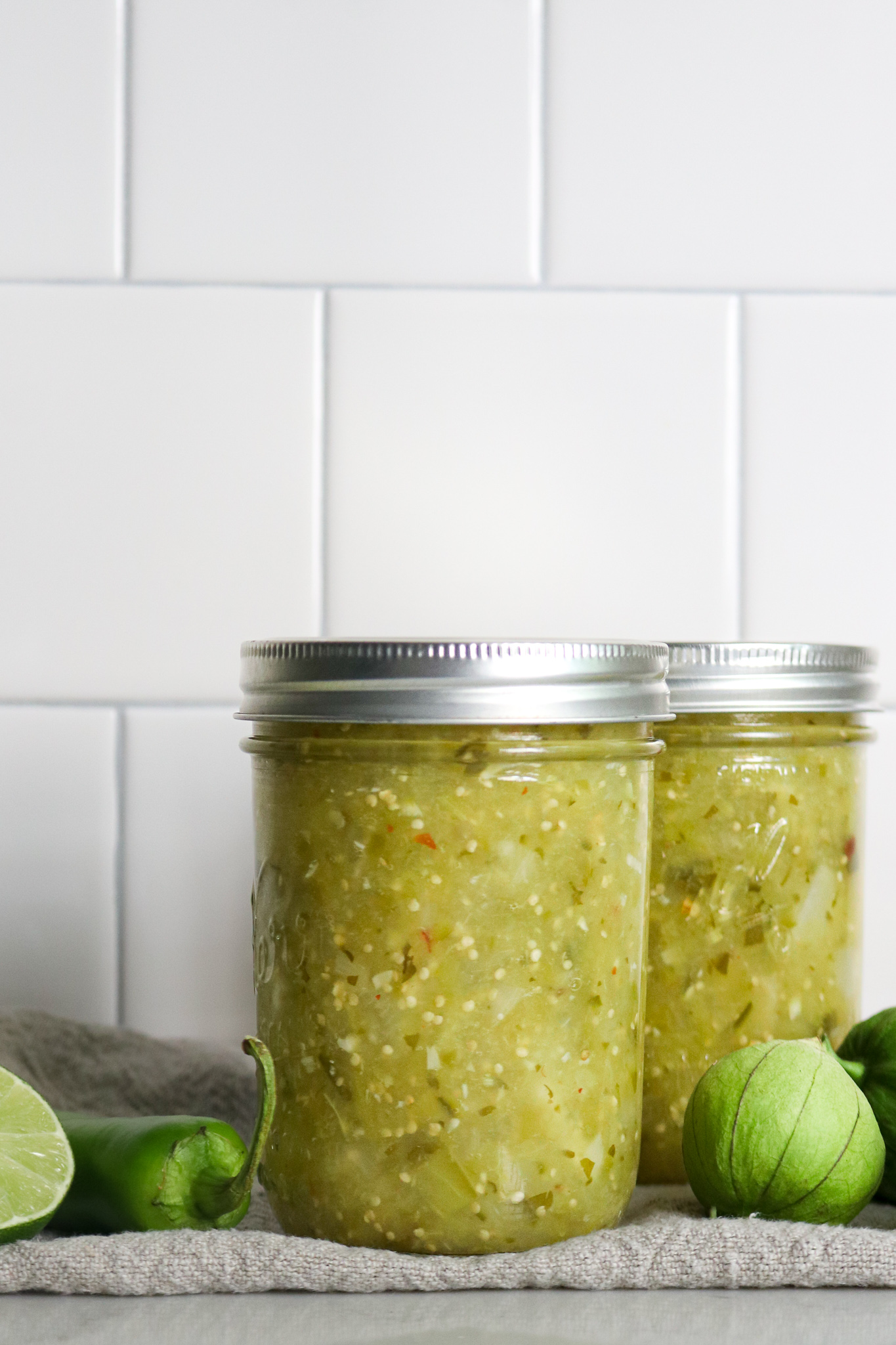 Ways to Use Tomatillo Salsa
Tomatillo salsa works wonderfully right out of the jar as a simple dip for chips, but it's also great when incorporated into recipes.
I love using it as a simmer sauce for braised pork shoulder, and it works wonderfully for chicken as well.
Tomatillo salsa makes a wonderful green sauce for enchilladas, and if you add a bit of sour cream you can make quick enchiladas suizas.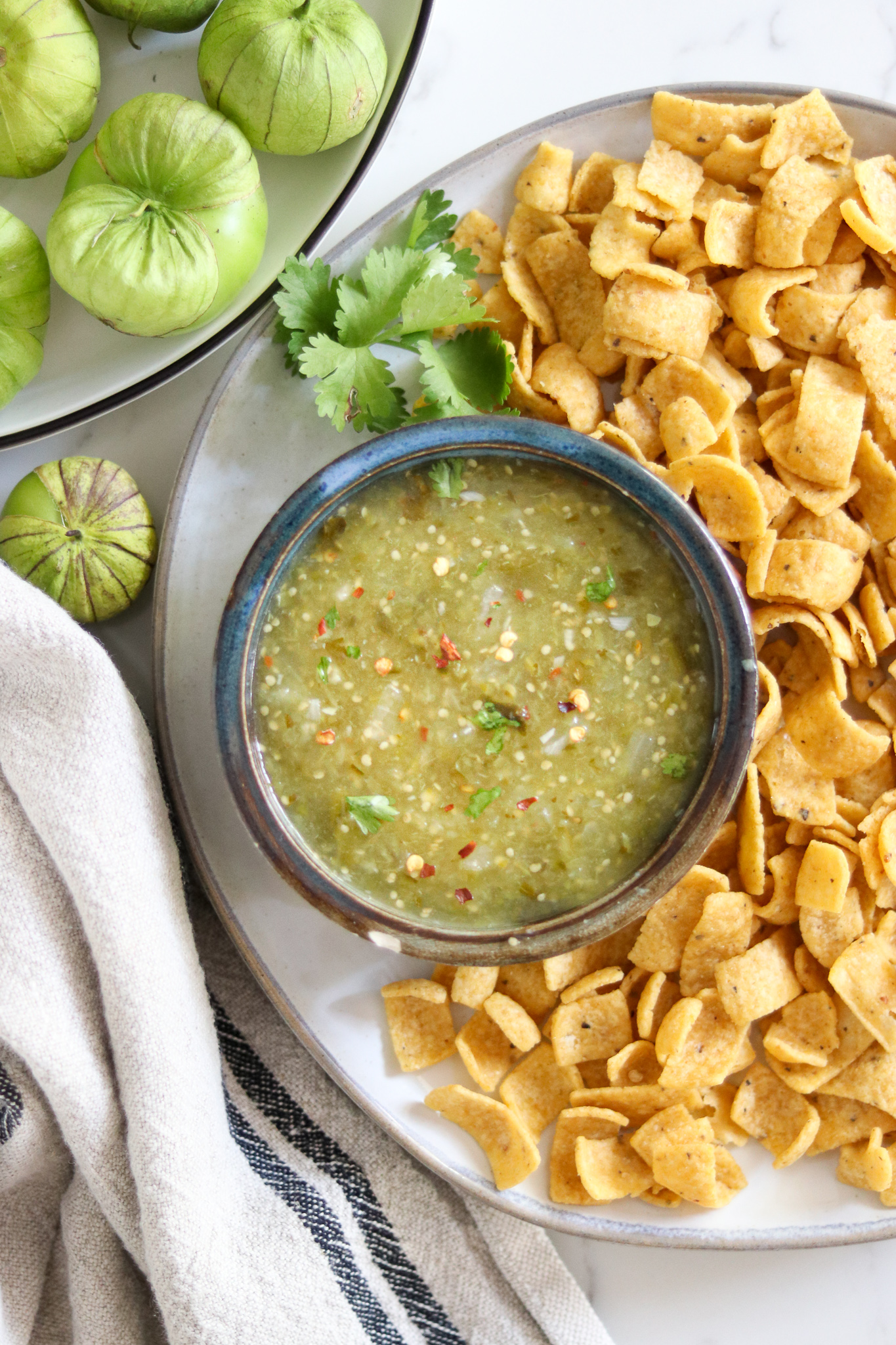 Preserving Tomatillos
Looking for more ways to preserve tomatillos?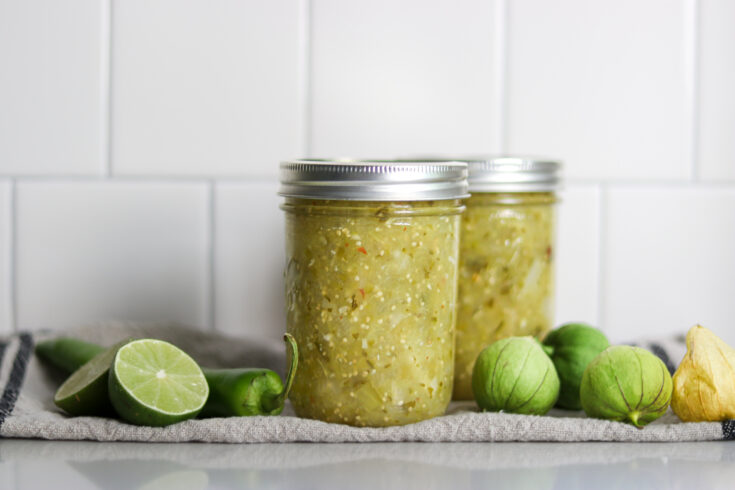 Yield:

Makes about 6 pint jars
Tomatillo Salsa
Additional Time:
15 minutes
Tomatillo salsa is a bright and versatile condiment to preserve if you are fortunate to have access to fresh tomatillos. Tomatillos are tart, sharp, and have a slight lemony flavor. In this recipe you can use any combination of fresh peppers to your taste (jalapenos will add a good amount of heat, while Anaheim's are milder). Serve this salsa with chips, a burrito or try it alongside an autumnal pork roast.
Ingredients
12 cups tomatillos, husked and chopped (about 5 pounds)
2 ½ cups white onion, chopped
2 cups of fresh peppers (you can use a mix of jalapeno, Anaheim, and poblano peppers based on desired heat)
1 cup white vinegar
Juice from 4 small limes or 2 large limes
7 cloves of garlic, minced
6 tbsp cilantro, chopped (optional)
2 tsp salt
1 tsp red pepper flakes
Instructions
Assemble your ingredients and prepare your water bath canner and jars.
In a large Dutch oven, combine tomatillos, onion, peppers, vinegar, lime juice, garlic, optional cilantro, salt, and red pepper flakes. Bring to a boil over high heat, stirring constantly to prevent scorching. Reduce heat and simmer, stirring frequently for about 15 minutes. Tomatillos, onions, and peppers should be softened and ready for the next steps.
Note: If you desire a smoother salsa, use an immersion blender to blend before proceeding.
Ladle hot mixture immediately into prepared jars, leaving ½ " headspace. Use a wooden skewer to remove any air pockets and readjust headspace if needed. Wipe jar rims and threads with a moistened towel. Cover with two-piece lids. Screw bands to finger-tip tight.
Place jars onto a rack in the canner. Water must cover jars by 1 to 2 inches. Cover canner, and bring water to a boil. Once boiling, process jars for 15 minutes (adjusting for altitude, see notes). Turn off the heat and let jars sit in the canner for 5 minutes. Remove jars and place them upright on a towel to cool completely. After the jars cool, check seals by pressing the centers of lids with your finger. If the lid springs back, the lid is not sealed and refrigeration is necessary.
Let prepared jars stand at room temperature for 24 hours. Salsa flavors will mellow over time. Store unopened salsa in a cool, dry place for up to 1 year.
Notes
Altitude Adjustments
If under 1,000 Feet in elevation, the processing time is 15 minutes.
Between 1,000 and 3,000 Feet, increase the processing time to 20 minutes.
Between 3,000 and 6,000 feet, increase to 25 minutes.
Above 6,000 feet, process for 30 minutes.
Salsa Canning Recipes
Need a few more salsa canning recipes to fill your pantry?
Summer Canning Recipes
Putting up more than just tomatillos this season?