Fig jam is easy to make with just 3 ingredients, and it's perfect for canning (or as a refrigerator jam).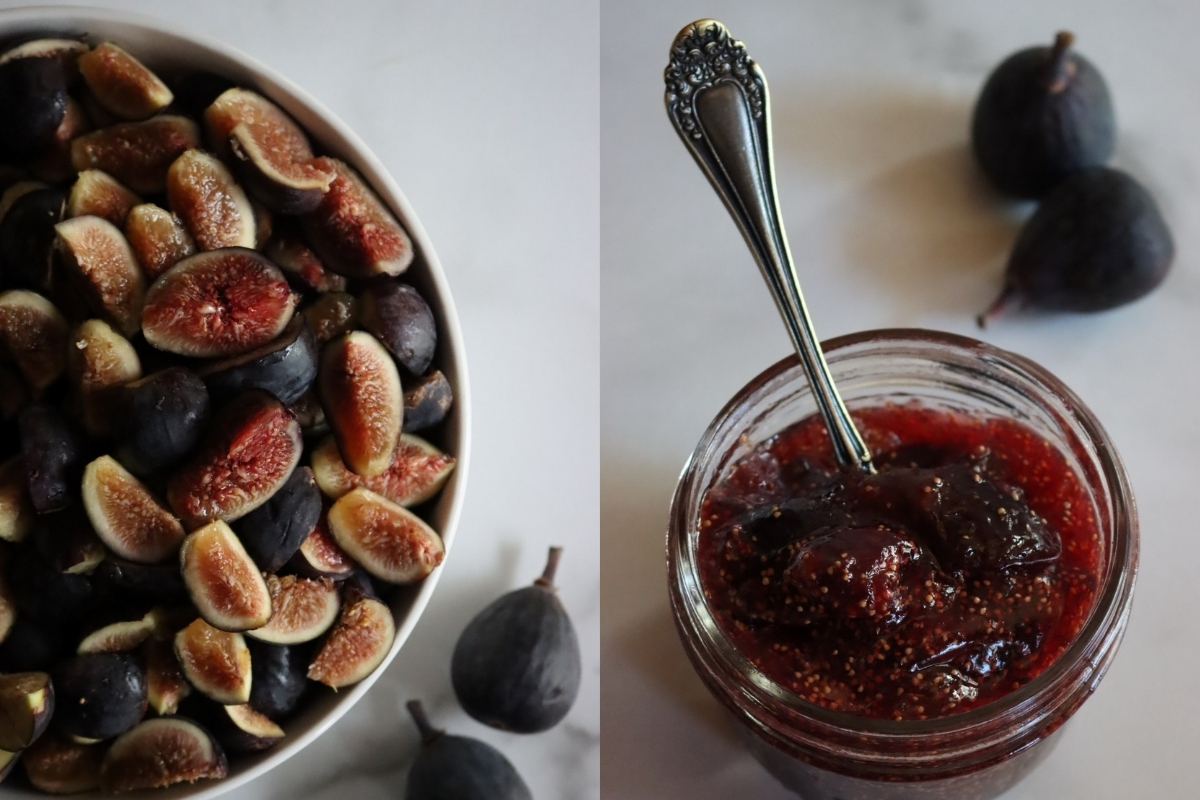 Bursting with sweetness, figs are a special addition to any homemade jam, whether these delicious morsels are playing the starring role or sharing the stage with other ingredients.
Besides its obvious uses, which for me is a thick layer of the stuff slathered on crusty bread, fig jam is an elegant addition to cheese and charcuterie boards (particularly aged firm cheeses and almost any kind of blue cheese). You can take this pairing to its logical conclusion by spreading a thin layer between two pieces of bread and copious amounts of cheese the next time you make a grilled cheese sandwich.
Another reason I love making fig jam?
The prep is pretty minimal compared to other fruits (and by that I mean there's no peeling or coring, the woody stems are the only part of the fruit that needs to be removed prior to cooking). The canning process is equally simple, with the jam only requiring 10 minutes in a water bath canner before it's ready for longer-term storage on the pantry shelf.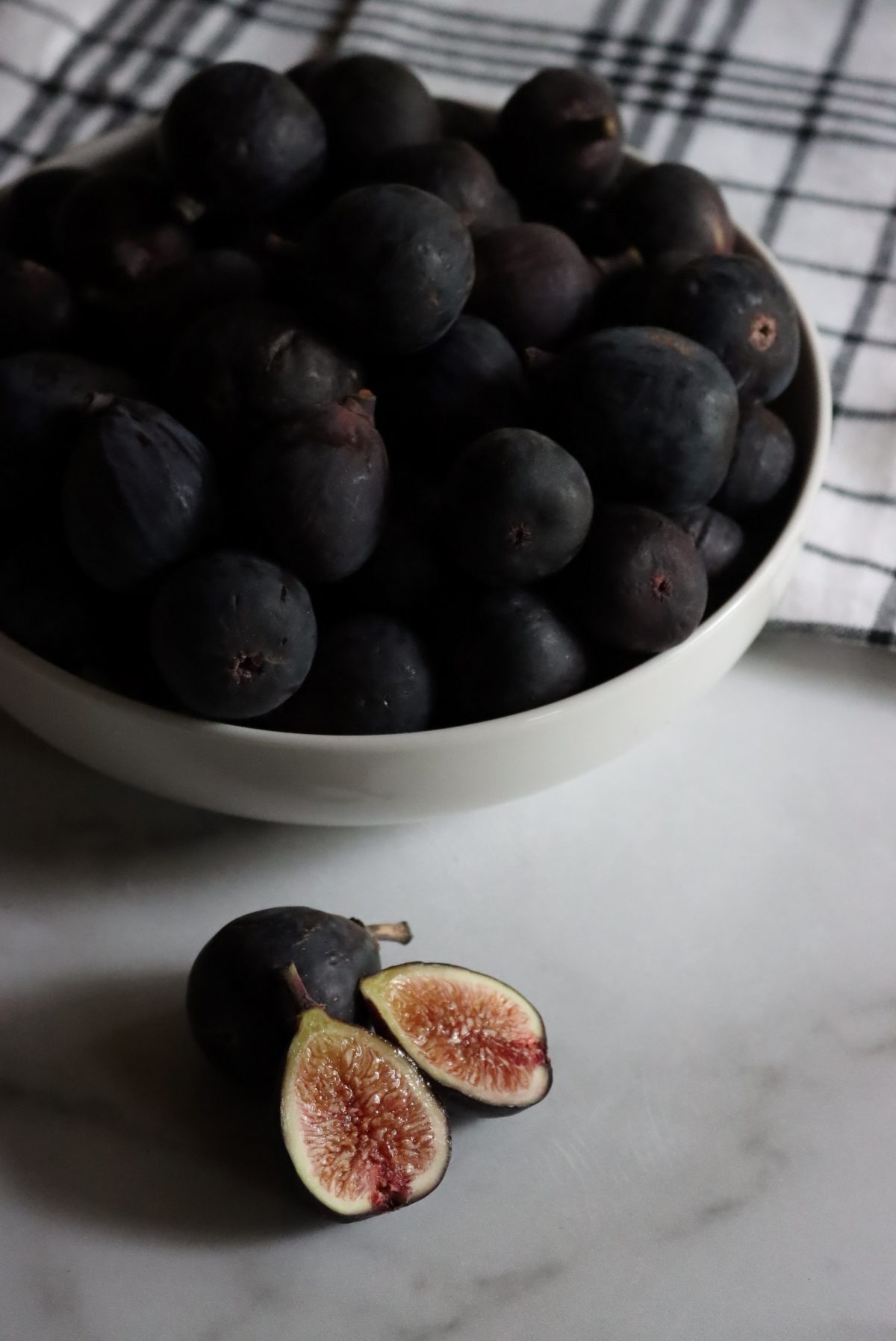 You can choose almost any kind of fig (or a combination!) when making homemade fig jam.
I like to use Black Mission figs because they're extremely sweet and readily available if it's the right time of year, but you can also use Brown Turkey figs or green Calimyrna figs with equally as satisfying results.
I grew up with green Calimyrna figs from my grandmother's tree, and they're a real treat if you have them fresh. For some reason, those never seem to make it into grocery stores, and we have a small cutting from her tree in our attached greenhouse.
Someday we'll have green fig jam, but until then, black mission figs make an equally spectacular jam (with a stunning dark color that looks great on a plate).
If fresh figs aren't available or are overly expensive (which is unfortunately often the case), you can still make a lovely jam using dried figs (they take a good bit of extra preparation though).
I'm going to walk you through a basic recipe for fig jam and a super-simple water bath canning method, as well as give you plenty of options when it comes to variations. The sunny flavor of fig jam is the perfect backdrop for both savory and sweet ingredients, including rosemary and thyme, balsamic vinegar, as well as other types of fruit such as pears and raspberries.
How Many Figs Do You Need to Make Jam?
To make a batch of basic fig jam with a yield of 3 half-pints (8 oz) jars, you'll need about 1 3/4 pounds of fresh figs (which comes out to about 1 dry quart, if you aren't measuring by weight). Choose ripe, fragrant figs (or if fresh are unavailable good quality frozen figs) and gently wash them in cold water.
Trim away the woody stems and chop the fruit into small pieces, if the figs are particularly ripe you can just tear them apart — no knife required!
How to Make Fig Jam
Once you've decided on your choice of fig variety, be it black mission figs, brown turkey figs or green calimyrna figs, it's time to macerate them with a bit of sugar.
Figs are quite dry naturally, and they'll quickly burn when placed into the jam pot. Macerating the figs with sugar draws out their juices and allows you to make an incredibly rich, flavorful jam (without added water which dilutes the flavor). Some recipes have you boil the figs to pop their cells, then drain them…I think that leads to a washed-out flavor.
Maceration is a much better option, and you're going to be adding sugar to the jam anyway so this just makes it all part of the process.
Add the chopped/torn figs to a large bowl along with 1 1/4 cups of granulated sugar and 2 tablespoons lemon juice, stirring all the ingredients to combine. Give the fig mixture 30 to 45 minutes to macerate at room temperature, a brown, sticky syrup will form when the figs are ready to be cooked.
Transfer the macerated figs to a large skillet, heavy-bottomed saucepan, or Dutch oven and heat the contents over medium-high heat. Stir the figs frequently as they begin to bubble and soften to prevent scorching the bottom of the pan.
When the jam is thick enough that a spatula scraped across the bottom of the pan will create a noticeable "trace" (in other words, it doesn't immediately pool back together) the jam is ready to be decanted into jars for canning.
I find that this generally takes anywhere from 10 to 12 minutes, but this is partially dependent on how ripe the original figs were.
Ladle the finished jam into prepared jars, leaving 1/4 inch headspace and cap with 2 part lids.
Once cooled, the homemade fig jam should be set up nicely without any added pectin, and hold its shape on a spoon. If you've left the figs as halves, you should have some nice big fruit chunks in there. If you'd like a finer texture, you can always finely chop the figs into 1/2 inch dice before macerating so the finished jam will be smooth.
Personally, I love the huge fig chunks in my jam, and I think it's perfect on a cracker with cheese from a charcuterie board.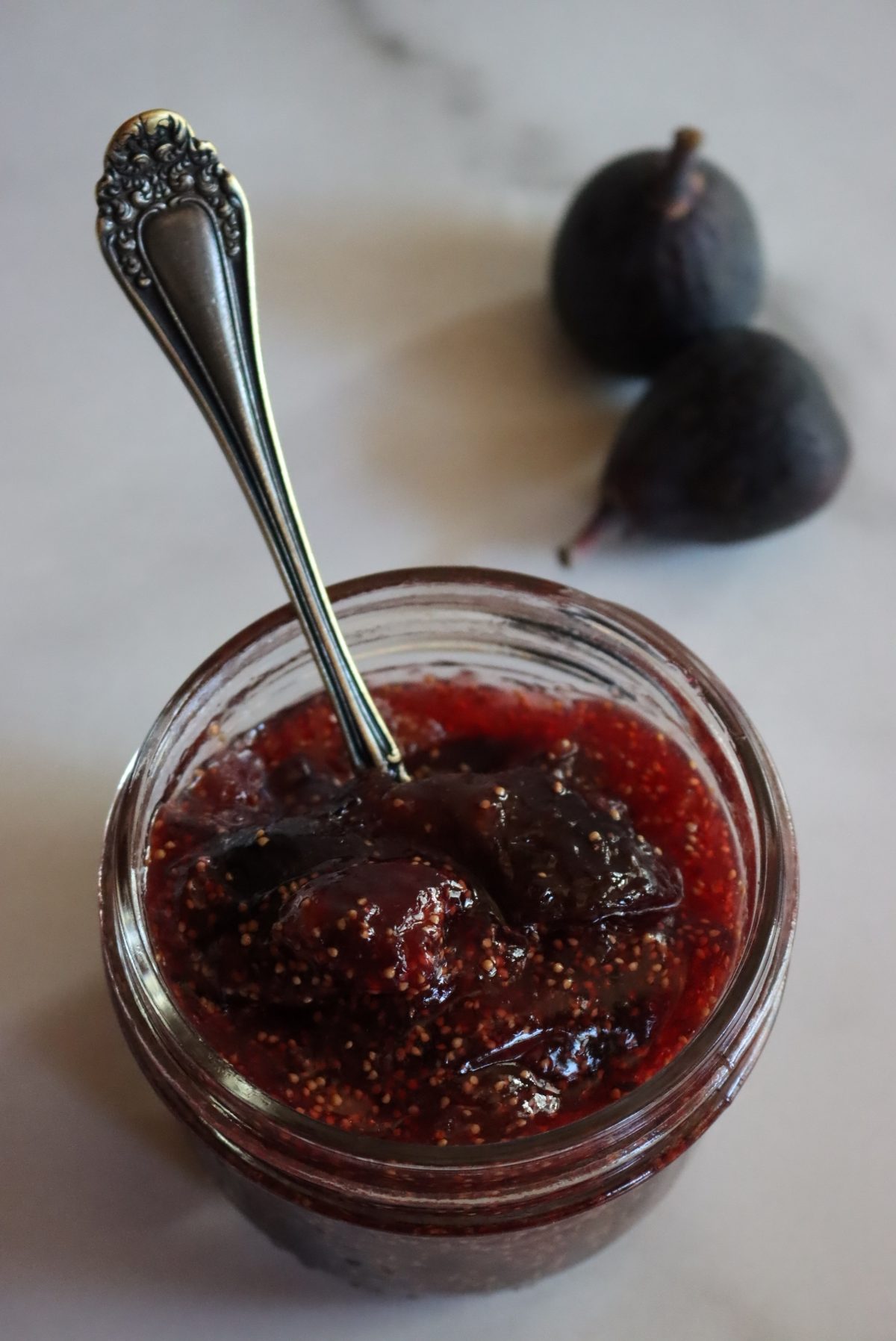 Fig Jam Variations
Plain fig jam is an absolute delight, but this basic fig jam recipe can be adapted in many different ways to make a really unique spread. Figs are a great backdrop for other flavors, both savory and sweet.
I have an extensive library of canning books, and they all have really unique fig jam recipe ideas. I especially like the idea of combining the sweet figs with savory herbs, like thyme and rosemary. Red wine is a nice option too!
Figs also combine well with other fruits, and since they tend to have an intense flavor that can be over the top for some people. Using half figs and then making up the balance with another milder fruit (like strawberries) is a great way to get a nice balanced fig jam.
These are some of the best fig jam ideas from my canning library:
Fig and Raspberry Jam ~ The Sqirl Jam Book has a fig and raspberry jam variation that is made by blending 2 pounds of figs with 1 pound+2 ounces raspberries; the resulting blend is then cooked down with 4 1/2 cups sugar and 3 tablespoons+1 teaspoon lemon juice into a sweet/tart jam.
Fig Jam with Red Wine ~ That same book has a second recipe for fig jam with red wine, and they show it being cooked over an open fire in a dutch oven. Beautiful pictures, but it's a lot easier to cook this one on the stove without risk of scorching. They use 5 pounds of figs are blended and cooked down with 5 3/4 cups of sugar and 1/4 cup+2 teaspoons lemon juice. In the last few minutes of cooking time, 2/3 cups of fruity, bold red wine is stirred into the jam.
Fig and Strawberry Jam ~ It can be tricky to get strawberry jam to setup without added pectin, but by mixing strawberries and figs you get a lovely pectin-free homemade jam. The Complete Book of Small-Batch Preserving contains a recipe for fig and strawberry jam, which is made by combining 1 pound of fresh figs, 2 cups of strawberries, 2 cups of sugar, and 3 tablespoons of lemon juice and cooking everything down into a sweet, summery jam.
Fig and Pear Preserves ~ Both figs and pears make a wonderful addition to a savory charcuterie plate, and they work wonderfully together in a homemade jam. Jam Session has a recipe for fig and pear preserves, which takes advantage of the brief moment in time when both fruits are in-season. To make the jam, combine 1 1/2 pounds of figs, 1 pound of small pears (peeled, cored, and sliced), 3 cups sugar, the juice and grated zest of 1 orange and 1 lemon, and 1 teaspoon crushed or ground cardamom seeds in a large bowl and leave overnight to macerate — the macerated fruit mixture is then briefly cooked down until a jam forms.
Sicilian Fig Marmalade ~ Another Jam Session recipe I love to make is Sicilian Fig Marmalade, which calls for 2 cups of dry white wine, 2 cups of sugar, 4 pounds of figs, 2 teaspoons of ground cinnamon, the juice of 1 lemon, and 1/4 teaspoon of cayenne pepper (or any other type of dried and ground chili pepper). The wine, sugar, and figs are cooked over medium heat for 20 minutes before the cinnamon, lemon juice, and cayenne pepper are stirred in at the end of the cooking time.
Fig Jam with Porchetta Flavors ~ Didn't I tell you figs go well with both savory and sweet? Figs are a natural pairing for roast pork, which is the inspiration behind Jam Session's recipe for fig preserves with porchetta flavors. This sweet and savory jam is made with 2 pounds of figs and 2 cups of sugar, which are combined and allowed to macerate overnight. The macerated fruit is then added to a saucepan and cooked along with water or apple juice to cover, 2 fresh bay leaves, 1 sprig of rosemary (in a sachet or tea ball), 1 1/2 teaspoons ground fennel seeds, 1 teaspoon ground cloves, 1 teaspoon of freshly ground pepper, and a pinch of salt. The figs are given a chance to plump up in released juices before being cooked for a second and final time with the addition of 1/2 cup of lemon juice.
Fig Jam with Thyme and Balsamic ~ The Hands-On Home cookbook features a fig jam with two of my favorite complementary ingredients: thyme and balsamic vinegar. To make this fig jam variation, combine 2 pounds of fresh figs, 3/4 cup of balsamic vinegar, 1/2 cup of light brown sugar, 1 teaspoon of dried thyme, and a pinch black pepper and let sit at overnight at room temperature. At this point, the figs and additional ingredients are simmered along with 2 tablespoons of lemon juice until the mixture thickens and takes on a jam-like consistency.
My recipe for fig jam is actually adapted from Preserving By the Pint by Marissa McClelland. Her original recipe uses slightly less lemon juice (1 1/2 Tbsp.) and adds fresh thyme. Mixing figs and thyme really is a classic combination, but I wanted just a simple, classic fig jam recipe. I've added ever so slightly more lemon juice to help cut the sweetness, and create a more balanced fig preserve.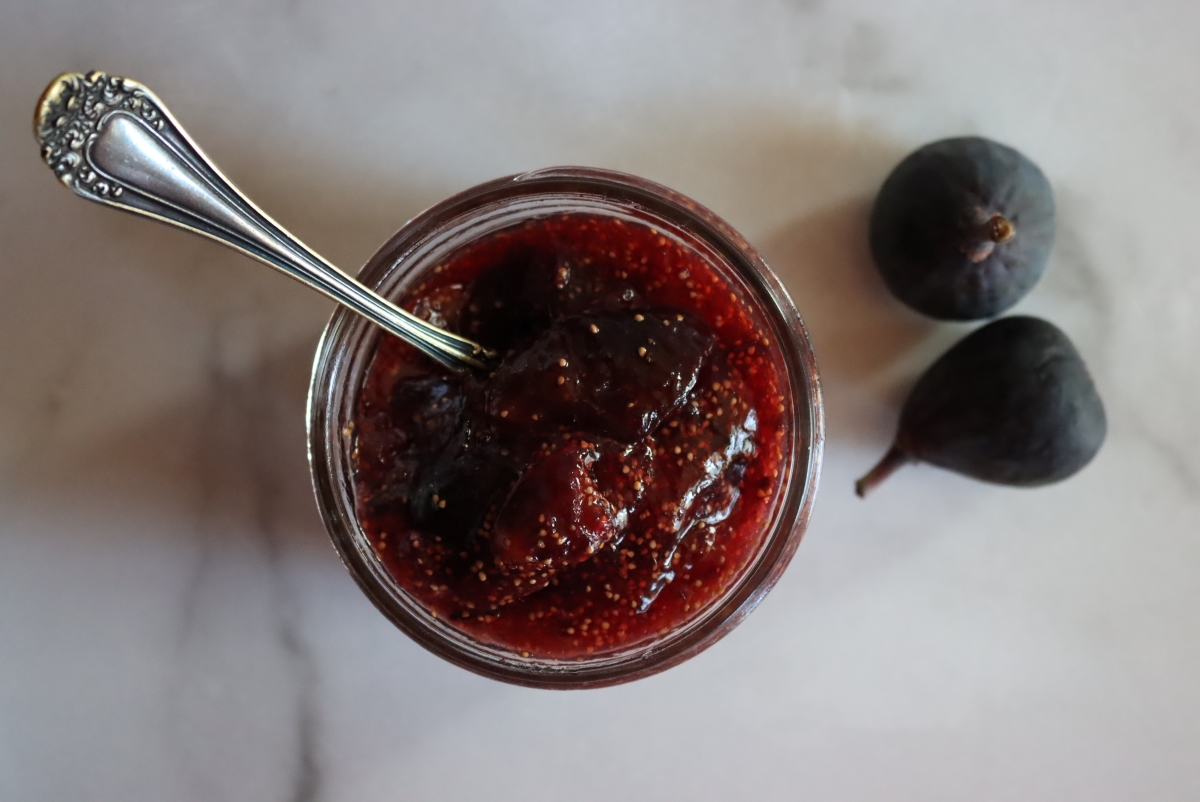 Canning Fig Jam
This homemade fig jam recipe works wonderfully as a refrigerator or freezer jam, and canning is optional.
That said, I prefer canning fig jam so that it's shelf-stable and ready for use all year round. Figs are only in season for a short time, and a big part of making this preserve is that it allows me to enjoy them whenever I want. Just pop open a jar from the pantry and serve!
If you're not familiar with canning, I'd suggest reading my beginner's guide to water bath canning before getting started.
Using a ladle, carefully transfer the finished fig jam into prepared half-pint jars, leaving 1/4-inch headspace at the top of the jar.
Wipe the rim and sides of the jar down before applying two-piece lids until fingertip tight. Load the jars into a hot water canner using a jar lifter and set the timer for 10 minutes. When the timer goes off, turn off the canner and let the jars sit in the hot water for 5 minutes before removing with a jar lifter.
These instructions are perfect if you live between 0 and 6,000 feet in elevation. If you're higher than 6,000 feet, they'll need 15 minutes of canning time, followed by another 5 with the canner off.
Once the canning time is complete, remove the jars with a jar lifter. Place the jars on a clean tea towel and let the contents come to room temperature, anywhere from 12 to 24 hours.
Check the seal of each jar lid and remove the ring for another use. If the jar didn't seal properly, store the jam in the fridge and use it within a week or two.
Keep canned fig jam in a cool, dry place away from direct sunlight and use it within 18 months for best quality.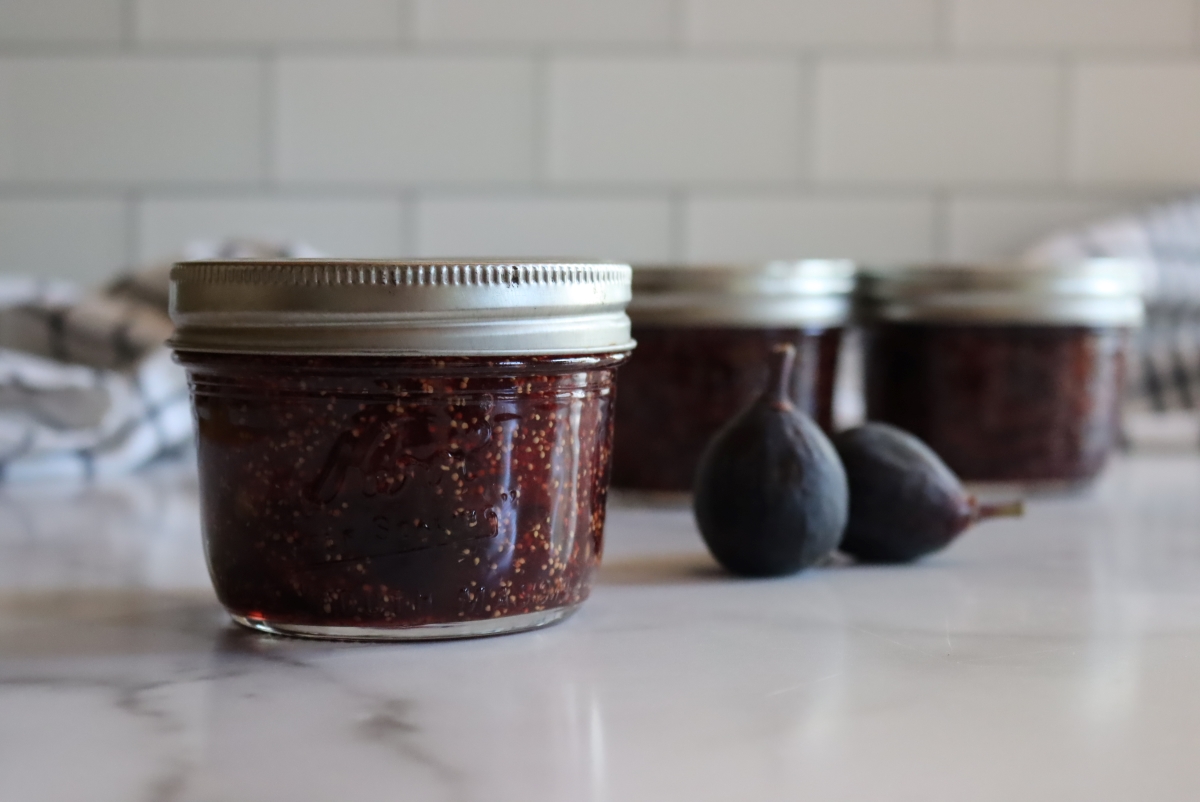 Ways to Preserve Figs
Looking for more ways to preserve figs this season? Besides this jam recipe, you can also can figs whole or freeze them. Freezing fruits is a great way to preserve them if you have freezer space.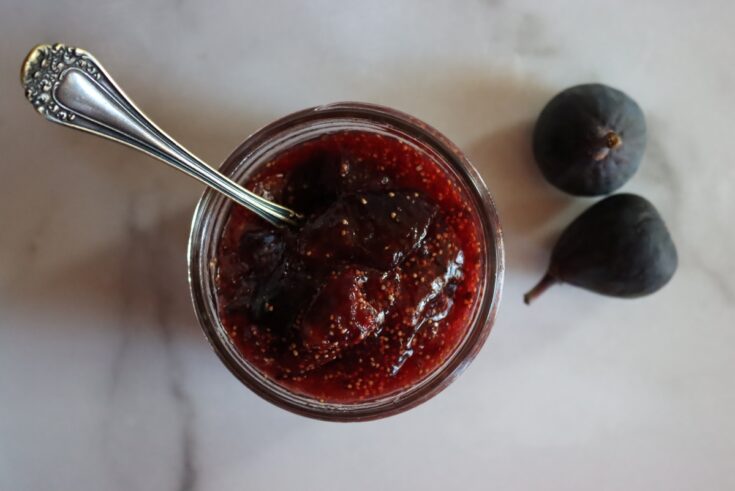 Yield:

Makes 3 half-pint (8oz) jars
Fig Jam
An endlessly customizable recipe for fig jam plus instructions for canning.
Ingredients
1 3/4 lbs. ripe figs (One Dry Quart)
1 1/4 cup granulated sugar
2 Tbsp. bottled lemon juice
Instructions
Carefully wash the figs. Remove tough stems and coarsely chop the fruit into small pieces.
Transfer the chopped figs to a large bowl and stir in the sugar and lemon juice until the ingredients are combined. Let the mixture sit at room temperature for 30 to 45 minutes or until the sugar has dissolved into a syrup.
Add the macerated fruit to a large skillet and cook the fig mixture over medium-high heat, frequently stirring until it bubbles and thickens to a jam-like consistency. The fig jam is done when a spatula can be traced along the bottom of the skillet, with the jam remaining separated after the spatula is lifted — about 10 to 12 minutes.
Carefully ladle the hot jam into prepared half-pint canning jars, leaving 1/2-inch headspace. Wipe jar rims with a clean cloth and apply two-piece canning lids until fingertip tight.
Load the jars into a prepared hot water canner and process for 10 minutes if canning at an altitude below 6,000 feet.* When the timer goes off, turn off the canner and let the jars sit in the hot water for 5 minutes before removing them with a jar lifter.
Let fig jam come to room temperature (about 12 hours) and check the seal of each jar. Remove rings for another canning project from sealed jars and transfer any jars with unsealed lids to the refrigerator (enjoy within a week or two). Jars with sealed lids should be stored in a cool, dry place away from direct sunlight and enjoyed within 18 months.
Notes
*Process for 15 minutes if canning at an altitude above 6,000 feet.
Jam Recipes
Looking for more easy homemade jam recipes?
Canning Recipes
Canning more than just jam this season? I have literally hundreds of canning recipes…